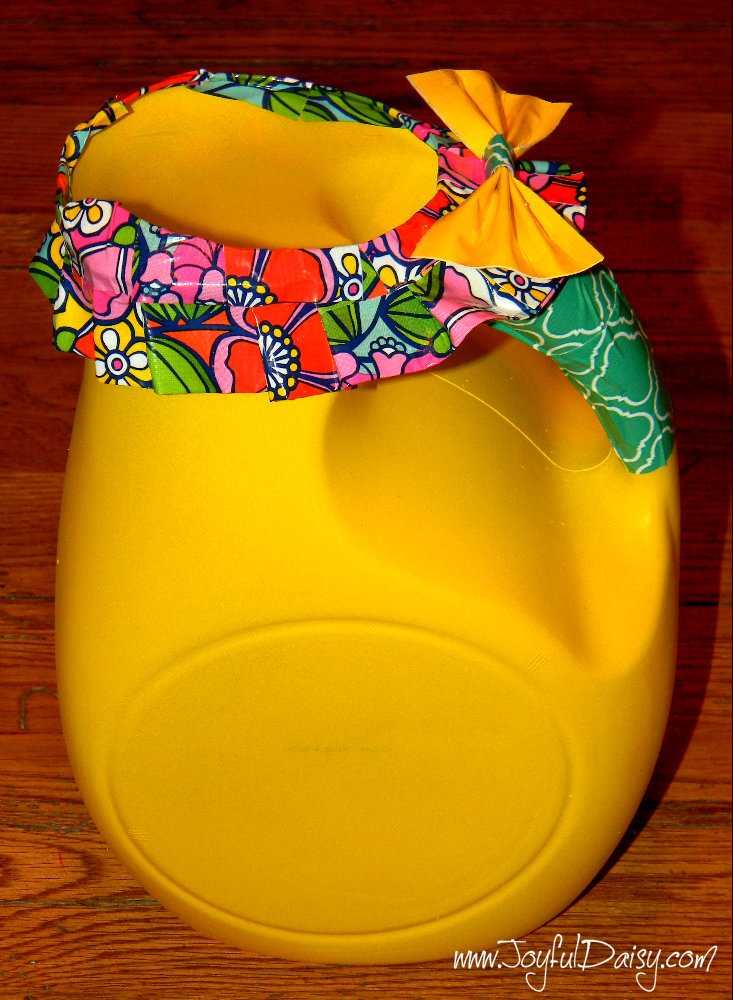 I absolutely love finding new uses for old things especially when I can reinvent something that is on it's way to the junk yard or the recycle center.  As you can see in the photos above, this Minute Maid orange juice jug has served it's original purpose of hydrating us and now as an adorable watering can it can continue it's hydration with plants!  VOILA- love it 🙂  Plus I got to play with two of my favorite new "toys"… spray paint and duck tape!
ALL YOU NEED FOR YOUR WATERING CAN…
Kilz spray paint primer
Krylon spray paint for plastic
Duck tape
Exacto knife
Black permanent marker
Cutting board or quilter's mat
Ruler (preferably metal or with metal sides)
AND NOW…HOW TO MAKE A WATERING CAN OUT OF AN ORANGE JUICE JUG…
Drink orange juice, enjoy all that vitamin C 🙂

Using a permanent marker, draw a larger hole to cut on the top of the jug.
Notice how to cut front of jug so there is about an 1″ to 1 1/2″ lip where water will flow out nicely.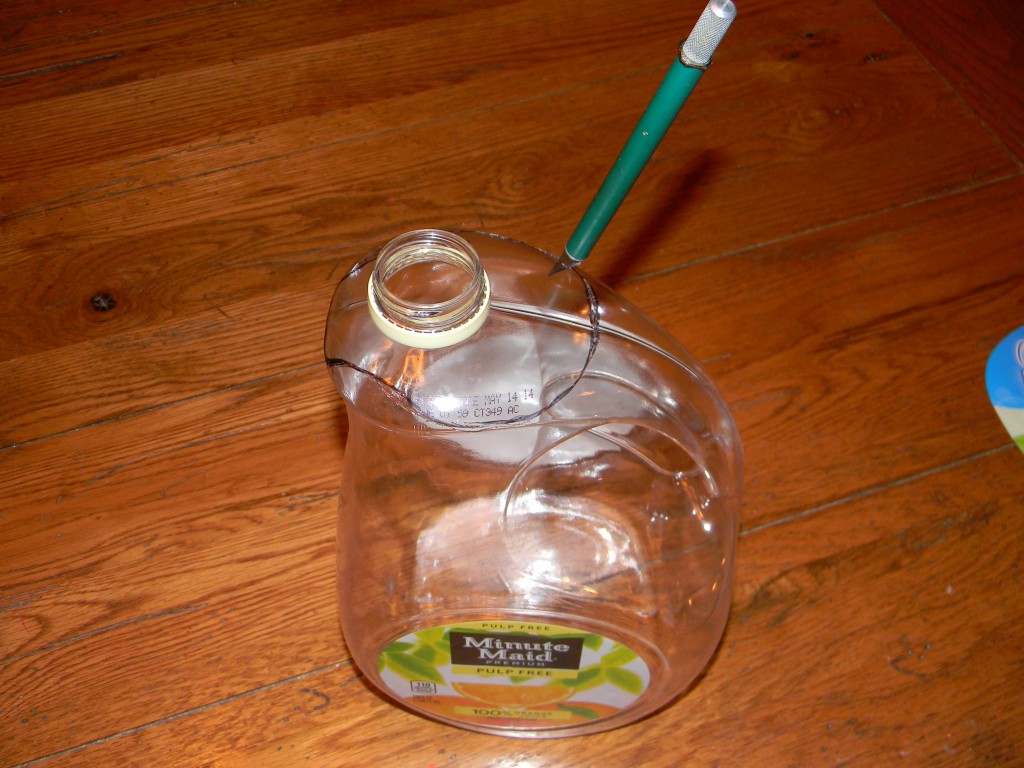 Using an exacto knife, carefully cut the top part of jug.
I gently poked the knife directly down into jug and then carefully made little sawing motions to cut along line.
Once top was cut a little more then 1/2 way around, I was able to use my kitchen scissors to cut the rest.

Carefully peel off the labels.
 In a well ventilated area, spray jug with one coat of Kilz primer.
 When primer is dry add two coats of Krylon's spray paint for plastic letting each coat completely dry before adding another coat to the jug.

Cut two 4-5″ strips of duck tape and wrap around handle.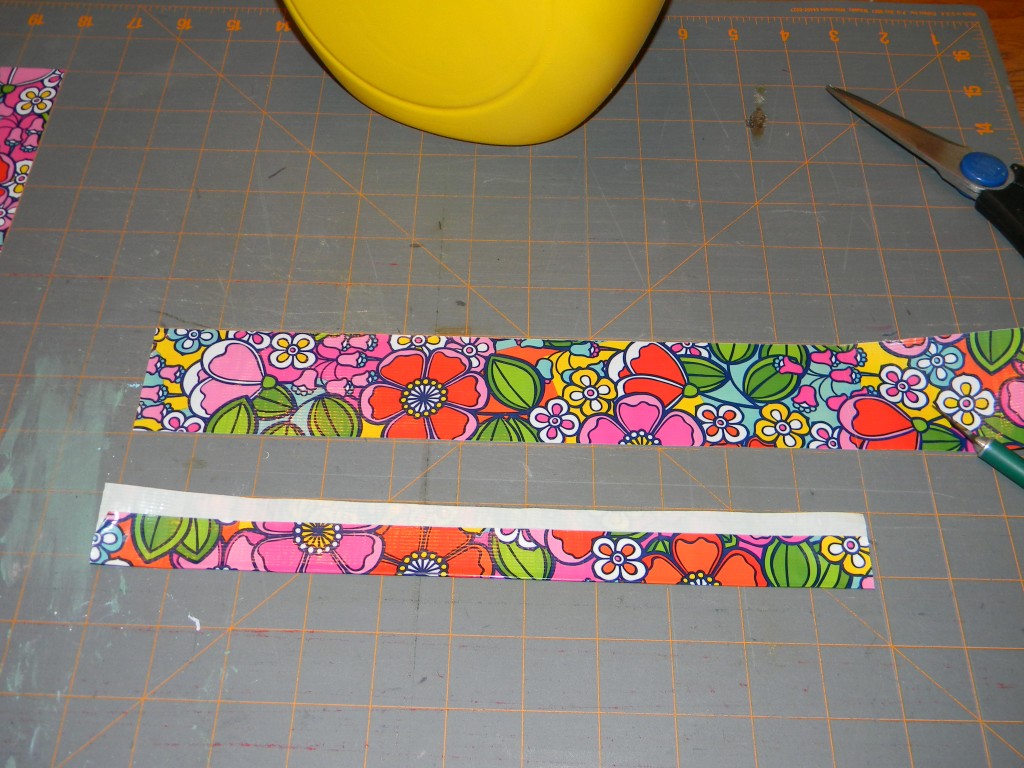 Cut two 14″ strips of duck tape and fold over lengthwise leaving about 1/4″ of sticky side showing.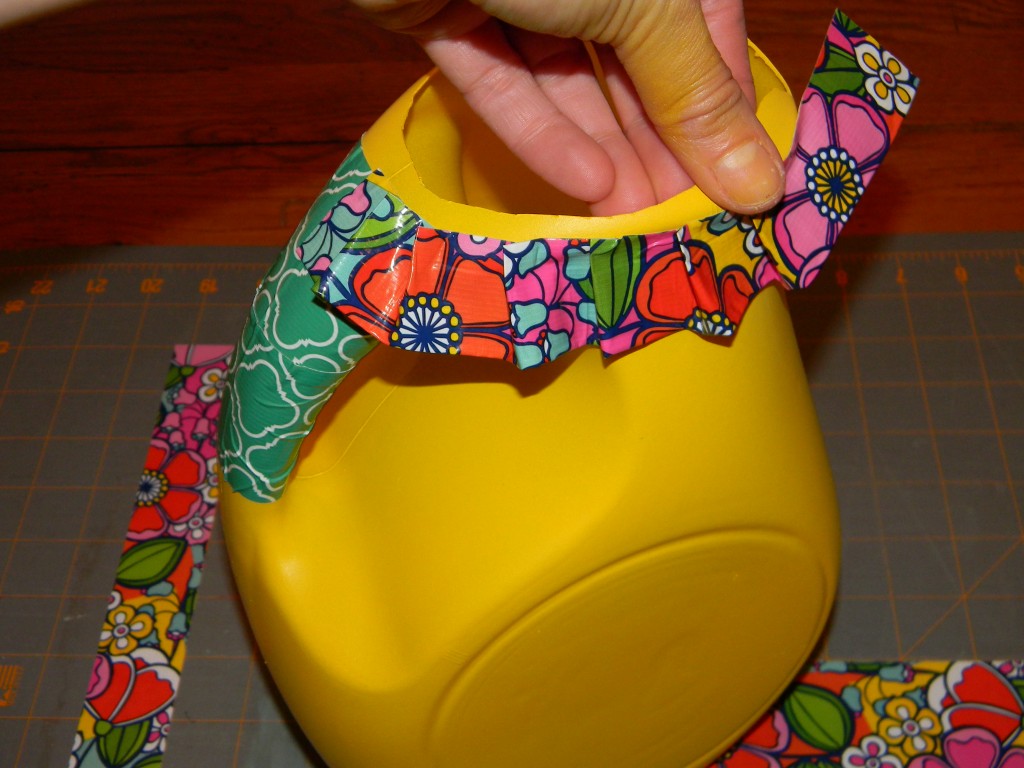 Starting at handle, lay duck tape strip down along top making pleats as you go.
Like my yellow thumb? 🙂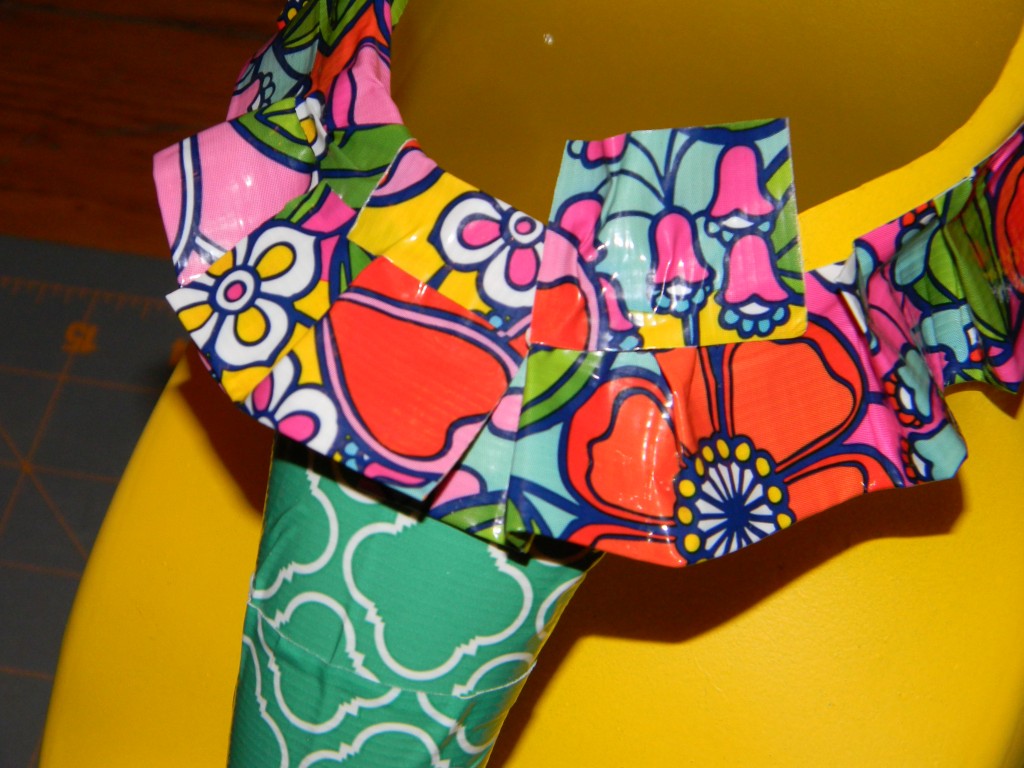 Cut small pieces of duck tape, approximately 1- 1 1/2″  squares and place them along edge of top taping down pleats and then folding over to inside of jug.

Be sure to really press down the flaps of duck tape that fold down into the top of the jug.

Cut two 3 1/2″  pieces of duct tape.

Place the 2 pieces of duck tape sticky sides together.

Fold duck tape making about 1/4″ accordion folds back and forth.

Cut small 3/8″ wide piece of duck tape and wrap around middle of folded duck tape to create a bow.

Take another 3/8″ strip of duck tape and adhere bow to top of handle, pressing it down around ruffle and around lip of opening.

Cut a small contrasting 3/8″ piece of duck tape to place around the middle of bow.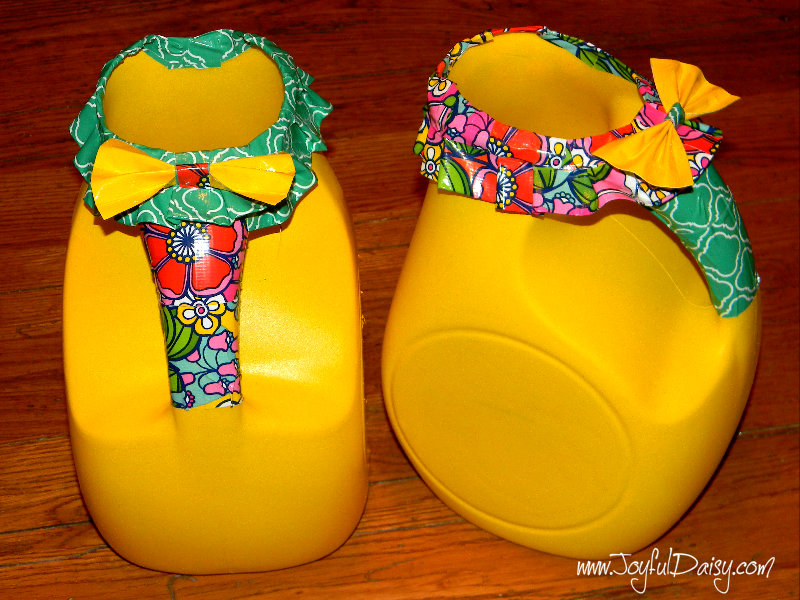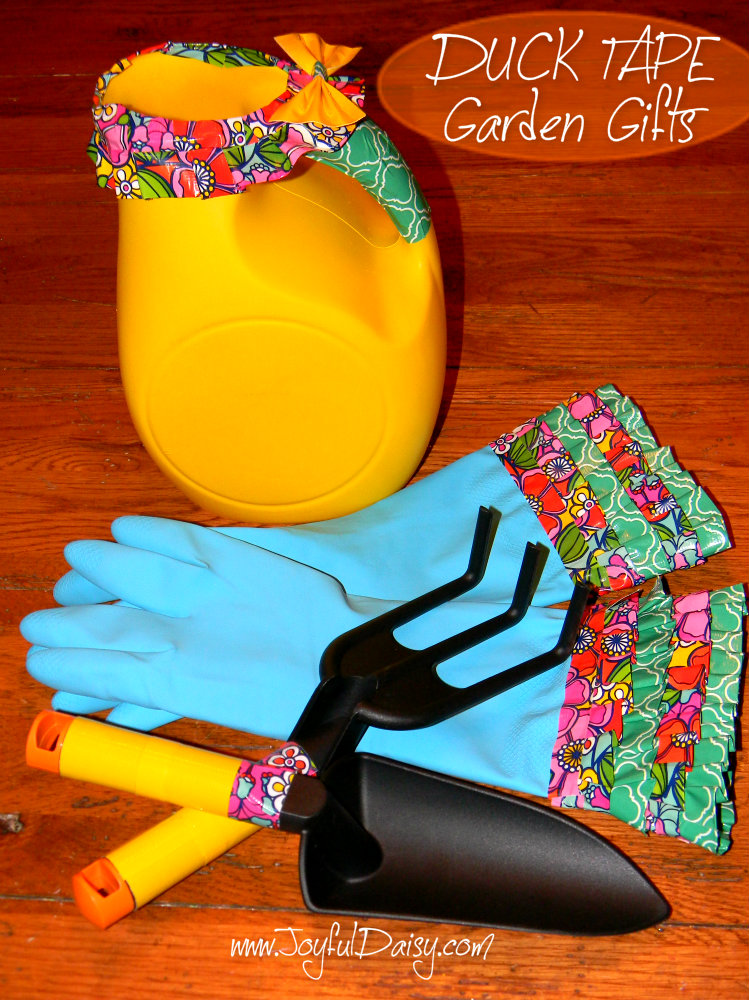 If you enjoyed this post, be sure to sign our email list on the top right hand column.  I have a lot more fun stuff planned!
You can also connect with Joyful Daisy on

FACEBOOK

,

GOOGLE

,

PINTEREST

,

TWITTER

,

AND

RSS

.  I would also love it if you shared this project by clicking social link buttons below, sharing is caring 🙂
Thanks for stopping by
Cyber hugs,
Amy – joyfuldaisyforever@gmail.com