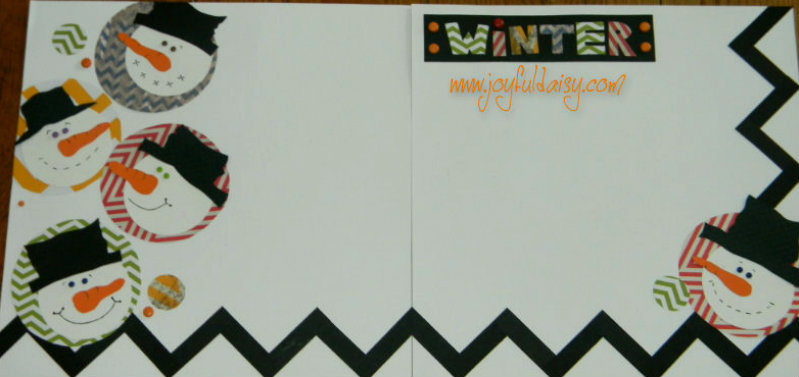 This winter scrapbook layout can accommodate lots of different pictures because you can add the boarder, make the title and then add the snowmen features and decorative circles and brads around your photos!
SUPPLIES…
Assorted scrapbook papers
Assorted brads
Scissors and paper trimmer
Adhesives
downloadable pattern pieces Download
Cut five 1/2″ * 12″ strips of black paper then cut them into 2 1/2′ pieces.  Glue two strips together making a "v" and make sure that the bottom edges line up with each other after overlapping.  Line the bottom of the "v" up to the bottom right side of the background paper and glue down ( you will have to trim a little piece that will stick off the right side of the paper.  Make more "v" pieces and then adhere to page overlapping each "v" at the top corners.  Repeat along the bottom of the right background paper as well.  Make 3 more "v" pieces and then starting at the top right edge place them along the side.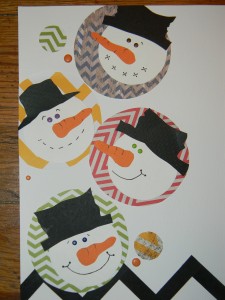 Cut five large circles and snowman heads.  Trace hats and noses and cut out.  Have fun bringing your snowmen faces to life by adding cut out hats, noses, brad eyes, and drawing on smiles and eyebrows.
Cut a 1 1/2″ * 7 1/2″ piece of black paper and adhere your winter letters to the center of it.  Add a brad above the I and secure title to page with two brads on each end.
Place one large circle and snowman head on the bottom right corner of right page to cover up where there is no boarder.   Adhere remaining circles, snowmen heads and brads on layout to finish.