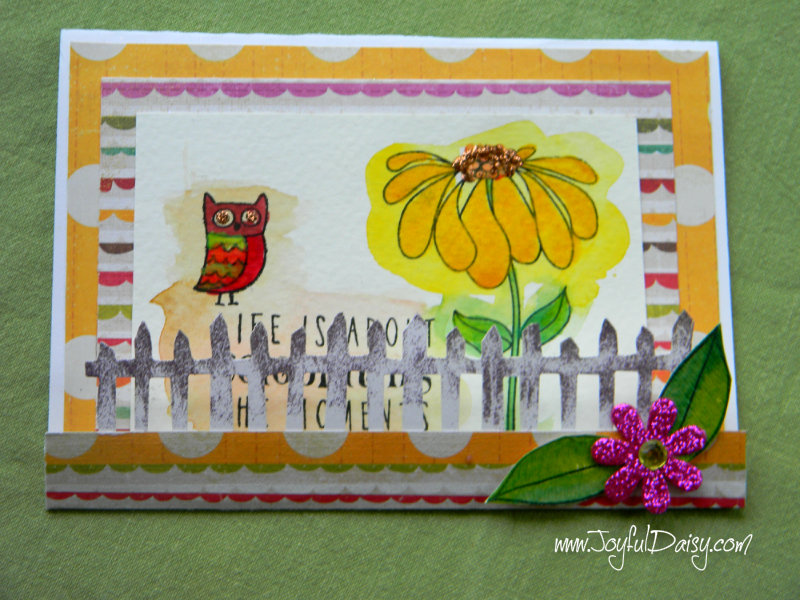 These stamped cards combine a lot of fun elements to create a delightfully bright and happy card.  Fun scrapbook papers, Tim Holtz Sizzix on the edge fence die, watercolor washes, and twinkling H2O's make these rubber stamped cards not only fun to make but also delightful to receive:)
GATHER YOUR SUPPLIES…
Tim Holtz on the edge fence (available at Amazon at – http://amzn.to/1js1VtK)
STAMPS- Owl, Daisy, Greetings, balloons, and leaf (Sorry I don't know companies)
STAZON ink pad in black-(Available at Amazon at http://amzn.to/1cbrxSR)
WATERCOLOR WHEEL STACK -(Available at Amazon at http://amzn.to/1dfWNR7)
Twinkling H2Os Romanic Set – LOVE THESE and they last a long time! (Available at Amazon at http://amzn.to/1dog88r)
Weathered White Embossing Powder (Available at Amazon at http://amzn.to/1rwr4EG)
Embossing Gun (Available at Amazon at http://amzn.to/1h76dDl in case you don't have one.)
Clear Embossing Pad (Available at Amazon at http://amzn.to/1jsghtZ)
6 " * 11″ piece of cardstock
4 1/2″ * 3 1/4″ piece of watercolor paper
6″ * 4 1/4″ piece of yellow cardstock
3 1/2″ * 5 1/4″ and 5/8″ * 6″ strip of grass scrapbook paper
OPTIONAL: Martha Stewart's Scoring Board (Available at Amazon at http://amzn.to/1rwy0lf)
 

LET'S GET STARTED, SHALL WE:)…

Using black Stazon ink, stamp daisy, owl, and greeting on watercolor paper.
Once stamped images are dry, add watercolor wash over stamped images.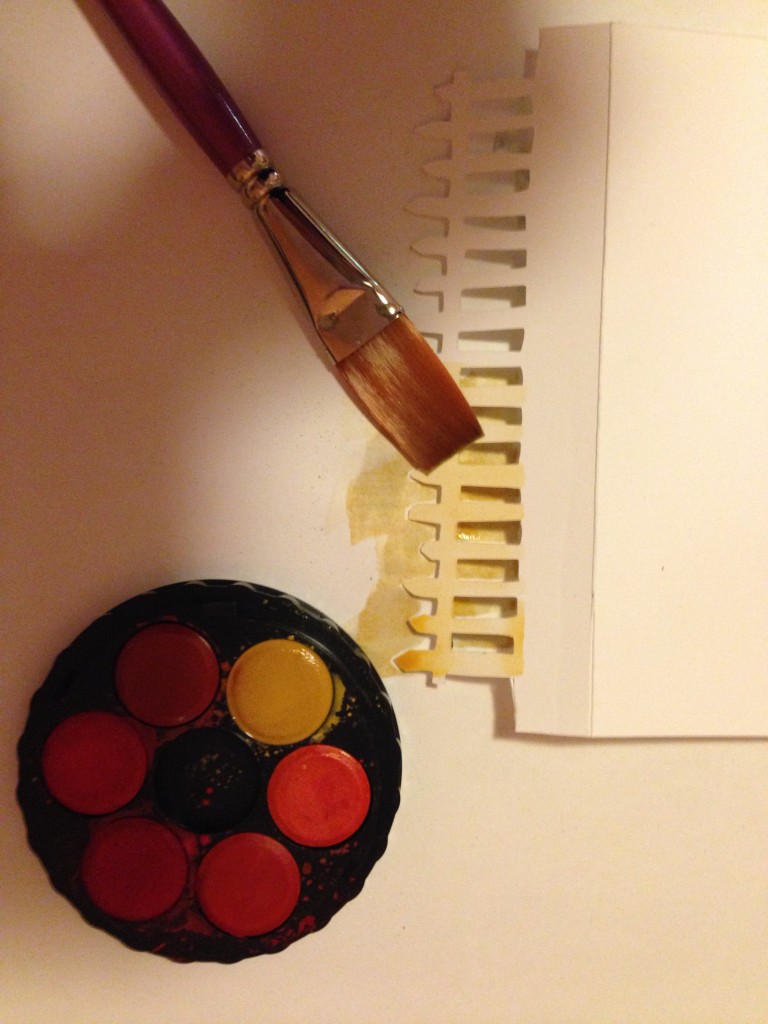 Cut out fence die on one short end of the 6″ *11″ piece of paper.
Paint a yellowish watercolor wash on fence.

Press clear embossing pad on the top part of the fence and sprinkle with embossing powder. Heat to set.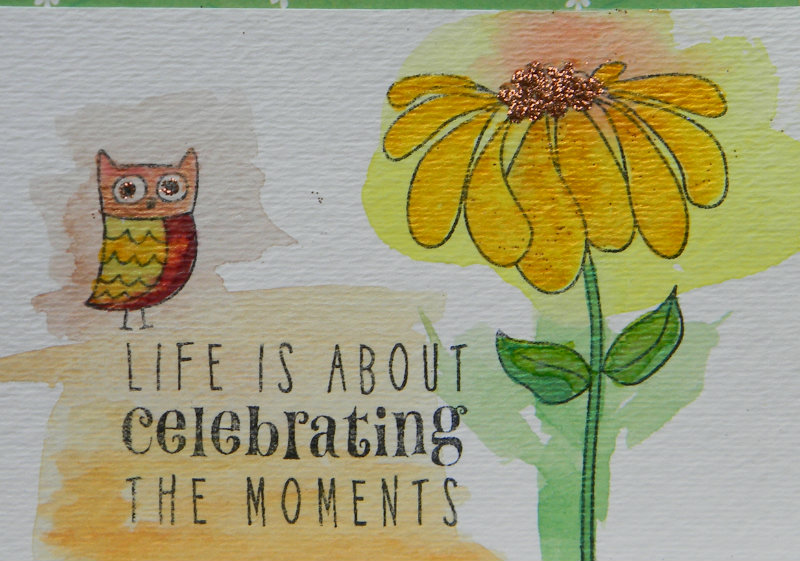 Spritz Twinkling H2Os with water and let sit about 5 minutes.  Paint in daisy and owl with Twinkling H2Os.
Stamp leaf and paint with Twinkling H2O's.
Add copper stickles to daisy and owl (I would do this when you are all done.)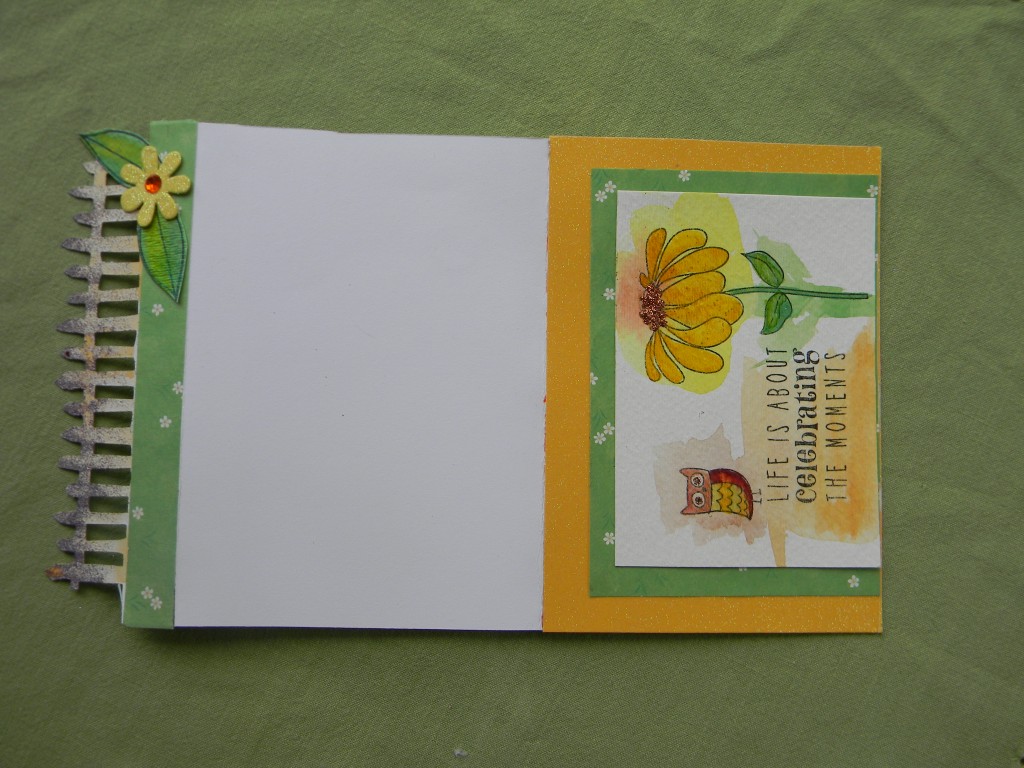 Add gold mat, grass mat, and watercolor piece on to card.  Add grass strip to picket fence strip at fold line.
Add painted leaves and flower.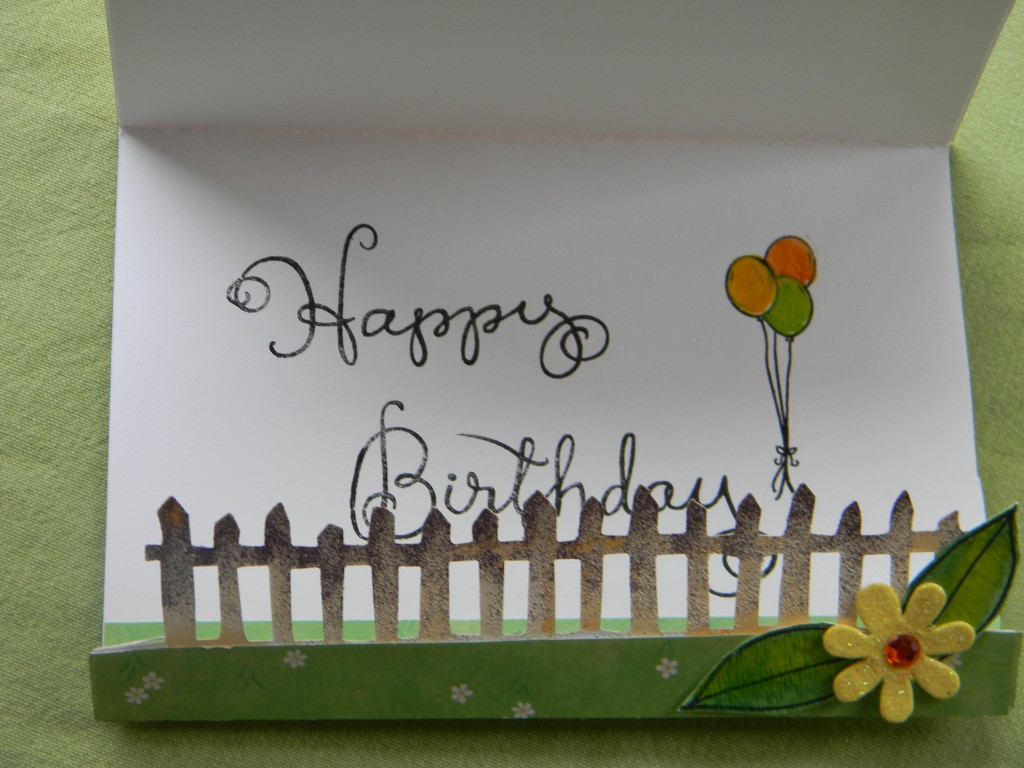 Add desired stamped images to inside of card to complete:)