Bet you can't eat just one bite!  This is one of my mom's specialties.  In fact she sends them literally cross country and cross the world at Valentine's Day and I fear if she ever stopped there would be major consequences for her:)  However, don't wait for Valentine's Day, treat someone you love – yourself perhaps- to this gorgeous combination of salty and sweet with gooey and crunchy textures oh my!!! But do be careful who you share these Ultimate Caramel Chocolate Pretzels with because they will most definitely will demand another!
INGREDIENTS…
Pretzels Rods
2 cups Pecans
Popcorn Salt
2 cups Dark Chocolate
2 cups White Chocolate
OPTIONAL- Sprinkles
CARAMEL INGREDIENTS…
1 1/4 c Sugar
2/3 c Whip Cream
1 c Butter, cut into tablespoon size pieces
MAKING CARAMEL…

Place sugar in large nonstick fry pan and cook over medium heat, stirring frequently until sugar becomes liquid and caramel color (approximately 10 minutes).
Once sugar starts to liquefy, stir constantly.

Before adding cream, reduce heat slightly.
Add cream continuing to stir until caramel is again liquefied.

Stir in four pieces of butter and melt.
Keep adding 4 pieces at a time, continuing to stir until all butter has been added.

 Pour into a small heavy sauce pan.

 Add candy thermometer, making sure it is not resting on the bottom of the pan and cook over medium heat until it reaches 240 degrees (approximately 6 minutes).

 Pour into parchment lined pan to cool.

Chop 1 cup pecans and place on cookie sheet.
Bake at 350 degrees for 5 minutes then sprinkle with salt and stir.
Bake for another 5 minutes and sprinkle with salt.

Once caramel has cooled.
Cut pieces of caramel and wrap around pretzels.

Roll caramel covered pretzels in toasted, salted pecans.


Melt chocolate in melter pot and cover top of caramel pecan pretzels with dark chocolate then spoon over white chocolate.
SHOPPING HELPER

…
(MY FAVORITE MELTER POT IS AVAILABLE AT AMAZON http://amzn.to/1dG2xml)
(GHIRADELLI CHOCOLATES ARE ALSO AVAILABLE AT AMAZON http://amzn.to/1bQpn0x)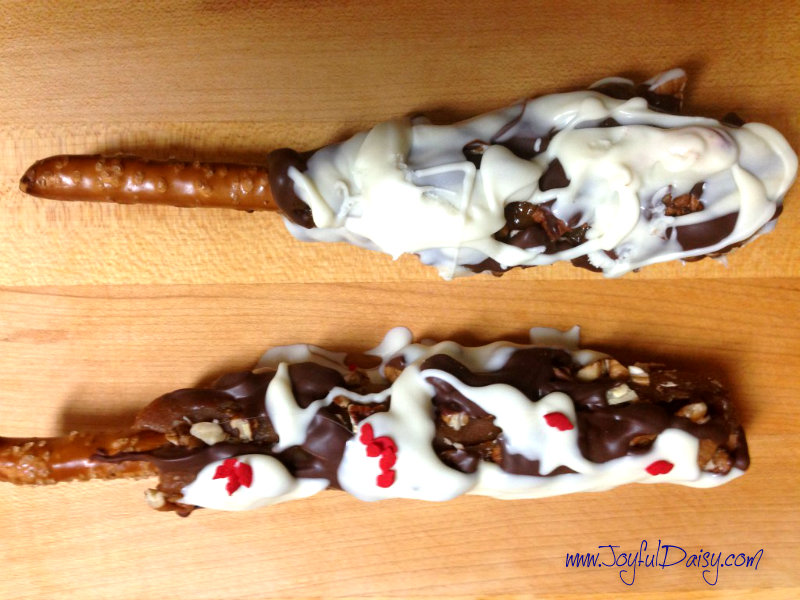 *************************************************************************************
I linky party at Savvy Southern Style and other linky parties.
If you enjoyed this post, be sure to sign our email list on the top right hand column.  I have lots of fun stuff planned and a few more fairy parties to share!
You can also connect with Joyful Daisy on

FACEBOOK

,

GOOGLE

,

PINTEREST

,

TWITTER

,

AND

RSS

.  I would also love it if you shared this project by clicking social link buttons below, sharing is caring 🙂
Thanks for stopping by
Cyber hugs,
Amy- joyfuldaisyforever@gmail.com