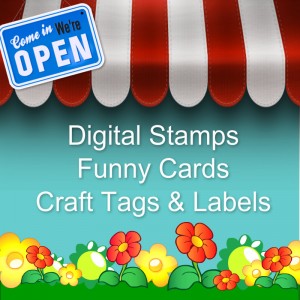 We are happy to announce the expansion of Joyful Daisy with our new shop on Etsy!  We have chosen Etsy because of their focus on handmade items and because it is a safe and easy way to shop 🙂
At our boutique we will be selling digital stamps, cards, craft tags & labels, and maybe more!  For those of you unfamiliar with digital products here is a little summary…
Digital products are available immediately after purchase.  You can store these products on your computer- just think of how organized you can be and how much room you can save!  Your stamps & cards will be available whenever you need them.  You can resize and reposition your stamps then print out and color in just like you would normal stamps.
Our funny birthday, anniversary, thinking of you, and other cards are RDM Originals made by Randy and inspired by his Daddy Lunch Note Comics.  All of our cards will come as a mini 4.5×5 card and a traditional 5×7 card.  Two envelope templates will also be included with each card purchase so that you can customize your envelopes with bright or patterned paper!
So we welcome you to check out the Joyful Daisy Boutique! We will be adding our original products frequently and would be delighted if you made us one of your favorite shops!
Cyber hugs to you,
Amy