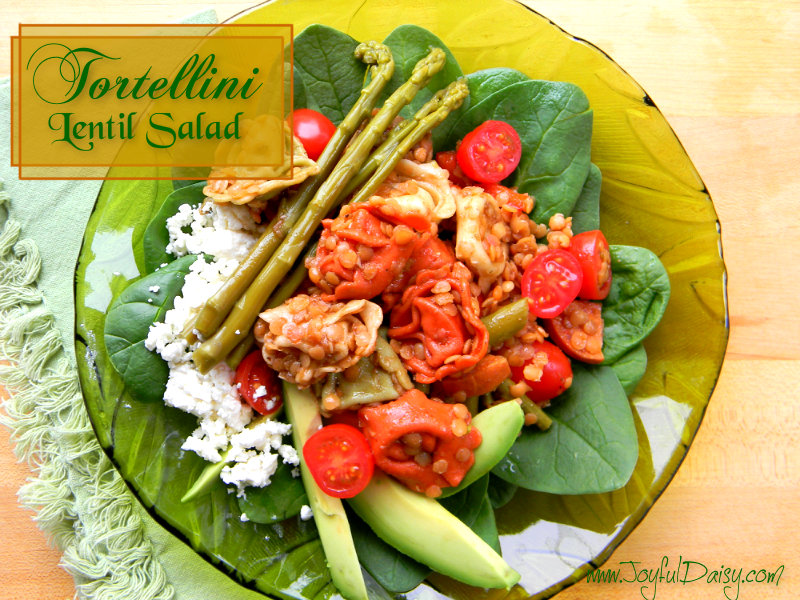 This Tortellini Lentil Salad delights the taste buds:)  I love all the different flavors combined with the balsamic vinegar dressing!
DRESSING INGREDIENTS:
1/3 c Olive Oil
1/3 c Balsamic Vinegar
1/2 t Salt
1/8 t Pepper
2 Dashes Hot Pepper Sauce
2 Cloves Crushed Garlic
Mix all the ingredients above in a jar and shake and set aside or use a bullet blender. (I just love mine and use it every day) Available at Amazon at http://amzn.to/MNqT7W
SALAD INGREDIENTS:
1c Uncooked Lentils
2 c Water
8 oz. Tortellini Fresh or Frozen – Cooked to package directions.
1/2 c Cherry Tomatoes – Halved
2 T capers (Optional)
Spinach or your choice of greens.
Feta Cheese (Optional to garnish)
You may use green, brown, or red lentils.  (I use red as they cook faster, but can become mushy if over cooked.)  To cook lentils.  Rinse under running water.  Add to saucepan with water and bring to light boil.  Reduce heat to gentle simmer and cook uncovered 20-30 minutes. (Red lentils only cook 20 minutes.)  Drain any excess water and then combine lentils and tortellini in large bowl.  Add tomatoes and dressing.
You may want to enhance with any of the following:)
Pepperoni (I love adding this)
Celery
Pickled Asparagus
Avocado
Red Pepper
Serve salad over greens and garnish with feta cheese!
enJOY!