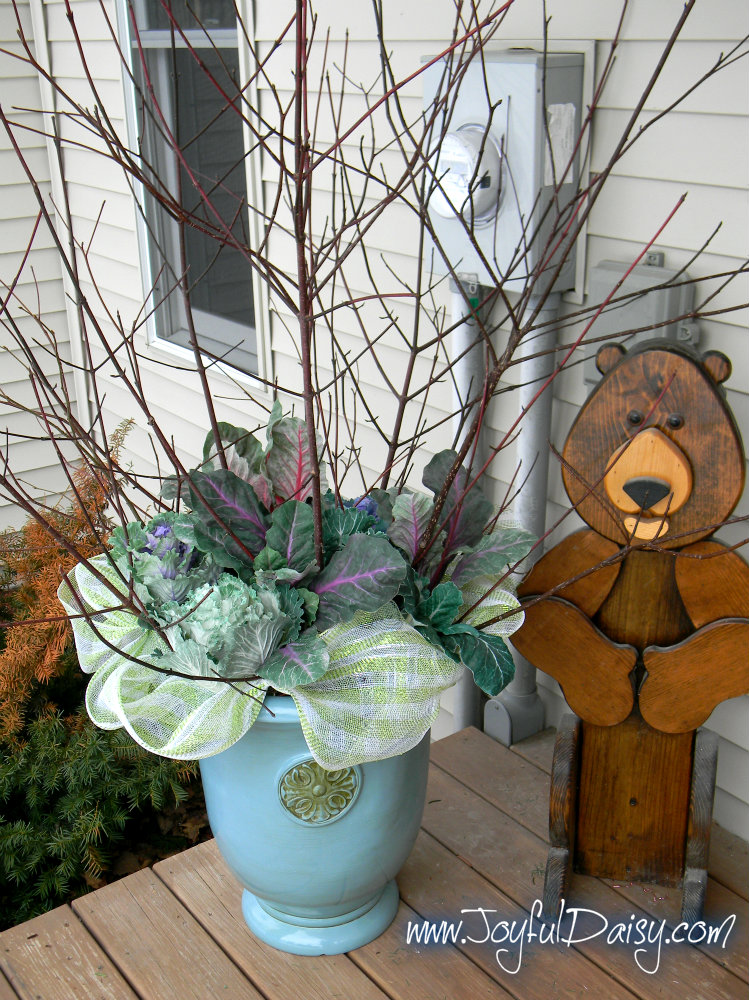 I had originally planned to use our jumbo paper mache eggs –  in our porch Easter Decorations but they landed on the entertainment center and looked so cute I decided to make new plans for my lovely blue pots:)
I had a few spring urn ideas but I decided to use this fun lime and white poly mesh I just purchased at walmart for $4.77 which was the total cost of this project since I had everything else:)
The only hard part was gathering the longs twig branches because here in the Upper Peninsula of Michigan, we still have a boatload of snow, especially in the woods!!!
If only my husband would have been video taping the gathering of twigs we could have shared it with you for a good laugh and it most likely would have gone viral!
Anyways, to make a long story short…. I broke through the hard top crust of the snow while reaching for a few branches to trim and I found myself stuck in about a 3-4 foot drift of snow.  I wasn't wearing proper gear because I just wanted to quickly gather my twigs and get busy decorating so I had to dig a bit with my bare hands.  Then when one foot could almost be raised, I realized my boot was no longer on.  I then looked at my adorable 100# lab who was wagging his tale, his own way of laughing at my debacle and I am embarrassed to say that for a moment I thought I could grab him and he could pull me out!  Don't worry no doggy was harmed during this project!
Well, to spare you more details and get on with this simple project, happily I will say I did survive after a little more digging and leaning over this big snow bank on one side of me that I then slid over landing on my head!
OK enough of that craziness!  I hope you have less eventful twig gathering if you choose to this project:)  Or if you want an adventure be sure to jump in a snow bank without gloves!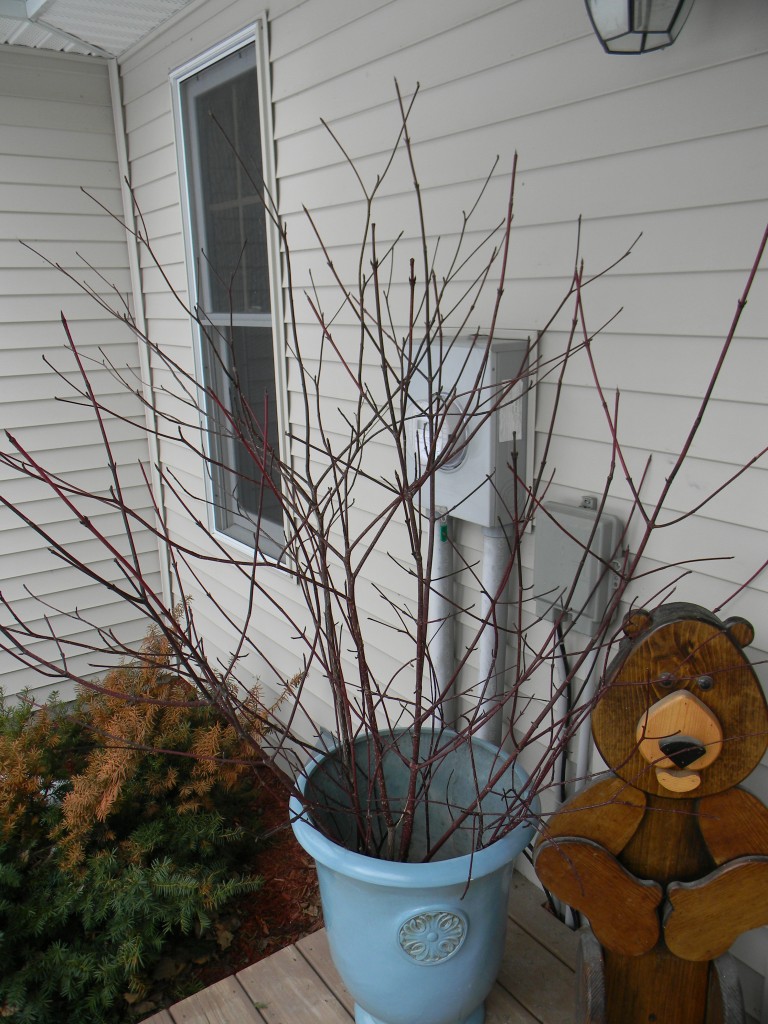 Step one – add branches.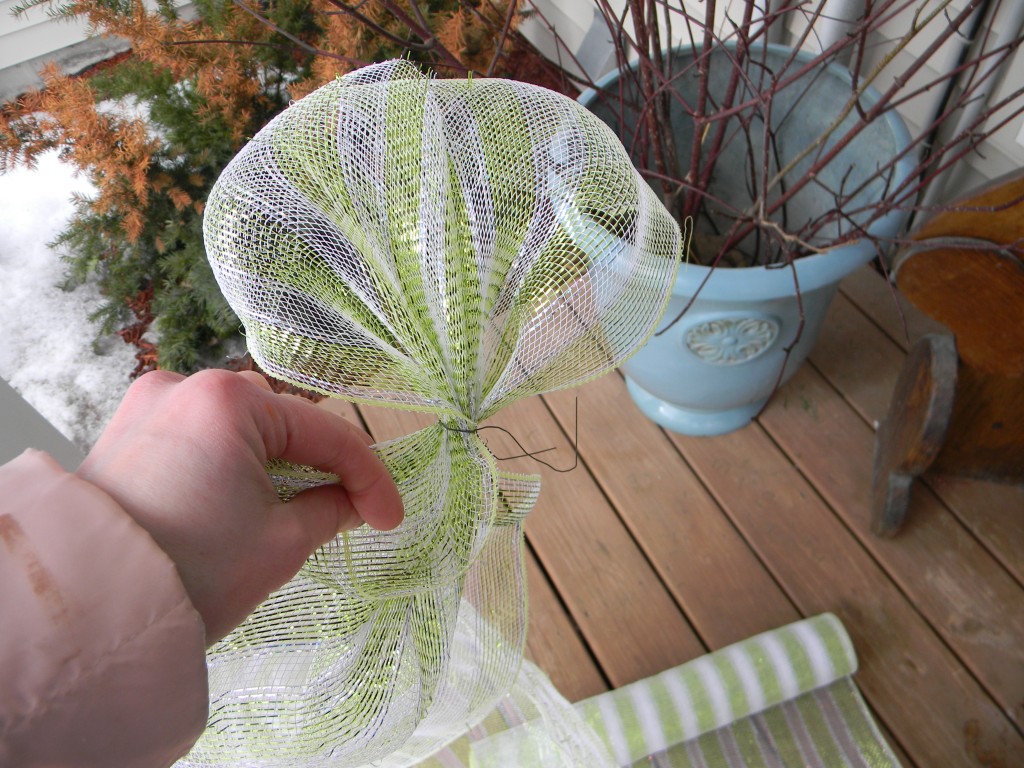 Using wire just gather one end of the poly mesh.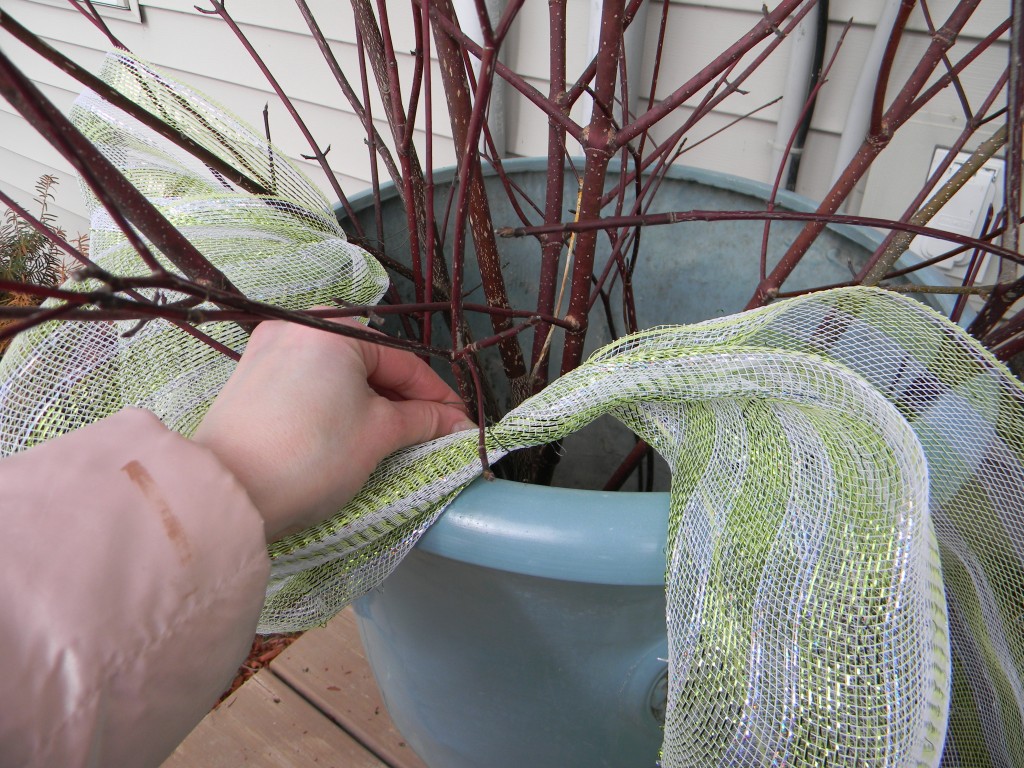 Attach poly mesh to branches with the wire.
Continue gathering the poly mesh together with wire and then attach
 it to the twigs as you work your way around the pot.

Next I gathered some silk cabbages and stems that I had.  I only used the cabbages and leaves by poking them in the middle of my twigs and then fluffing up the poly mesh along the sides:)
You could use any silk plants here or if you are lucky enough to live in a place where spring actually supports real plants, you could tuck in a few pots of the real deal- lucky you:)