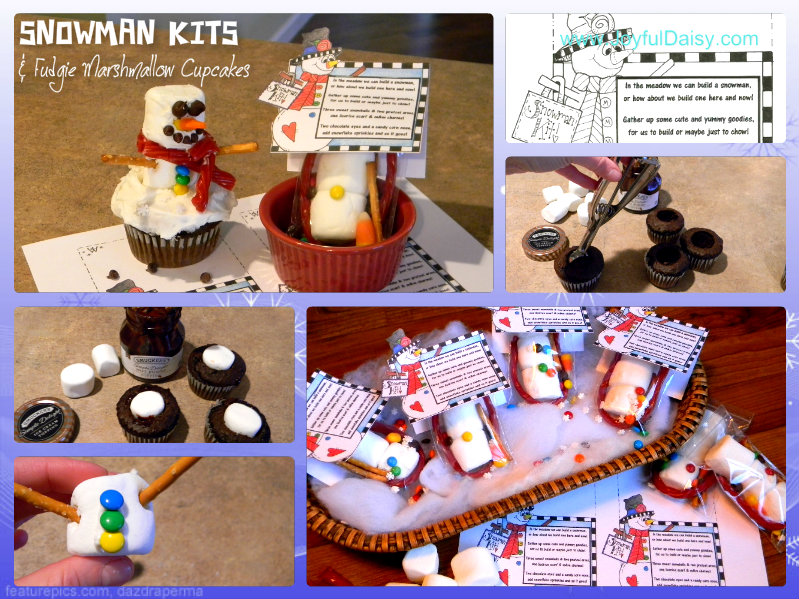 Whether you want a yummy snack for kids, a cute gift for friends, or just some adorable, sweet cupcakes, our snowman snacks and Fudgie Marshmallow Cupcakes should do the trick. Check out our cute snowman label & jaunty poem available in our shop CLICK HERE as a digital stamp you can color in yourself or print out our PDF colored labels to whip these winter snacks up in a jiffy! This would be a super fun party activity! Just whip up some cupcakes…check out our simple Fudgie Marshmallow Cupcakes below, and give each child a snowman kit to decorate their own cupcake and build their own snowman!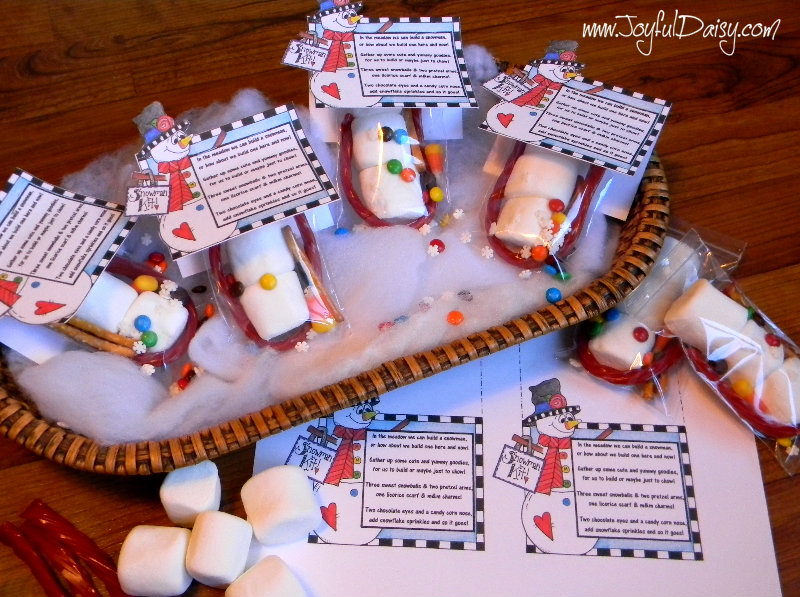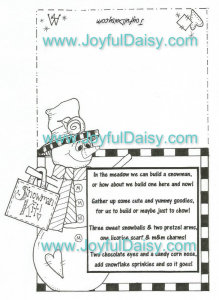 TO CREATE YOUR SNOWMAN KIT…
Start with ' target="_blank">sprinkle of snowflakes (found in the baking isle)
CLICK HERE to purchase Snowman Kit Labels
FOR TIPS ON CUTTING OUT LABELS TO POP UP SNOWMAN'S HAT see Scarecrow Crunch Tutorial
CHOCOLATE MARSHMALLOW CUPCAKES…
Chocolate Cake Mix
3.5 oz Chocolate Pudding
1/4 Cup Sour Cream
3 Eggs
1 Cup Water
1/3 Cup Oil
Preheat oven to 350 degrees and prepare cupcake pans with cupcake liners.
Add all the ingredients above and beat with a mixer on medium speed for 2 minutes.
Bake cupcakes for 19-23 minutes and then let cool completely.
Using my small scoop I removed the center of the cupcake.
Then I warmed up some wonderful Smucker's hot fudge and filled just the bottom of the whole in the cupcake.
Then I added a large marshmallow, making sure it was level with the top of the cupcake.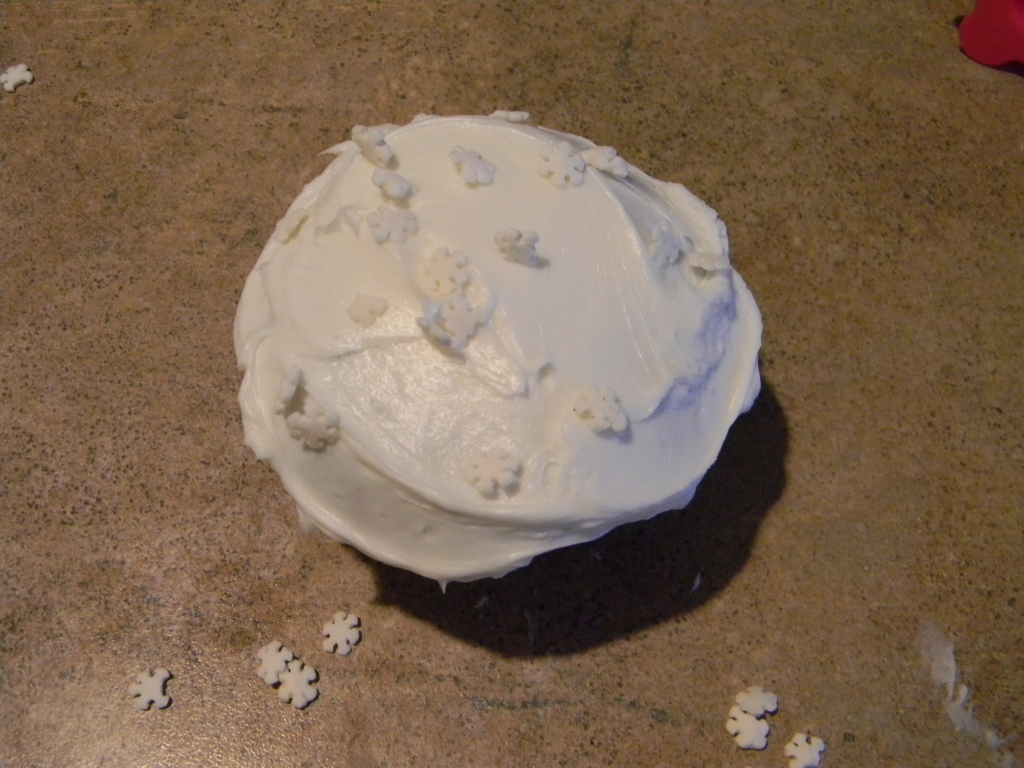 Using Fluffy vanilla canned frosting I topped the cupcakes and added a few snowflake sprinkles.
HOW TO BUILD A SNOWMAN, EDIBLE SNOWMAN THAT IS!
Poke pretzel sticks into the sides of one of the large marshmallows and then add a little frosting down the front and place 3 small M&M buttons. TIP: Place some frosting in a small plastic bag, and then cut small piece off the corner of the bag so you can pipe on frosting easier. Place a blob of frosting on the center of the cupcake and add marshmallow body.
To create face poke in candy corn nose, remove add a little frosting and then poke it back in place. Add two large chocolate chips with frosting. With frosting add 5 small chocolate chips to the marshmallow face to create a smile 🙂 Place a small blob of frosting on the top of the body marshmallow and add the head.
Make small cuts in the middle of the licorice piece, being careful not to cut through. This helps it bend better. Cut 1/2″ off one end of licorice. Place frosting on the back of the licorice in the middle and wrap around snowman creating scarf. With frosting add the 1/2″ piece of licorice in where the ends of the licorice cross.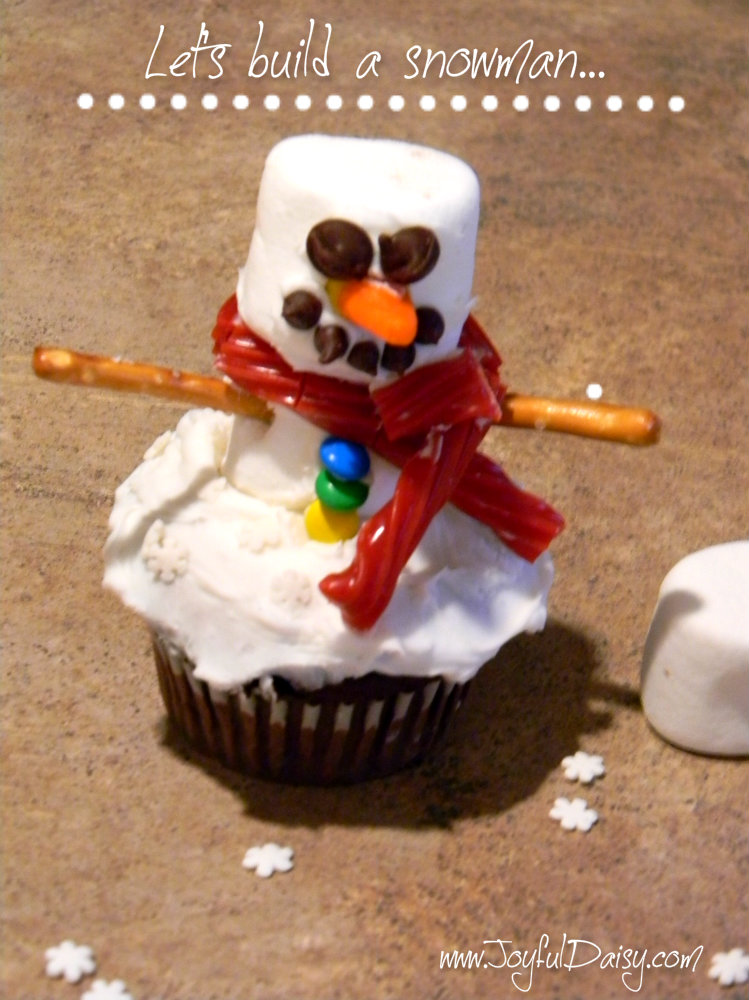 If you want to add an Oreo top hat, I suggest letting your Snowmen Cupcakes sit a day for the frosting to harden a tad. Then just apply one large and 2 mini Oreos with frosting.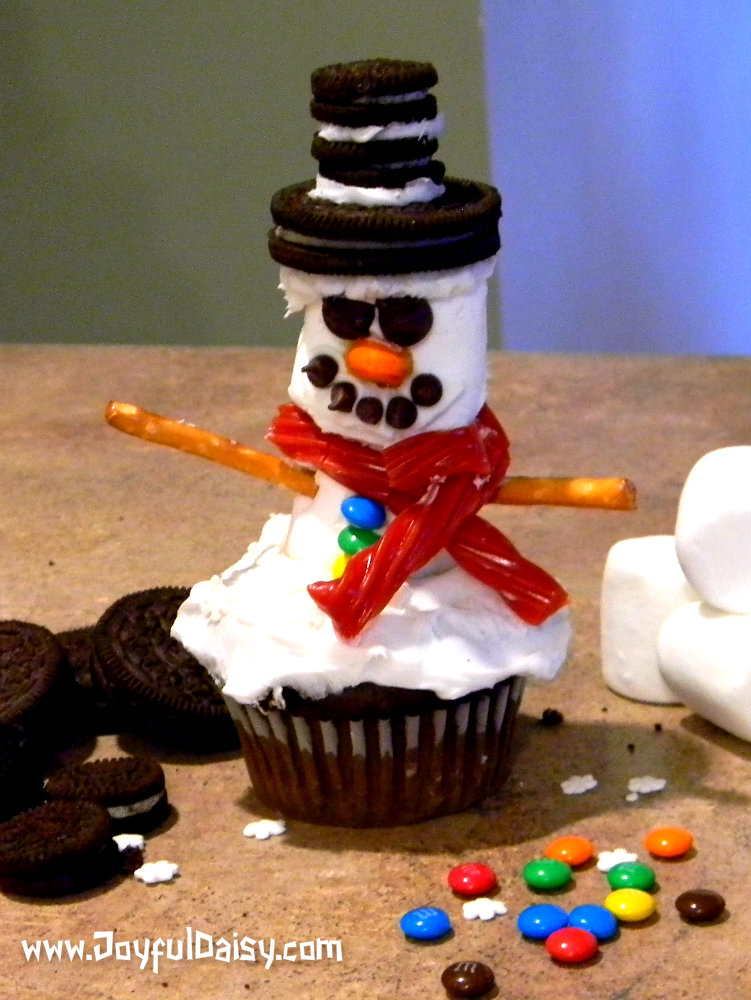 To purchase Snowman Kit Labels just CLICK HERE
To view how to cut out labels just CLICK HERE
CLICK HERE to view HOLIDAY SPECIAL