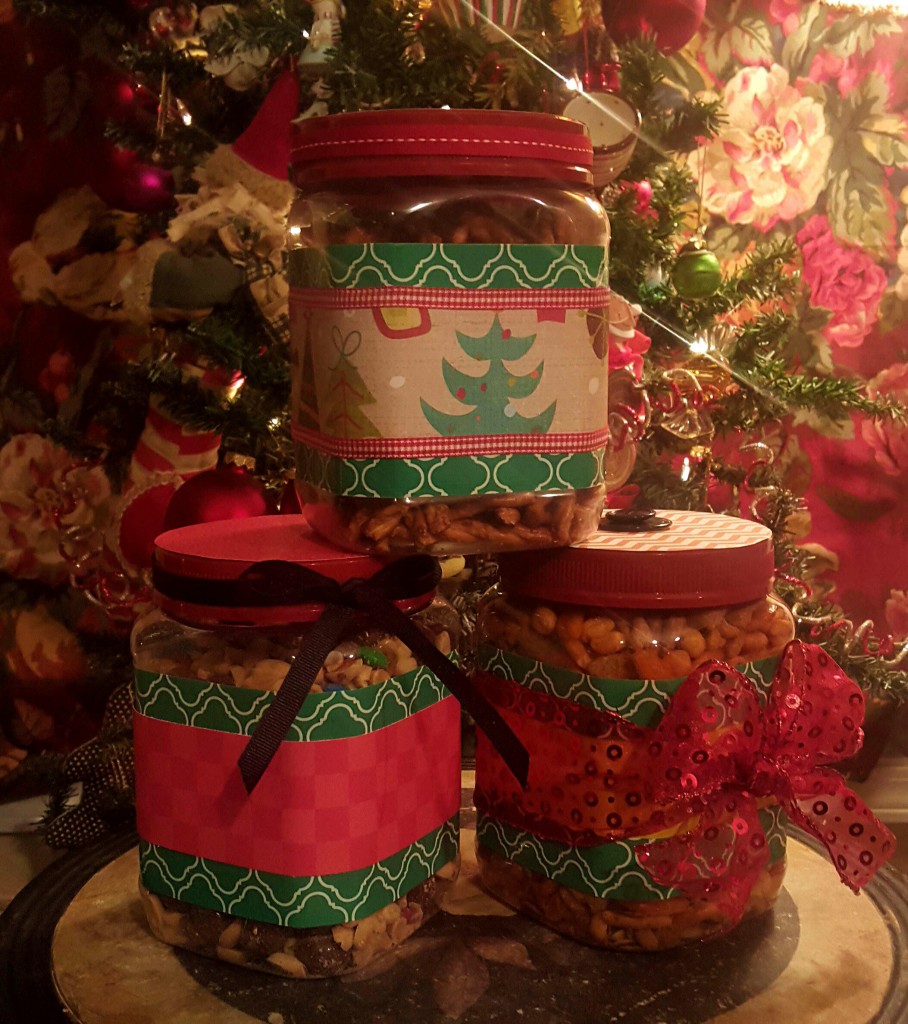 Have limited time but still want to give some Christmas gifts with that loving homemade touch? Well, I definitely have fallen into that category and I am quite certain 99% of us have! Or maybe there's lots of folks out there with so much time to spare around the holidays that they are going on daily long nature walks followed by long relaxing bubble baths while eating bonbons! 🙂 Even you lucky folks with time to spare may want to check this out because it is simply fun and always followed by a happy "thank you" from the lucky friend, family member, or teacher that receives this thoughtful, semi-homemade Christmas goodie.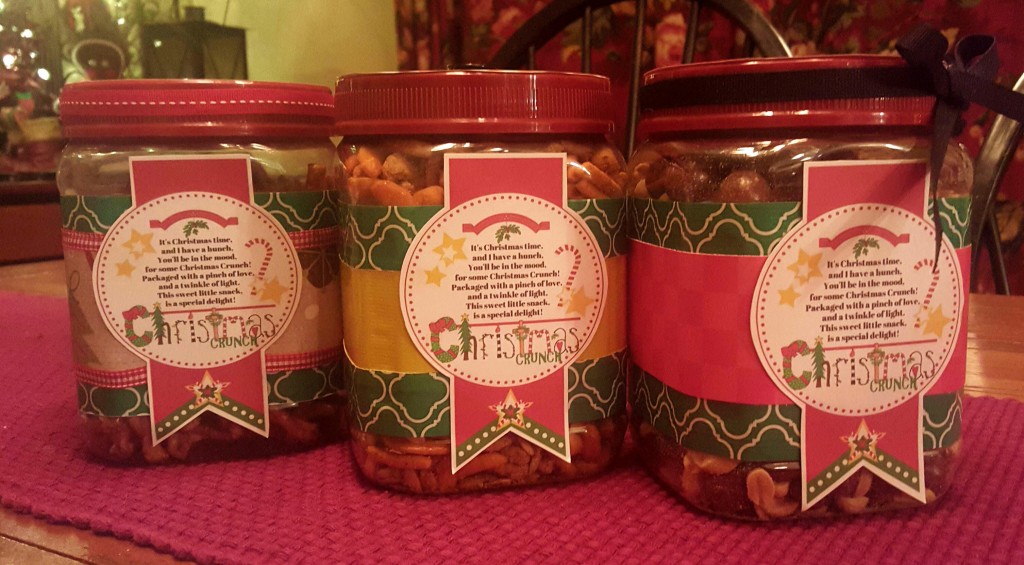 Christmas is a great time to give nuts or snack mixes with chocolates or salty treats. I love the snack mixes that I often find at Meijers or Walmart, especially when they come in these square tubs. This can be a great alternative when you don't have time to make and then plate up all those Christmas cookies. They also make great gifts for teachers and you can have the kids decorate the containers!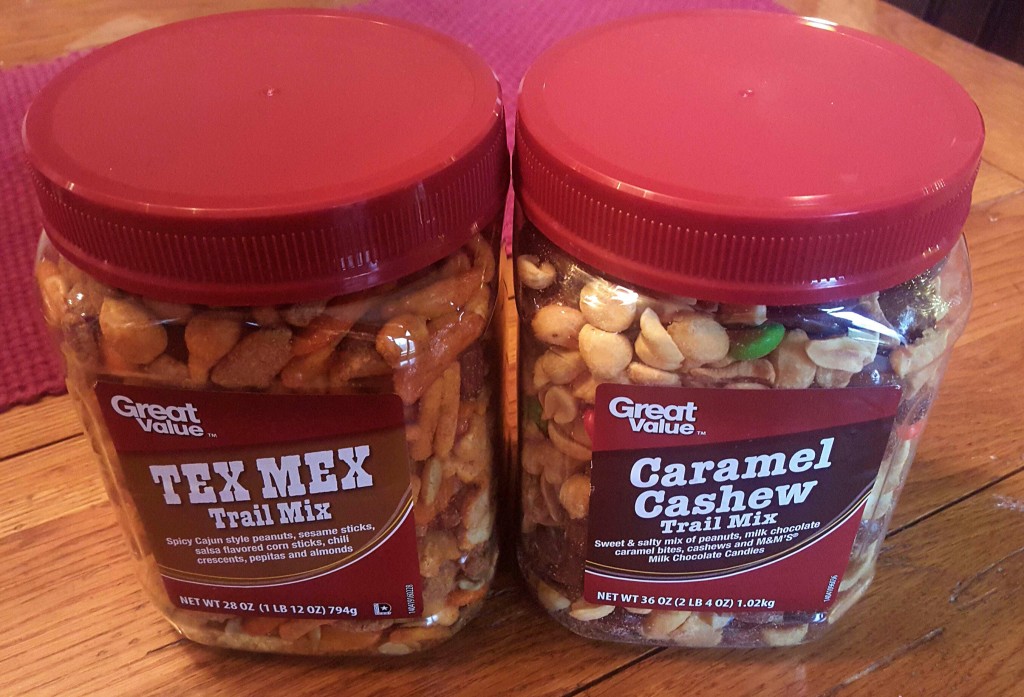 I like to recycle my containers too, so that when I do have time I can fill them with my homemade snacks and mixes like the popcorn Christmas Crunch shared at the end of this post. Now if you cannot find these specific tubs- duck tape, scrapbook paper, ribbons, and bows can adorn any container. So let us begin Decking the Halls, ummmm, I mean containers. 🙂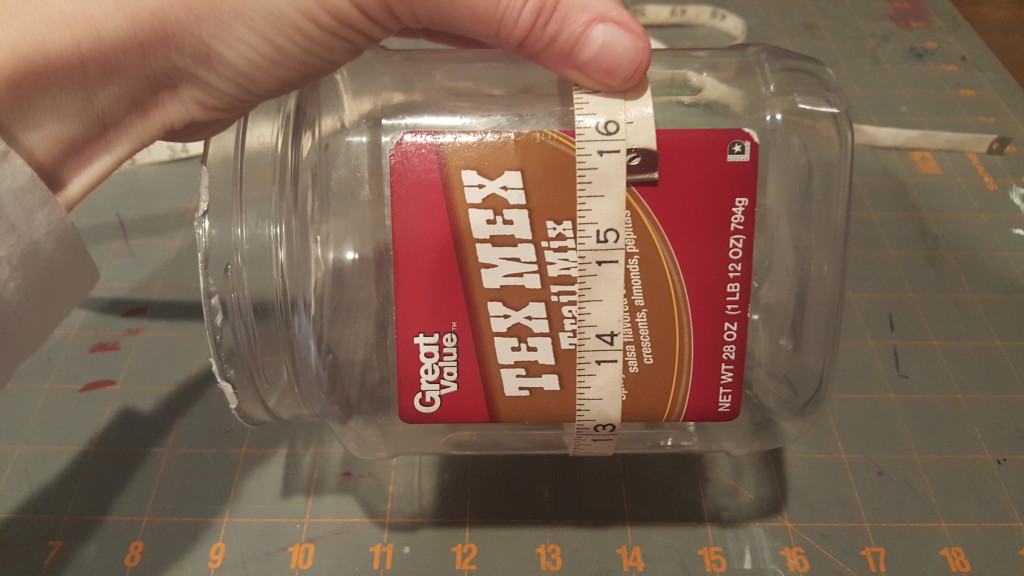 First measure the container around the area that you want to cover.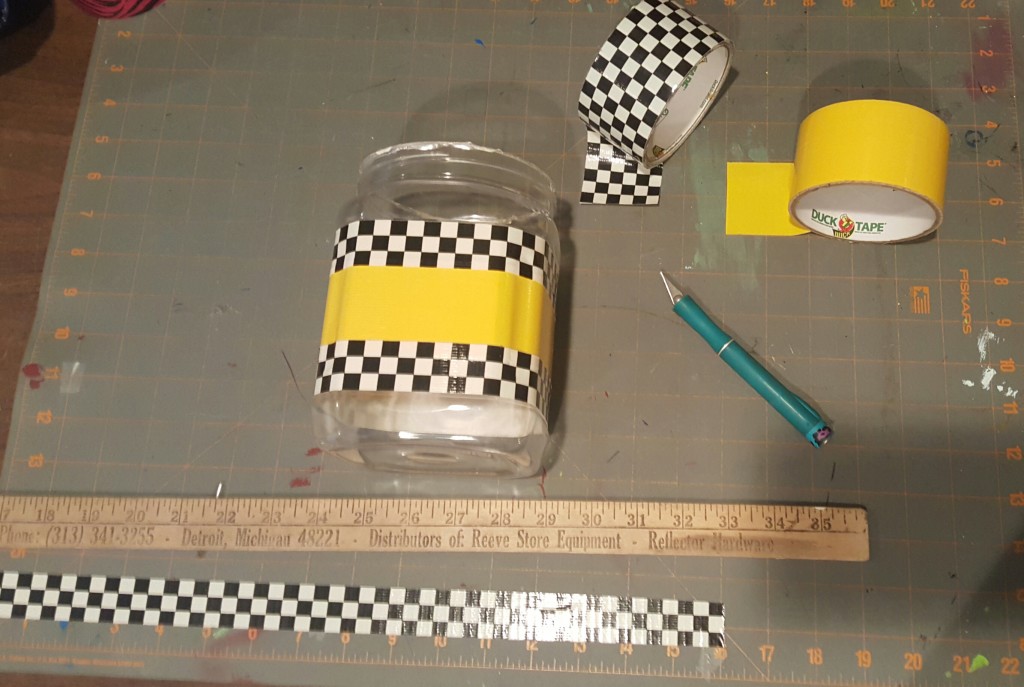 I love using duck tape on my containers. They have so many fun colors and designs and they stay put and are a little more durable then paper. I just love the black and white check duck tape! Here it looks a bit like a taxi cab combined with the yellow 🙂 After you measure your container, just cut your duck tape about 1/2″ longer so that it can overlap a bit in the back. I placed the yellow duck tape on first and then cut the checkerboard duck tape in half to boarder the top and bottom of the yellow strip. Just an FYI… sometimes you can still see the label through the lighter colored duck tape so you can either remove them or I just add more ribbons or tags to cover them up!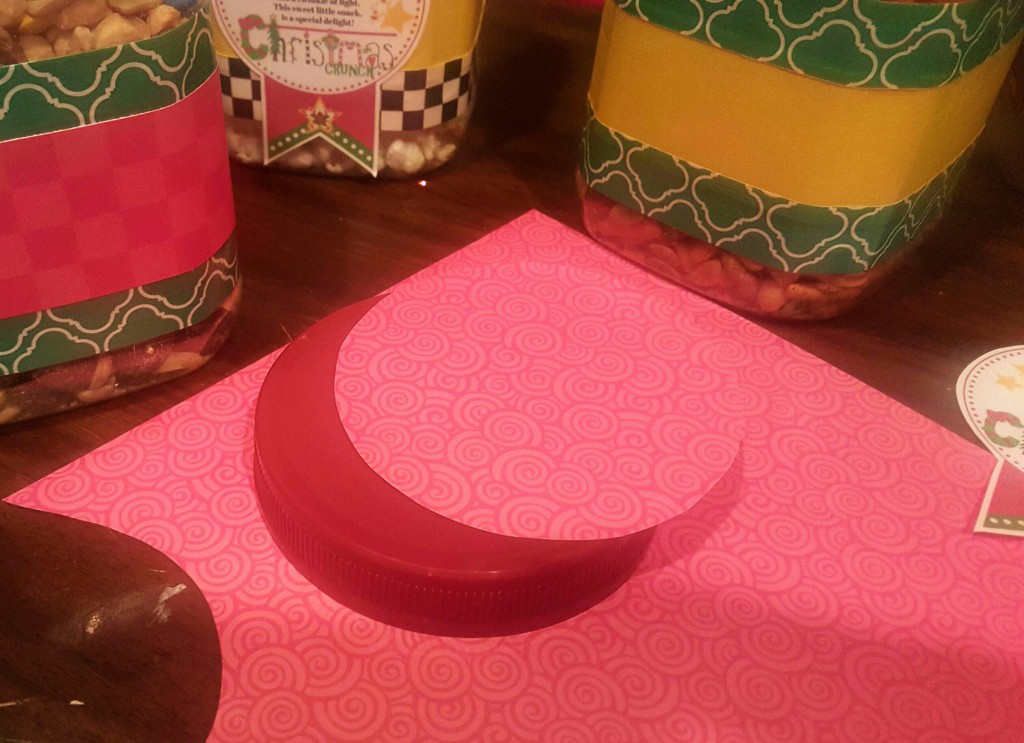 Well as much as I love duck tape, I also swoon over scrapbook paper! So if you are like me, or if you don't have any duck tape, just adhere strips of gorgeous patterned paper (even wrapping paper works, especially the heavier ones) around your containers, covering up all the store labels. Have fun decorating the lids too, just trace on paper and cut out or cut fabric about 2″ larger around then the lid and tie that on to the top of your festive semi homemade gifts with a festive ribbon! If you are having the kids decorate the containers you may need to help them with the duck tape or paper strips depending on their age, then you can have them add Christmas stickers or make some cute tags with a hand written note! I love kid,s writing to make gifts extra special and personal 🙂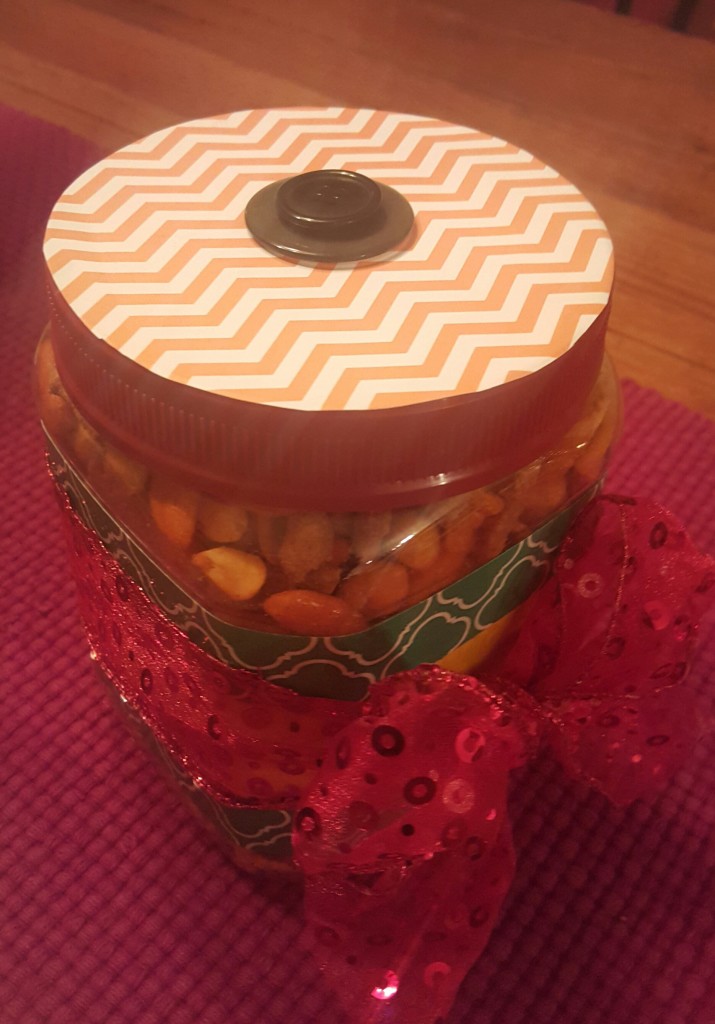 I used my hot glue gun to add some buttons to some of the lids and keep some ribbon trims in place. The ribbons these days are so beautiful you can just wrap around and tie a happy big bow!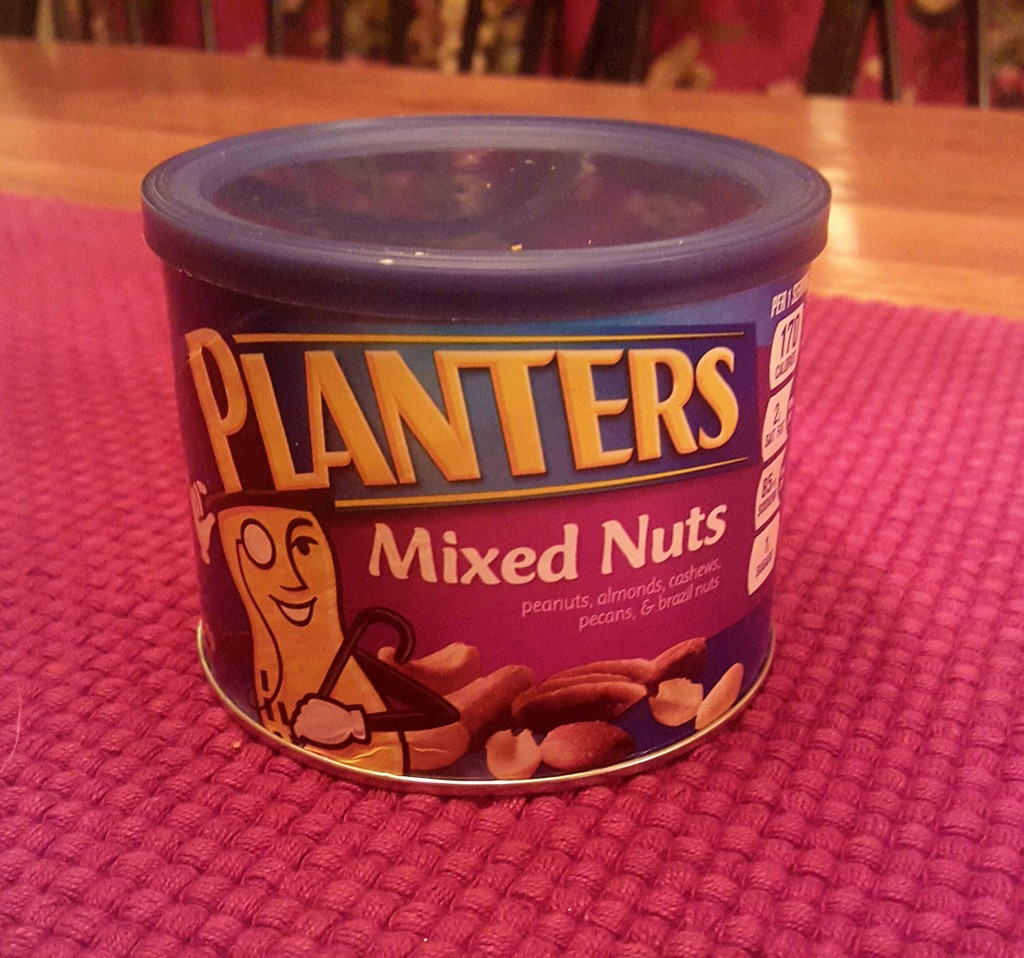 Here is another purchased snack that I like to jazz up a bit and give as a little thinking of you gift or to stick in gift baskets.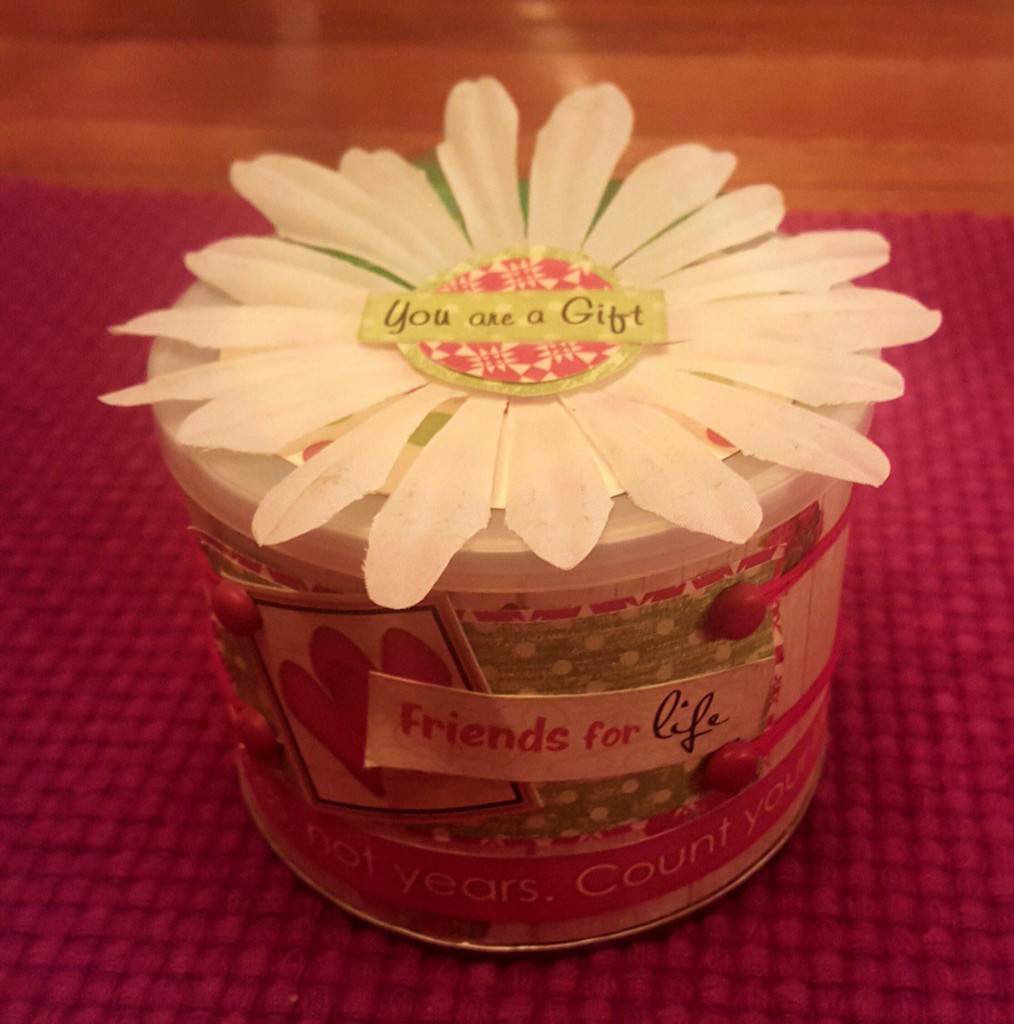 I actually gave this container to my mom years ago, do you recognize the Friends for Life line from BoBunny?! She saved the container and then gave it back to me filled with some of her wonderful cinnamon roasted nuts last year! Maybe I should fill it with some Christmas Crunch and send it her way again! 🙂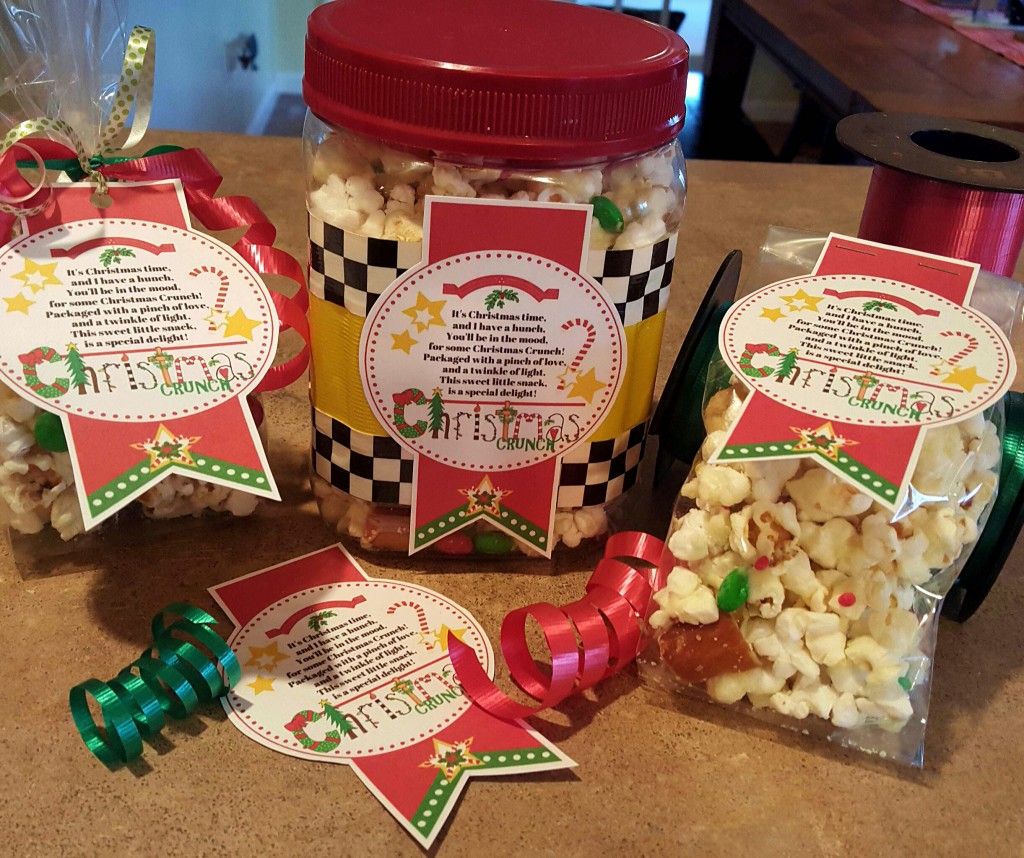 If you have a little more time and want to fill and decorate some recycled containers, here is one of my favorite Christmas snacks to package.
CLICK HERE
to view our Christmas Crunch Poem Tags available in three different styles.
Ingredients
1/2 cup popping popcorn kernels or you can use 2 microwave bags of popcorn
1 (12 oz) bag Vanilla Candy Melts (like Wilton Candy Melts)
1-2 cups broken pretzel pieces (I used some salted caramel pretzel pieces that I just found- YUM!)
1 (12 oz) bag green and red Milk Chocolate M&M's
Optional Holiday Sprinkles
Directions
Place a piece of wax paper on the counter where you can allow your Christmas Crunch to cool.
Pop popcorn and remove all unpopped popcorn kernels. Toss in broken pretzel pieces and mix.
Melt Vanilla Candy Melts in a microwave safe bowl on 50% power in 30 second intervals, stirring after each interval until melted and smooth. Drizzle melted chocolate over popcorn mixture, then stir, tossing gently a few times with a rubber spatula (don't over stir though or your sprinkles and M&M's won't stick if the chocolate begins to set and harden). Quickly pour mixture on to a single layer of wax paper. Sprinkle entire mixture evenly with M&M's and sprinkles before vanilla chips set. Allow to cool and harden, then gently break into pieces and store in an airtight container or package up for gifts!
So many options- you can make your own treats or buy them, use new filled containers or recycle old ones and fill with homemade goodies or simply purchase some premade Chex Mix (Oh my, they have lots of new flavors this year!) Bottom line is, be realistic with your time so that you can enjoy more of your time this Christmas while you are preparing your gifts and giving them! 🙂
Merry Christmas and cyber hugs to you all