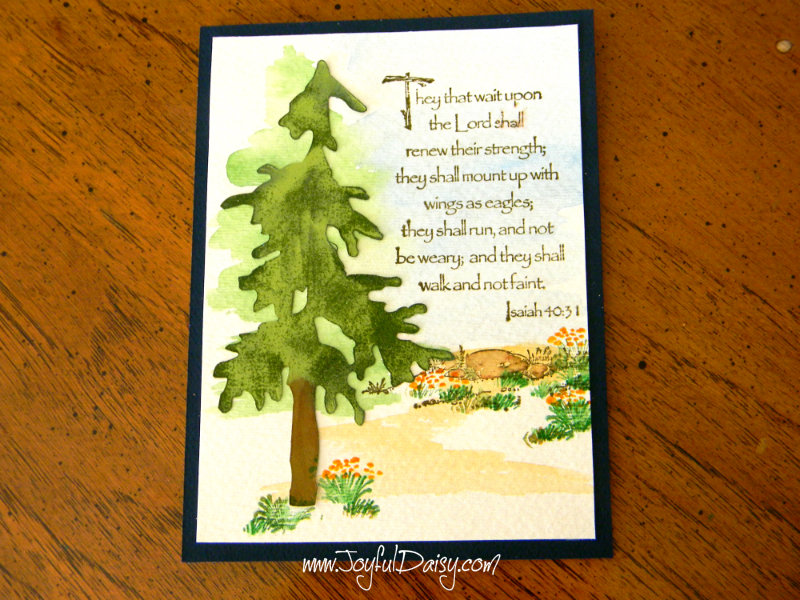 This beautiful rubber stamped card can be used for all occasions.  The light watercolor wash on the background gives this card a soft setting to highlight the Sizzix dye cut and biblical quote.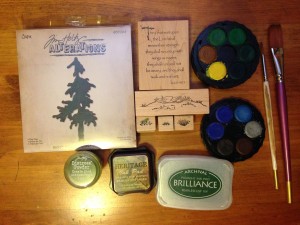 SUPPLIES…
Sizzix Tim Holtz Pine Tree
Northwood's Verbiage Stamp
Art Impressions rock, grass, and flower stamps
Marvy Heritage Ink Pad
Tim Holtz Distress Powder in Peeled Paint
BRILLIANCE Pearl Ivy Pad- available at Amazon at http://amzn.to/1cbyaEQ
WATERCOLOR WHEEL STACK -available at Amazon at http://amzn.to/1dfWNR7
WATER COLOR PAPER 5″ * 6 1/2″ (cut down to 4″*5 1/2″ for card)-available at Amazon at http://amzn.to/1fju2J1
White cardstock 9″ * 6″ folded in half
Navy cardstock 4 1/2″ * 6″
INSTRUCTIONS…
1.  Place a watercolor wash on card under areas to be stamped with appropriate colors.
2. Cut out tree dye cut.  Alter tree by rubbing green stamp pad on tree and emboss with powder.  Color trunk brown.
3.  Once card is dry, add verbiage and rock stamps.
4.  Adhere altered tree to card.  Using brush and Heritage stamp pad, color in rocks.  Add
grass and flower stamps around tree and stamped rocks.
5.  Matt stamped scene on navy paper and then on card.