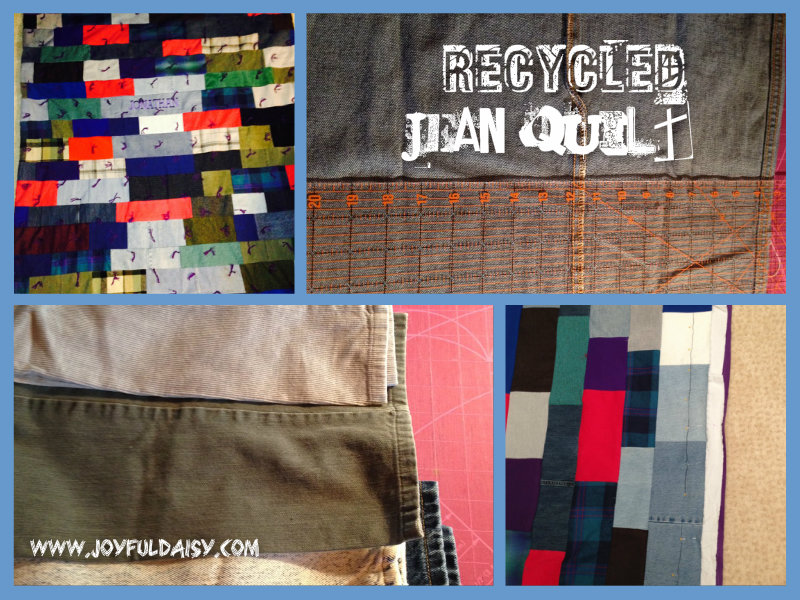 Time to clean out your closet or take a trip to the closest resale shop and gather up an assortment of jeans with different finishes, cords, and maybe some old wool or velvet skirts and shirts to repurpose them into a great quilt!  This recycled jean quilt is perfect for any home and makes a super gift for a graduate heading to college.  You can even make them feel extra special by embroidering their name on one of the pieces of denim placed center stage on the quilt!  I just love personalizing things:)
TIME TO GATHER YOUR SUPPLIES…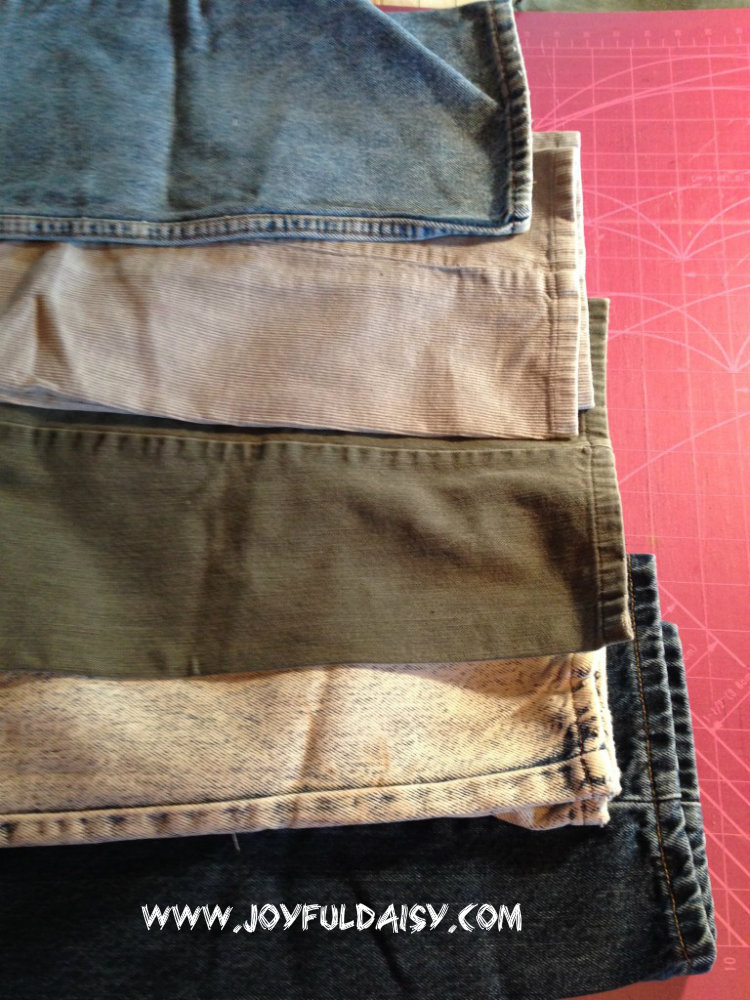 5 Pairs of Adult Jeans, Assorted Finishes
Double Bed Sheet
2 Yards Polar Fleece
Assorted Pieces of Wool, Velvet, and/or Corduroy
1 Skein Worsted Weight Yarn (Looks nice when you match it to color of polar fleece.)
Large Eyed Needle (as slim as possible)
#14 Sewing Machine Needle
Walking Foot for Sewing Machine if Available
Quilting Pins
Rotary Cutter, Mat, and Ruler
Needle Nose Pliers (to help pull through ties)
TIME TO GET STARTED…
1. Prewash all material.
2. Cut all jean legs open by one seam and trim bottom edges straight.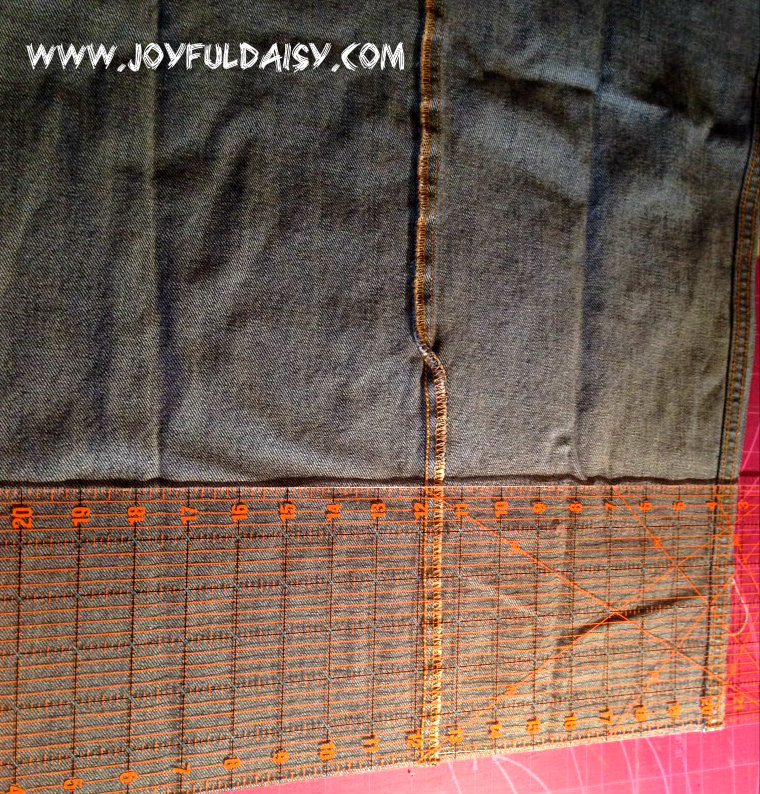 3.  Using rotary cutter, quilt ruler, and mat, cut 5″ and 6″ wide strips approximately 8″-16″ long from your jeans and scraps of fabric.  (Cut approximately half of the strips 5″ and half 6″.)
4. OPTIONAL: Take one of your denim strips and have name embroidered on it. ( It looks really nice when you use the same color embroidered thread, yarn ties, and fleece backing.)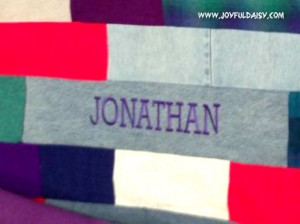 5. Sew 5″ strips together along short ends, varying fabrics and lengths.  Continue until all 5″ strips are used.  (If you have an embroidered piece make sure it is where you want it.  Keep in mind sewn strips will be cut to 60″ pieces in step 7.  We featured our name in the middle, however, you could place it anywhere.)
6. Repeat step 5 above with 6″ strips.
7. Now cut your 5″ and 6″ sewn strips into 60″ long pieces.
8. Spread polar fleece on the floor.

9. Starting 2″ down from 60″ edge of polar fleece, alternate 5″ and 6″ strips to cover. (Be sure to place strip with embroidered name where you would like it.)
10. Sew strips together to form top of quilt.
11. On large surface, we used the floor, lay your sheet, then polar fleece (right side up), then sewn quilt (right side down).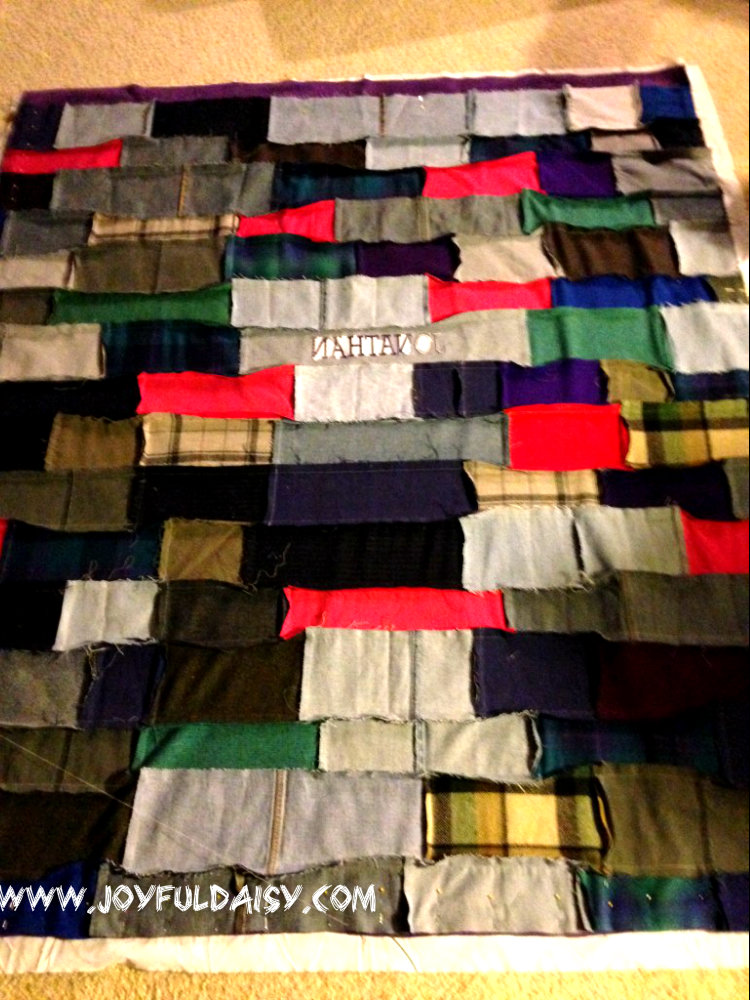 12. Place pins around all edges of quilt.
13. Trim sides and bottom even.
14. Sew along sides and bottom with 5/8″ seams.
15. Remove pins and turn right side out through top opening.
16. Spread quilt evenly on floor.
17. Pin across top  and sides to hold layers in place.
18. Stitch 2″ down from quilt edge.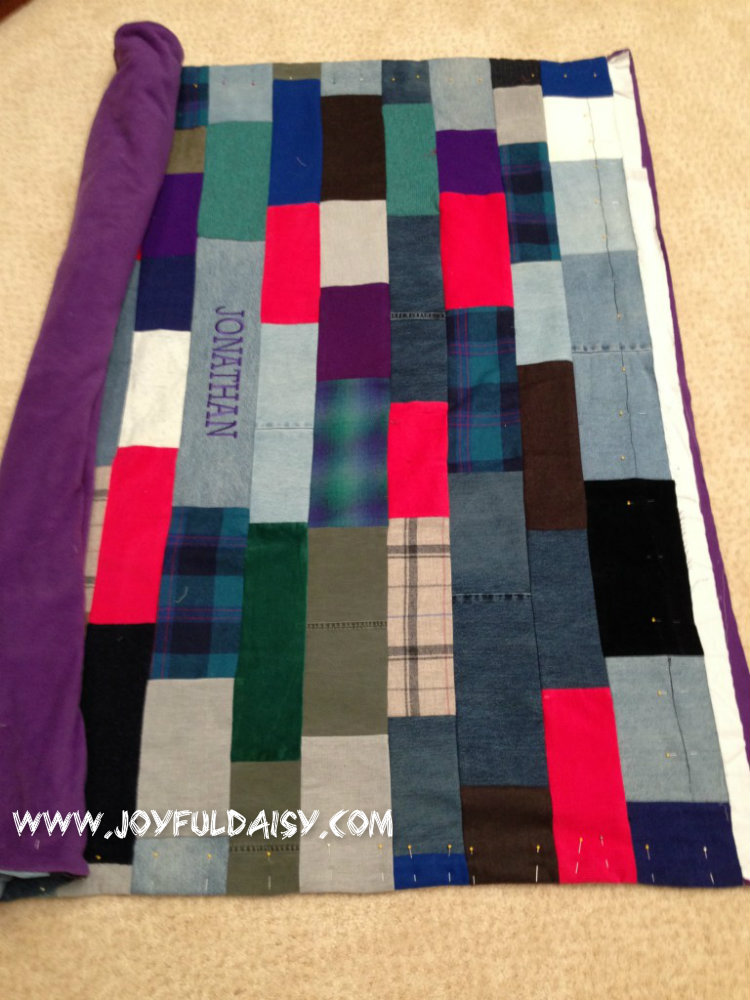 19.  Fold fleece backing at top of quilt to right side.  Fold down to make a soft 4″ boarder at top of quilt.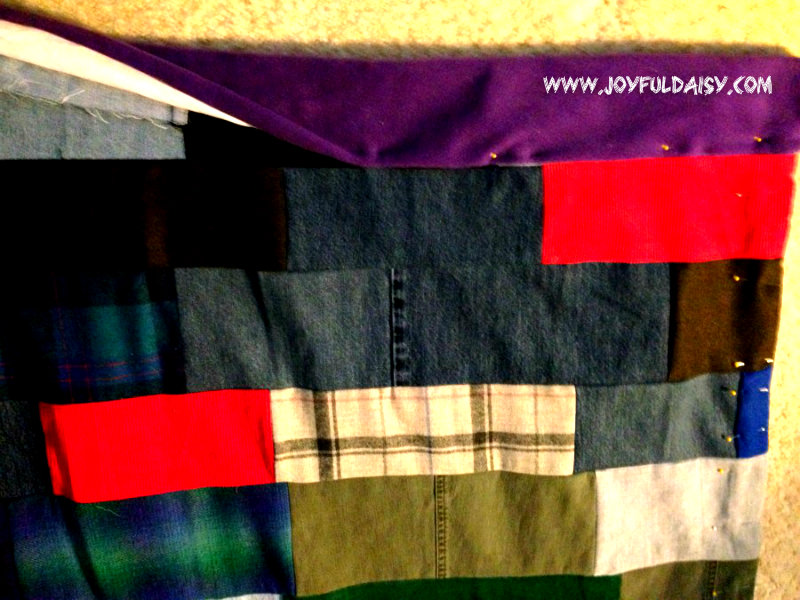 20. Stitch edge in place.
MARKING FOR TIES…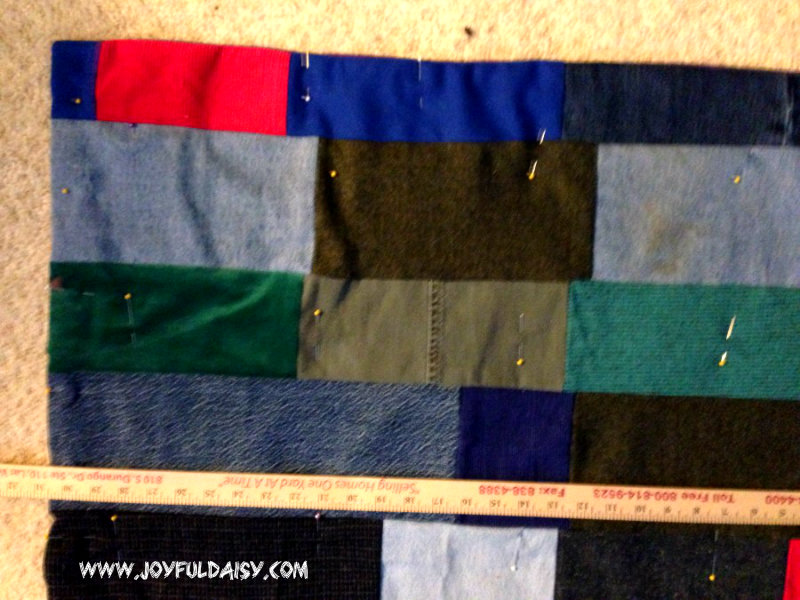 1. Place pins 6″ apart across quilt to mark where ties will go.
2.  Thread large eyed needle with long length of yarn doubled.
3.  At pin, enter at top of quilt and pull to the back leaving enough yarn to tie.  Pliers may be needed to help push needle through fabric.
4. Pull needle from back to front 1/4″ to 1/2″ away.
5. Tie to secure and double knot.
6. Trim your ties to desired lengths.
ENJOY, snuggling up in your new recycled jean quilt or ENJOY giving it to a lucky recipient:)  Needless to say…the quilt was Jonathan approved.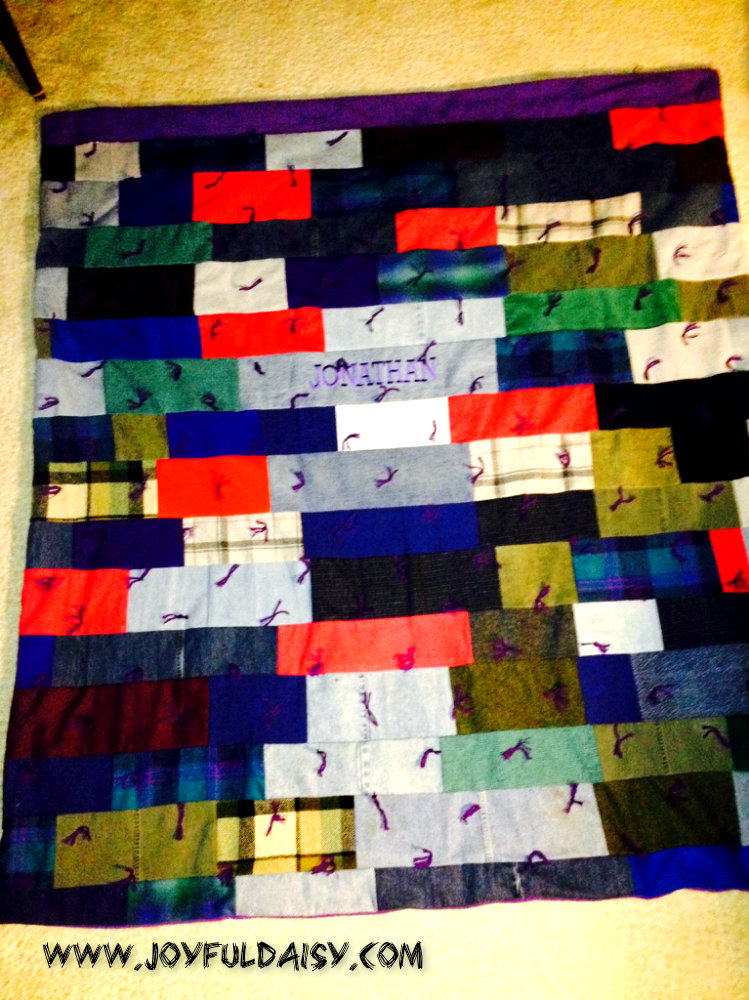 If you enjoyed this post, be sure to sign our email list on the top right hand column, we have so many fun things in store!
You can also connect with Joyful Daisy on

FACEBOOK

,

GOOGLE

,

PINTEREST

,

TWITTER

,

AND

RSS

.  I would also love it if you shared this project by clicking social link buttons below, sharing is caring 🙂
Thanks for stopping by
Cyber hugs,
Amy- joyfuldaisyforever@gmail.com