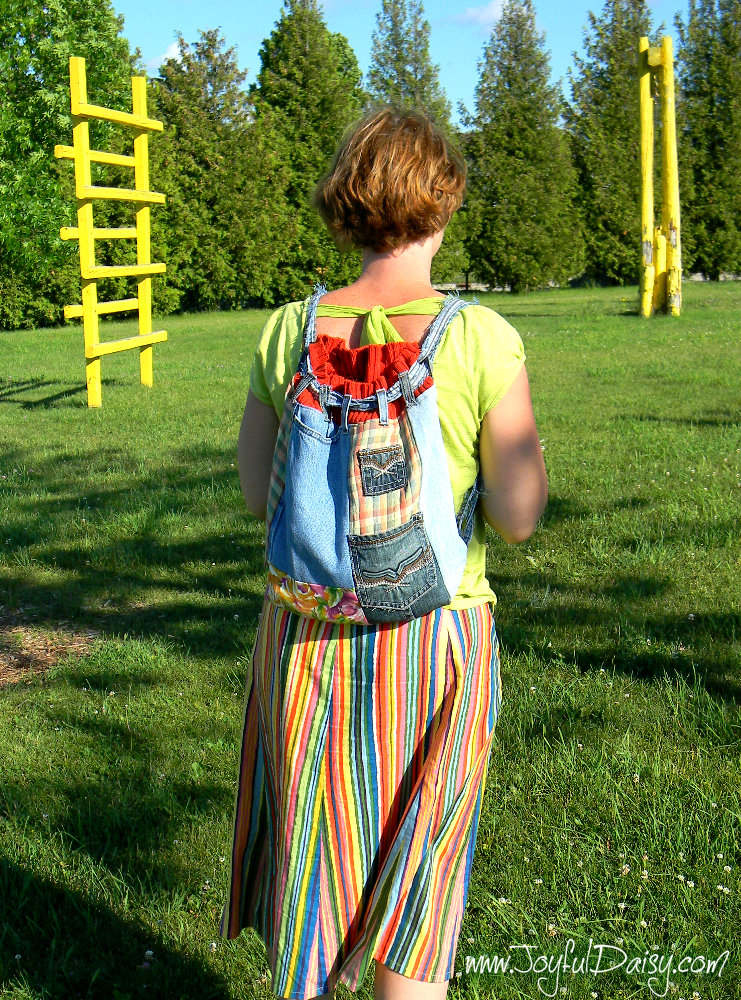 I have seen a lot of cute jean bags over the years but this design using the inseams for straps and an old sweater ribbing for the top is truly ingenious!  I can brag a little about this because it is not my design… this is another idea my mom woke up with!  She is so resourceful using parts of jeans that are often discarded and I love how she added pops of color with some scraps of fabrics that she had leftover from past projects.  So let's see how she pulled this recycled jean backpack all together…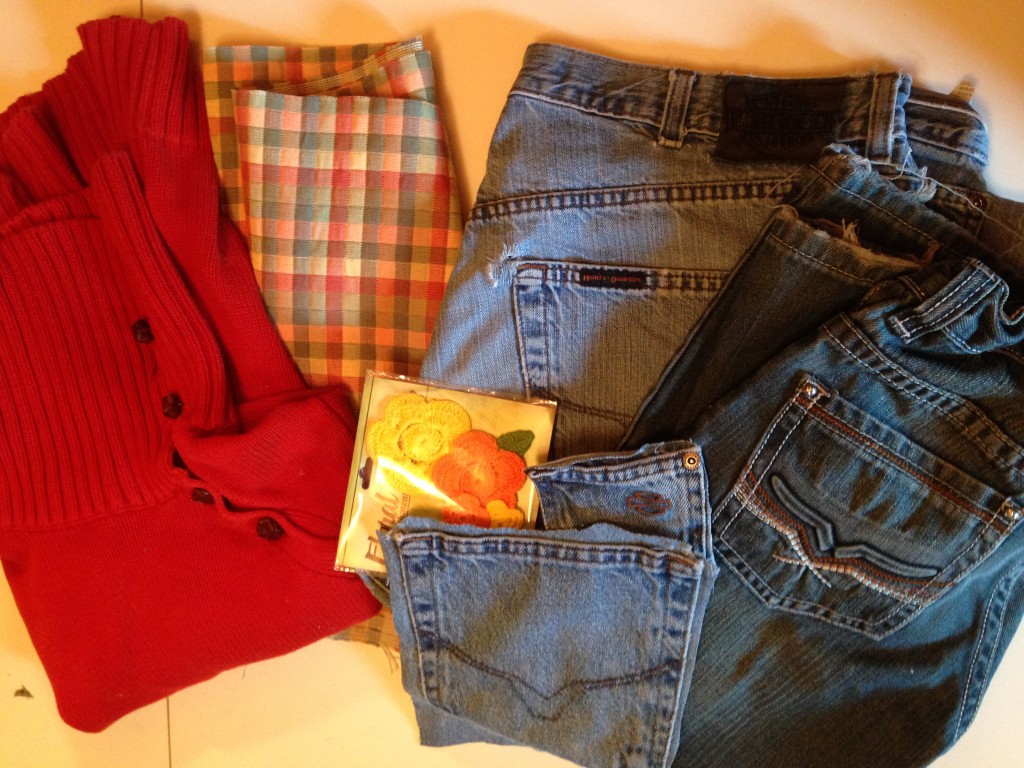 (We didn't end up using the flowers in picture above.)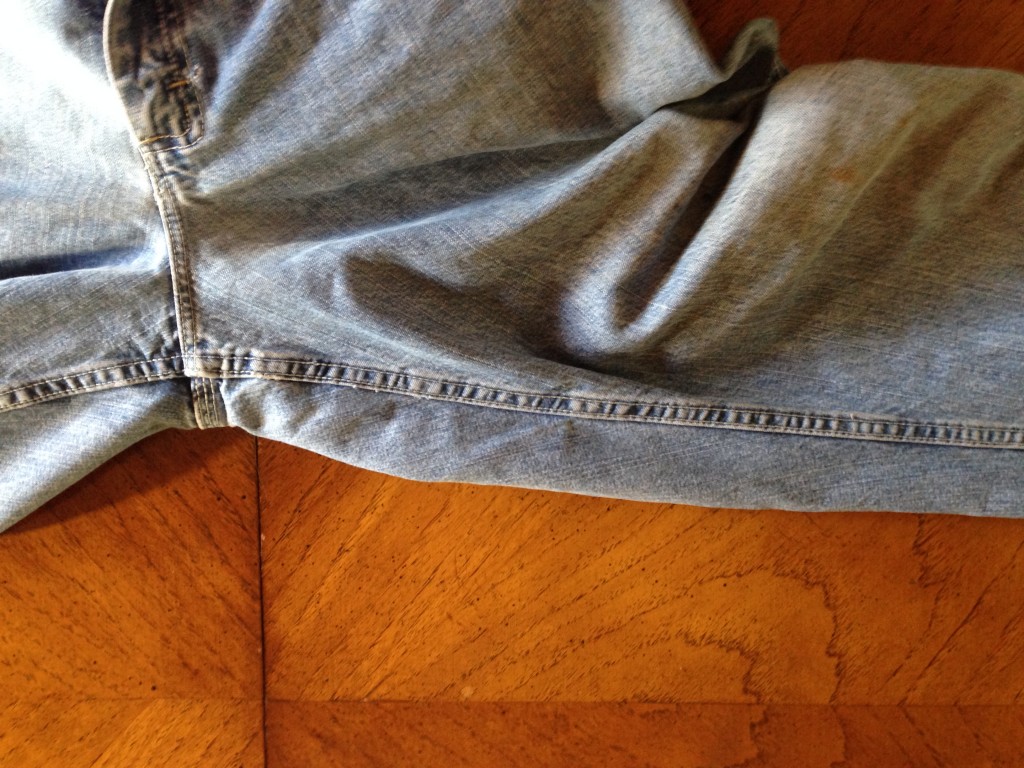 GATHER YOUR MATERIALS…
Old jeans- belt loops, assorted pockets, 66″ French seam peace (shown above) you may need to piece these, we found the inseam on men's jeans were perfect,   and material from legs of jeans to piece purse.
Contrasting material to piece with the jeans. (If using lightweight material, be sure to double it for durability.)
Sweater ribbing (May use light weight material folded in half instead, but I love the texture of the sweater.)
Lining material 16″ * 31″ (Best to use medium weight fabric close to jean weight.)
TIPS…
Use 1/2″ seams
Use a #16 needle for sewing machine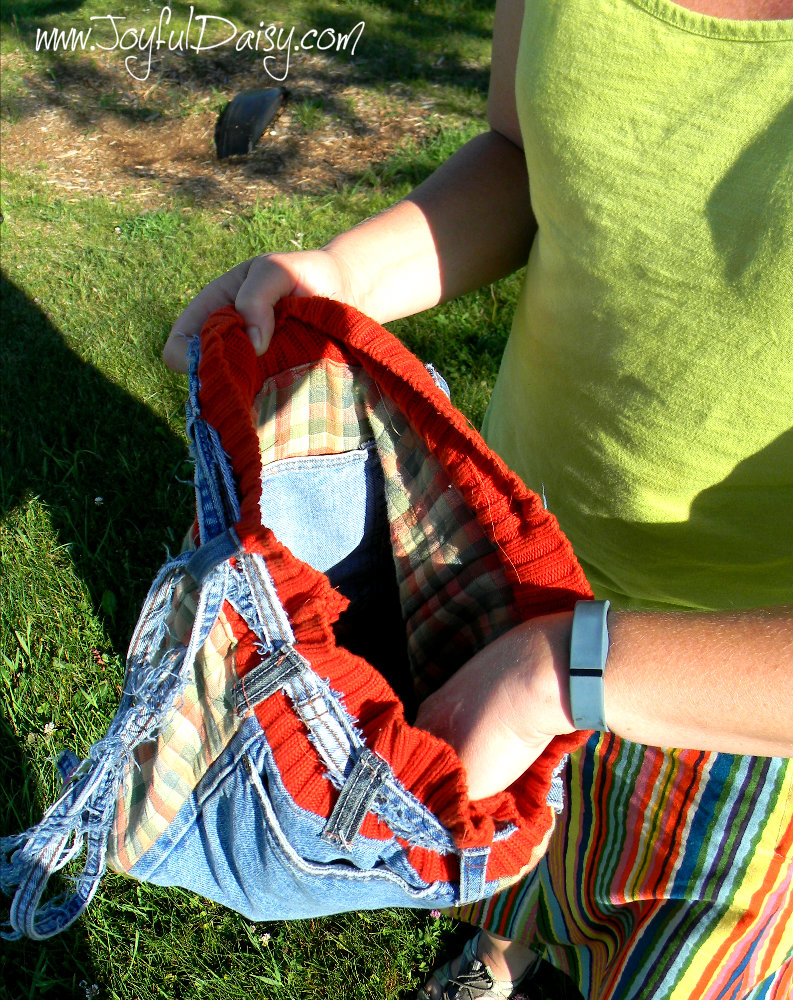 CONSTRUCTING BAG…
Cut 4 pieces from contrasting material 4″ x 16″
Cut jean material 8″ x 11″- with front pocket optional ( in picture above)  If using front pocket section, make sure you do not sew or cut inner pocket.
Cut a 6″ x 8″ and 7″ x 16″ pieces of denim
Cut 8″ x 6″ piece of floral fabric and checked fabric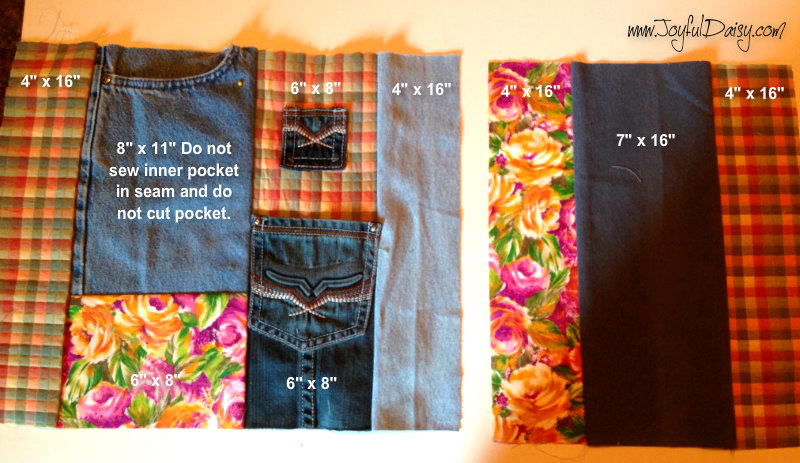 With 1/2″ seam allowance, sew pieces together as shown above.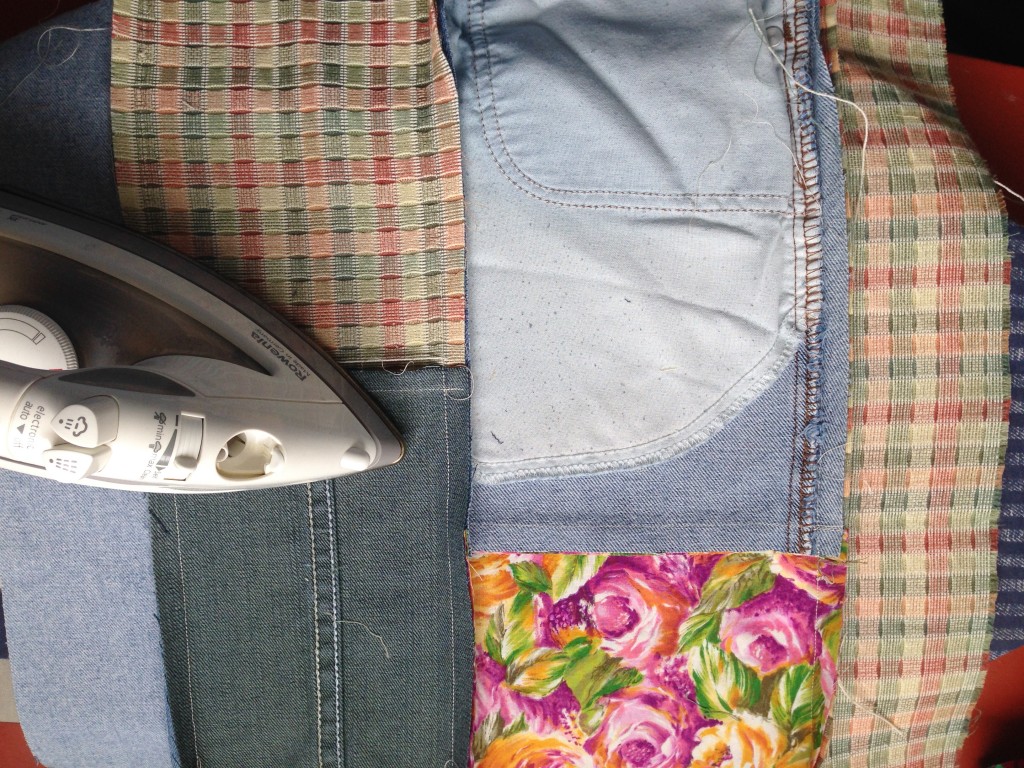 Iron seams flat.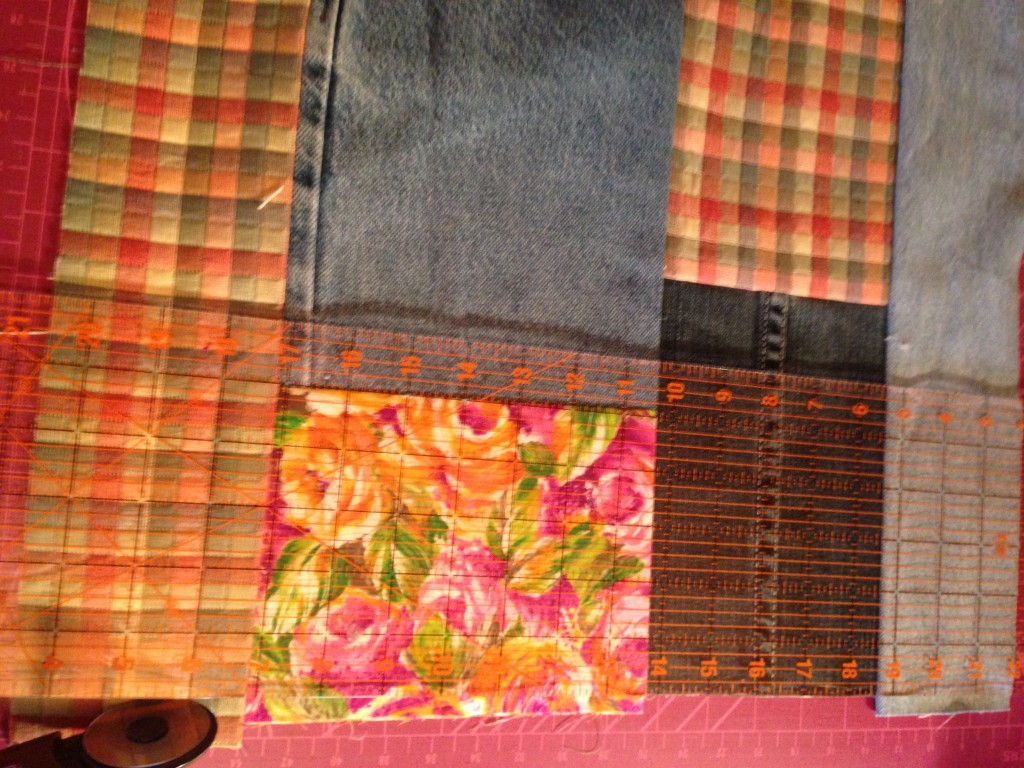 Trim bottom edge even on front side piece.  Trim back to match.
Sew pockets to front section, again remembering not to sew pocket lining.  Do not place pockets lower than 2 1/2″ from bottom edge or higher than 2″ from top edge.
CONSTRUCT LOWER SIDE TABS TO HOLD CORDS…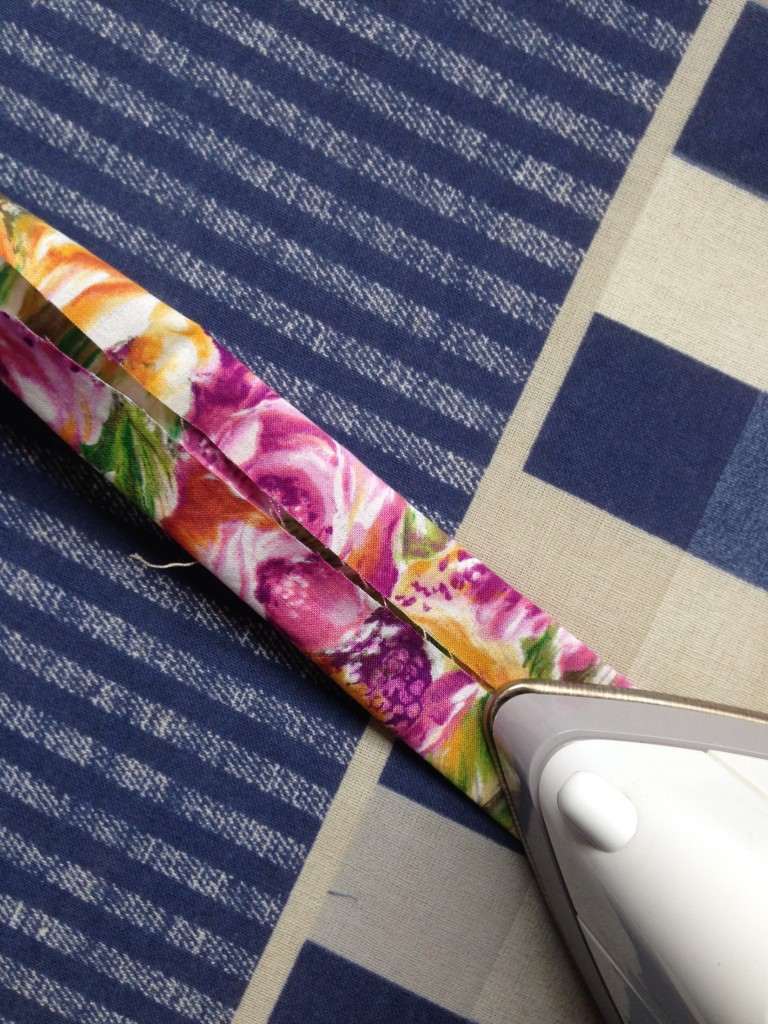 Take two 7″ x 3″ pieces of a lightweight cotton and fold in half lengthwise.  Then open and fold sides in to meet in the middle and fold in half lengthwise to make a 7″ strip.  Sew open edge closed.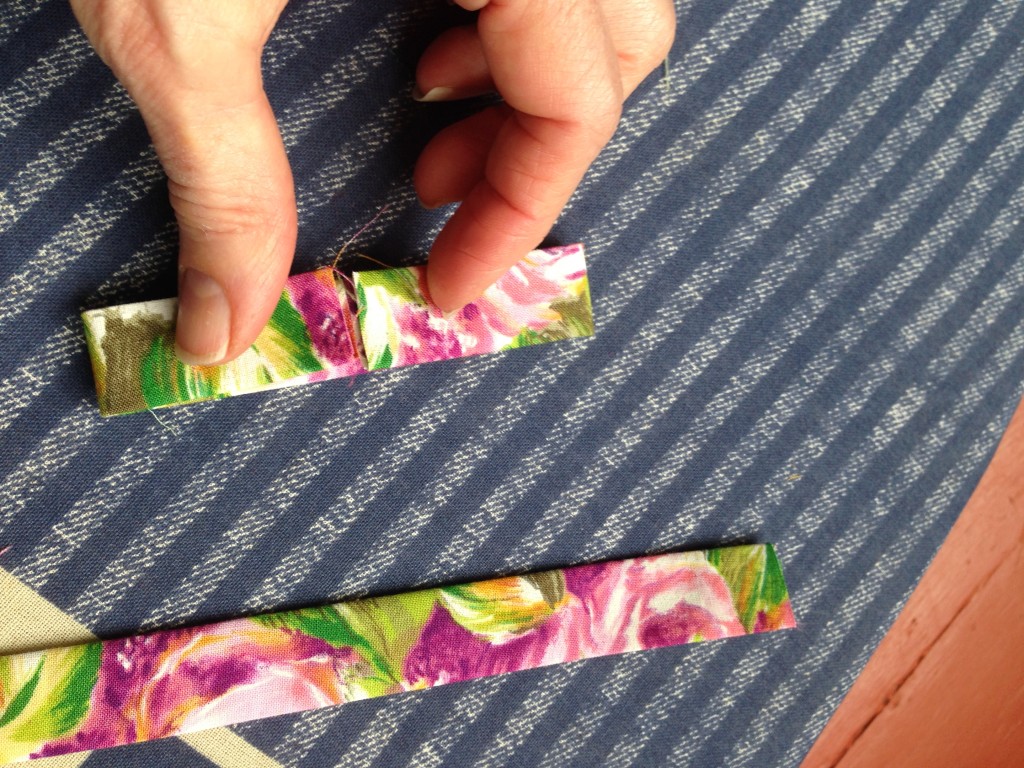 Fold ends of this long piece to middle.  Fold in half at middle.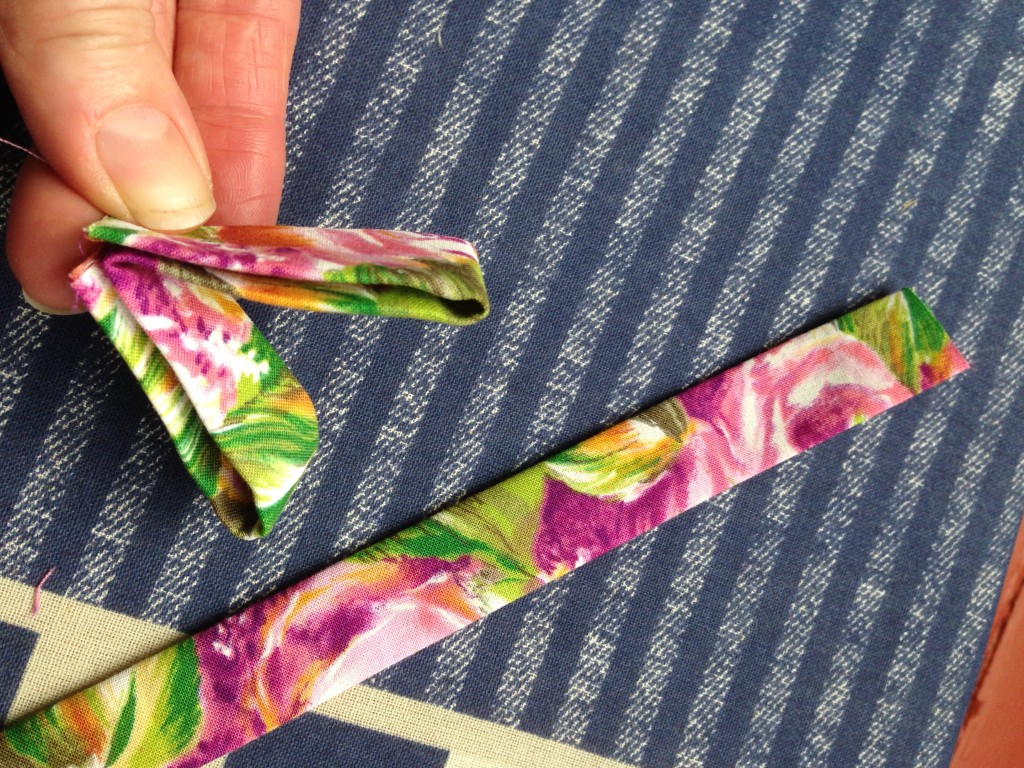 This will provide you with two open tabs on each side to thread cords through after you attach tabs 3″ from bottom along sides.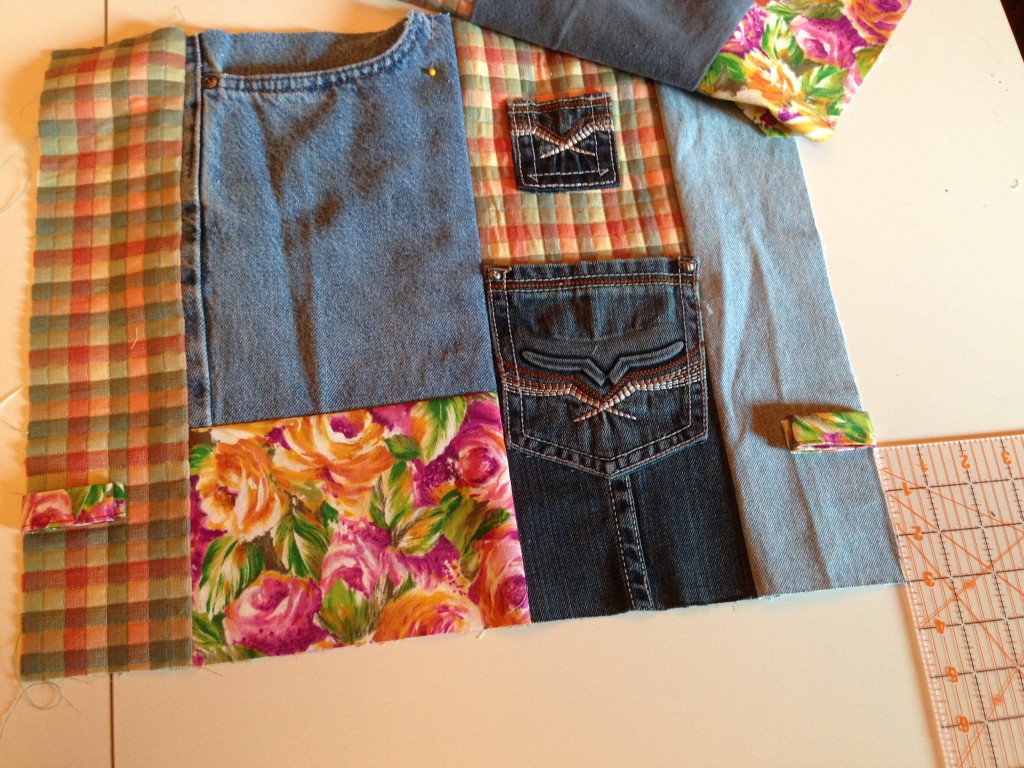 Sew front to back along sides.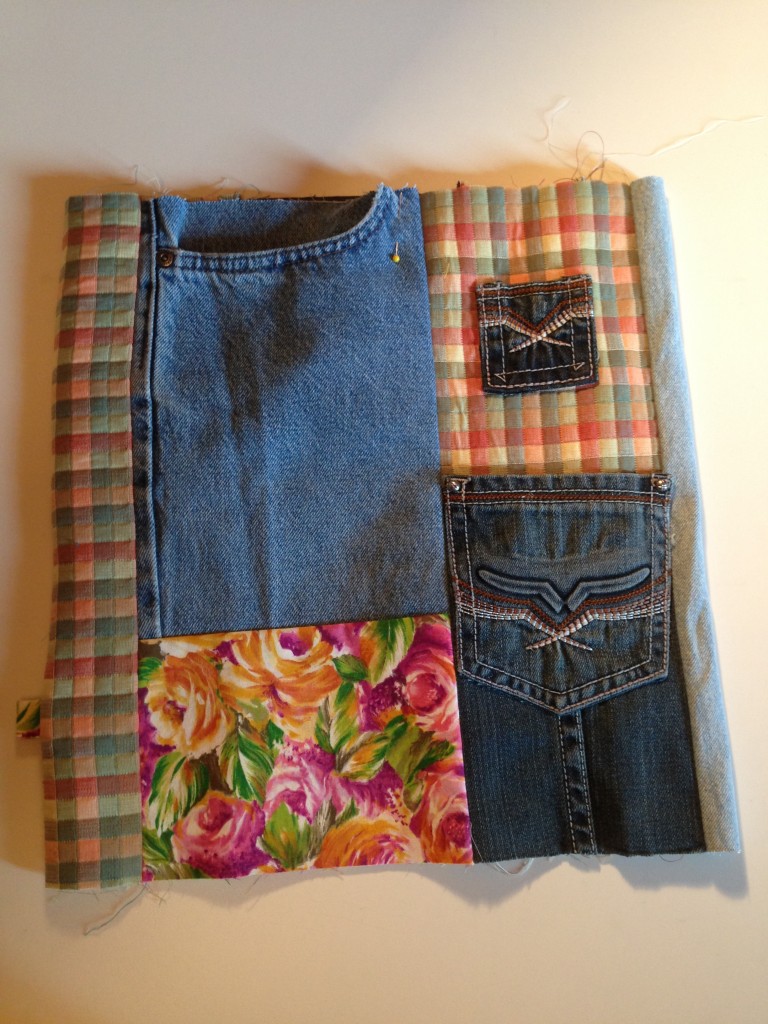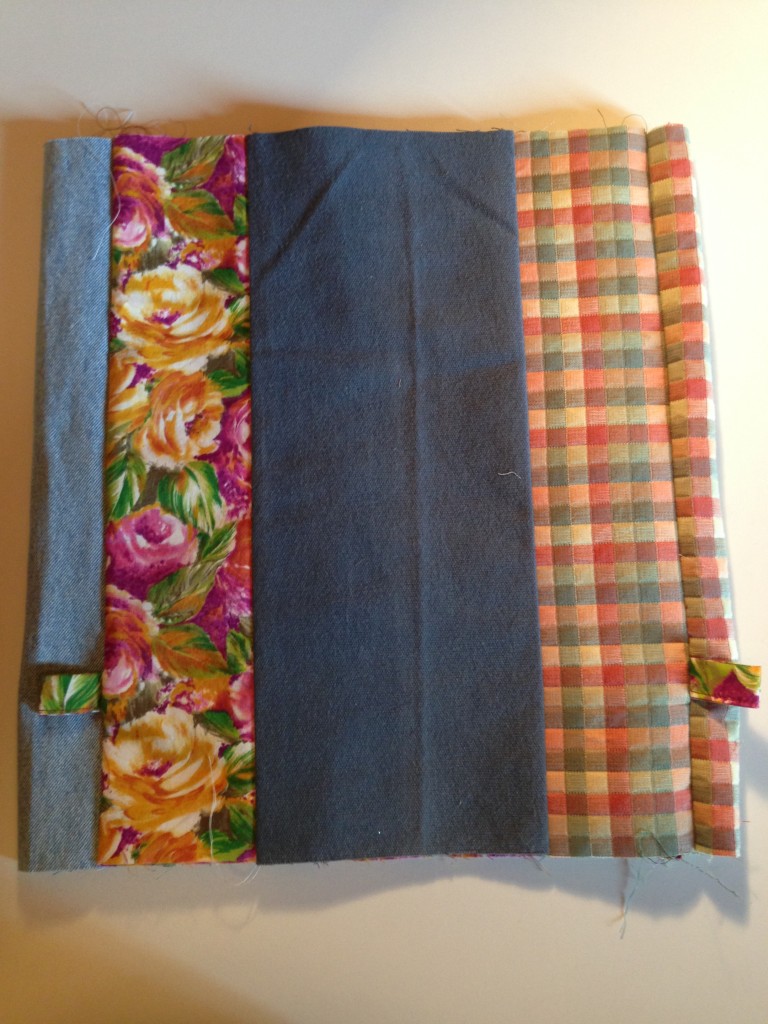 Cut bottom ribbing from sweater.  Placing right sides together, sew ribbing to top edge overlapping ends.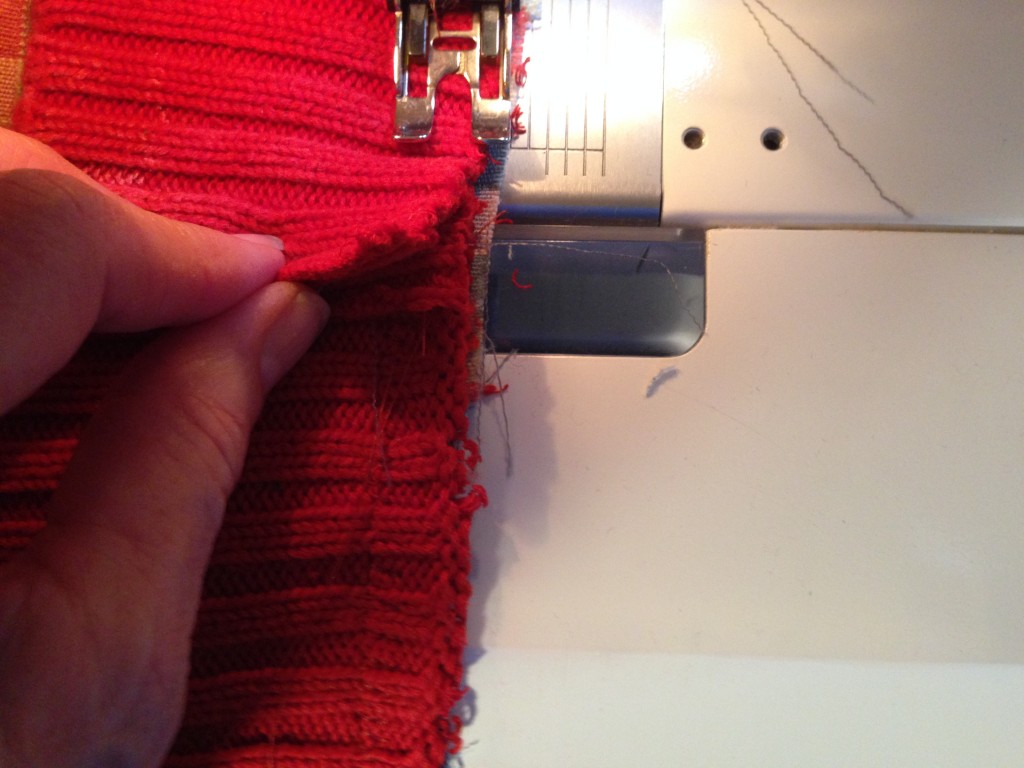 Sew ends down.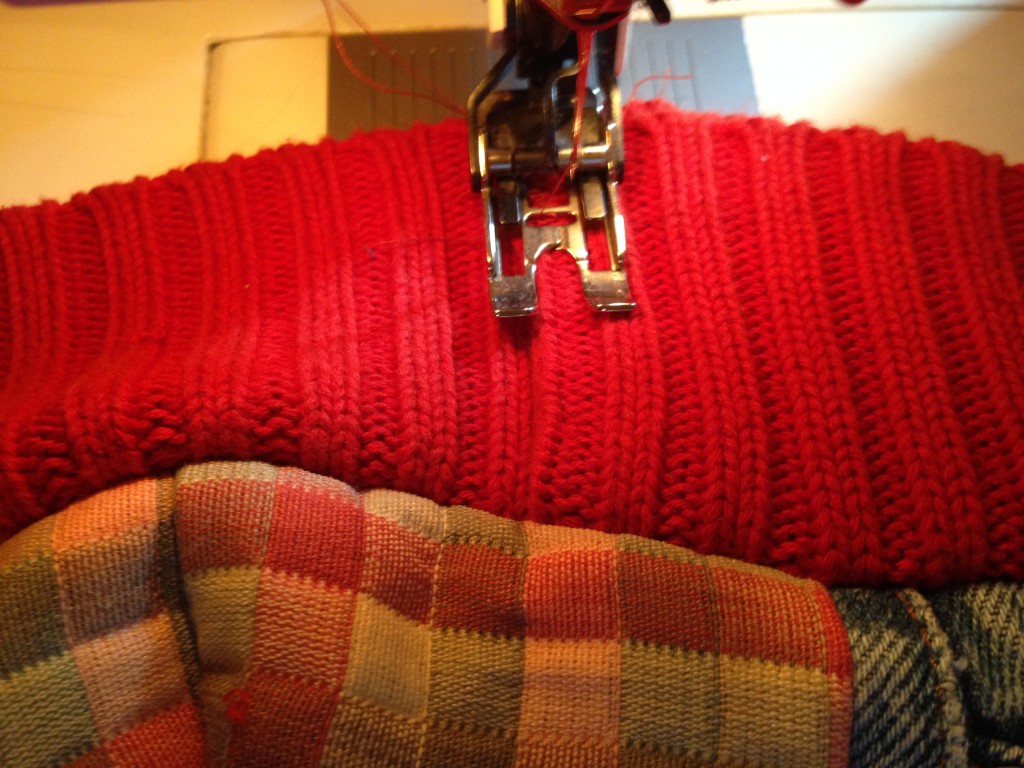 CONSTRUCTING LINING…
Measure bag from side to side, double that and add one inch for seam allowance.  This is your lining width and length will be 16 inches.  (Our total piece of lining measured 16″ x 31″.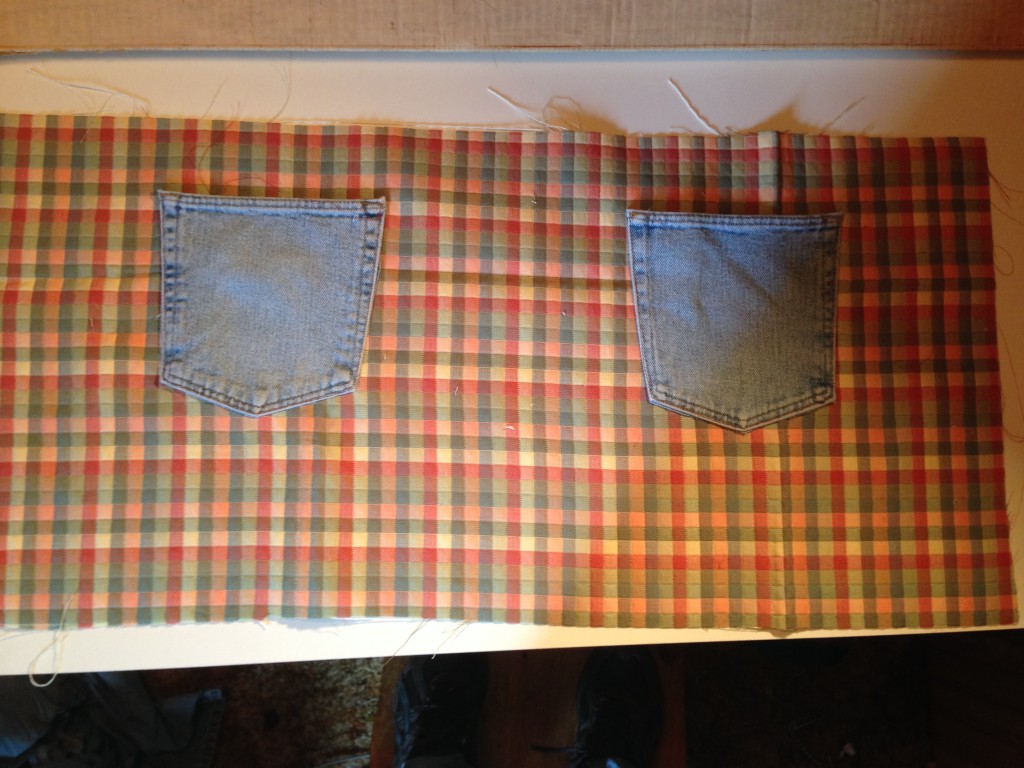 Fold lining in half and sew one pocket on each half at least 2 1/2″ down from top edge.
Lining needs to be slightly smaller so take a 3/4″ seam when you sew it together along side.  Keep 1/2″ seam at bottom.
Turn bottom of bag inside out and lie flat.  Sew 1/2″ seam at bottom edge.
To square off bottom, pull out bottom corners.  Flatten and sew across 1 1/2″ in from point.  Repeat on other side.
Finish lining bottom in the same way.
Turn bag right side out.  Leave lining inside out and slip inside bag.  Adjust, smooth, and turn down upper edge of lining to meet seam on ribbing.  Pin in place and then sew .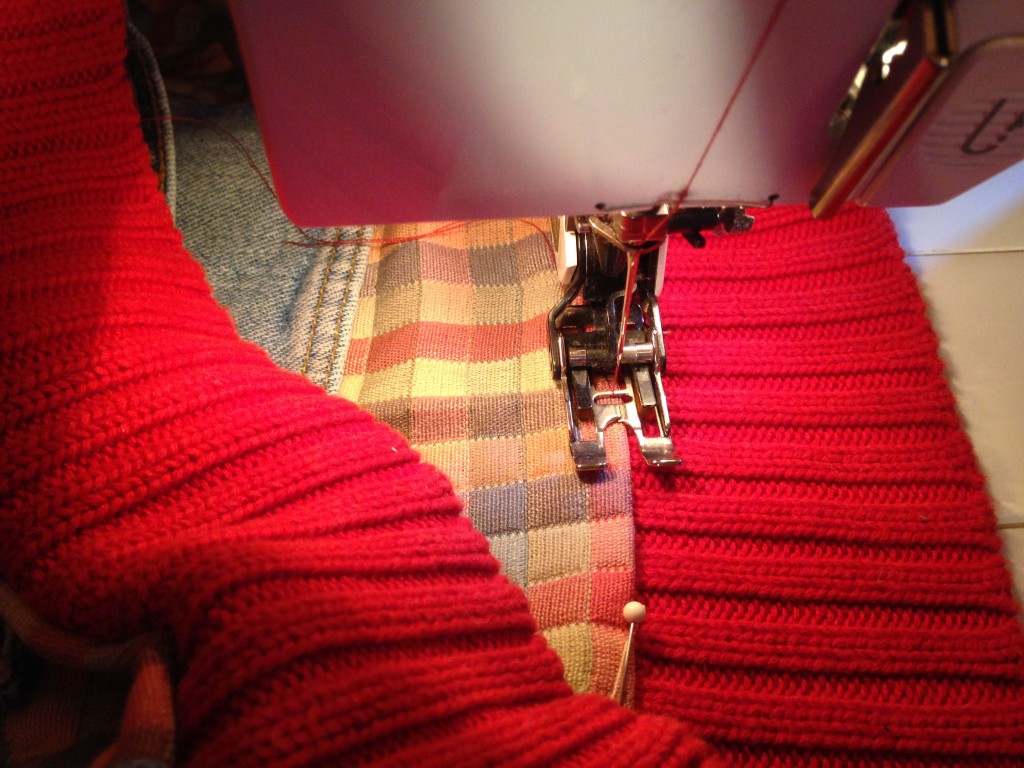 PLACEMENT OF BELT LOOPS…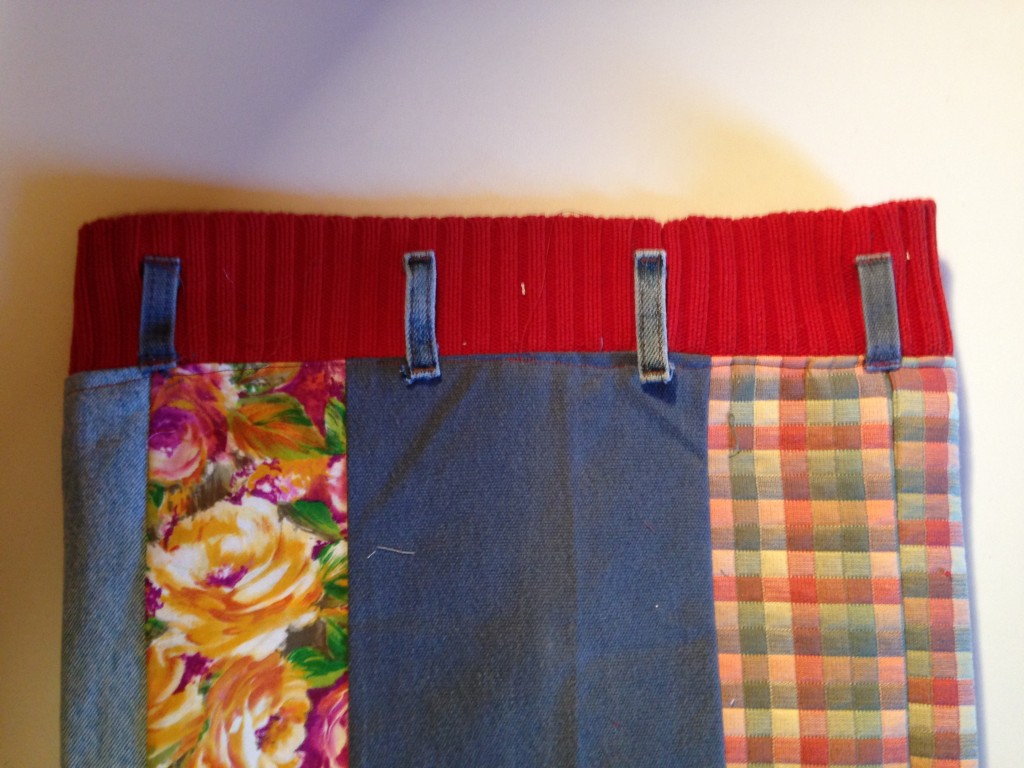 Make sure one belt loop is sewn at each back side seam (This is the loop your straps will cross at.) on to ribbing.  Place other six loops evenly around.
THREADING STRAPS…
Thread French seam strip through bottom tab at side of bag.  Then from back to front through belt loop sewn at back side seam.  Thread around through all loops and through back side loop again.  Then down through other tab at side bottom.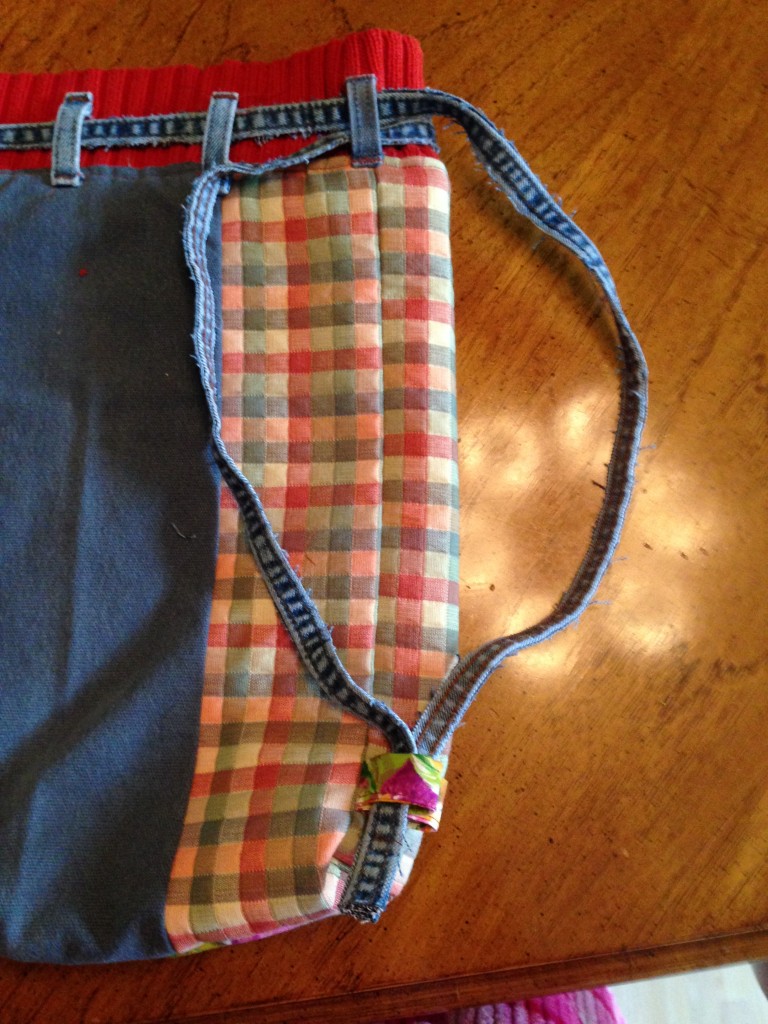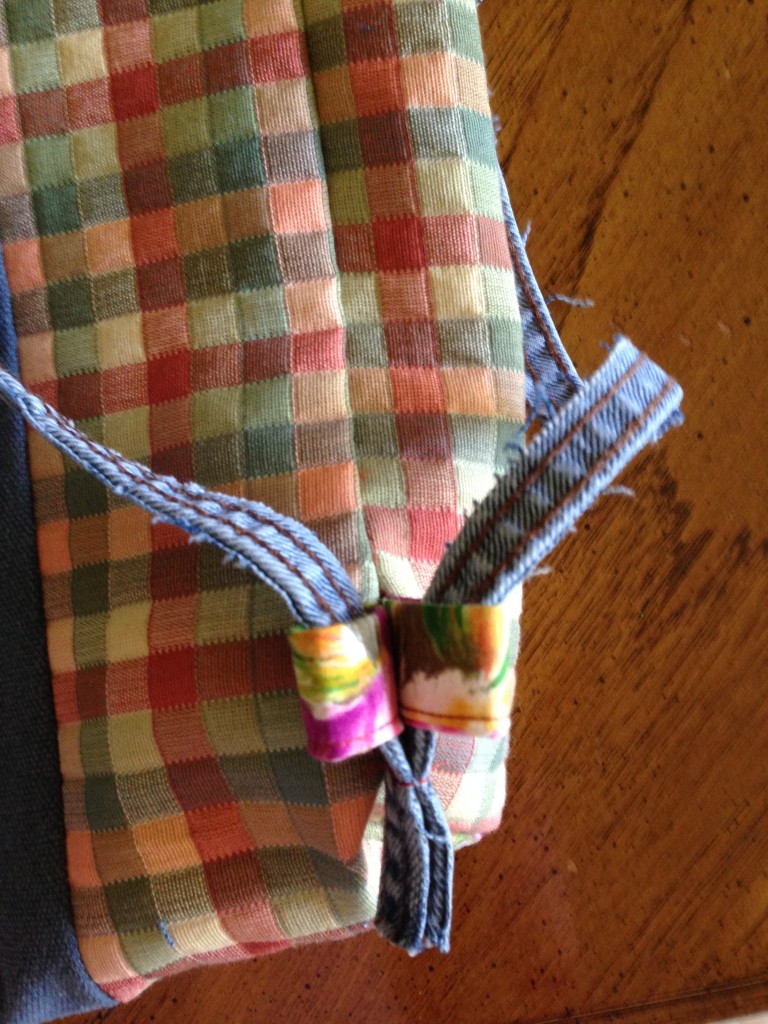 Sew ends together one inch up from bottom.  Thread strip through other side same way, making sure strap is not twisted.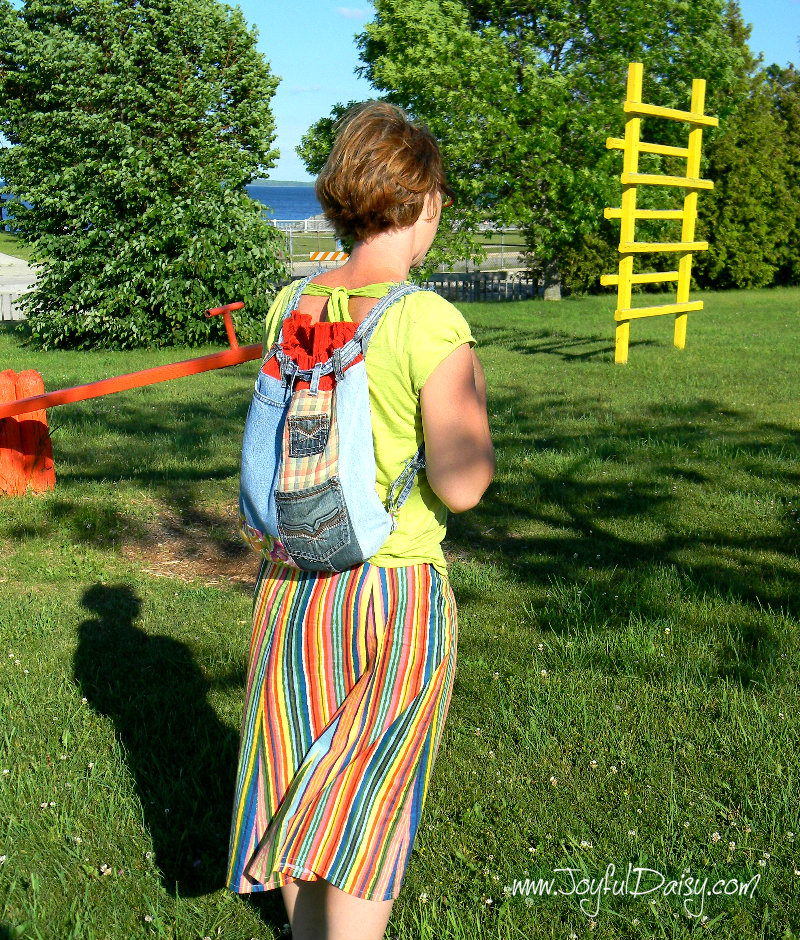 If you still have some recycled jeans, check out these tutorials…
***************************************************************************************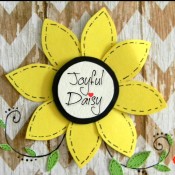 If you enjoyed this post, be sure to sign our email list on the top right hand column, we have so many fun things in store!
You can also connect with Joyful Daisy on FACEBOOK, GOOGLE, PINTEREST, TWITTER, AND RSS.  I would also love it if you shared this project by clicking social link buttons below, sharing is caring 🙂
Thanks for stopping by

Cyber hugs,
Amy- joyfuldaisyforever@gmail.com