I do love living up here, tucked in the truly beautiful Upper Peninsula of Michigan but I must admit that I often long for the adorable delis, coffee shops, and bakeries that the city offers.  Leave it to me not to miss the culture the city provides, but ahhhh yes the food:)  My trips to the city often revolve around my plans of where to eat.  I get so excited not for the 5 star restaurants, although I do love those, but for Panera and ohhhh how excited I am to arrive at Nordstrom's Café.  I love the smell of the fresh baked bread and how they have all their gorgeous treats on display.   It is so hard to decide what to order but the fabulous thing is there really are no bad choices for me.
Ok, so here I am in my cozy home, daydreaming about soups and bread… I love making soup but what I love even more is having a gorgeous assortment of homemade soups available to me everyday that I can choose from.  I shared my tips for freezing homemade soup with my mom last month and she loved it and put it into use immediately so I thought maybe you would enJOY it too…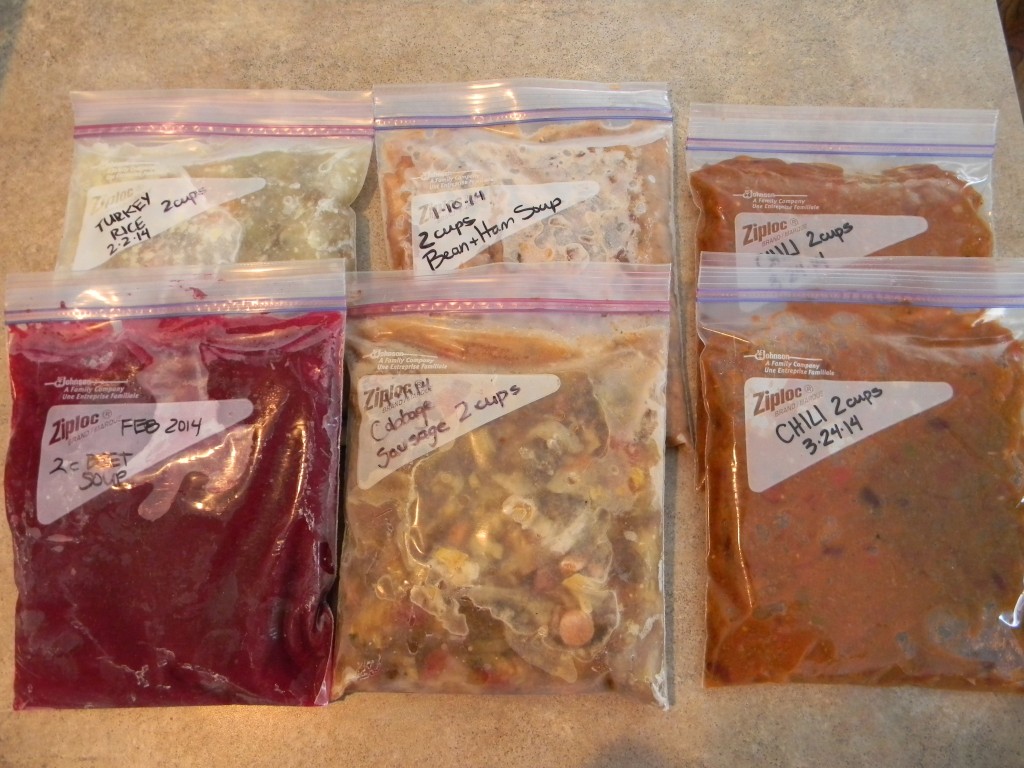 Pretty simple…
Every time I make soup, I put 2 cups in a freezer bag and add it to my stash:)
Today I made chili so I thought I would share my step by step as I go.

Label quart size freezer bags with the date and the name of the soup you are freezing.  Yes label…it might be obvious which bag my pureed beet soup is in but sometimes the others can look alike and you might defrost chicken soup when you wanted cabbage sausage!  I speak from experience here:)

To make it easy, just tuck your bag into a tall, large mouthed glass and then add 2 cups.
Carefully seal bag with as little air in it as possible and then lay it flat.
I then lay bags of soup on a shelf in the freezer.  Once they are completely frozen I add them to the back of my little freezer soup bin so that the oldest soups are in the front and do not get overlooked in case they have been in the freezer awhile.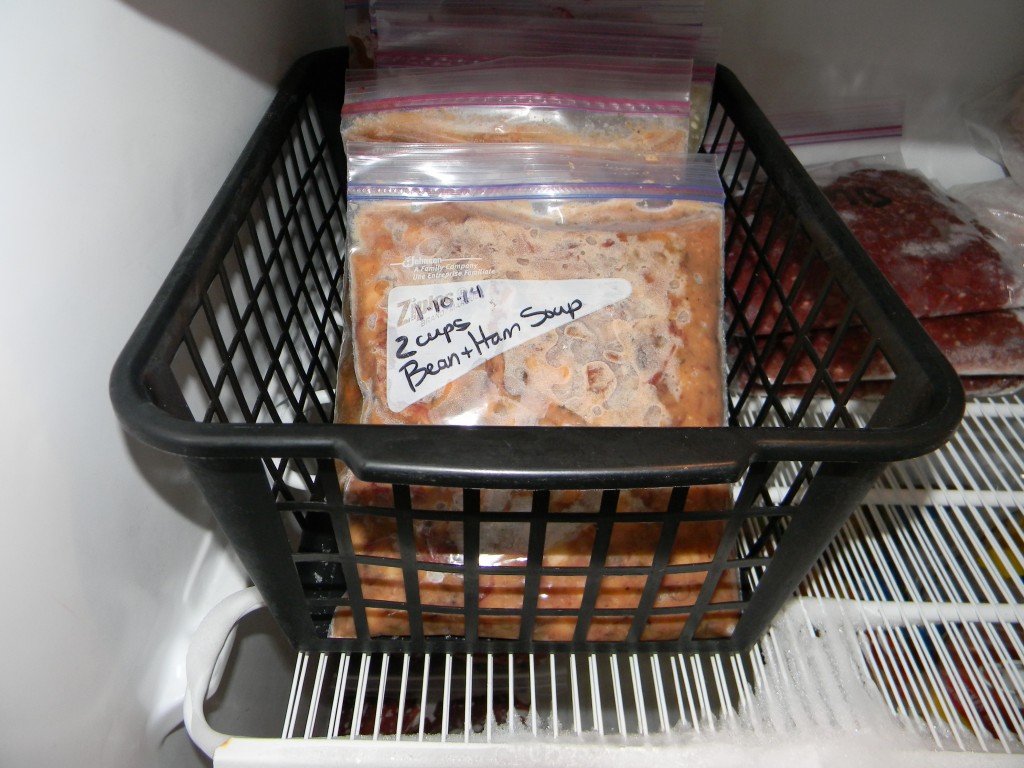 With only 2 cups per bag and frozen flat, they defrost quickly and are ready when you are.  I often cut the bag off and place frozen chunk of soup in a large microwavable bowl and then microwave for a couple minutes.
I sometimes freeze chili in 1 cup serving sizes so I had the perfect amount for chili dogs and chili cheese fries!  You may want to check out our #1 comfort-game day recipe…CHILI CHEESE FRIES.
I also love to have some chili on hand for our WALK ABOUT TACO BAR – Yummo!

Just a few more tips I enJOY….
I always have a great loaf of bread in the freezer.  I love this Food For Life brand and it is pretty easy to just pull out a piece or two at a time.
I also love collecting menus from places like Panera.  If I ever get in a rut of eating the same thing, looking at their different salads and sandwiches helps me to try something new:)
BON APPETIT!