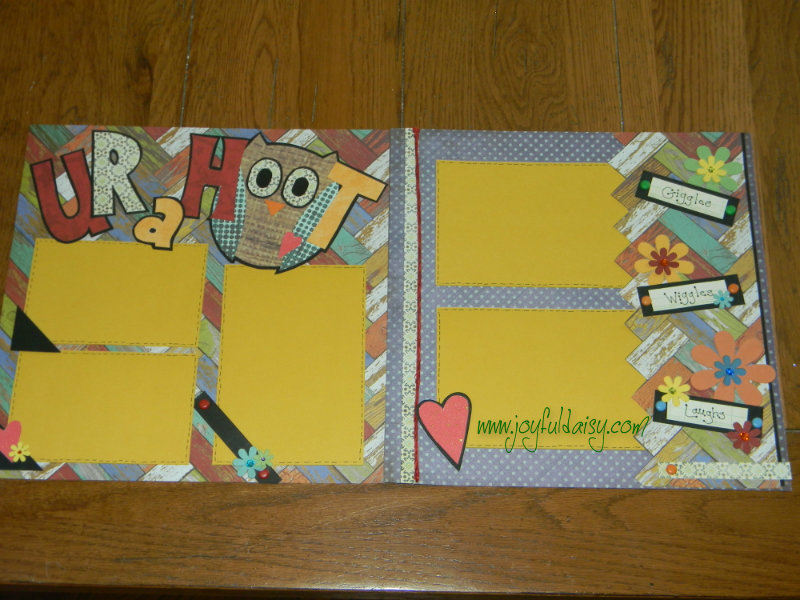 Once I sketched this owl scrapbook layout, I couldn't wait to pick out the papers because I envisioned a primitive, patched together look.  Still catching inspiration from my chevron pack of paper that I recently purchased, I was thrilled to find the multi-colored rustic board chevron paper and then I gathered an assortment of complimentary papers and embellishments and began…
SUPPLIES:
Assortment of scrapbook paper (background chevron paper is from The Paper Studio chevron paper pack I purchased at Hobby Lobby)
Assortment of large brads
Assortment of paper flowers and or buttons
Scissors and/or trimmer
OPTIONAL exacto knife and matt
fine point black pen
Once you gather all your supplies, cut out your pattern pieces, and then trace and cut pieces out of your chosen scrapbook papers.  As you will notice in the picture below on the left, my pieces just got "lost" with the busy background paper so I decided to matt these pieces in black and wow did it make a difference:)  To matt letters I just glued them on the black paper and then cut around them leaving about 1/8″ boarder (as shown below).  TIP: An extacto knife works great when cutting out the inside of letters.  I matted the owl's eyes in black and cut the oval center pieces for the eyes out in black and then assembled the rest of the owl. I then added the H and T and matted the entire Hoot piece as one.
 

Matt your photos or cut some frames if you plan on adding photos later.  I used one 4″*6″ matt and two 3 1/2″*5 1/2″ matts on this page.
Layout your page as desired and glue down.
Cut a 2″ square and then cut in half diagonally.  Add dimensional tape to the outside edges of triangle and then add to frames.
Cut a 1/2″ strip of black paper and secure over large frame with brads on both ends.
Add flower and heart embellishments.
I used about a 4″ * 12″ strip of the chevron board scrapbook paper and cut along the design on the left edge.  Cut a 1/2″ * 12″ strip of black paper and adhere to background paper 1/2″ from the right edge.  Then layer your 4″ * 12″ scrapbook paper on top of the black strip leaving about 1/4″-1/8″ showing.  Do not add adhesive to close to the left edge so you can slide the pictures/frames under it a little.
Cut a 1/2″ * 12″ strip of decorative paper and add to left side of paper about 1/2″ from edge.  Layer that with a strip of yarn or ribbon.
Cut two 4″ *6″ frames and adhere to background paper sliding it under the larger strip of scrapbook paper on the right side.
Matt your Giggles, Wiggles, and Laughs on black paper leaving about 3/8″ – 1/2″ on both sides where you can secure to page with brads.
Finish off page with hearts and flower embellishments and enjoy your owl scrapbook layout 🙂