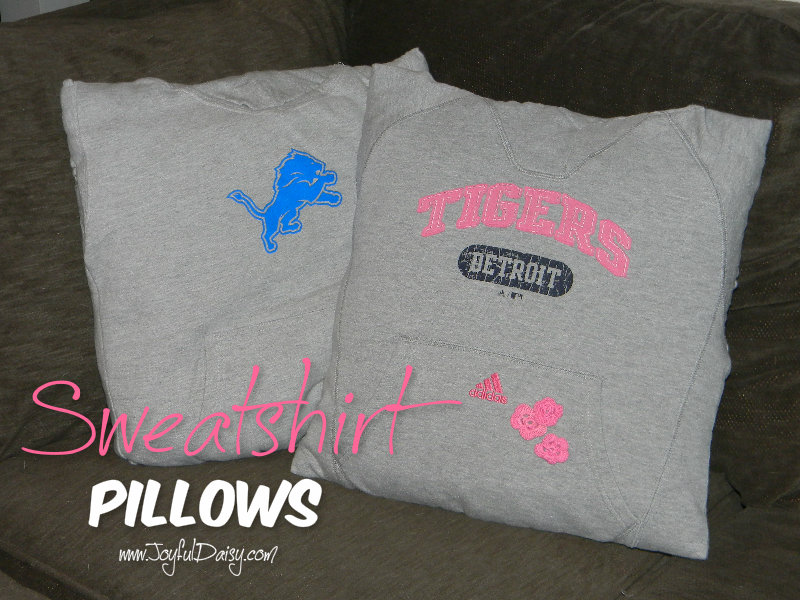 This is such a fun and super simple project ! It makes a wonderful gift for kids and teens in can be done in an hour!!! You can buy a new sweatshirt for your pillow or better yet recycle a favorite sweatshirt once the kids out grow it. This would be a great graduation gift made out of the graduate's school team sweatshirt 🙂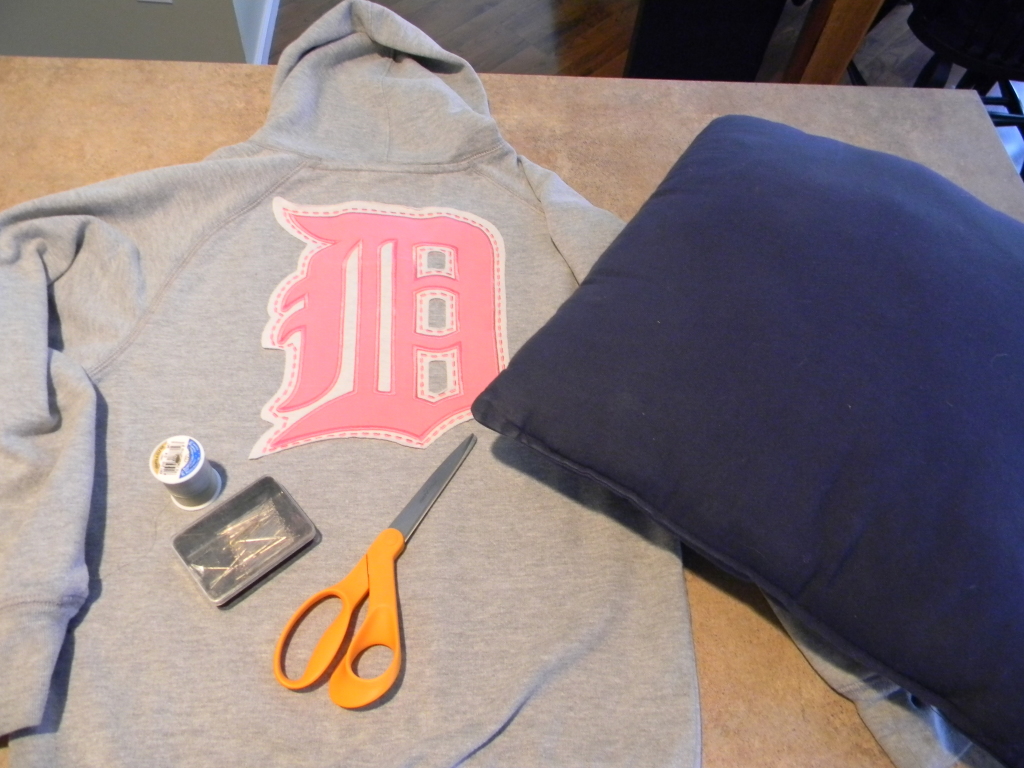 HOW TO MAKE A PILLOW OUT OF A SWEATSHIRT & SUPPLIES…
Sweatshirt (We used a large youth.)
Pillow (We used an18″ pillow.)
Scissors
Pins
Needle & Thread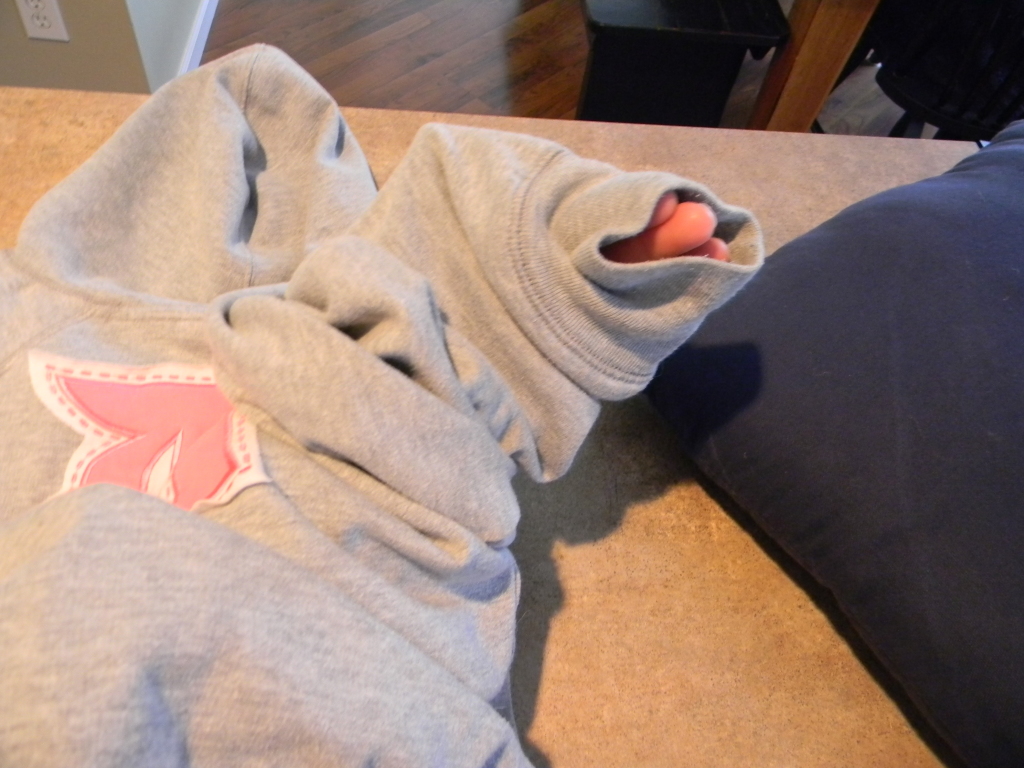 Pull the sleeves to the inside of the shirt.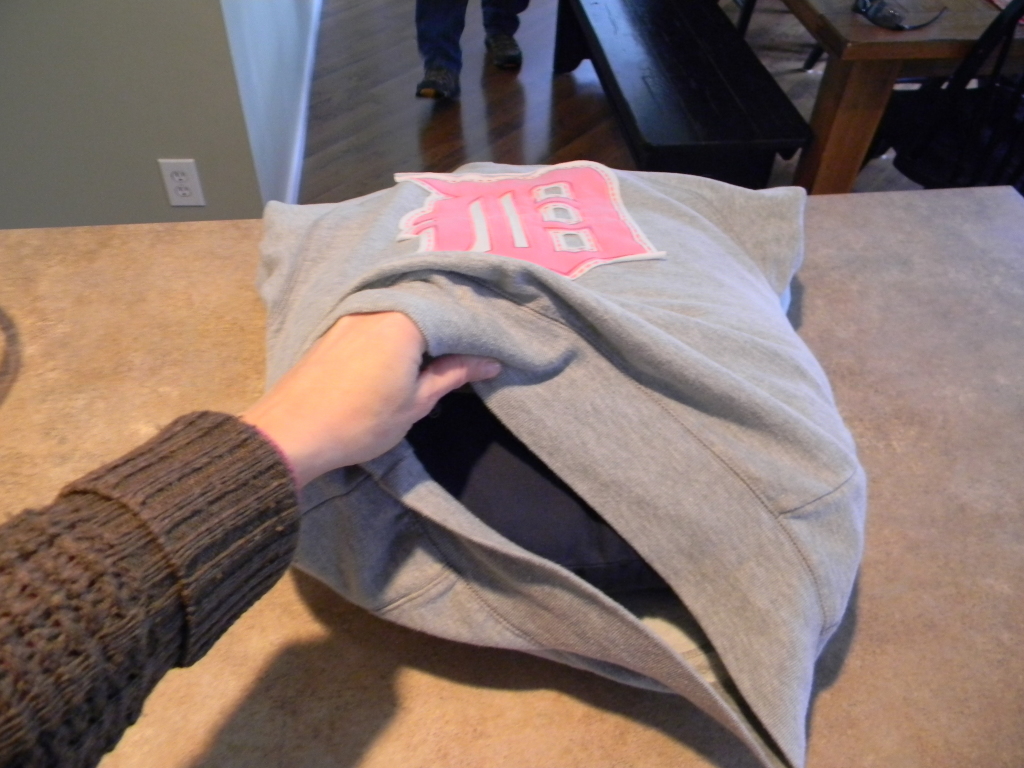 Stuff pillow inside sweatshirt.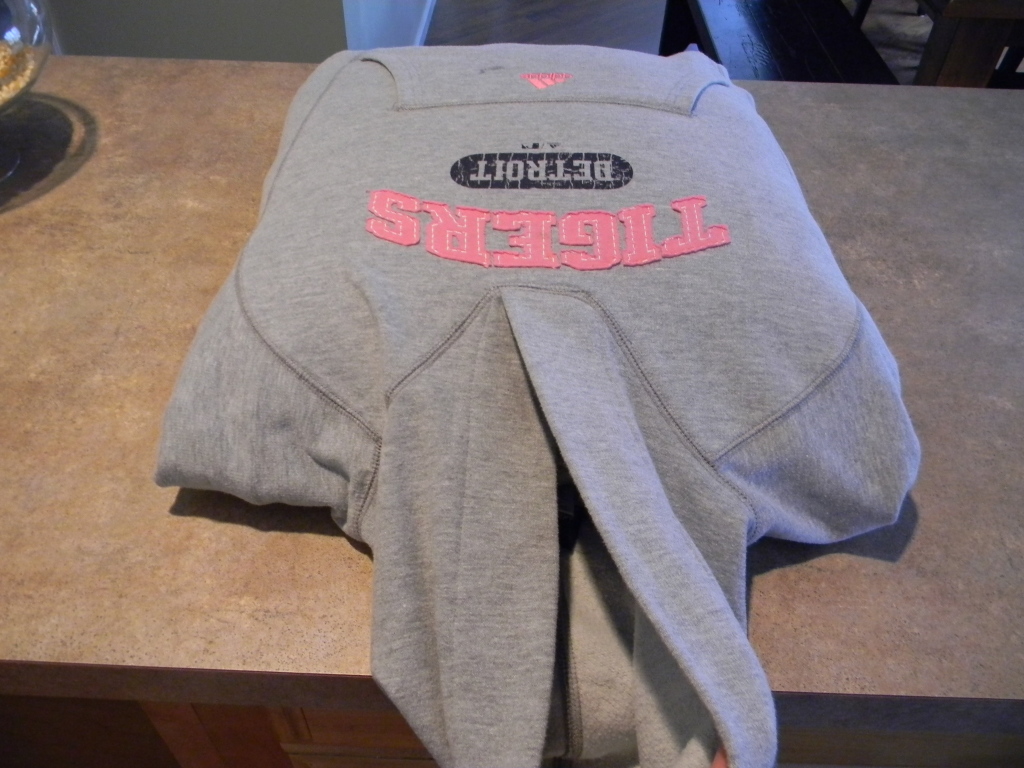 Reaching in through the hood, pull each sleeve across the top of the pillow and smooth out. You could cut off the sleeves just be sure to leave enough to fold in before stitching. The kids didn't want me to cut their shirts – maybe they were unsure of my pillow idea!!!
Roll Hood up and tuck inside top of pillow.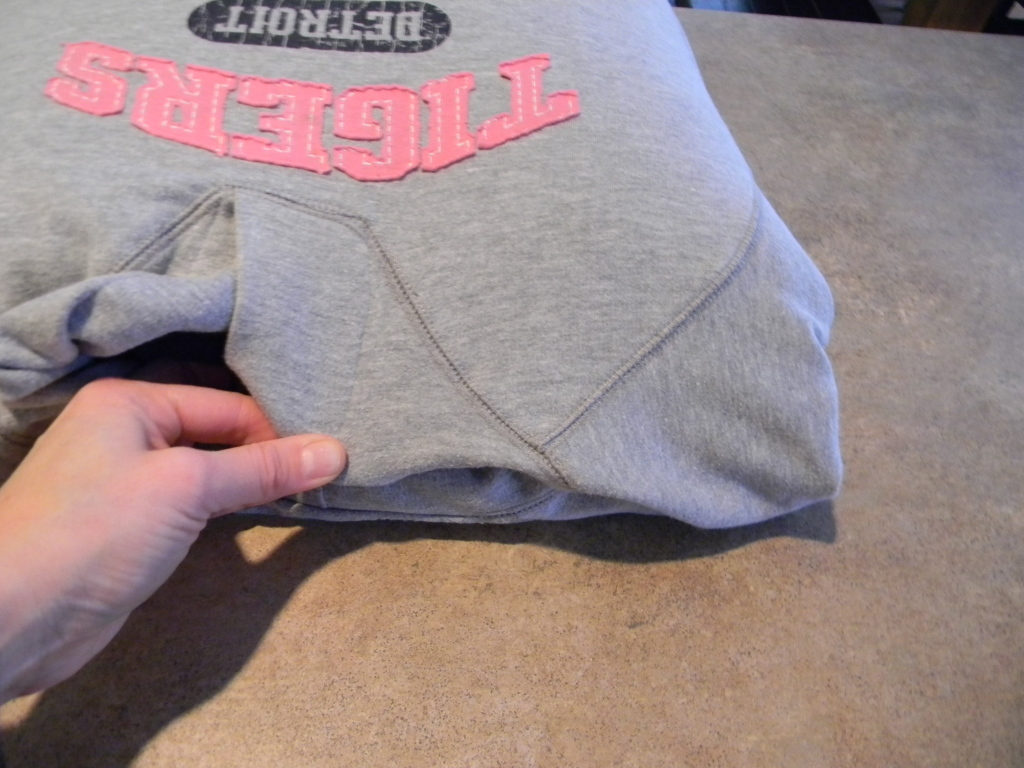 Smooth out the top of the sweatshirt opening and line up with the back of the opening and pin.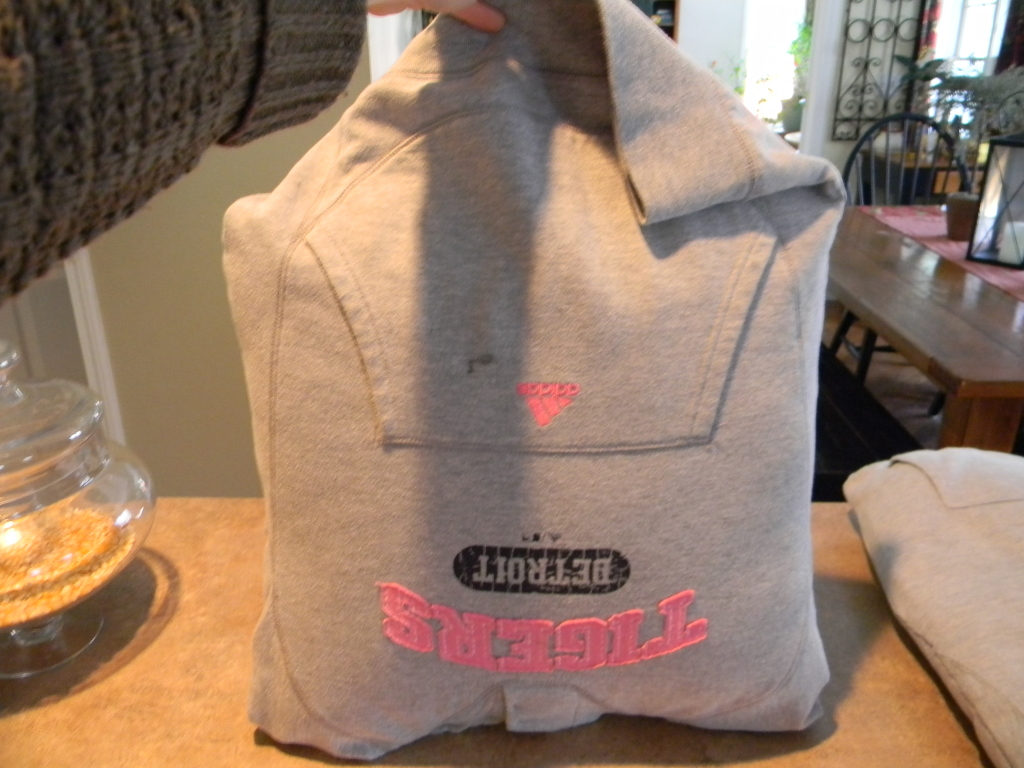 Slightly shake pillow upside down to snug up to the top.
Tuck the back bottom of the sweatshirt around the pillow to the front.
Fold the front bottom of the sweatshirt under.
Pin in place.
Match up the sides of the sleeve opening and pin.
I used the blind hem stitch to stitch up all the openings.
Using a doubled thread, knot the end.
Place one stitch at the end of an opening.
Run the needle through about 1/4″ of the fold and then poke the needle out.
Make a small stitch to the opposite side.
Bring needle back to the bottom and repeat with another 1/4″ stitch through the fold, etc.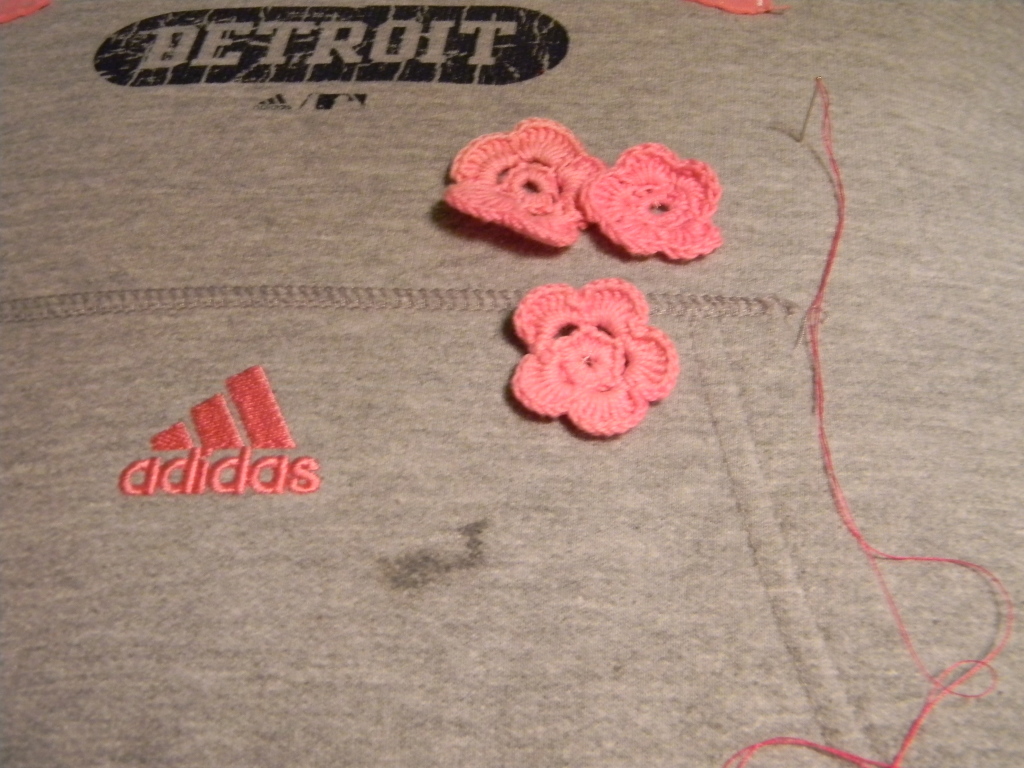 If you are using an old favorite sweatshirt, chances are it may have a stain or two. So Keep an eye out for cute patches and embellishments that can stylishly cover them up 🙂
If you are adding embellishments to pocket, be sure to put your hand in the pocket to keep from stitching it closed.
I just used a running stitch around the center of the crocheted flower to attach to shirt.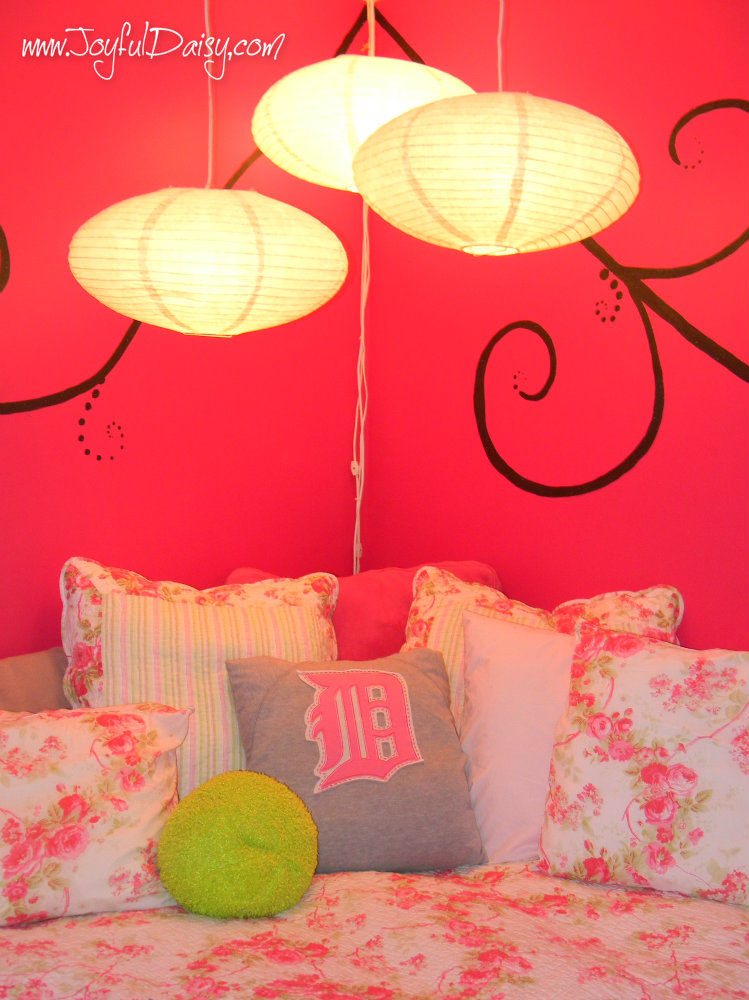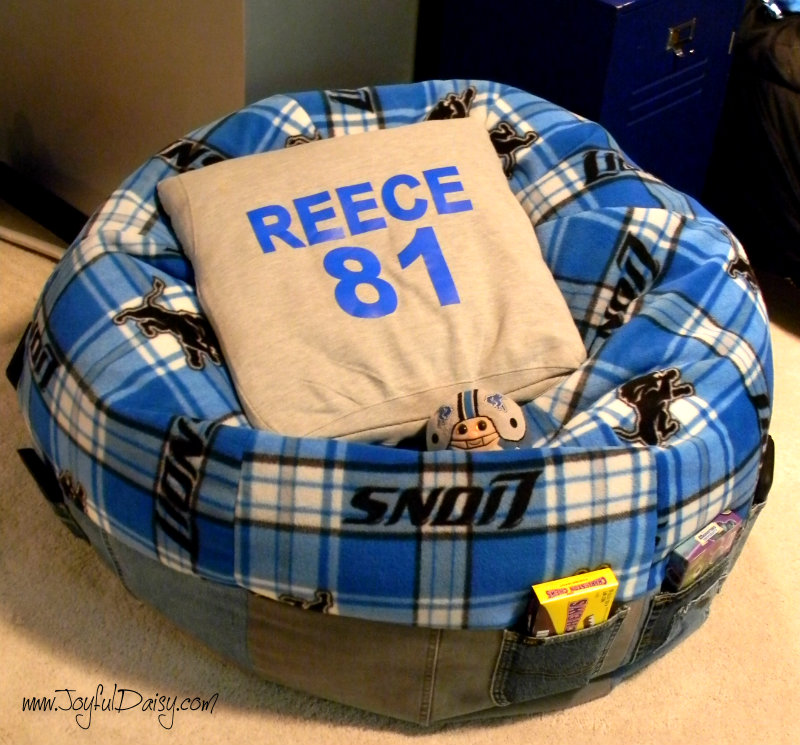 Reece keeps his sweatshirt pillow nestled on his beanbag most of the time.
You can monogram or personalize the shirt before turning it into a pillow too 🙂 The kids just love that!