Scroll to bottom for measurements to make mini Exploding Book:)


Making an exploding book is such an easy yet impressive project and can be made to suit any theme from holidays to vacations to hobbies, pets, birthdays, and more! I have been making them for years and I still get questions on how to put them together so I thought I would post the instructions and some past projects to inspire you to make your own exploding book! But beware, they are addictive! 🙂
YOU WILL NEED…
3 pieces of 12″*12″ cardstock paper (double sided paper looks nice with this project)
2 pieces of 6 1/2″*6 1/2″ chipboard (you can cut this from cereal boxes if you do not have chipboard and want to recycle!)
2 pieces of 8″*8″ scrapbook paper for your cover
2 pieces of 20″ ribbon
OPTIONAL- decorative papers, stickers, embellishments, and pictures to customize your exploding book
TOOLS- adhesive (glue stick or tape runner)
scissors and/or paper trimmer

STEP 1: I hope you can see the three folds on this paper. You will need to fold all three of your cardstock papers diagonally with a firm crease and then open. Then fold each piece in half, crease and open, then fold the opposite way crease and open. TIP: to ensure your book folds easier, make each fold twice and crease firmly with your thumbnail or a bone folder.

STEP 2: Lie the three pieces down side by side like diamonds with the diagonal creases parallel to each other pointing up and down. Using a good adhesive, adhere the pages together where the middle squares overlap.

STEP 3: Fold both outsides in as shown above on left. Then fold the middle squares under as shown above on right. These folds will collapse the entire unit into a 6″ square as the base of your book.

STEP 4: With the book opening from the bottom right corner, adhere one piece of ribbon across the middle of the book on the front and back.

STEP 5: Place chipboard in the center of your 8″ square of scrapbook paper for the front and back covers. Fold the corners in and glue and then fold in the sides and glue.

STEP 6: Center the base of your book on your back cover and adhere. Then adhere the top cover on your book. Decorate your cover with a title, pictures, or stickers. I like to use different mediums to create a very interesting cover like including metal brads and ribbons. I also love using Jolee's Boutique dimensional stickers on my cover because they are so cute! The owl on this cover is a Jolee's Boutique embellishment.

STEP 7: The really fun part – customizing your exploding book!
OPTIONAL: Cut an assortment of coordinating papers into 5 1/2″ squares and adhere to the middle squares of the book. Then cut some in half diagonally and place within the folded squares in your book. Then add your photos, stickers, and comments that fit your fancy:)

MINI EXPLODING SNOWMAN BOOK
(Instructions Below)

This finished book Measures 4 1/2″ * 4 1/2″ instead of the 6″*6″ exploding books shown above.
To create this size project, just make the following changes…
Three 12″ * 12″ cardstock papers REPLACE with Three 8″ * 8″ papers
2 pieces of 6 1/2″*6 1/2″ chipboard REPLACE with 2 pieces of 4 1/2″ chipboard
2 pieces of 8″*8″ scrapbook paper for your cover REPLACE with 2 piecse of 5 1/2′ scrapbook paper.
CLICK HERE to view our Exploding Book Tutorial with Heart Pop Ups!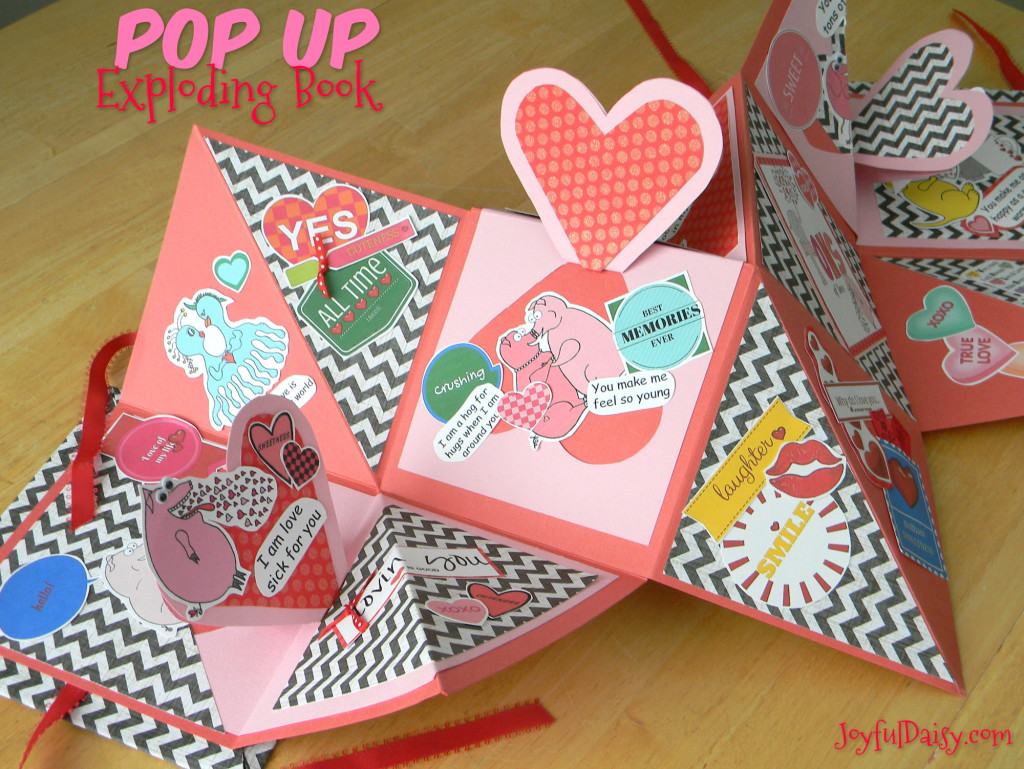 If you enJOY what you see here, I can send you a little email memo when I add a new project to Joyful Daisy.
Just add your email at the top right column of this page and then be sure to click on our link in your confirmation email.
I would also love to stay connected and have you to join me on
FACEBOOK

,

GOOGLE,

PINTEREST

,

TWITTER

, and/or

RSS
Thanks for stopping by,
Cyber hugs,
Amy- joyfuldaisyforever@gmail.com
This project is featured on Craft Gossip🙂