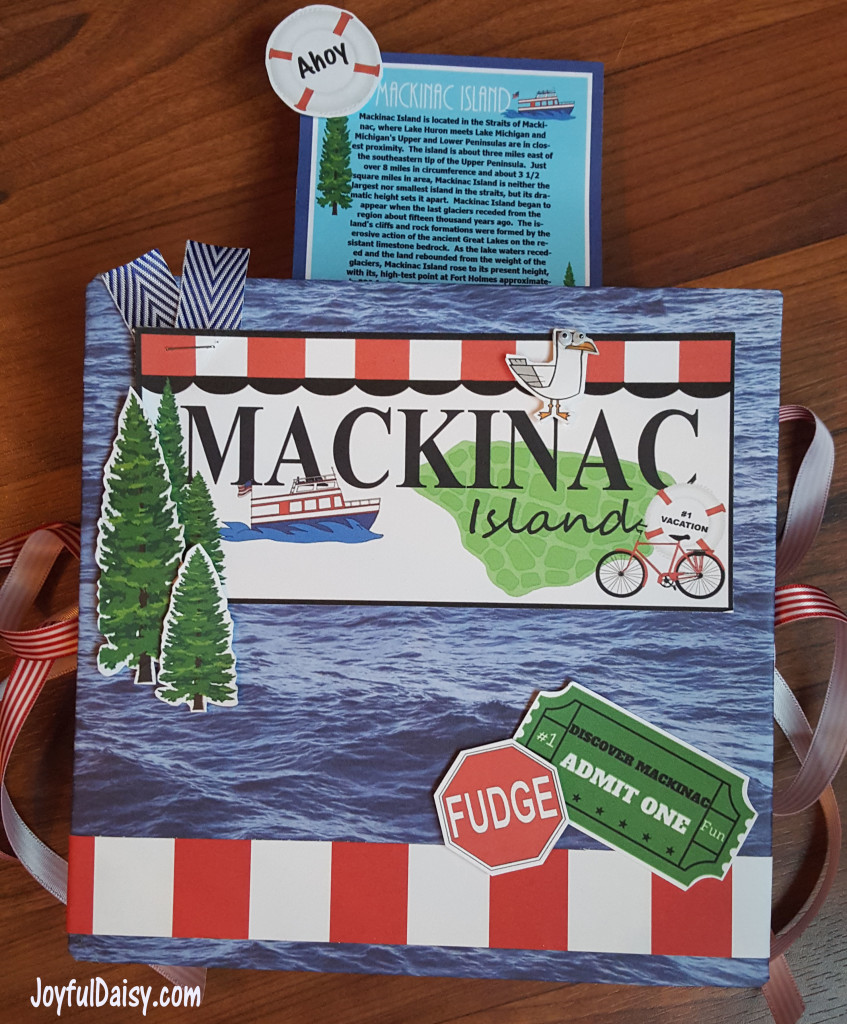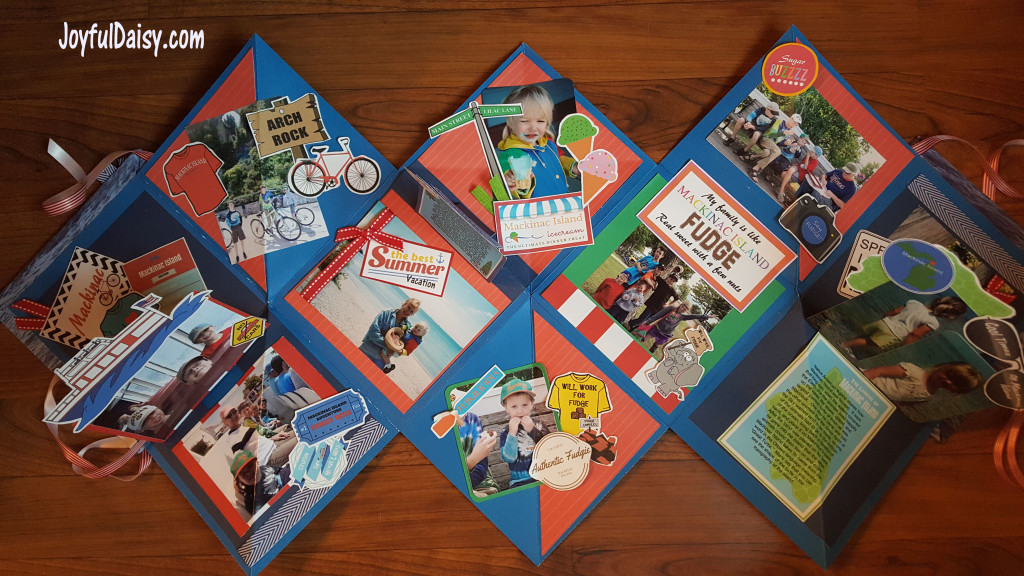 As I have said before, I just cannot get enough of this exploding scrapbook project, whether I am making one in a new theme for myself or another gift. So I thought I would share with you how to make an exploding scrapbook featuring three basic pop ups and our new Mackinac Island Scrapbook Clip Art line.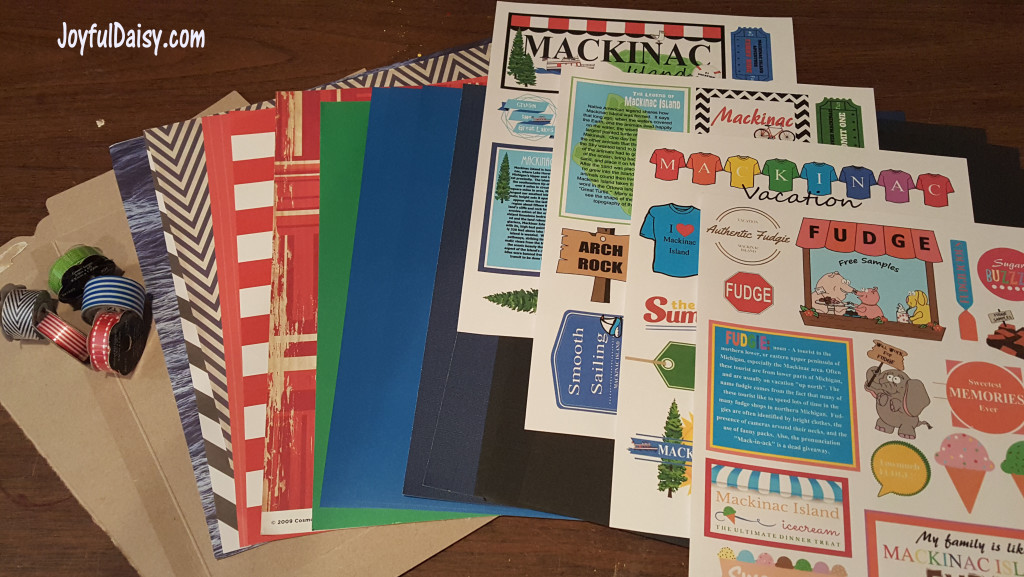 Gather up your supplies. Don't forget that recycled cereal boxes work great for the chipboard covers 🙂 It just takes a few basic supplies to make this show stopper brag book!
Assorted 12 * 12 papers
Assorted ribbons
Since the steps to making this fun scrapbook project is the same as our valentine's book, I'll start by showing you the steps unique to this project and then you can follow the steps listed for our previous projects 🙂
Cut three pieces of card stock – 5 1/2″ x 11″.
Fold in half as shown above and then open.
Make pencil marks 1/2″ from fold and 2″ in from each side.
Draw two lines 3″ long from each of those marks and then across the top.
Cut lines, as shown above. (I used an exacto knife to do this step.)
Fold the cut flaps up and crease at the bottom by the main fold and then tape the two flaps together.
CLICK HERE to follow steps to complete the base of the pop up exploding book and then pop on back here to get ideas on adding decorative elements 🙂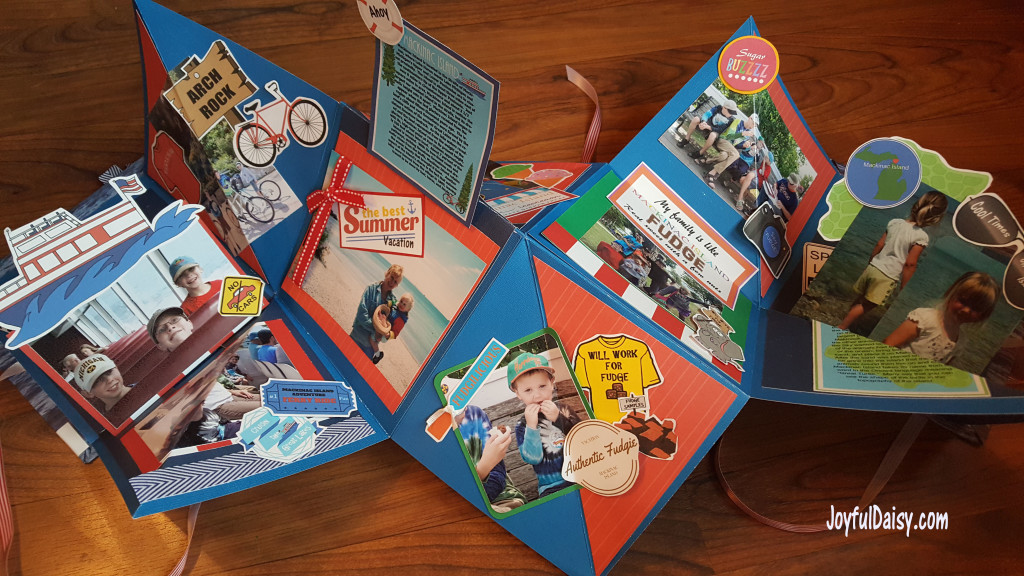 I like to create groupings with pictures and layered clip art images like above with Jonathan eating fudge with FUDGILICIOUS (tied with a thin ribbon), Authentic Fudgie badge, Will Work for Fudge T-shirt, and fudge samples.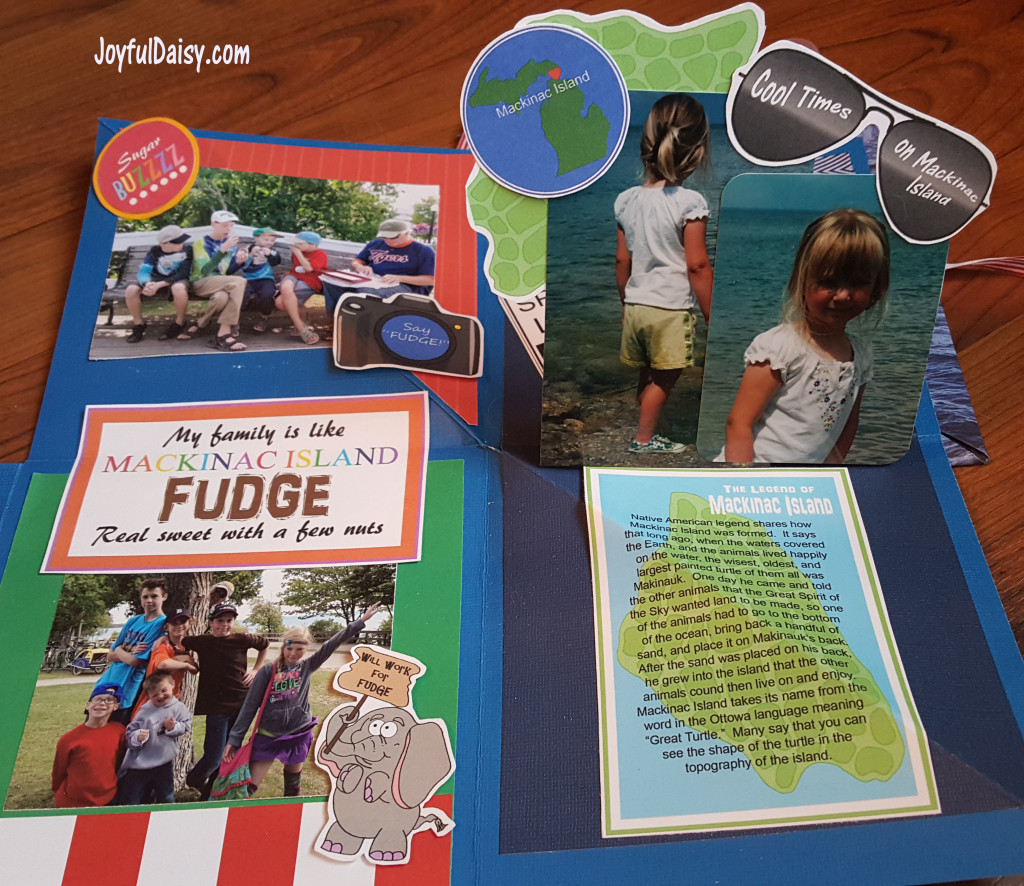 My family is definitely like Mackinac Island Fudge… Real sweet with a few nuts!!! This was one of the most popular premade scrapbook pages we made and sold at Victorian Village so I guess I am not the only one with a slightly sweet and tad bit nutty family!
Our Legend of Mackinac Island premade pages were also very popular so I decided to feature the legend on some clip art on the outline of the Mackinac Island resembling a turtle shell 🙂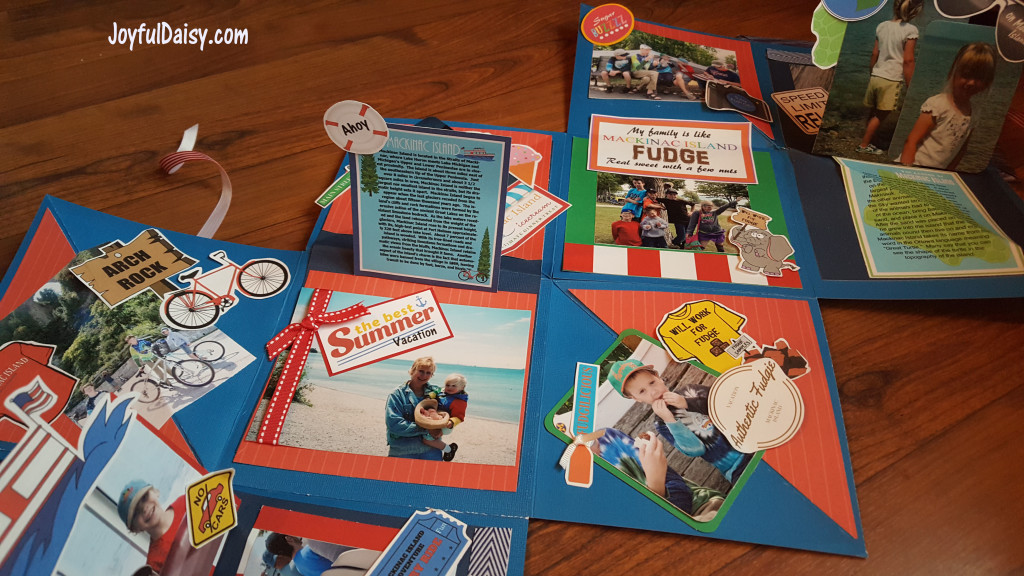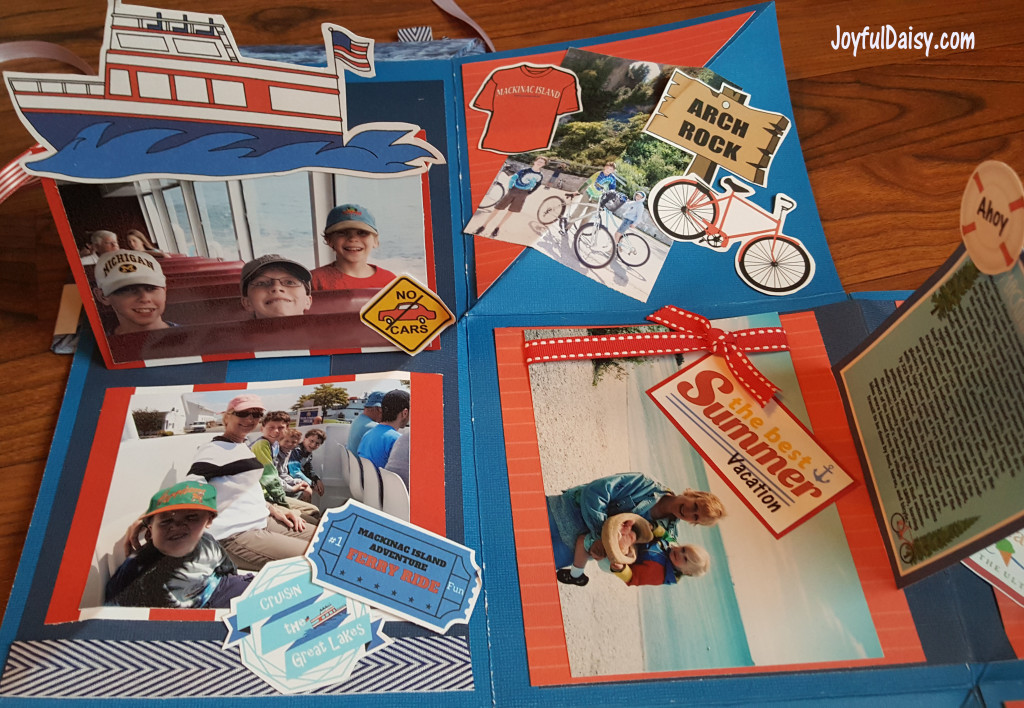 Coming soon… Mackinac Island Scrapbook pages and Mackinac Island Mantle Piece Art!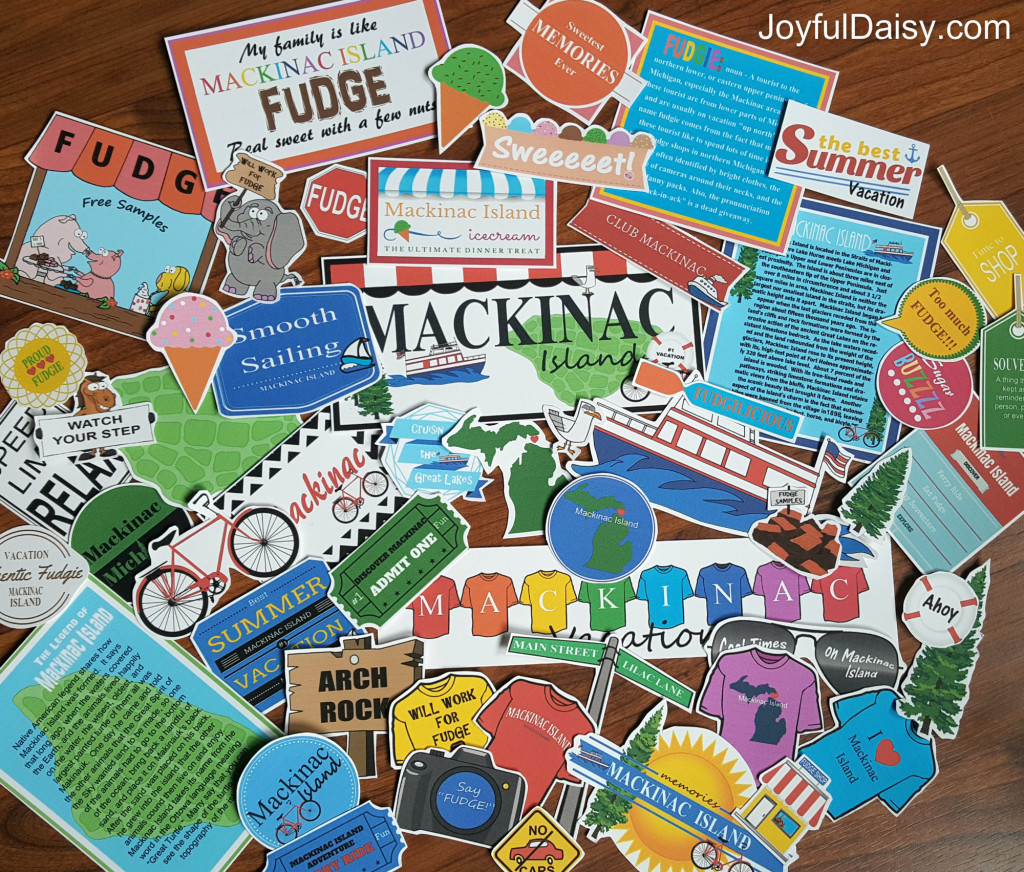 CLICK HERE to purchase our Mackinac Island Clip Art and add some Joyful Daisy Style to your Mackinac Island scrapbooking projects!