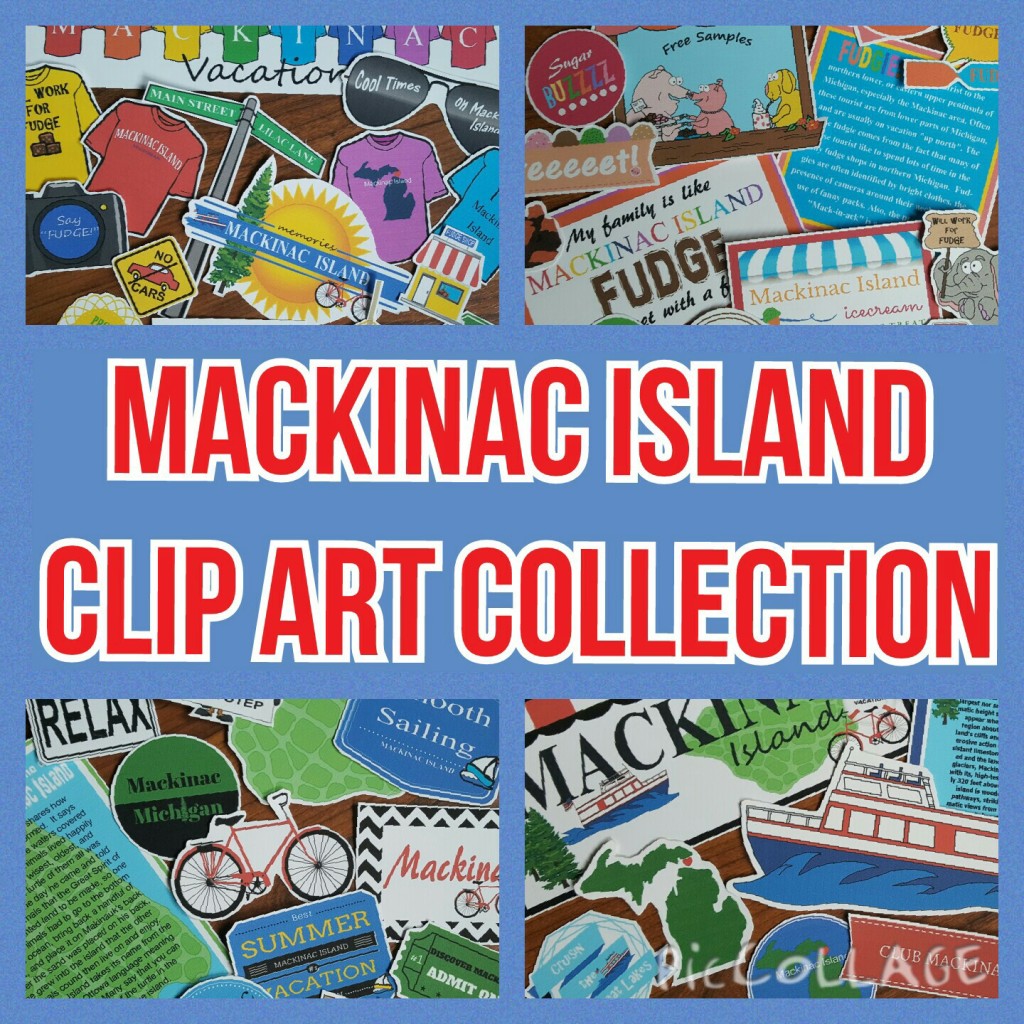 I am so excited to officially release our latest scrapbooking collection featuring 55 fun Mackinac Island die cuts, titles, and tags with 2 additional bonus files! In addition, I am also super excited to share our first PROJECT SHOWCASE! I am planning on bringing you lots of new digital art product lines followed by great simple yet fabulous projects to use them on.
It's so exciting getting back to my roots! I miss all the Saturdays teaching scrapbooking classes, swapping recipes, and having a great round of show and tell of what we have all been up to. 🙂 Now it is much more fun and much easier teaching classes in person but I look forward to hearing from you and promise to continue to work on my written instructions. So I hope to inspire and connect with you all in the creative future.
AND NOW FOR OUR PROJECT SHOWCASE…
Most of our scrapbook layouts can be made with a few simple supplies: Assorted solid 12 x 12 papers, 1-2 general patterned papers, for texture an occasional bit of ribbon or small round brads, and a set of our printed die cuts. Nice and simple yet just scroll down to see what you can create when you bring these simple supplies together…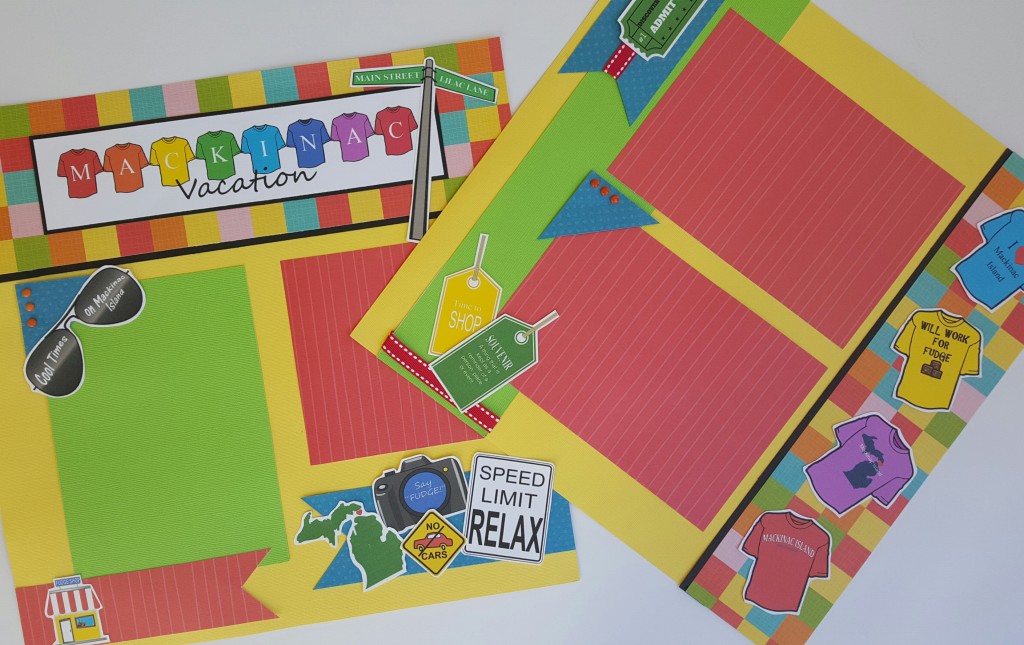 Part of the Mackinac Island vacation experience is the fun bright colors of the flowers, Victorian hotels and store fronts, and also all the fun Mackinac Island T-shirts. So I decided to have some fun with that 🙂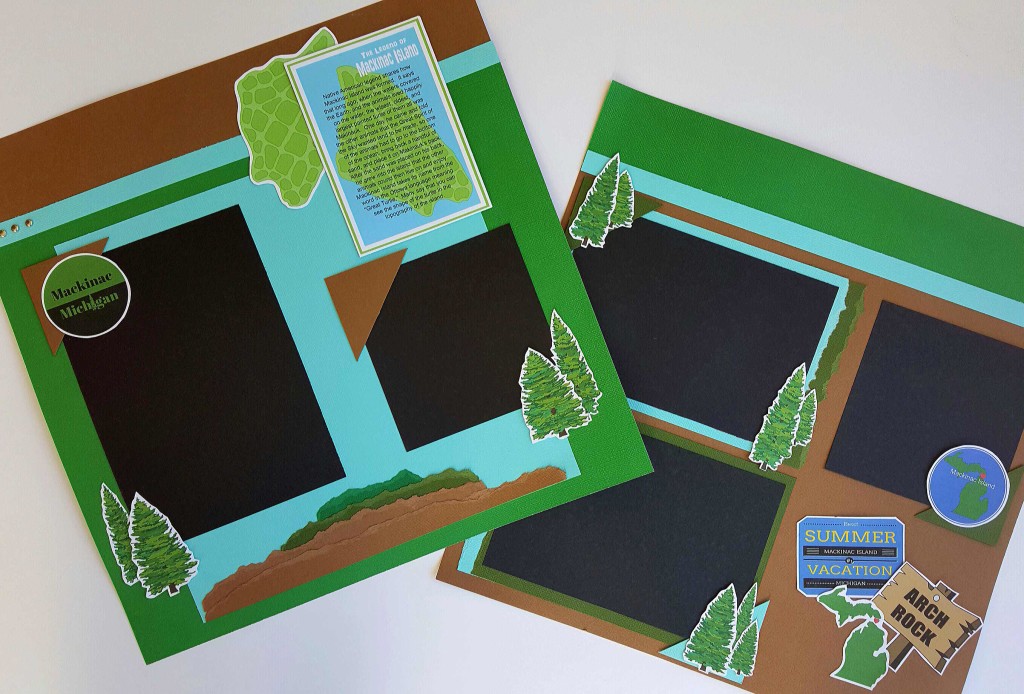 If you went beyond the charm of the downtown area of Mackinac Island, you were sure to enjoy some of the island's natural beauty. All around the island you have great photo opportunities, especially from sites like Arch Rock. So I thought this would be a perfect layout to feature a bit about the Legend of Mackinac Island.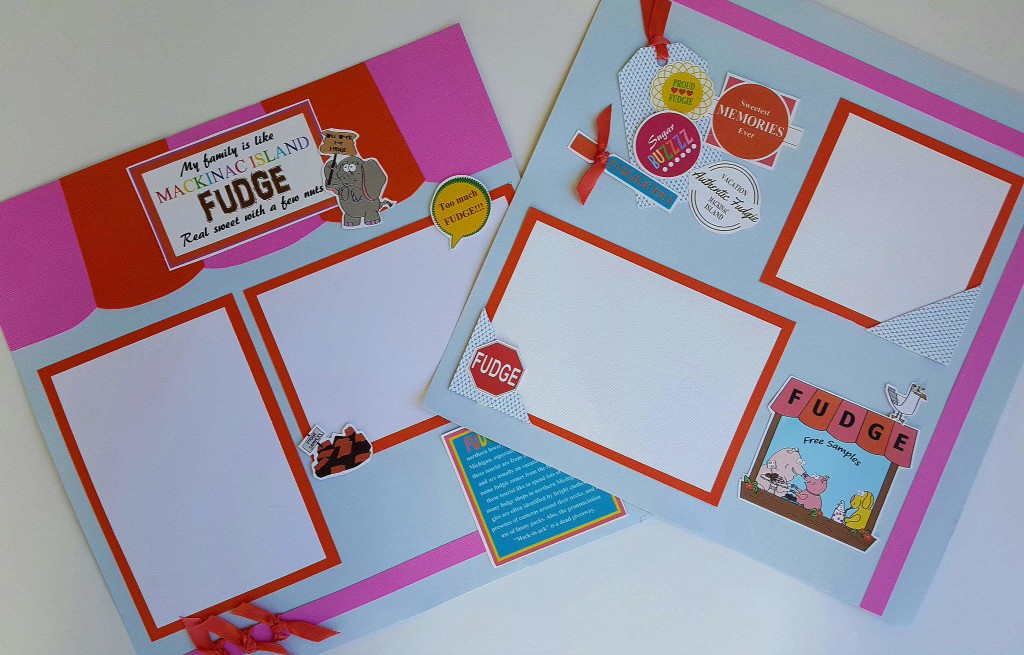 I do not know if it is possible or even legal to go to Mackinac Island without purchasing and then overindulging in fudge!!! This layout is a new take on an old favorite that I created while working at Victorian Village and sold oodles of… I guess a lot of people have families like mine…
"My family is like Mackinac Island Fudge…Real sweets with a few nuts!"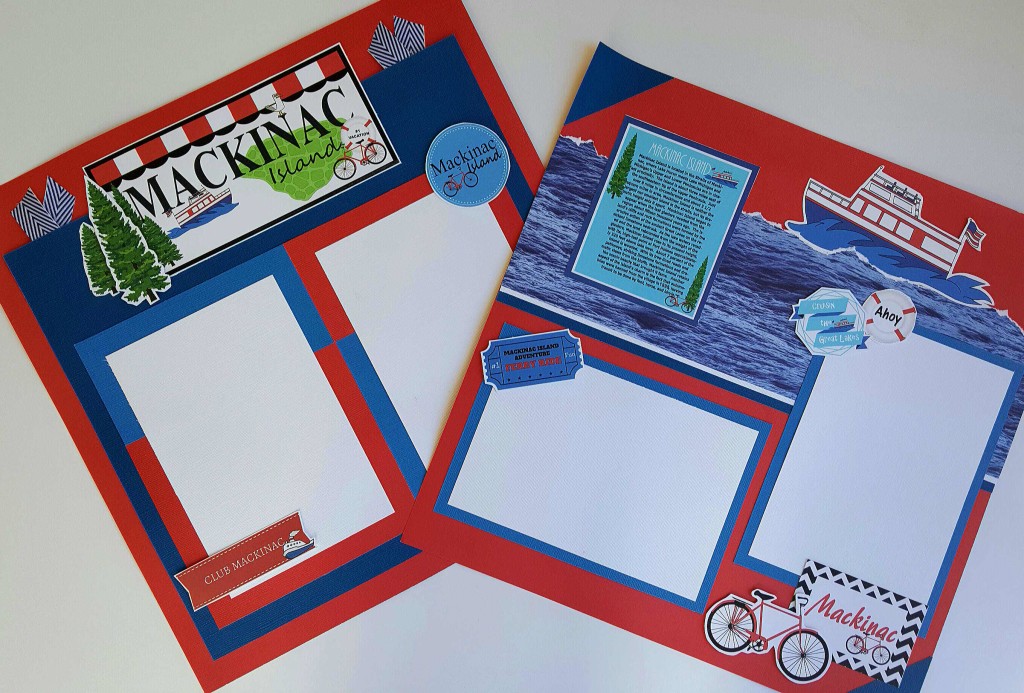 CLICK HERE TO VIEW How to make our MACKINAC ISLAND FERRY SCRAPBOOK PAGES 🙂
As the Mackinac Island ferry commercials state…getting there is half the fun! Well I must agree that the 10-15 minute ferry ride to Mackinac Island is very enjoyable and beautiful. And this year, Starline ferries offer some trips that take you under the Mackinac Bridge before delivering you to the island which is an amazing photo opportunity! They also offer firework cruises on Saturday nights in the summer 🙂 Ohlala!
So that concludes our sneak peak of upcoming Mackinac Island scrapbook tutorials. JUST CHECK BACK frequently to scrapbook with me! If you want a reminder just sign up on our email list on the top right column and you will receive a little snipit of what we are sharing with you that day.
THANKS AGAIN FOR STOPPING BY!!
I wish everyone had the chance to visit beautiful Mackinac Island (CLICK HERE to view some photos we took this spring.) It's unparalleled quaintness and laidback charm set the scene for a wonderful family, friend, or romantic vacation. So if you are lucky enough to have a Mackinac Island vacation, I am sure you will have lots of beautiful photographs to showcase. CLICK HERE to view how to make our MINI Mackinac Island Stand up Scrapbook. CLICK HERE to view how to make our Mackinac Island Exploding Pop Up Scrapbook.
To purchase our Mackinac Island die cut set just CLICK HERE to bip on over to the Joyful Daisy Shop!