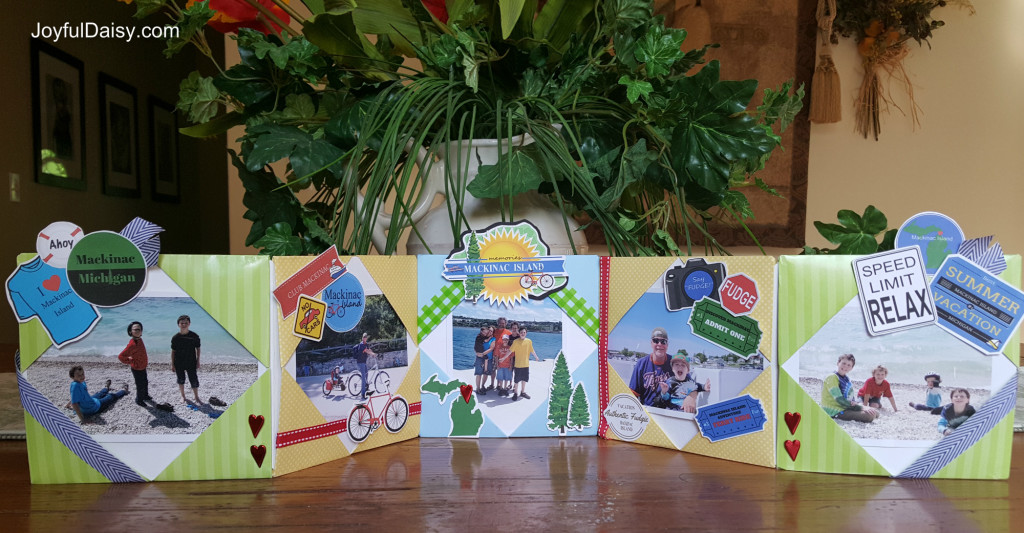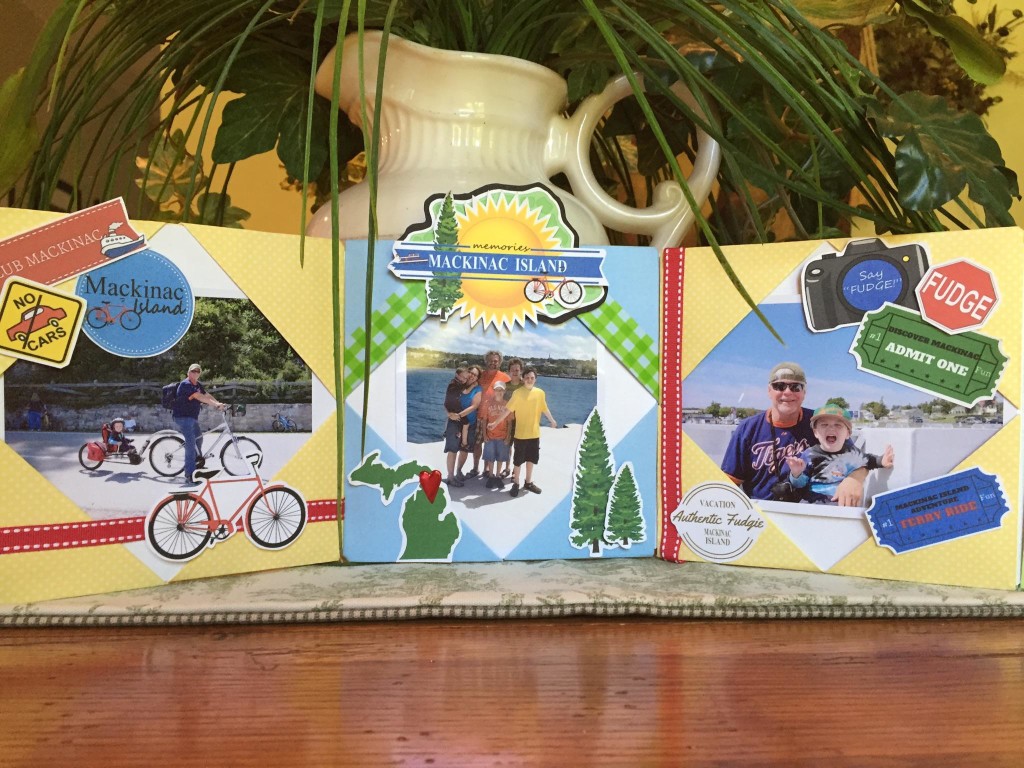 Create your best Mackinac Island Souvenir with your five favorite vacation photos and our stand up scrapbook! This is so simple yet so cute! Don't keep all your photos in albums or left on your phone! Print out your favorite five Mackinac Island photos, grab some paper and glue, and take an hour to create this adorable mini scrapbook album that can stand on its own for a perfect mantle piece or coffee table display to remind you daily of the fun you had on your Mackinac Island vacation!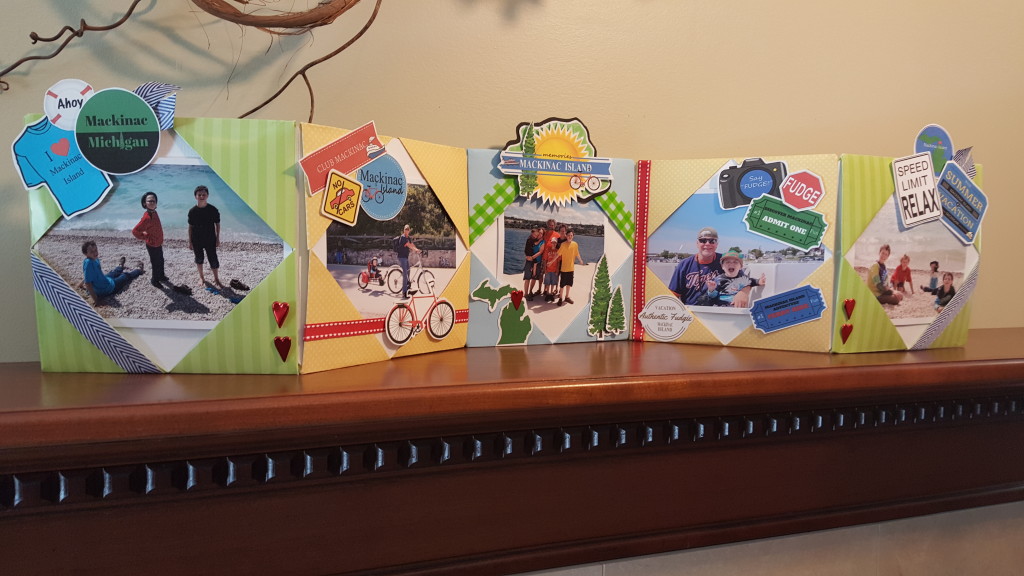 BASIC SUPPLIES..
Five 12 x 12 medium weight papers – to create frames
Five 5 7/8″ squares of medium weight paper – for mats behind photos
Five favorite Mackinac Island photos
DECORATIVE SUPPLIES…
Five heart brads
Assorted ribbons
TOOLS:
Paper trimmer and/or scissors
Tape runner or glue
Dimensional tape



Start with a 12″ * 12″ piece of paper.
Fold in half and crease firmly.
Fold the opposite way and crease firmly.



Fold the sides into the middle of the page and crease firmly.
Fold the opposite sides into the middle of the page and crease firmly.
Fold the corners into the middle of the page and crease firmly.



Fold the corners into the first diagonal fold line and adhere down.
Fold in the middle of each side to create the square shown with corner pockets.
REPEAT top steps with four more 12″ * 12″ pages.


Cut five 5 7/8″ pieces of paper and insert into each folded square.
Cut four 4″ squares and then fold in half corner to corner and crease firmly.
Attach the three folded squares by sliding one half of the 4″ square into one sides of the folded squares and adhere.
(Above photos are courtesy of our Teacher Gift Card Holder Tutorial)
TIME TO DECORATE…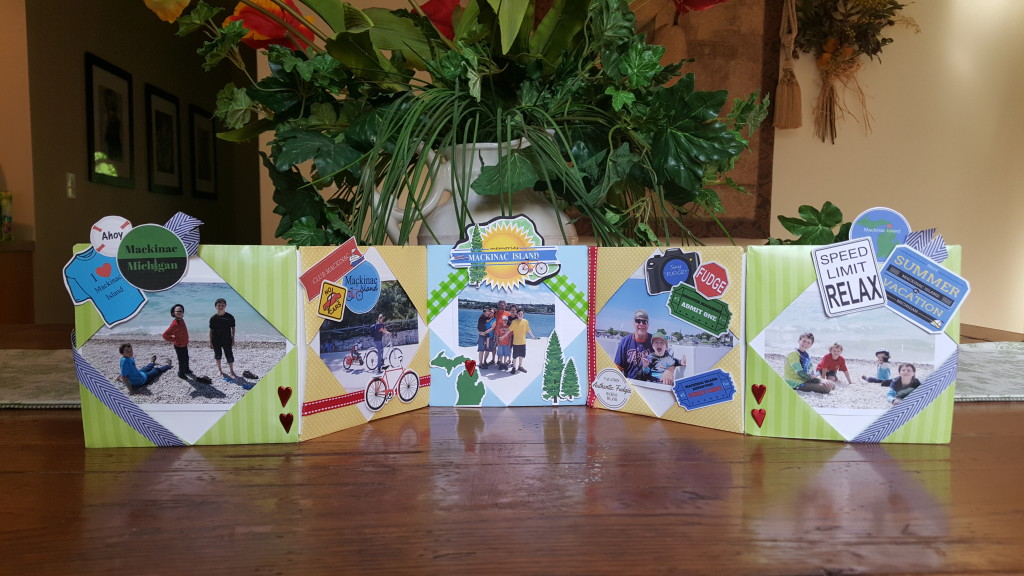 Add your favorite photos!!!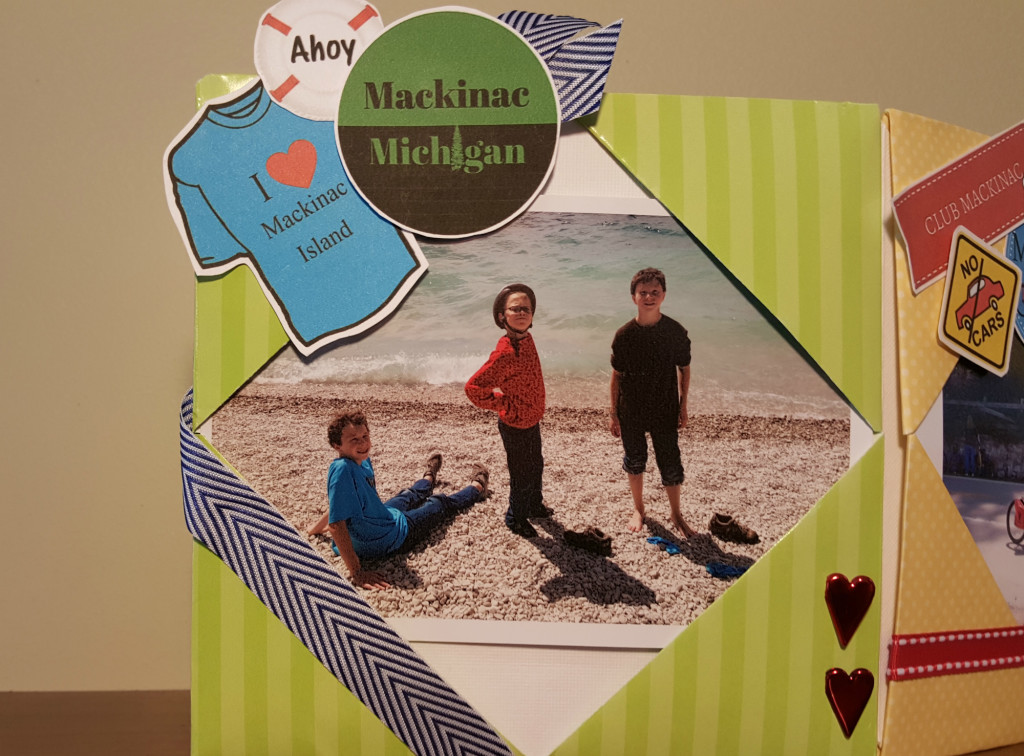 On the first page, I added our I heart Mackinac Island T-shirt dye cut, ahoy dye cut, and then I added the Mackinac Michigan dye cut (after I taped a piece of folded ribbon to the back)with a little dimensional (pop dot) tape
I also added a few heart brads, I just love the fold art style 🙂
Lastly I adhered a piece of blue chevron ribbon to the bottom right, tucking the ends into the center of the folded frame.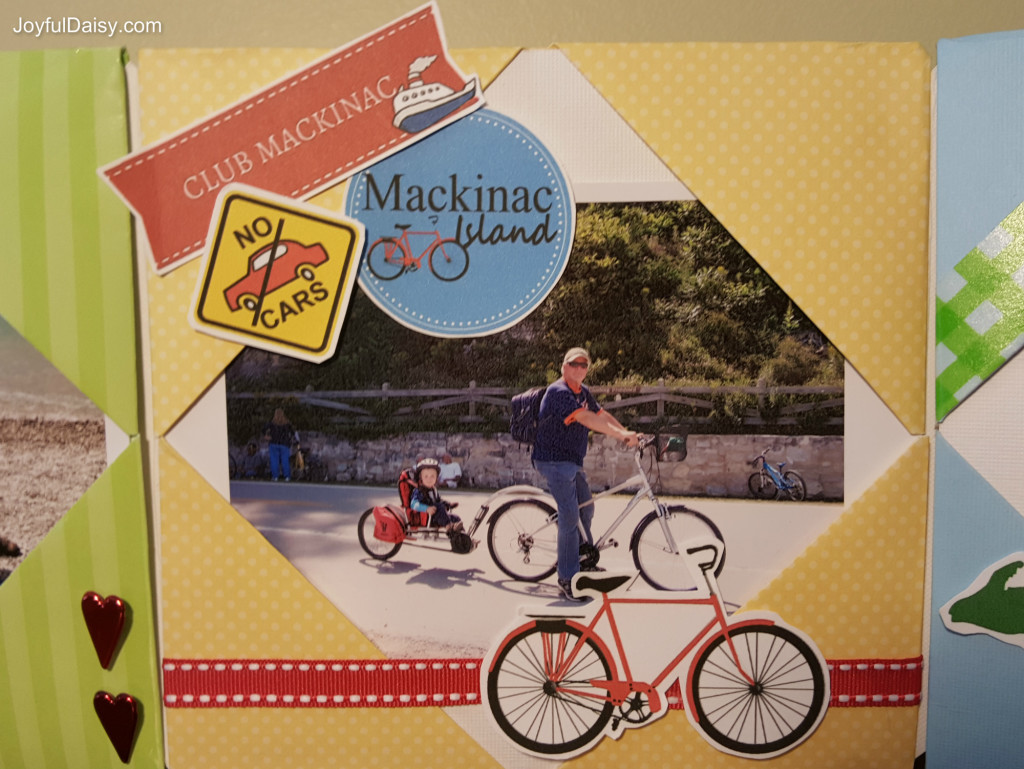 On the second page of our mini Mackinac Island Scrapbook, I just added a few more of our dye cuts, pop dotting the "NO CARS" sign after adding my favorite red grosgrain ribbon with stitched edges on the bottom of this page.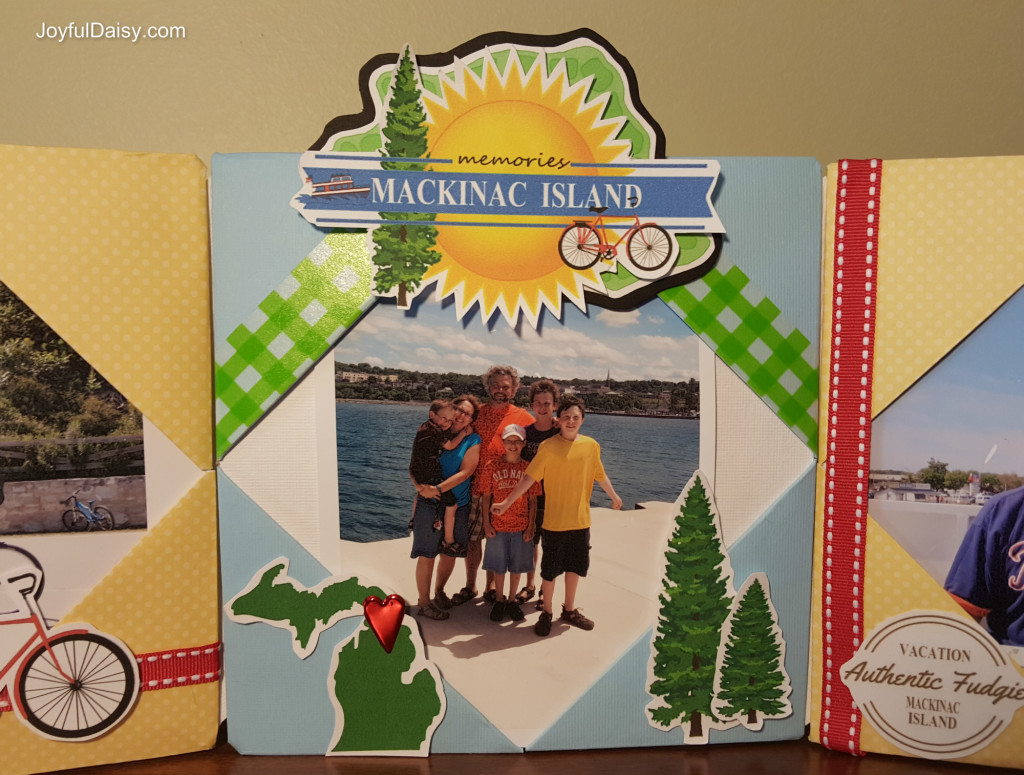 Since this page forms of the center of our Mackinac Island masterpiece, I decided to add a few more details to create a focal point. First I added some cute green gingham washi tape to the top two edges of the frame. Next I added the trees, pop dotting the smaller one slightly overlapping the large pine tree. Our Michigan map dye cut already has a heart on it but I decided to add a heart brad on top of it to add a little more texture. Then I cut out the Mackinac Island dye cut with turtle detailing and then glued it to some black paper and then cut it out leaving about a 1/8″ mat. Lastly I cut out the Mackinac Island memories dye cut and layered in on the black matted map.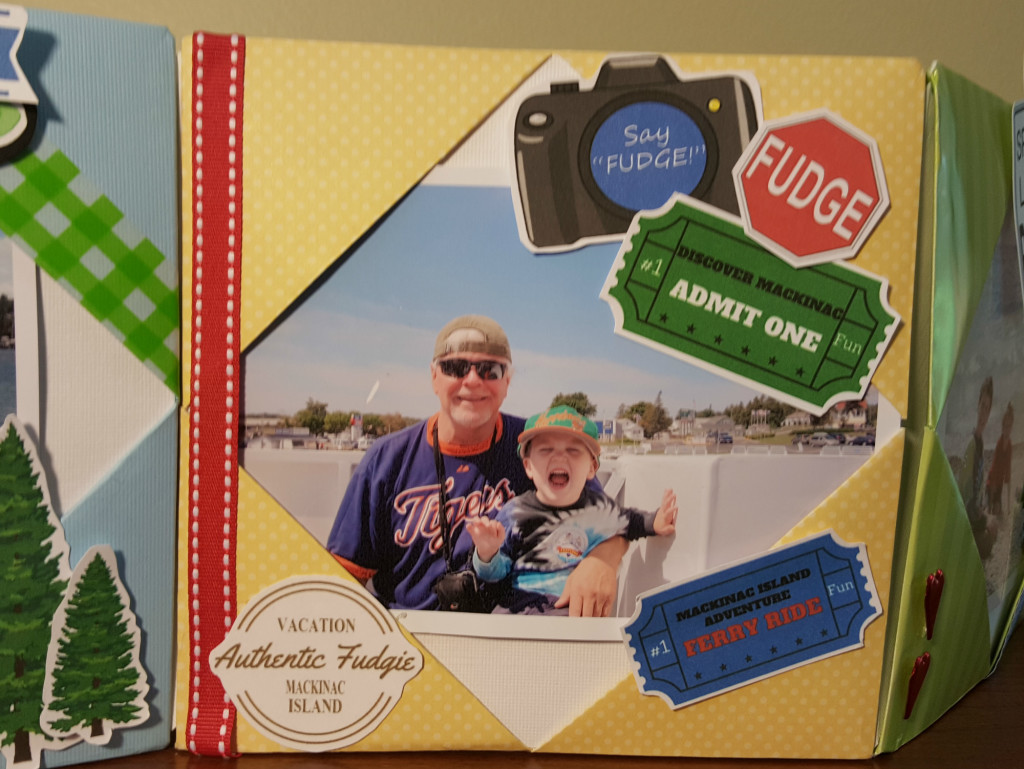 Another simple page done by adding ribbon and tucking the edges under and then added our cute dye cuts, pop dotting the FUDGE stop sign 🙂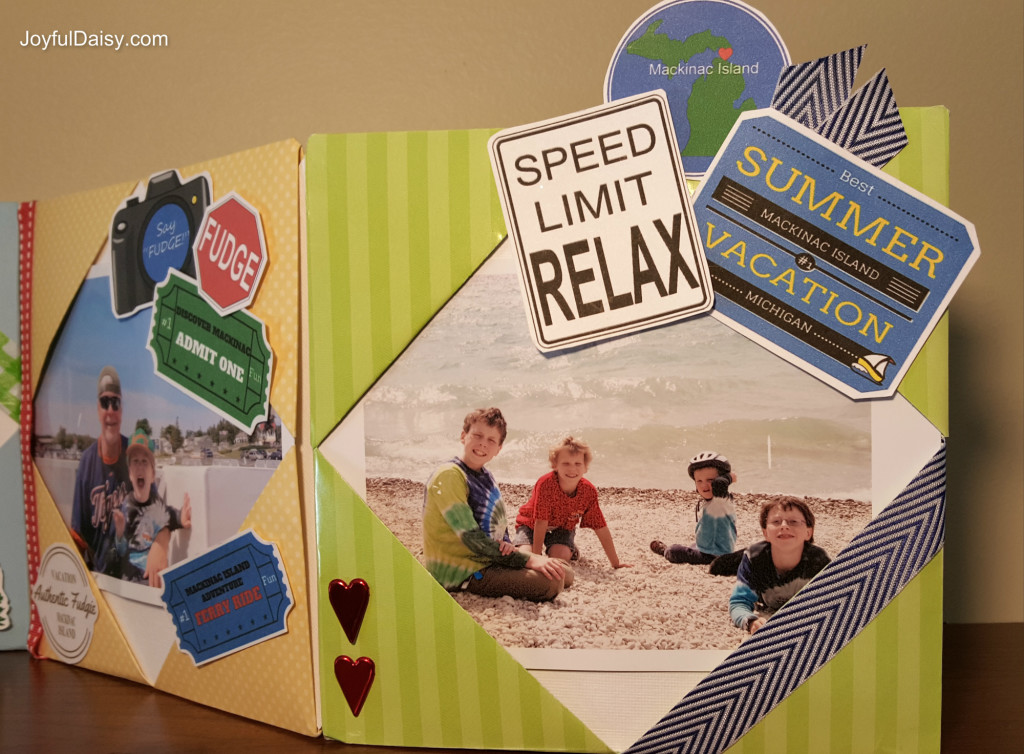 For our final page, I added brads and ribbon like the first page to balance it out and then added more dye cuts and and ribbon.
CLICK HERE to go to our Mackinac Island Clip Art page in the Joyful Daisy Boutique!
CLICK HERE to view our Project Showcase featuring the Scrapbook Pages made with our clip art collection.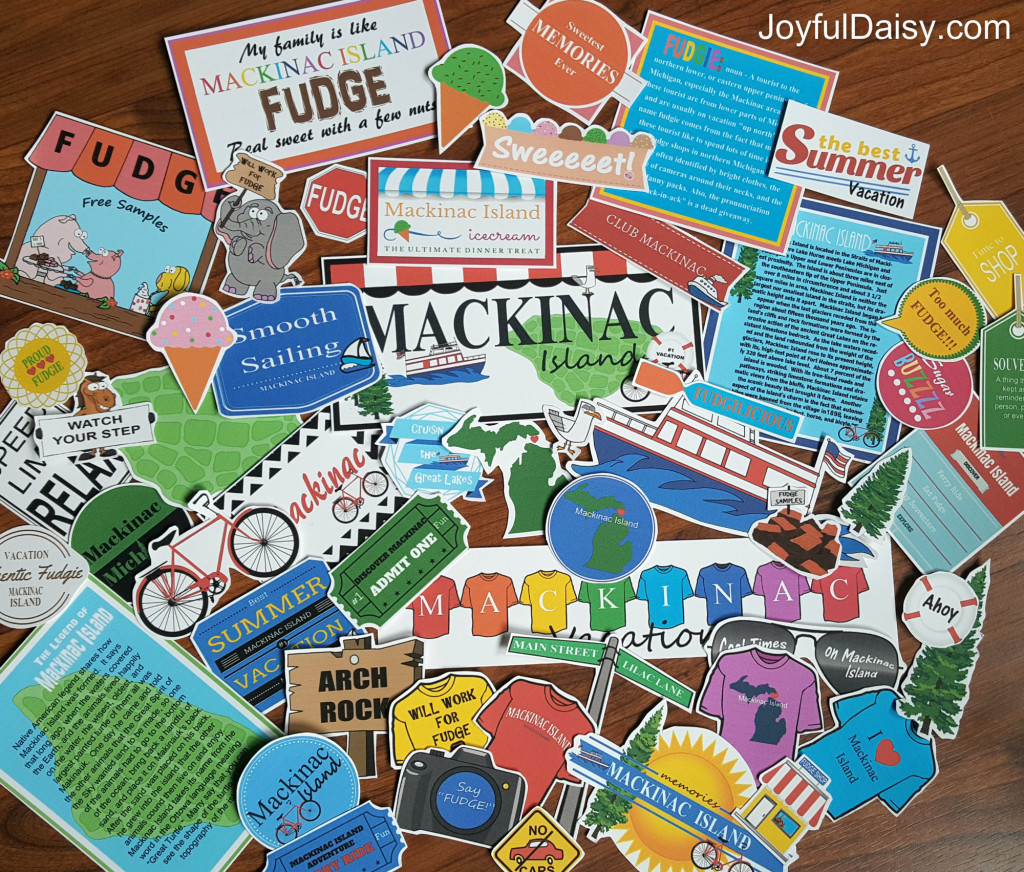 Here are some lovey photos we took this spring on Mackinac Island…
Just CLICK HERE to view more 🙂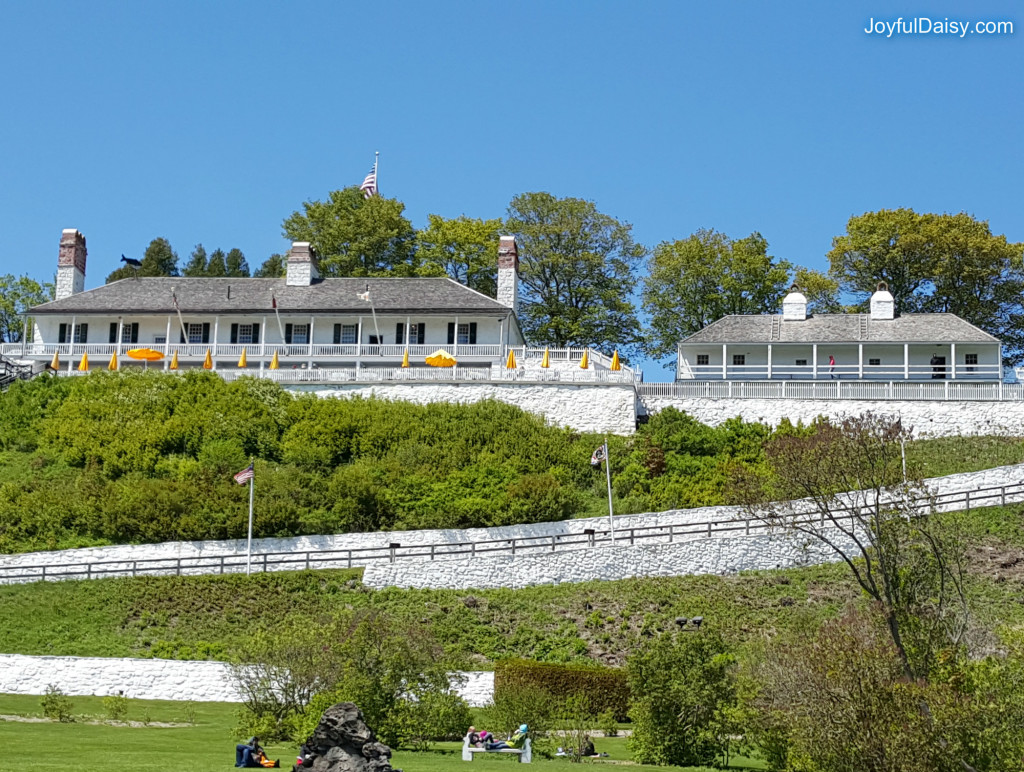 You are welcome to CLICK HERE to view more pictures of our beautiful area – Mackinac Island and Michigan's Upper Peninsula 🙂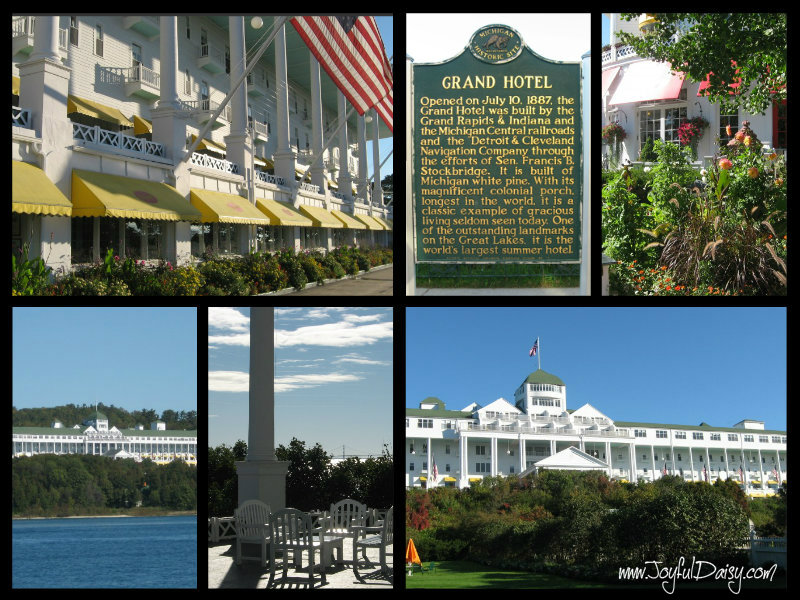 Have a JOYful Daisy DAY!