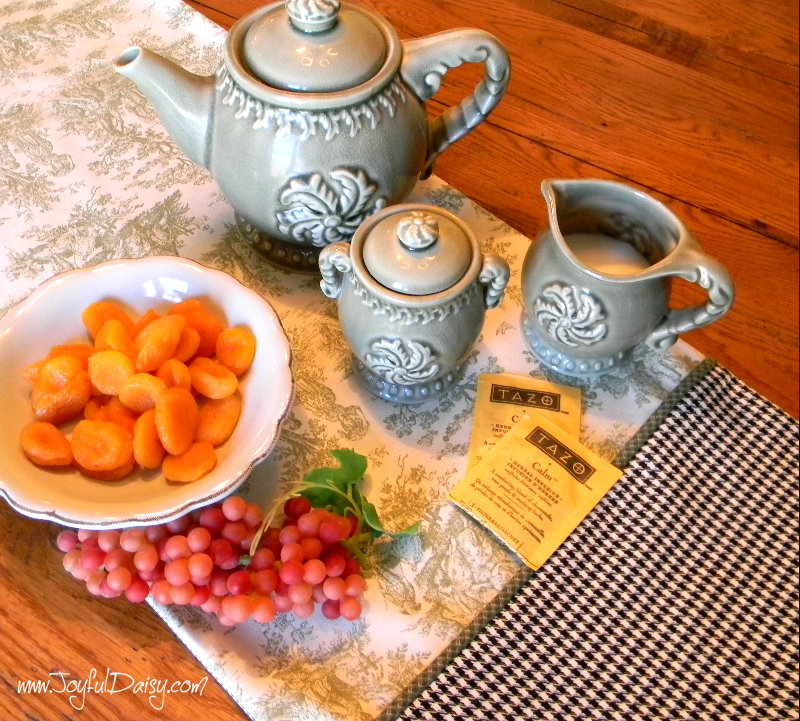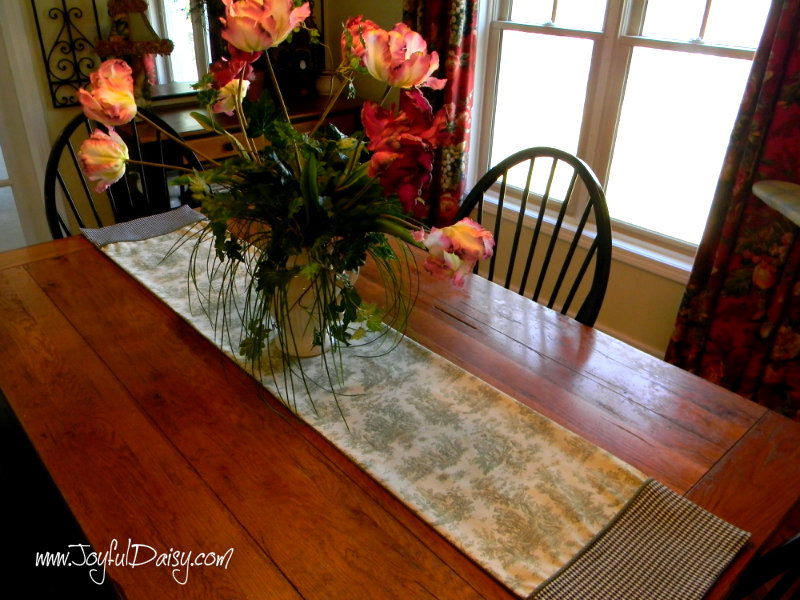 As Mackenzie Childs would say…"Add a little scenery to your tablescape," with this traditional toile table runner.  You can only imagine my excitement the other day as I was going through my mom's fabrics and found yards of this beautiful sage and cream toile.  She said I could use it all since she could not remember what she originally bought the fabric for… ever had that happen?!! 🙂  I already had the black houndstooth fabric, you may have seen it on my Pizza pan magnet board and fortunately I didn't make too much fun of my mom's forgetfulness because I bought that fabric when I was in college, oh a few years ago, and do not remember what I originally planned for it either!
Well after my lovely fabric finds, the only thing that was needed for this Makenzie Childs knock off table runner was the piping cord for $1!  Yippee!  So the exciting news is that it only took an hour or less to make and I saved a whopping $174!  And even if you purchase the fabric, you will save at least $150!  Now that is some fun news, so let me show you just how simple this adorable knock off project is…
GATHER YOUR SUPPLIES…
First check your fabric stash if you have one:)
1 3/4 yards toile fabric
1/4 yard black and white check or houndstooth
1/2 yard dark green check
1 yard  5/8″ piping cord
LET'S GET STARTED…
We made our piping with fabric on the bias because we have a really cute stool that we are going to use it on if we ever get warm enough weather for me to go outside and spray paint it!  Anyways, you can simply cut a 1 1/2″ strip of the dark green fabric and wrap the piping cord in the middle of it and stitch as shown below after all the thumbnail photos or you can follow our steps to make it on the bias.  Making it on the bias is only necessary for projects that require the piping to curve nicely.
1. Cut two 12″ squares and cut the squares in half on a diagonal.
2. Lay out your triangle to form a line.
3. Place the first two triangle right side together and stitch with 1/2″ seam.
4. Continue with next two triangles and then iron.
5. Draw lines 1 1/2″ across strip made with triangles.
6. Fold one end of the strip on itself and match up the top white line to the top of the fabric underneath and then  match the remaining white lines together.
7. Turn it right side out.
8. Start cutting along white lines to create one long 1 1/2″ strip of fabric now on the bias 🙂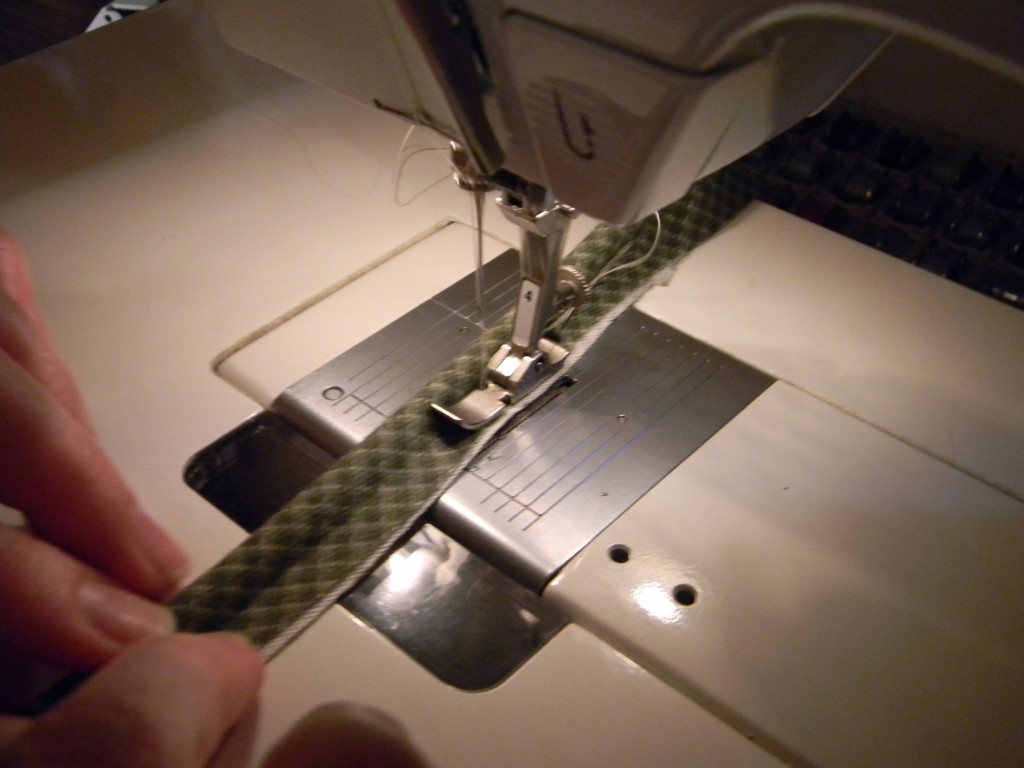 Fold fabric strip in half, placing the piping in the middle.
Using a zipper foot and moving your needle all the way to the left, stich the piping in place leaving a seam allowance to be sewed into project.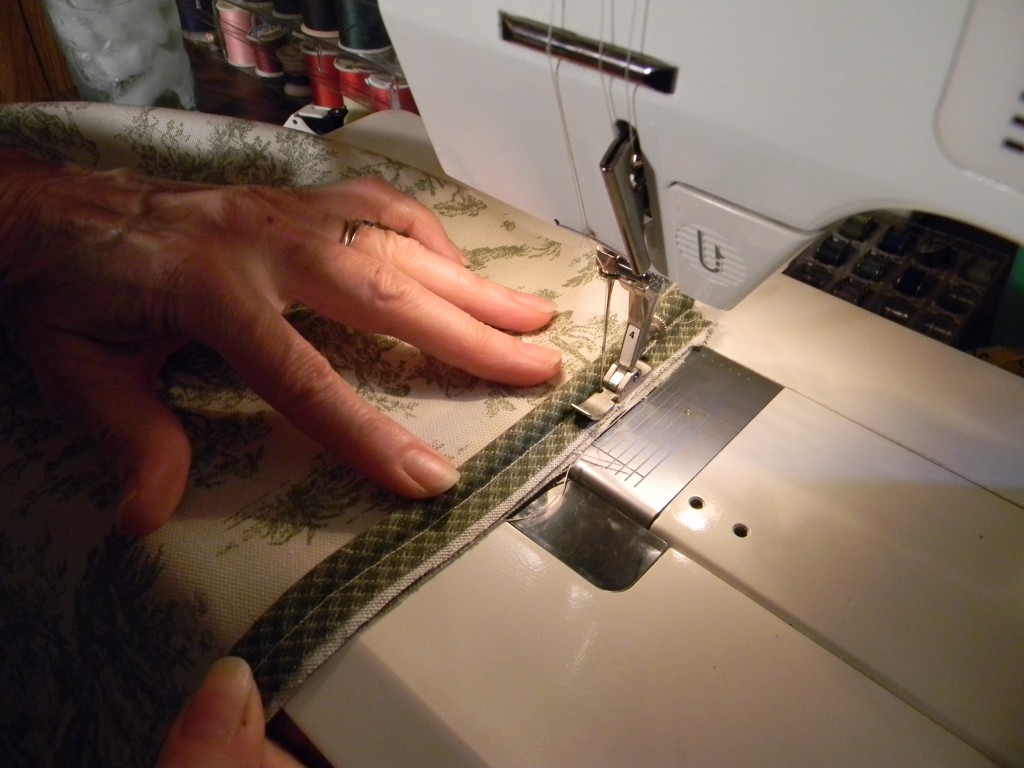 Cut one 15″ * 61″ strip of the toile fabric.
Cut one 15″ * 73″ strip of the toile fabric.
Cut two 15″ * 7″ strips of the black and white fabric.
Lay the piping on the short edge of the right side of the toile fabric and stich down close to the piping with the zipper foot.
Pull a little bit of the piping out on each side and trim so it is flat about 1/2″ from edge so it won't get caught in the seam allowance when sewing the top layer to the bottom layer.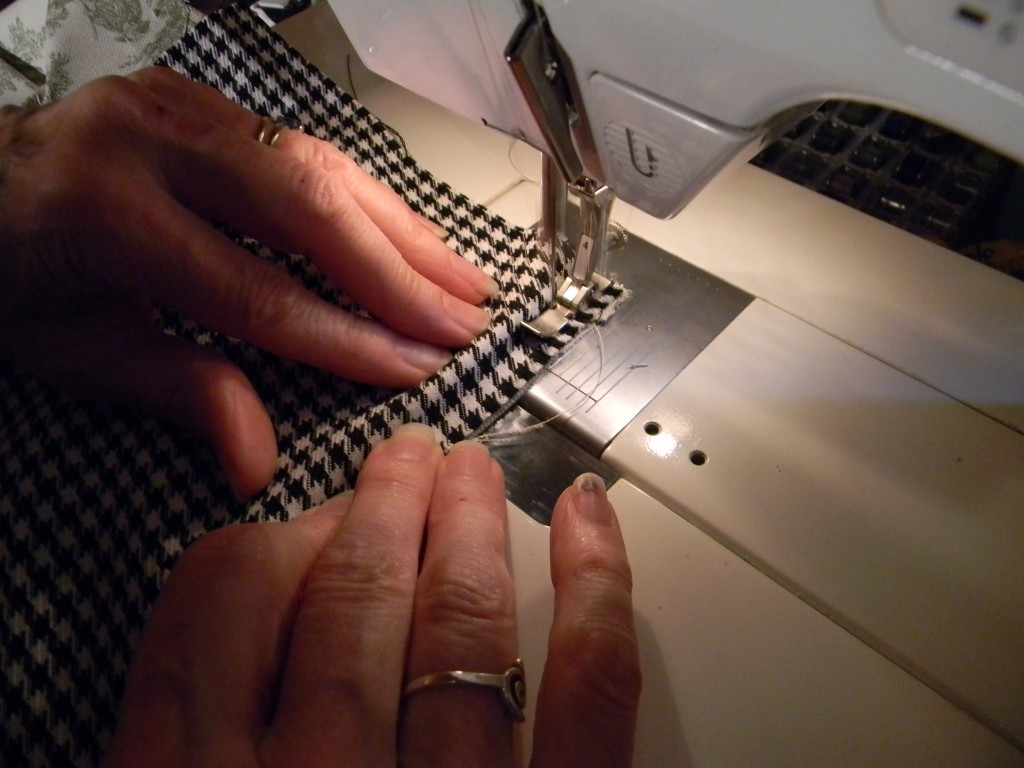 Lay the right side of the black and white fabric on top of the piping and toile and stich next to the piping with the zipper foot.

Repeat steps above adding piping and black and white fabric to other end of table runner.
Lay this piece right side down on top of the 15″ * 73″ piece of toile right side up and stitch around all sides using 1/2″ seam allowances leaving 4″ open to turn project right side out.
Trim each of the corners.
Turn right side out.
Iron and hand stich opening together.
VOILA…You just saved $150!
 Check out another Mackenzie Childs knock off…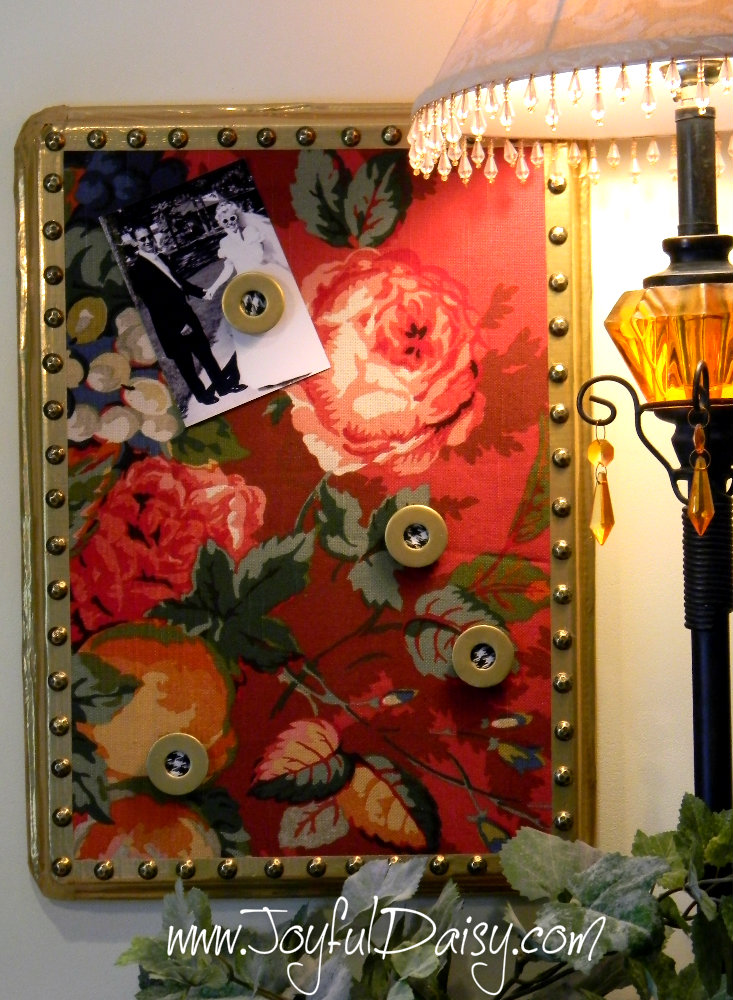 If you enjoyed this post, be sure to sign our email list on the top right hand column.  I have a lot more MacKenzie Childs, Pottery Barn, and Ballard Design knock offs planned:)
You can also connect with Joyful Daisy on

FACEBOOK

,

GOOGLE

,

PINTEREST

,

TWITTER

,

AND

RSS

.  I would also love it if you shared this project by clicking social link buttons below 🙂
Thanks for stopping by 🙂
Cyber hugs,
Amy- joyfuldaisyforever@gmail.com