This little Mackenzie Childs inspired accent lamp adds a bit whimsy to our guest room décor.  I just painted the pot in my favorite Mackenzie Childs check and then added some floral foam, a candlestick lamp, a few silk flowers, and then topped it all off with a petite pleated shade in cranberry red.  Follow along and you will see a step by step tutorial of just how easy it can be done.
GATHER YOUR SUPPLIES…
Small Pot
Kilz spray primer
white, cream, and black craft paints
flat paint brush
glossy varnish
pencil
floral foam
candlestick lamp (available at Joanne's Fabric Stores)
small lamp shad
moss
silk floral stems
hot glue and glue gun
Spray pot with Kilz primer and let dry.
Draw a vertical and horizontal line  across bottom of pot.  Then draw two or more diagonal lines across the bottom of the pot.
Draw lines straight up the sides of the pot where the lines on the bottom meet the edge.
Using a flat paintbrush, dip it in the white and a little cream paint and then paint in every other square.
Using black with a little bit of cream paint on the brush, paint in the left over squares.
OPTIONAL: Brush a very light coat of black paint over the white/cream squares to give it an older, more worn look.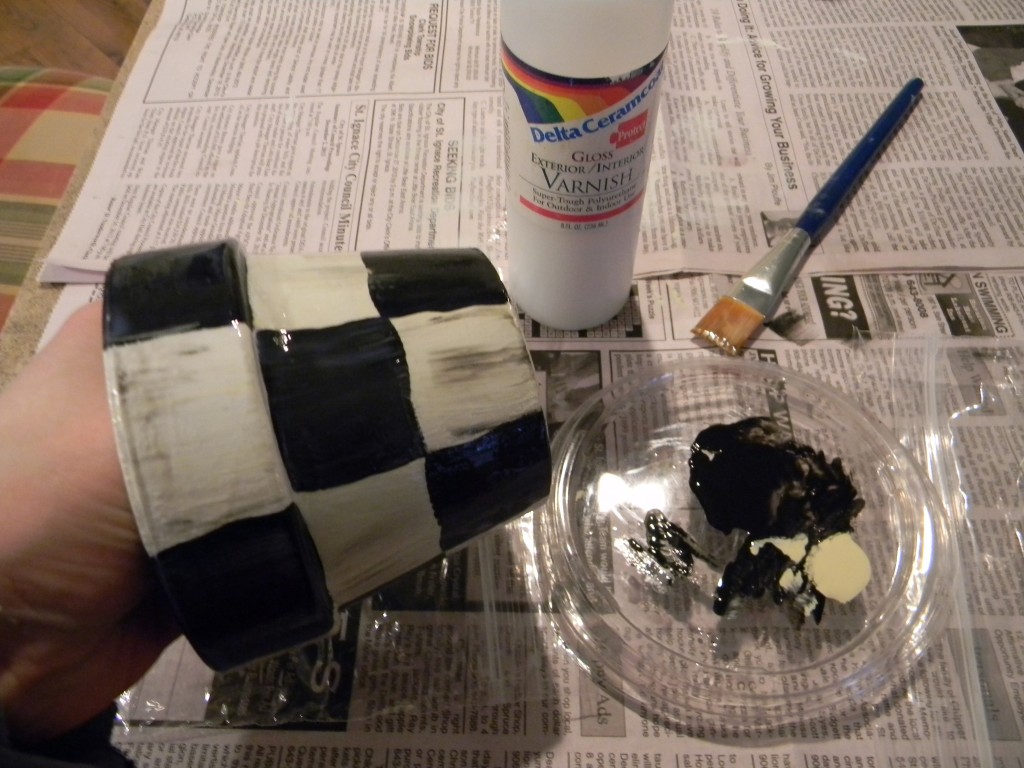 Once paint is completely dry, apply a layer of glossy varnish.
Decide how high you want the candlestick lamp to stick up and then hot glue a layer of floral foam to the bottom of the pot.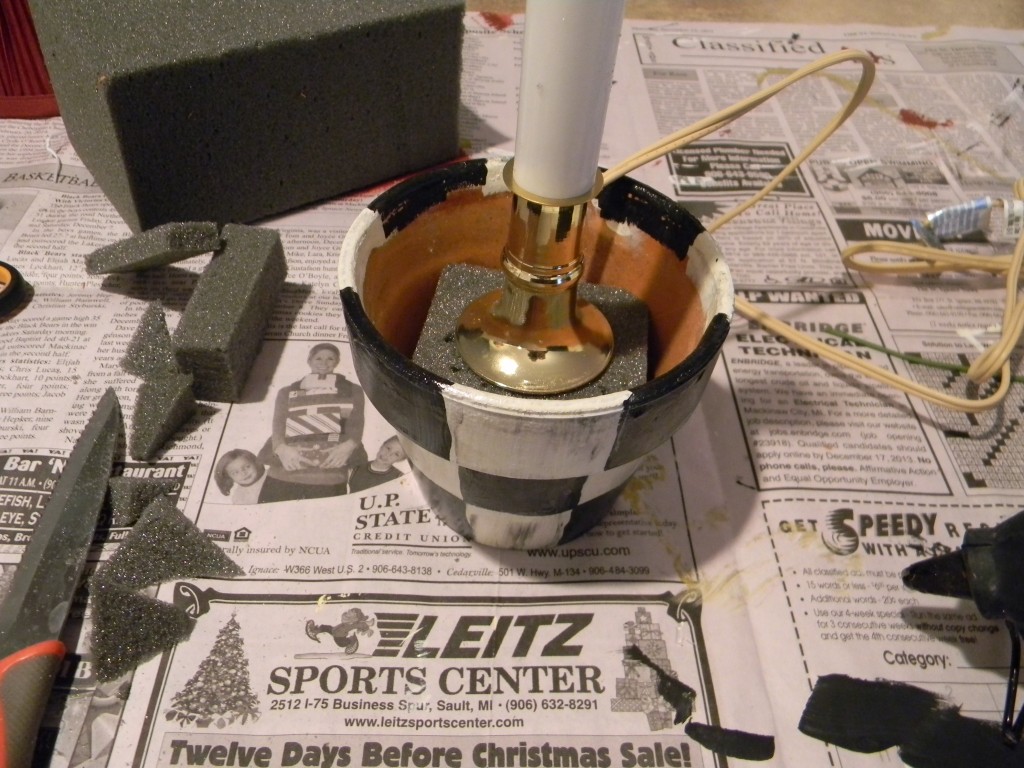 Hot glue the candlestick lamp on the floral foam.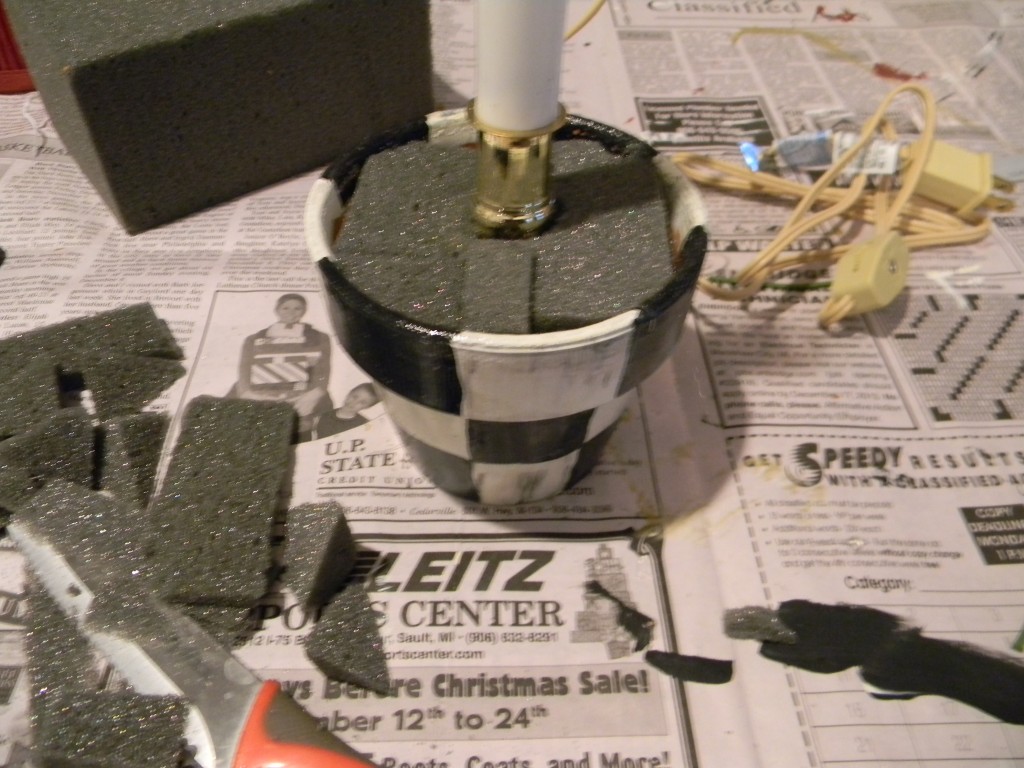 Hot glue more floral foam around the candlestick lamp.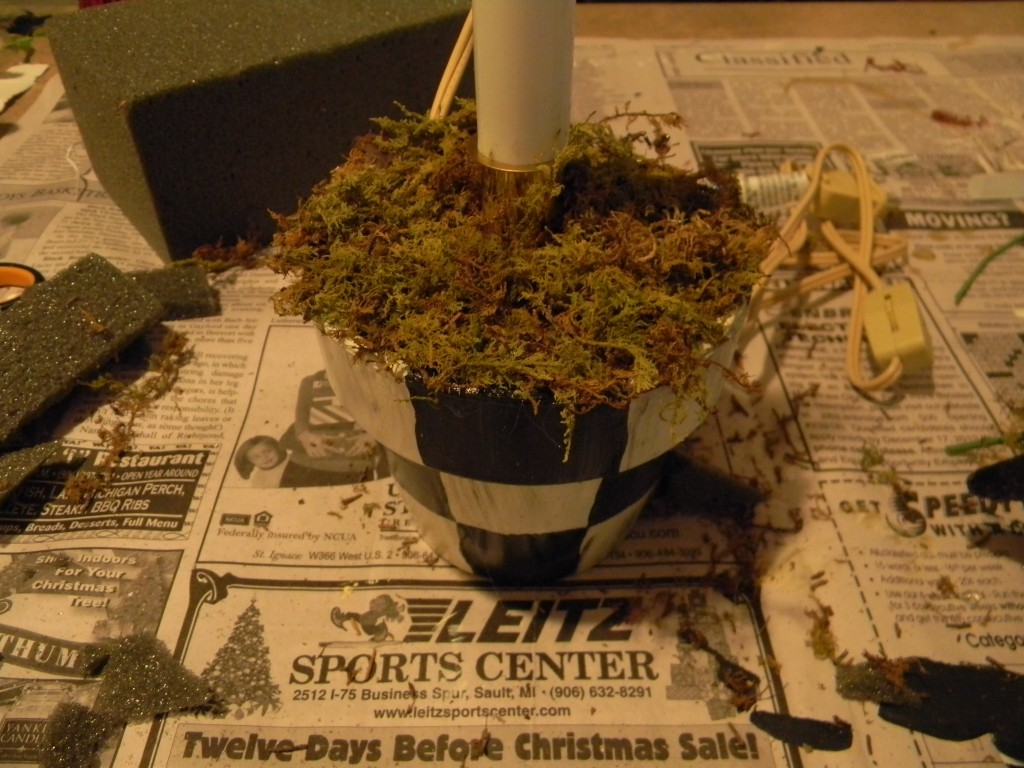 Hot glue moss to cover the floral foam.
Cut pieces of silk flowers and greens and poke into floral foam.
Be sure to add lamp shade before you do this step so you can see exactly how it will look.
I just stick the stems into the foam without glue so I can mover them if I want but you can squeeze a small amount of glue at the end of the stem before you stick it in the foam if you want  to make it more secure.
If you enjoyed this post, be sure to sign our email list on the top right hand column.  I have a lot more MacKenzie Childs, Pottery Barn, and Ballard Design knock offs planned:)
You can also connect with Joyful Daisy on

FACEBOOK

,

GOOGLE

,

PINTEREST

,

TWITTER

,

AND

RSS

.  I would also love it if you shared this project by clicking social link buttons below, sharing is caring 🙂
Thanks for stopping by
Cyber hugs,
Amy- joyfuldaisyforever@gmail.com
LINKY PARTIES FEATURING MY MACKENZIE CHILDS KNOCK OFF TABLE…
Amy- joyfuldaisyforever@gmail.com
FUN LINKY PARTIES FEATURING JOYFUL DAISY KNOCK OF MACKENZIE CHILDS COOKIE JARS & LIDS- THANK YOU TO ALL THE WONDERFUL HOSTS!