Make a simple lunch very special with our FREE printable lunch notes.  We love sticking notes in the kids lunches so I decided to print out notes for each item this Valentine's Day, however, they would be cute anytime you want to surprise your kiddos:)
FREE LUNCH NOTES Download
OK, this is super simple.  Just make a sandwich, whether it is meat and cheese or just your classic peanut butter and jelly.  Using a small cookie cutter, cut out a little piece.  Actually I had originally planned to cut out a large heart and send a crustless sandwich, however, my large heart cookie cutter is bigger then the sandwich!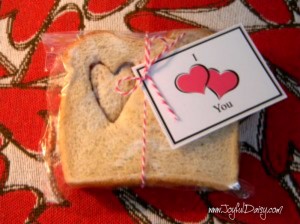 Then I just bagged and tagged it with a cute piece of bakery twine.
Next I added notes to the other lunch contents.
STARBURST – You make my HEART burst!
ROCK AND RYE – You ROCK!  I don't usually put pop in their lunch so this will be an extra treat.
BANANA – I am Bananas 4U!
The ideas are endless, just have fun playing with food names.  I have found the kids aren't picky even if the notes are super silly.  They just feel extra special for your effort:)  So feel free to start with our printable notes and then you can get inspired to create your own kid lunch ideas and then feel free to share with us.  We would love to hear from you:)