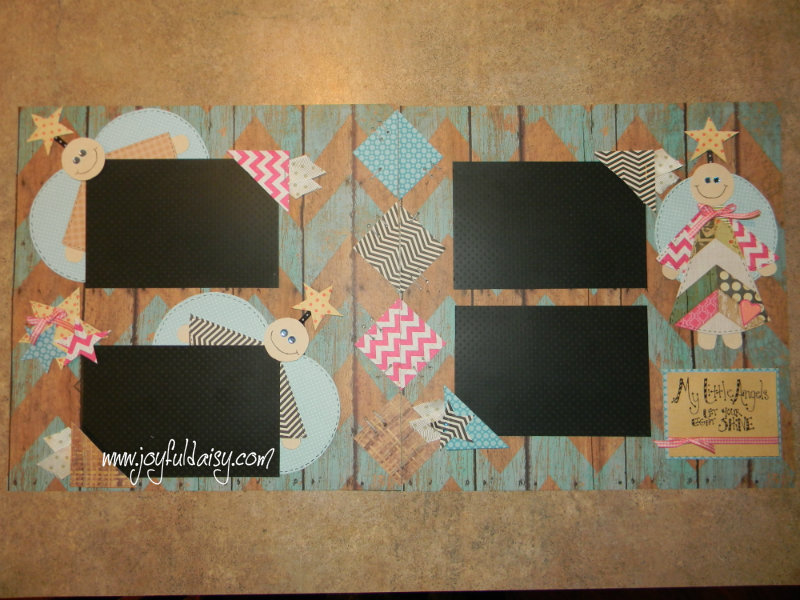 I have so much fun creating these primitive angel scrapbook layouts and I am sure I will find the perfect photos for them!  Now I know that I am not the only one with adorable photos of the precious angels in my life so I am happy to share the pattern pieces and instructions so you can create them too 🙂
SUPPLIES NEEDED…
Assorted Scrapbook papers (The Chevron papers are from The Paper Studio Chevron 180 pack that I purchased at Hobby Lobby.  I am having so much fun with this pack that you may be seeing chevrons for awhile 🙂 )
6 Adhesive gems for angel eyes
Small pieces of ribbon (PINK GINGHAM- two small bows and also used on title, 1/8″ BLACK DOT ribbon is used connecting star halo to angel's head and 1″ DOT GROSGRAIN ribbon on frame corners)
Embroidery Floss and Needle
Small whole punch
Paper trimmer and/or scissors
adhesives (I jused glue on most of the pieces and dimensional tape under the small stars and frame corners)
Black fine tip pen/marker
downloadable pattern pieces – Download
ASSEMBLY…
Start by cutting out downloaded pattern pieces and then trace onto chosen scrapbook paper…
1 angel dress
3 sets of sleeves
8 hands/feet
3 circles for wings (cut two of the circles in half)
3 heads
6 small stars
1 large star
small heart
6 Two inch squares cut diagonally
4 Four inch by 6 inch frames
Place your background papers side by side and adhere the square halves matching them up along the inside edges.
Print or write your Title on the top of a 3 1/2″ * 2 1/2″ rectangle and place a piece of ribbon around the bottom adhering it to the back.  Take a small piece of the same ribbon and tie it onto the ribbon strip for a decorative touch.  Matt this onto another decorative scrapbook paper.
Assemble the main angel pieces and adhere on the right side of the paper above the title piece.  OPTIONAL- Add stitch marks with a fine tip black pen to the angels dress and wings and draw in mouth after you add the eyes.  I love the pink sparkle paper I used for the heart on the dress but it blended in too much so I glued it to a hot pink scrapbook paper and then cut around that for a little boarder.  Add a little ribbon (or you could use a skinny strip of scrapbook paper) above the head to connect the star, add the star halo above the head and the decorative heart to the dress with dimensional tape.
Adhere frames, making sure you leave enough room on the left page for the angels to be added.  TIP:  Do not place adhesive too close to the edges so that you can slide under pieces of the wings and sleeves when assembling.
Assemble angels on the corners of the frames on the left page and don't forget to adhere star halos with dimensional tape if you like.
Decide which remaining square halves/tringles you would like to use on the frame corners.  Staple small pieces of ribbon to the appropriate sides and then apply dimensional tape to the two outside edges of the triangels and adhere to page.
Add decorative start cutouts to pages and/or frame corners as you like.
Lastly you can add embroidery floss stitches along the inside edges to add to the primitive look.  Punch holes on the front of your pages to create a clean look, if you just go through paper with the needle you may see some frayed edges.  The picture to the left shows the backside of my page before I add floss.  I just taped the end of my floss down on the backside of my page and then began stitching.