This is an amazing recipe that can be made quicker with purchased Boursin cheese (found in the soft cheese section at the supermarket).  Whether you purchase the cheese or follow our recipe, you will simply be delighted with how these stuffed chicken breasts turn out:)
BOURSIN CHEESE …
1/2 T chopped garlic
4 oz. butter
8 oz. cream cheese
2T grated parmesan
1/2 t dill
1/4 t oregano, basil, and thyme
1/8t pepper
1 1/2 T dried parsley or 3 T fresh parsley
1 small green onion chopped

Blend all the ingredients listed above in a food processor with cutting blade.  Chill till firm (20-30′).  Scoop with 3 T scoop onto cookie sheet, flatten with a spoon, and then freeze for 1 hour or more.
You will only use four pats.  Keep rest in freezer for garlic bread, cracker spread, or to top steak or salmon-YUMMO! 🙂

Butterfly 2 large chicken breasts with sharp knife then pound to 1/2″ – 1/4″ thick and cut in half.

Place red pepper under broiler and as pepper blackens (in approximately 5 minutes) turn pepper using hot pad to blacken all sides.  Then remove from oven and wrap in plastic wrap and let rest on counter 5 minutes.  Then remove plastic and skin will easily peel off.  Cut open and discard seeds.  Slice in 1/2″ strips.

Cut frozen Boursin cheese in half and layer on chicken breast with roasted red pepper slices and fresh cut basil.  Fold closed and then lace shut with wooden skewer.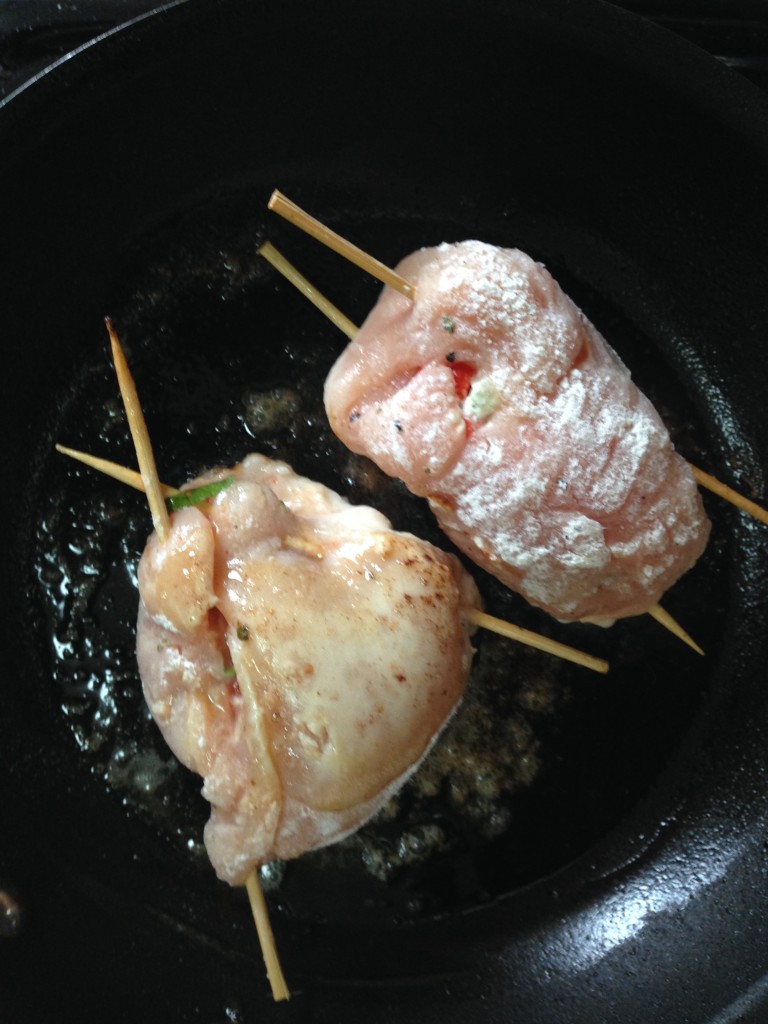 Mix 1/2 cup flour, 1/4 t pepper and 1/2 t salt and dust chicken.  Melt 2T butter and 1T olive oil in non stick oven proof pan.  Brown over medium heat 5 minutes on each side.  Finish cooking by placing pan in 350 degree preheated oven.
Remove skewers and serve with a slice of roasted red pepper and basil:)  enJOY!!