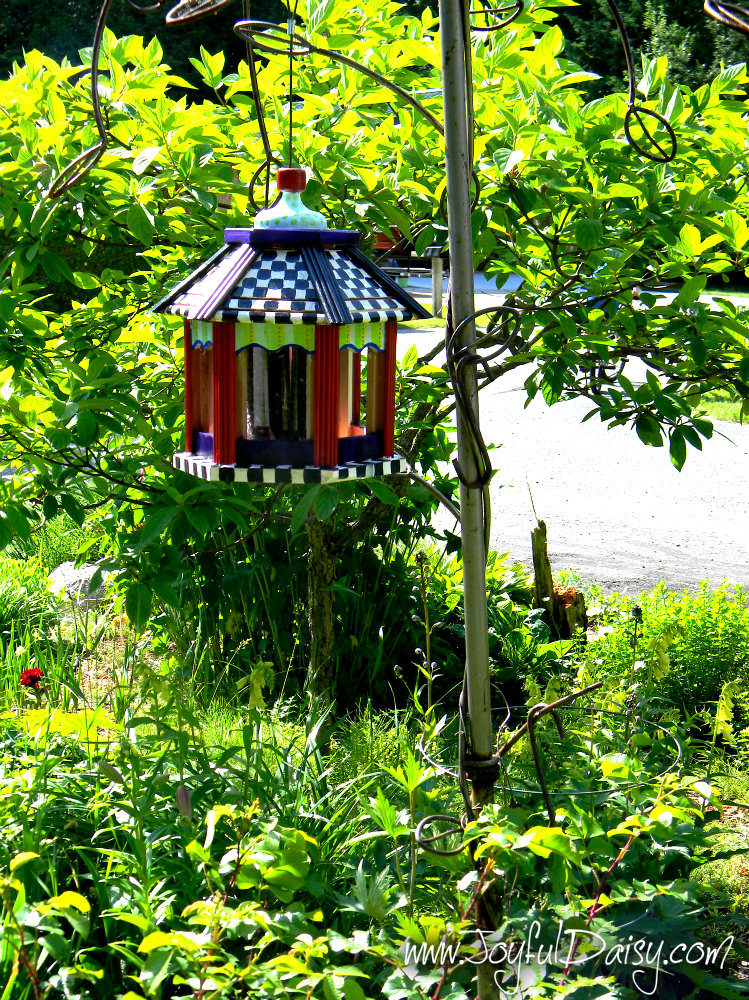 Brighten your garden or any corner of the yard with a whimsical bird feeder.  If you have been at Joyful Daisy for any length of time, you know that I just love the whimsical designs of Mackenzie Childs, however I don't always love the prices.  For instance, the adorable Mackenzie Childs bird feeder shown below can be your for just $255.  Just click on the photo below and it will take you directly to the Mackenzie Childs beautiful website. Or you can purchase a plain birdhouse like the one I bought for $20 at Walmart and then just spend an afternoon with a little paint to create your own Mackenzie Childs knock off bird feeder. 🙂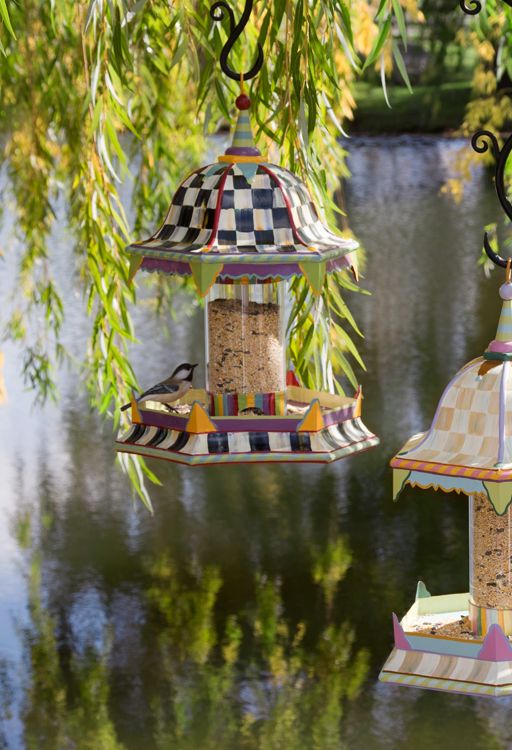 Here is the before picture…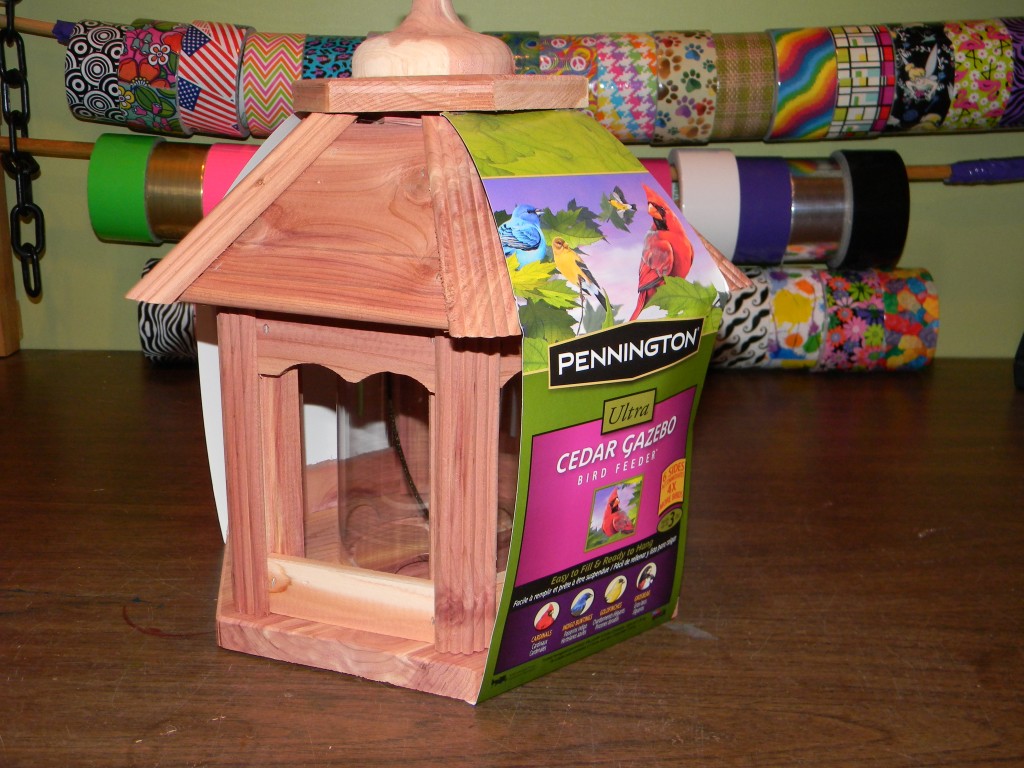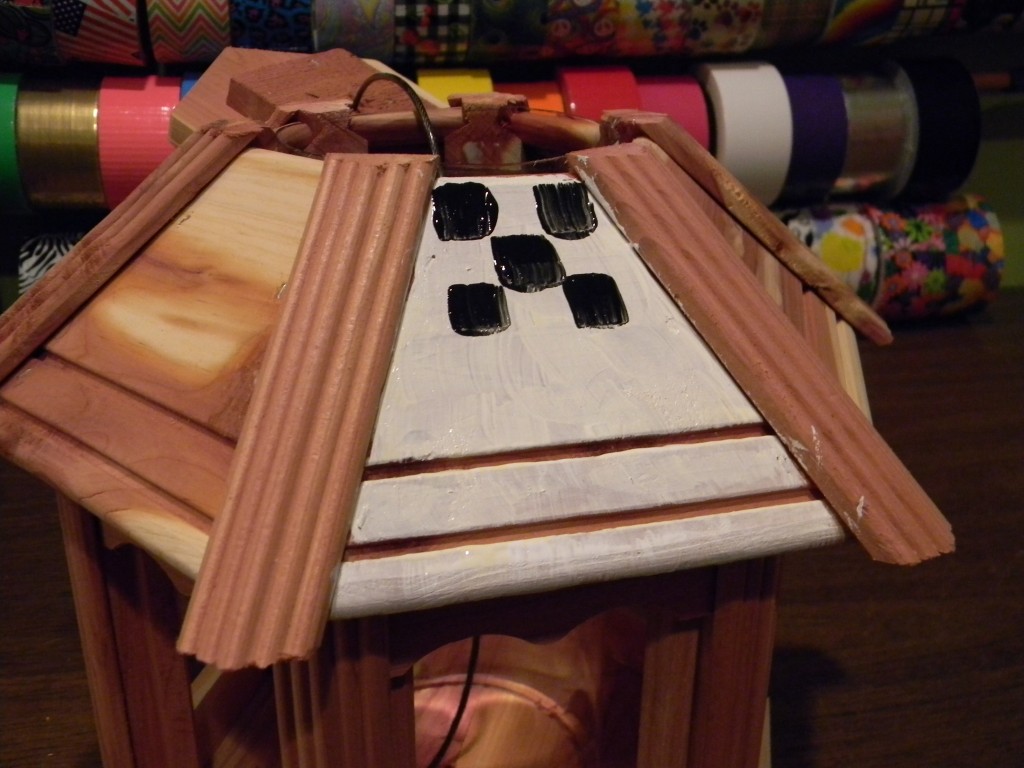 I started with the white/cream background and then added then added the black checkerboard before the background was dry.  To achieve more of the Mackenzie Childs checkerboard look, I like the checks to vary in color.  For the background I used a 1 inch brush dipped in white and cream.  I used a 1/2 inch brush with the black and since the background paint was still wet I didn't need to add another color to the 1/2 inch brush.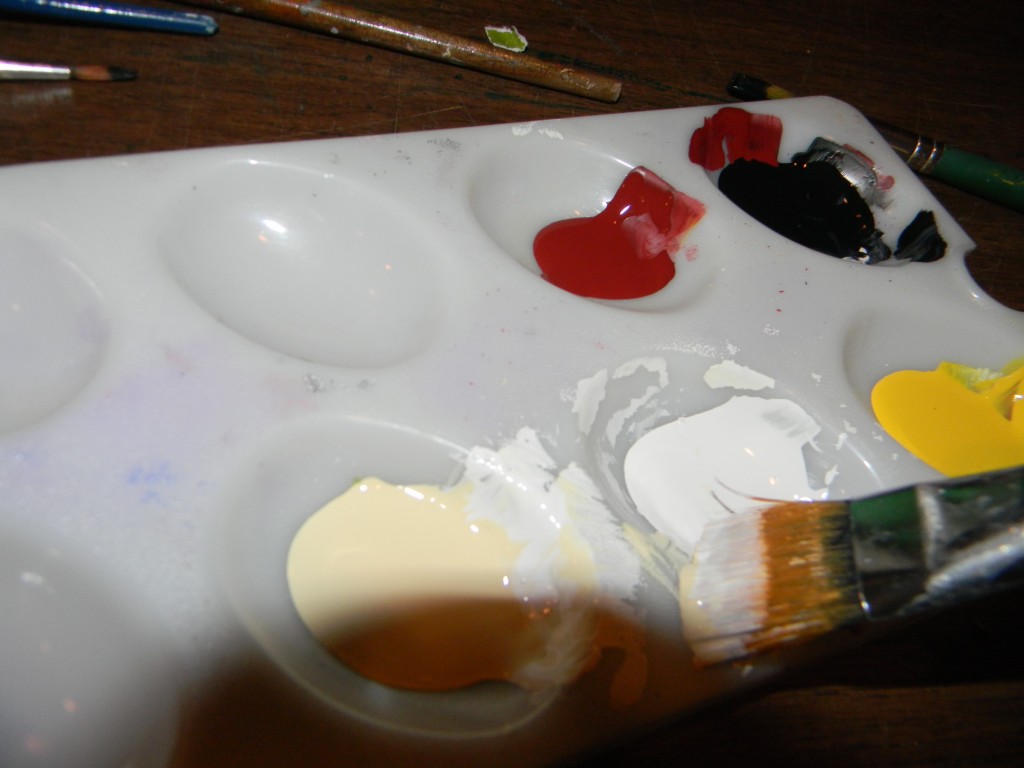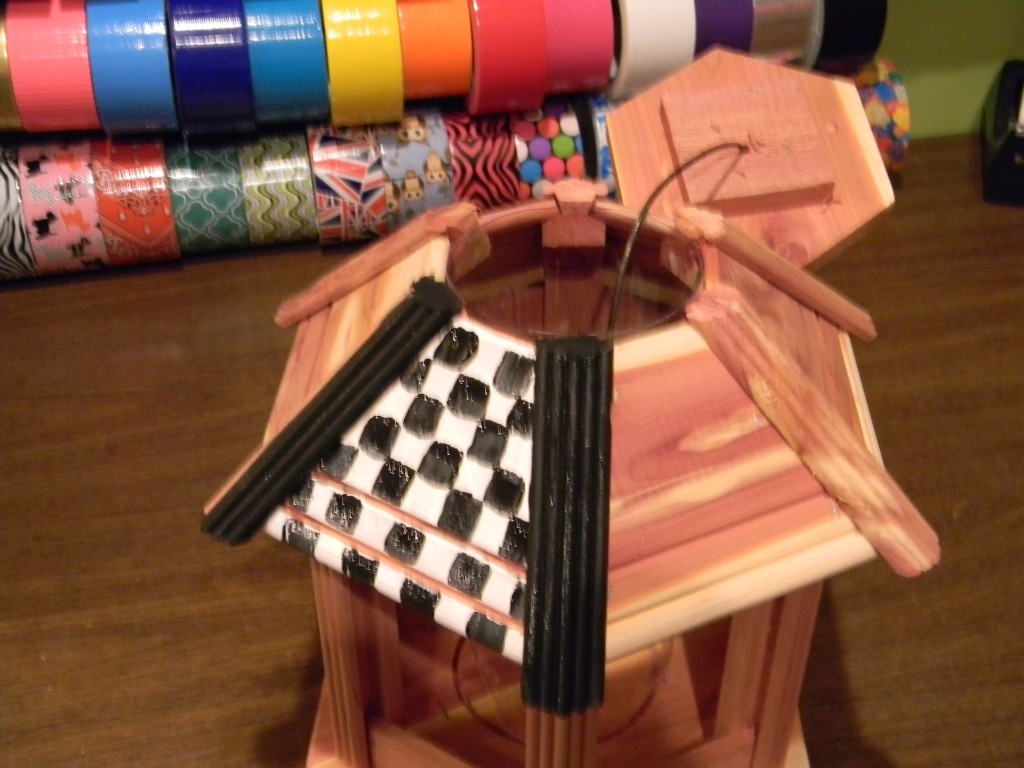 I then painted the black trim and continued working around the birdfeeder painting the checkerboard roof.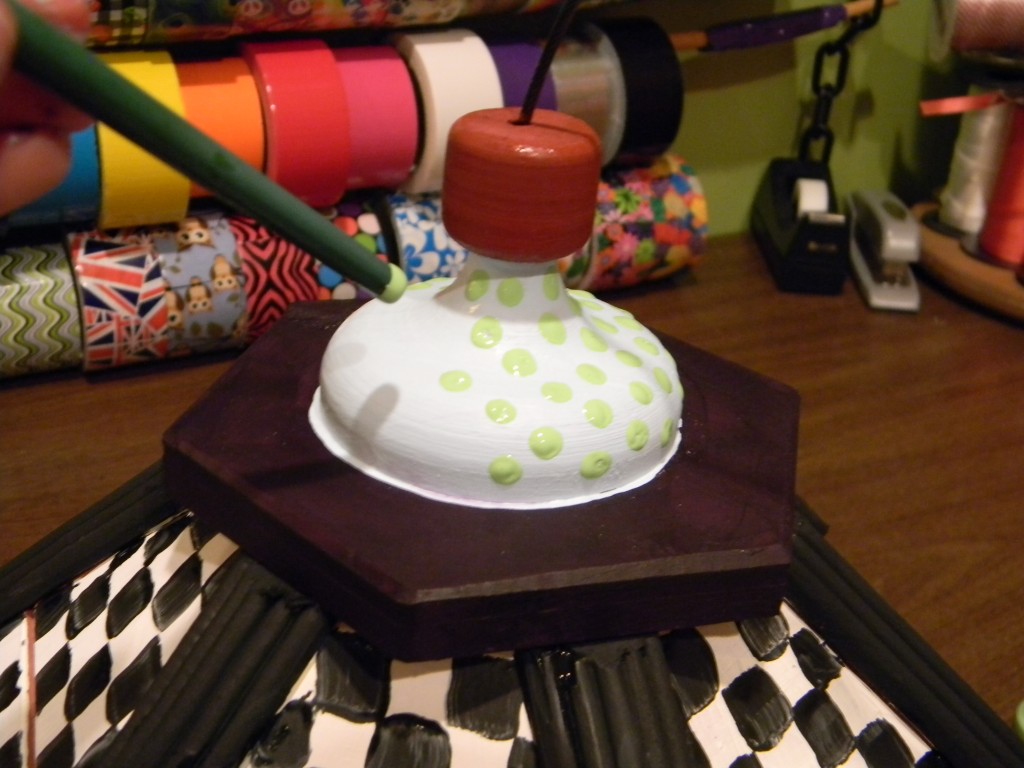 Next I painted the top with dark purple, light blue, some green sprinkles- I mean polka dots, and a cherry on top- I mean a little red but doesn't it look like a cherry? 🙂 For the mint green dots, dip the end of a pencil or paint brush in the paint and then on to the bird feeder.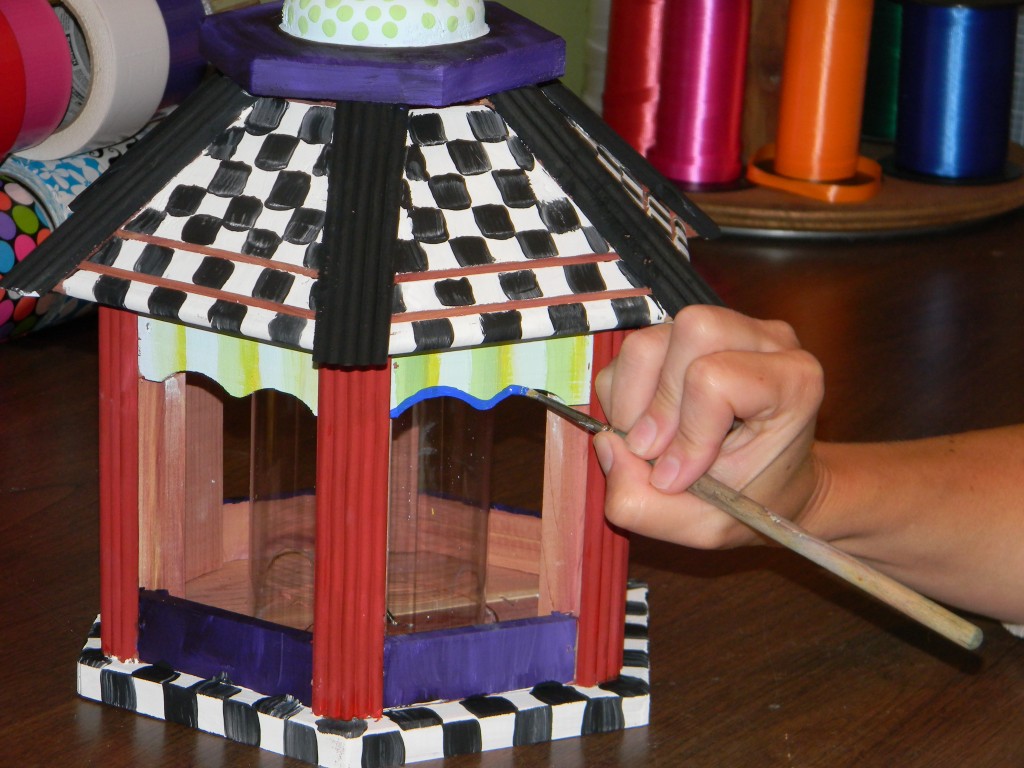 Continue painting adding some red and purple trim and a little more checkerboard along the base.  I also added some pastel strips tipped with royal blue.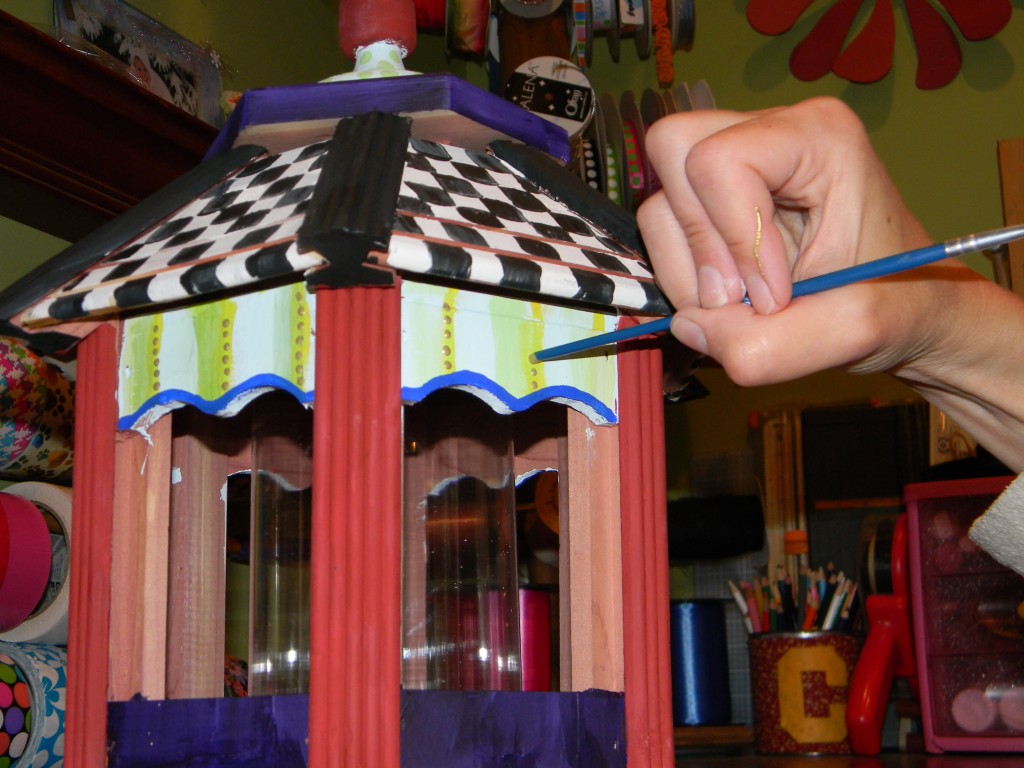 Using the end of a smaller paint brush, add some gold dots to the pastel stripes.  Lastly add a glossy varnish to seal the paint.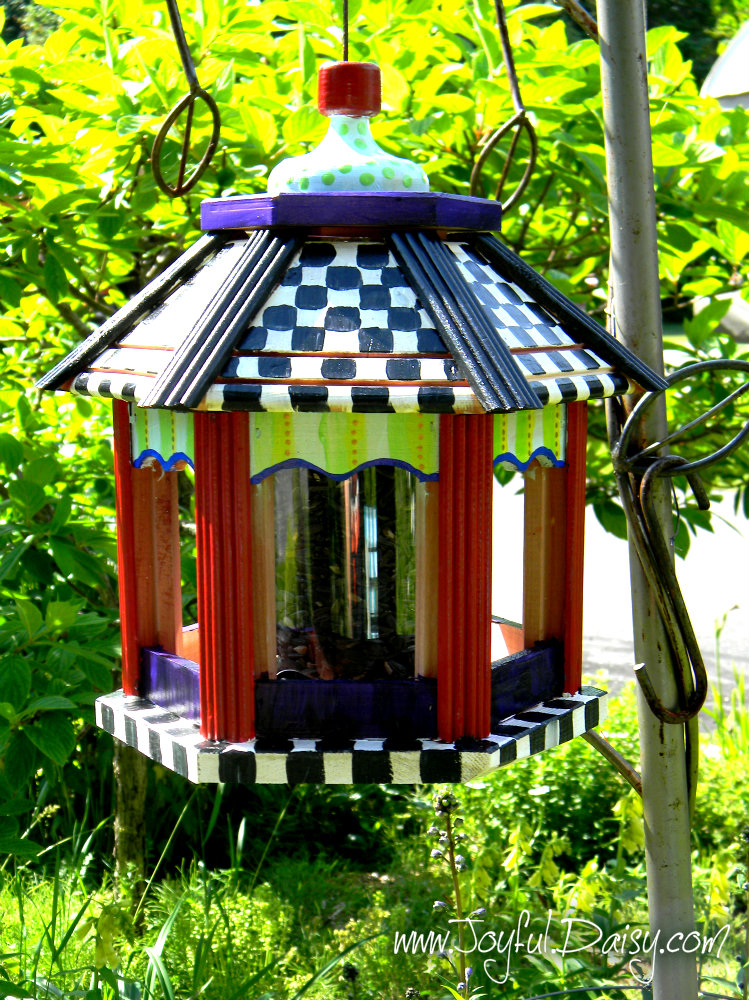 KNOCK OFF MACKENZIE CHILDS CHAIR TUTORIAL
KNOCK OFF MACKENZIE CHILDS TABLE RUNNER TUTORIAL
KNOCK OFF MACKENZIE CHILDS ENAMEL BOARD TUTORIAL
KNOCK OFF MACKENZIE CHILDS ACCENT TABLE TUTORIAL
KNOCK OFF MACKENZIE CHILDS ACCENT LAMP TUTORIAL
KNOCK OFF MACKENZIE CHILDS COOKIE JARS TUTORIAL
If you enjoyed this post, be sure to sign our email list on the top right hand column.  I have a lot more MacKenzie Childs knock offs planned:)
You can also connect with Joyful Daisy on

FACEBOOK

,

GOOGLE

,

PINTEREST

,

TWITTER

,

AND

RSS

.  I would also love it if you shared this project by clicking social link buttons below, sharing is caring 🙂
Thanks for stopping by
Cyber hugs,
Amy- joyfuldaisyforever@gmail.com