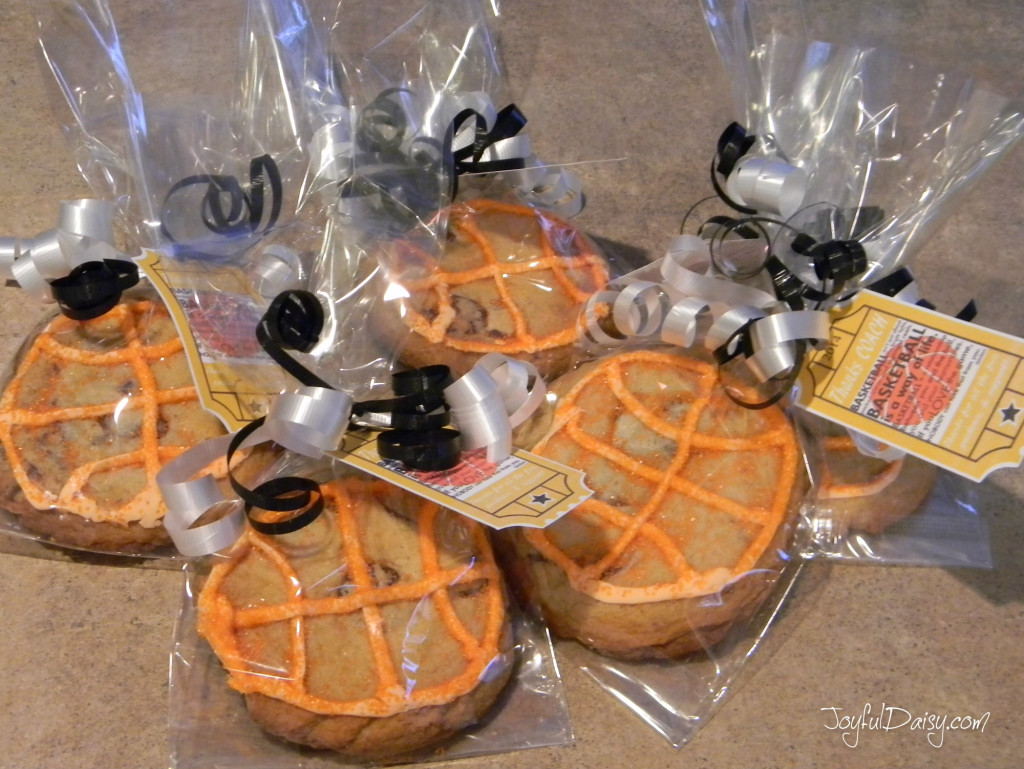 Want a great way to say thank you to your kid's basketball coach? Why not attach it to a giant chocolate chip cookie! We had fun baking up some jumbo cookies, adding some basketball piping, wrapping them up with team colored ribbon and attaching some cool ticket gift tags! These yummy treats would also be great to thank managers, give to teammates, or use as party favors for a basketball themed birthday party! We attached some downloads for the basketball ticket tags below in case you want to whip some up for your favorite basketball players! 🙂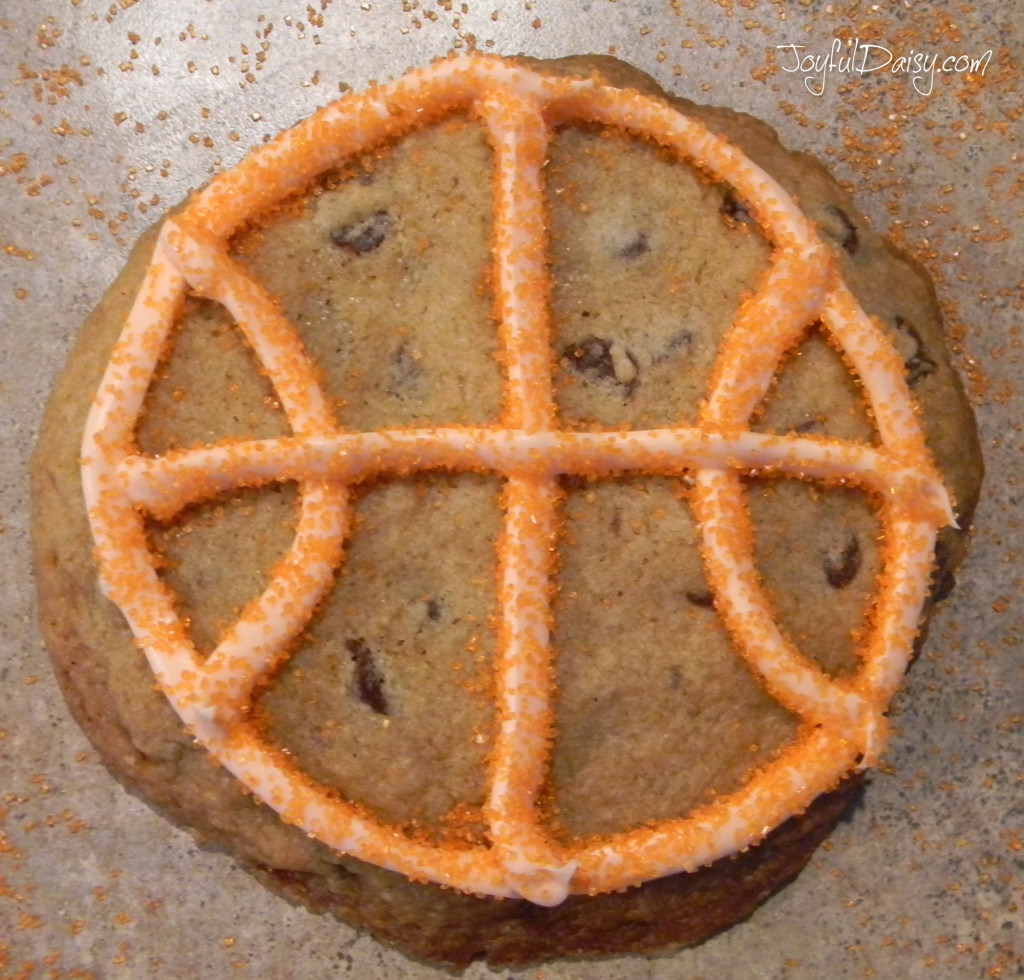 Jumbo Chocolate Chip Basketball Cookies
2015-01-01 18:14:19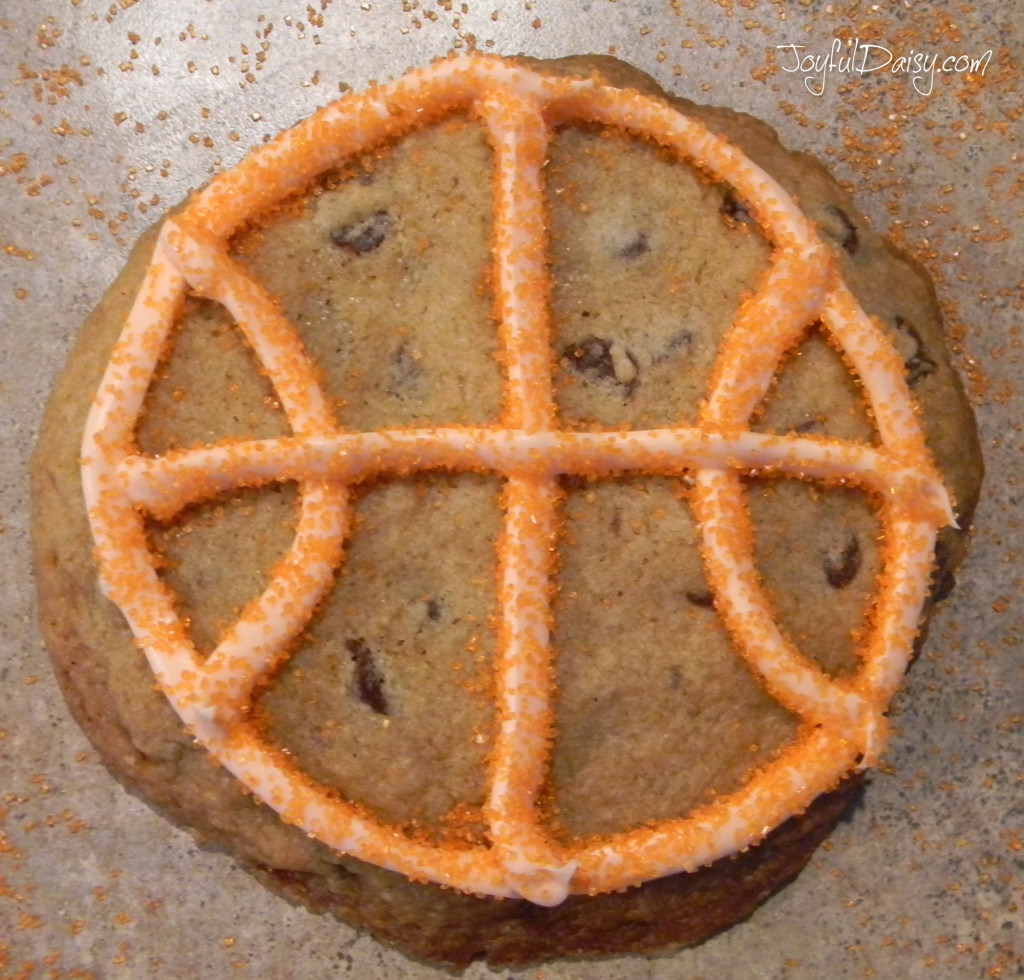 Serves 12
Yummy extra large classic chocolate chip cookie dressed in basketball frosting and packaged in team style!
Nutrition Facts
Amount Per Serving
* Percent Daily Values are based on a 2,000 calorie diet. Your Daily Values may be higher or lower depending on your calorie needs.
Ingredients
2 1/4 cups flour
1 teaspoon baking soda
1 teaspoon salt
1 cup butter-room temperature
1/2 cup sugar
1 cup packed brown sugar
1 Tablespoon vanilla
2 eggs-room temperature
12 ounce package of chocolate chips
Can of vanilla frosting
Orange or Red and Yellow food coloring
Orange sugar
Instructions
Preheat oven to 375 degrees. In small bowl, combine flour, baking soda and salt and then set aside. In large bowl, combine butter, sugar, brown sugar and vanilla and beat until creamy. Beat in eggs. Gradually add flour mixture. Stir in chocolate chips. With large scoop- ice cream size- scoop up dough and place on ungreased cookie sheet. Leave lots of room between cookies, I only cooked six at a time. Press down middle of cookies, slightly more in the center so they stay nice and thick to the edge when baked. Bake 14-16 minutes, don't over bake. Let cool a few minutes and then remove with large thin spatula and place on cooling rack.
Mix up some orange frosting and place in a plastic bag. Squeeze frosting to the bottom of bag and cut small hole in corner so it can be easily piped out onto cookie. Once the cookies have completely cooled, pipe on frosting like the lines on a basketball and then sprinkle with orange sugar.
Let cookies sit out overnight to let the frosting harden a bit before bagging.
Bag up next day. Tie on curly ribbons in school/team colors. OPTIONAL: Print out our tags and add to packaged cookies.
Notes
These cookies are wonderful little thank you gifts for coaches and team managers! Have the kids write a personal thank you note on the back of our ticket gift tags to make it really special and let the coaches and helpers know how much they are appreciated! 🙂
These also are great for team celebration parties or basketball themed birthday party favors!
JOYFUL DAISY http://joyfuldaisy.com/
OK now, please do not judge me by my very used cookie pans!!!! (To see how I recycle my ugly used pans CLICK HERE !) You can see in the photo on the left how I pushed the cookie dough down more in the middle. When I made these before and didn't press the cookies down more in the middle it made bigger cookies but the edges were very thin. I wanted them to be more like a thicker bar-like cookie.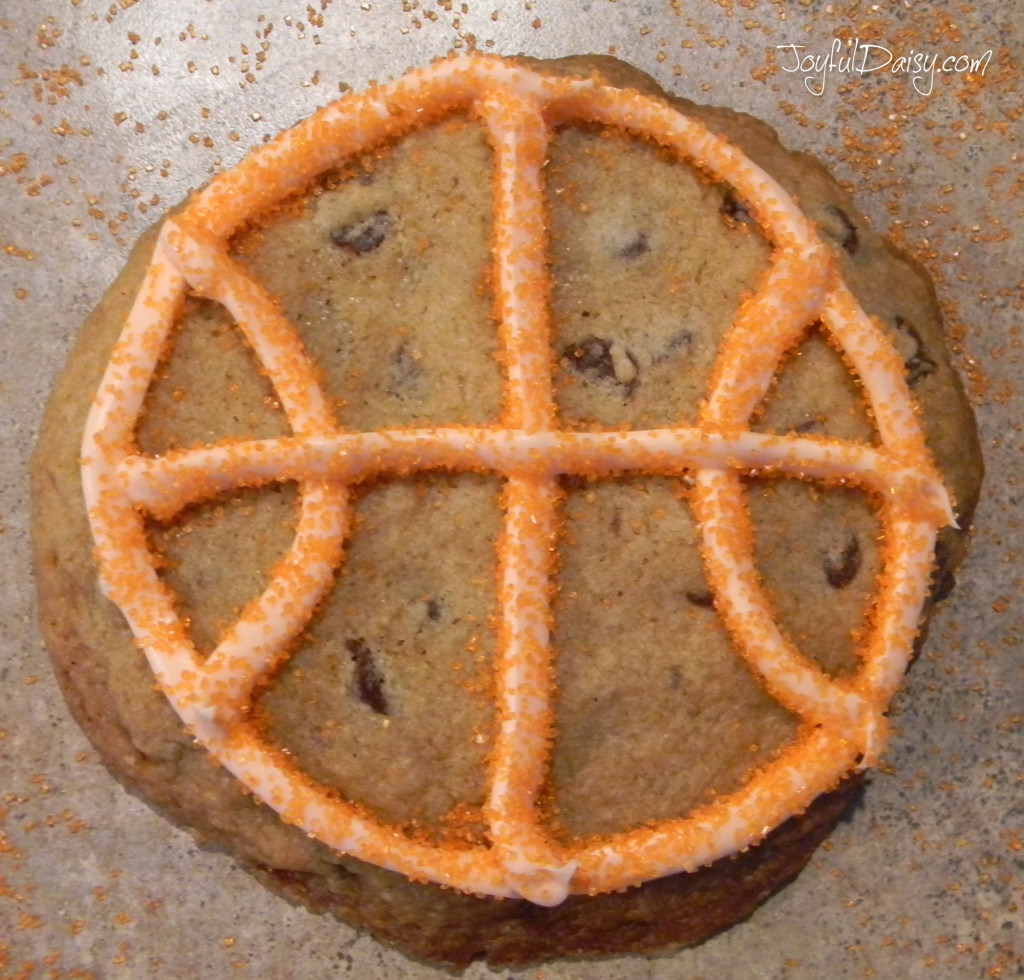 Pipe frosting on jumbo chocolate chip cookie like the lines on a basketball and then sprinkle with orange sugar.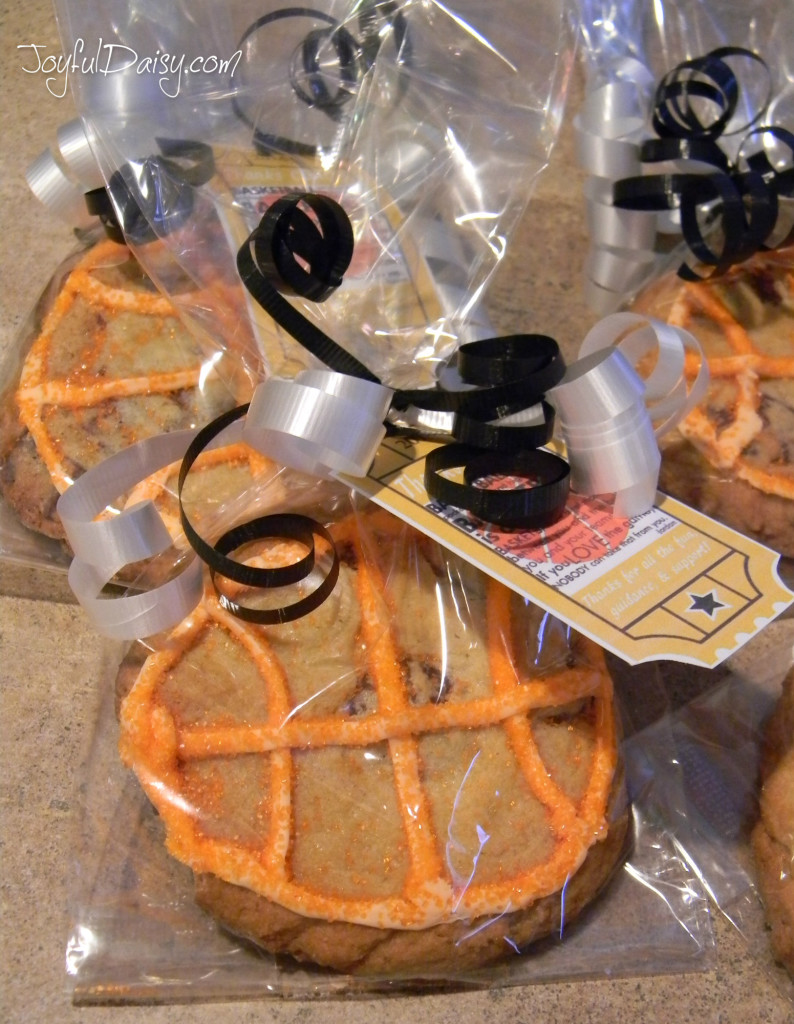 Wrap up basketball cookies in cello bags and tie with school/team colored curly ribbon!
Then add a cute basketball ticket gift tag. Choose our generic tag for basketball party favors and to share with teammates or use our thanks coach tag for all those great basketball coaches out there! Downloads have 8 ticket tags per page, print on cardstock 🙂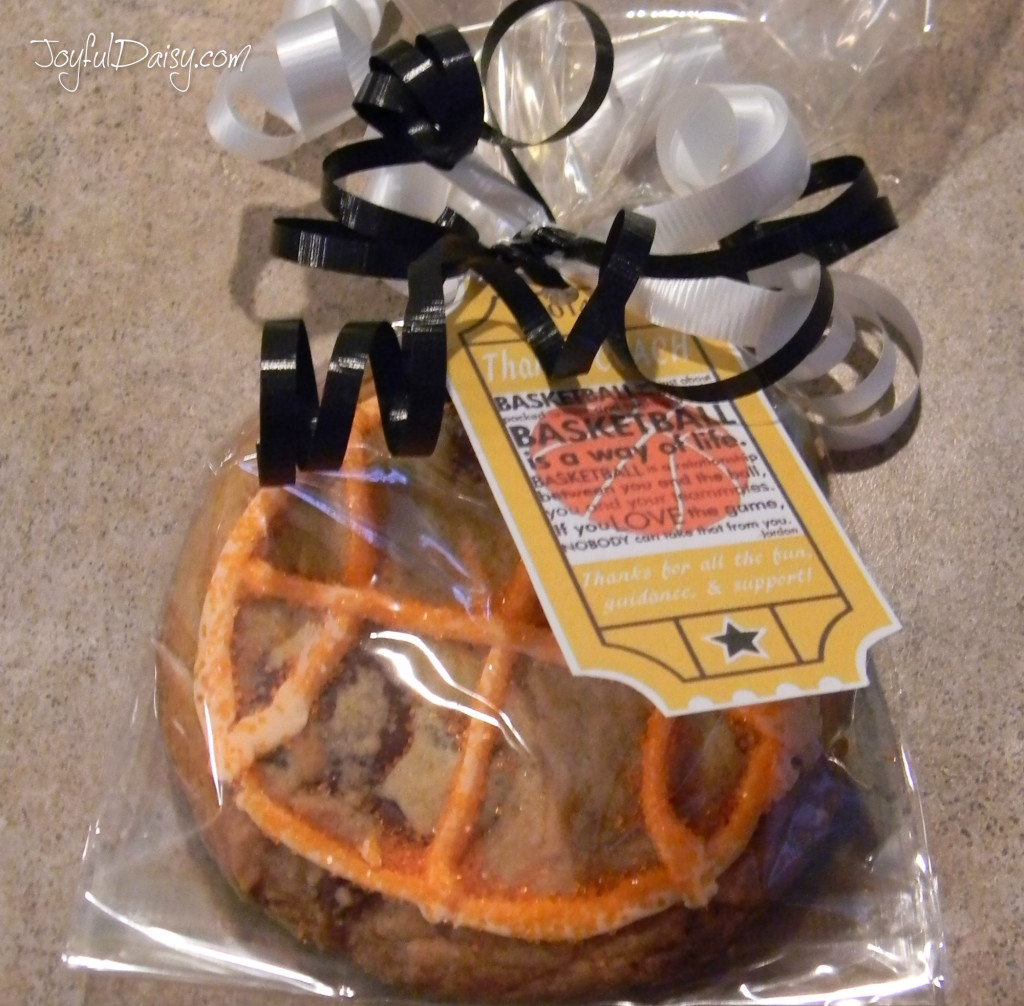 GET IN THE GAME…
and make so Jumbo Chocolate Chip Basketball Cookies today!