I love the traditional Christmas decorations of rich reds mixed with the icy and woodland elements creating our Winter Wonderland decorations.  This is just a small sitting area off of the kitchen and dining room but it is probably one of the most enjoyed areas of the home, especially with all the Christmas baking taking place.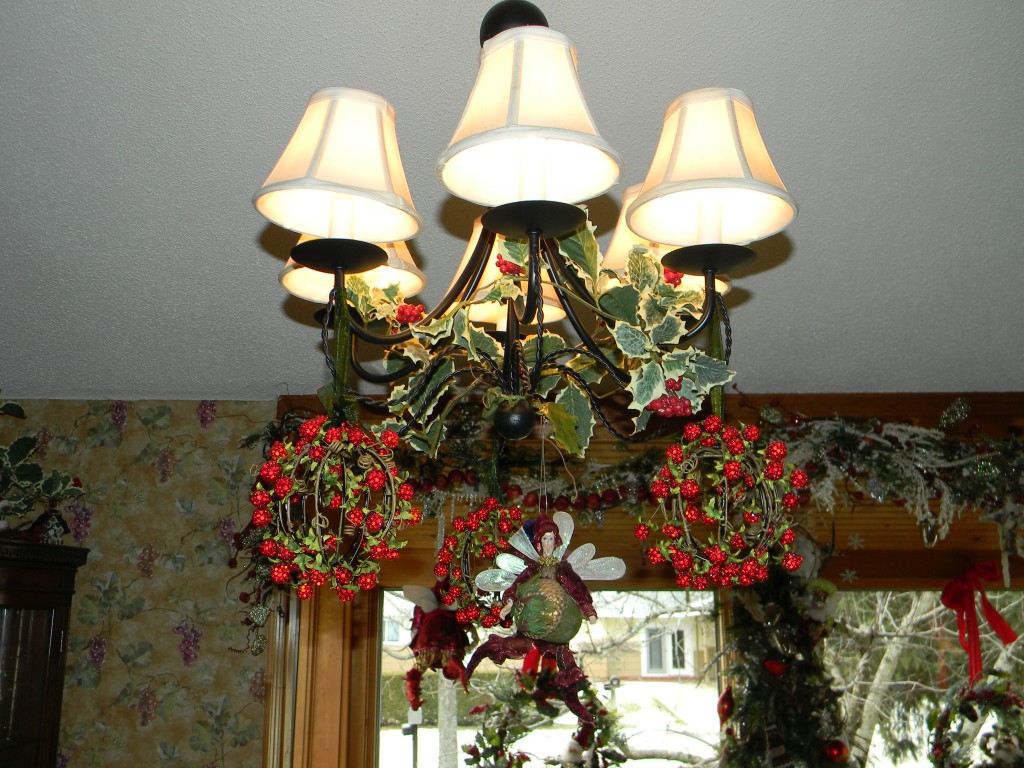 This chandelier is simply decorated with a few strands of holly garland,3 raspberry ball ornaments and an adorable fairy holding his prize acorn!  The raspberry balls are hung on every other chandelier arm.  They are hung using just a small amount of wire through the ribbon hanger.  The fairy is hung from the center with a small piece of wire that is covered by a piece of holly.

Here is a close up picture of the winter wonderland garland.  The base is a snowy covered pine garland and a strand of white lights.  Then we tucked in some frosted raspberry stems, white crystal ferns, and icicles. To finish it off we add some snowy, white pinecone light covers and assorted woodland ornaments.   If you look at the picture at the top of this post you will see that we also included an apple garland to contrast the snow with more red which could also be done with some rich red satin ribbon.

This shows a close up of the Christmas tree in our Winter Wonderland theme.  A few things I wanted to point out include the clustering of ornaments.  Sometimes ornaments have a much bigger impact when you wire them together and then hang on the tree as a cluster.  So I love this technique used on this tree with the silver acorns.  I also love the twisted vines clusters wrapping around the tree to add to the woodlands look.  The tree topper is very simple with just a few stems with metal snowflakes.  The acorn cluster, baker fairy, and snowflake bear hung close together create a nice subtle focal point for the Christmas tree topper.

Here is a close up of one of the wreaths that flank the Christmas tree.  This is a very simple, whispy wreath with just a few extras we added after purchasing.  The red satin ribbon bow and hanger were added, as well as, my favorite part of this whole decorative scheme – if you look close, you will see that this hard working, creative fairy is in the process of decorating the wreath with his silver garland:) So cute, don't forget to have fun while you decorate!

This is just a close up to give you an idea of how to add a few extra details in your Christmas decorating.  We just screwed in a few hooks, thankfully we have a wood ceiling in this little area.  We started with a snowy pine spray that has long individual pine pieces coming from one end where they are all attached.  We started in the corner and then just brought out one piece at a time and connected it to the screw hook on the ceiling.  Then we added a small strand of white lights.  Lastly we hung icicle ornaments and acorns from the ceiling hooks and garland.

Lastly, I just had to add this picture of Eddie curled up in the middle of our winter wonderland decorations.   He didn't even flinch with all this decorating going on.  Not only is he bragging about how FLEXIBLE he is-I am so jealous-he is also setting a peaceful example of no matter how much is happening around us, we can always find that peaceful place within!  Love you Eddie:)