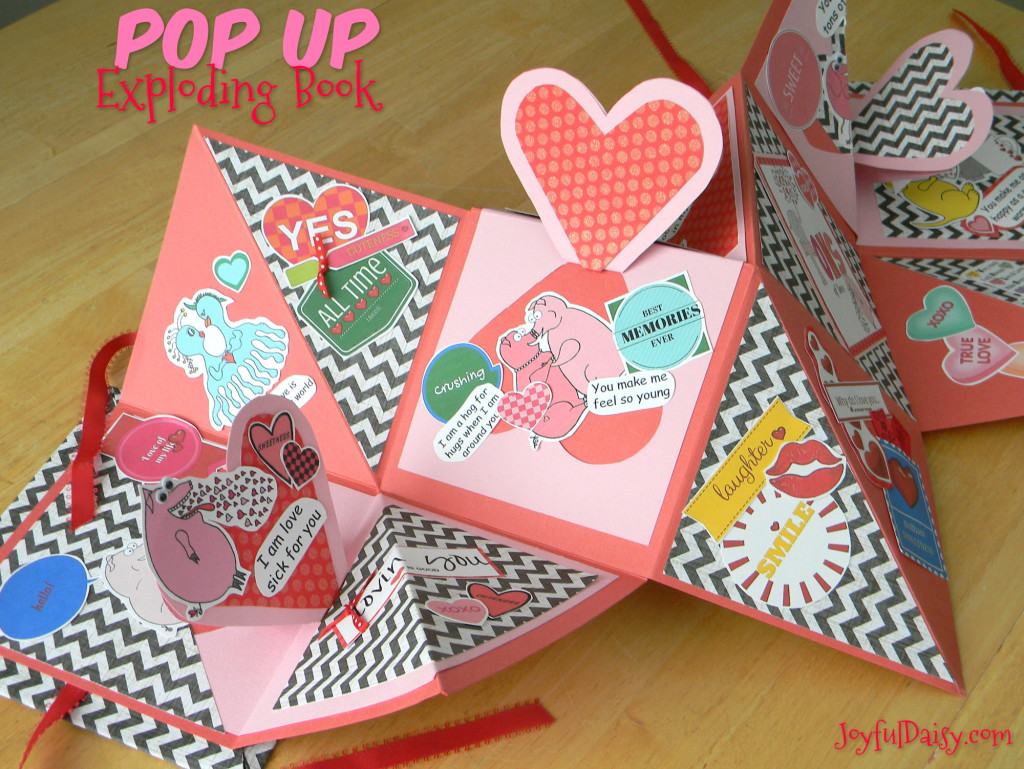 Are you ready to have lots of fun and impress all your friends? Well check out the latest version of our favorite paper project…the Exploding Book with Pop Ups! This was so much fun and once I figured out how to add three heart pop ups it took me under one hour to make with the help of our adorable Valentine Clip Art sheets! Now you could make this in any theme and after all the fun my mom and I had with our new clip art collection, you can look forward to us offering clip art sets in lots of themes in the future. So be sure to check out our shop often. But let's get this tutorial started so you can whip up some of these on your own!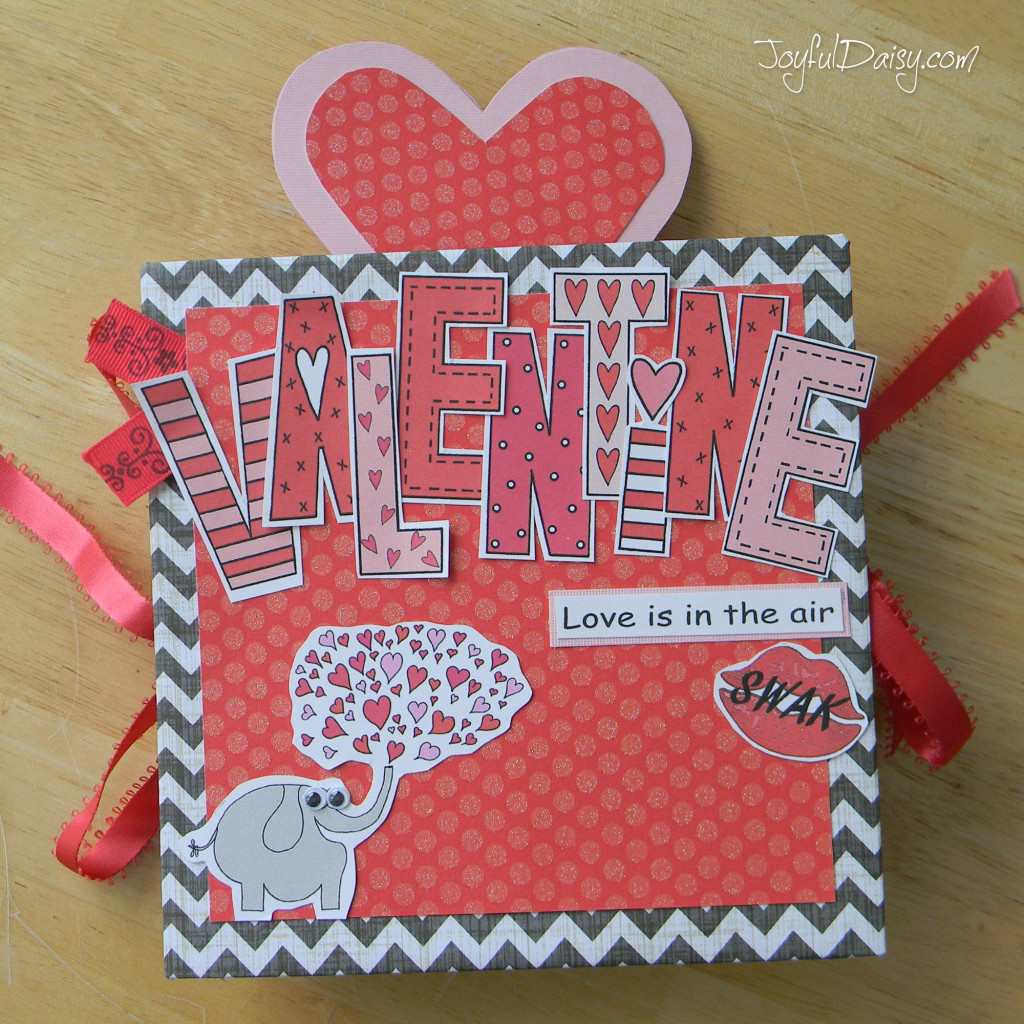 GATHER YOUR SUPPLIES…
3- 12″ x12″ Scrapbook Paper (Medium to heavy weight for inside structure of book)
3 – 5 1/2″ x 11 1/2″ Pieces of pink cardstock (For heart pop up pieces inside book)
2- 7″ Squares of chip board for front and back cover
2 – 9″ Pieces of Scrapbook paper for front and back cover
Extra pieces of scrapbook paper to decorate cover and inside
2 Yards of ribbon
Valentine Clip Art Sheets (Cut out leaving 1/16″ to 1/8″ boarder around images, this only took me about 5-10 minutes 🙂 )
Wiggly Eyes
TOOLS…
Scissors, Xacto Knife, & Paper Trimmer
Bone Folder
Pencil and Runer
Adhesive- Glue Stick & Tape Runner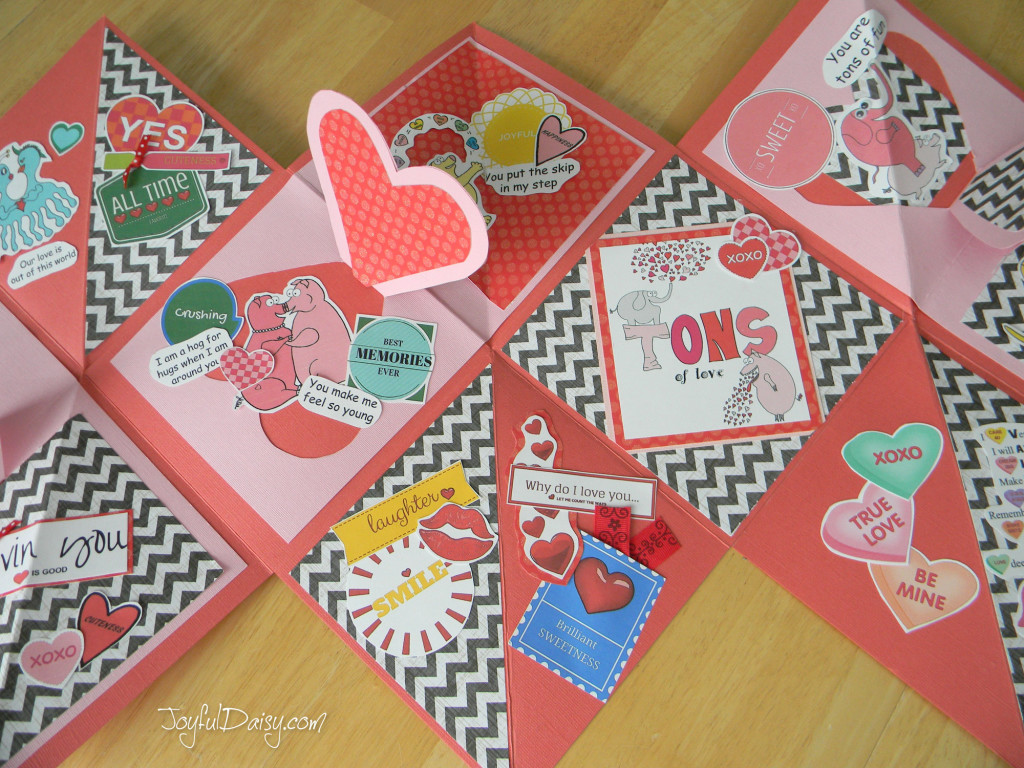 HOW TO MAKE AN EXPLODING BOOK WITH POP UPS…
CLICK HERE and follow steps 1-5 on our regular exploding book tutorial to form interior pages of pop up book. (You may notice that the chip board cover on this book is larger, however, it is still made the same way 🙂 )
NOW LET'S PUT A NEW SPIN ON IT 🙂 …
Cut a 4 1/2 " square out of scrap paper and fold in half.
Draw half of a heart on the paper with the middle being on the fold and cut out for your heart template.
Fold the bottom tip of your heart template up 1/2″ from bottom.
Fold all three pieces of your 5 1/2″ x 11 1/2″ papers in half and place a small pencil mark in the center of the fold.
Place the tip of the heart template bottom on the pencil mark and hold in place and then fold up the bottom 1/2″ and trace the rest of the heart.
Repeat the step above on the opposite side of the fold line.
Cut along the traced pencil marks and then crease along the bottom of the cut hearts.
Adhere the top of the cut out hearts together.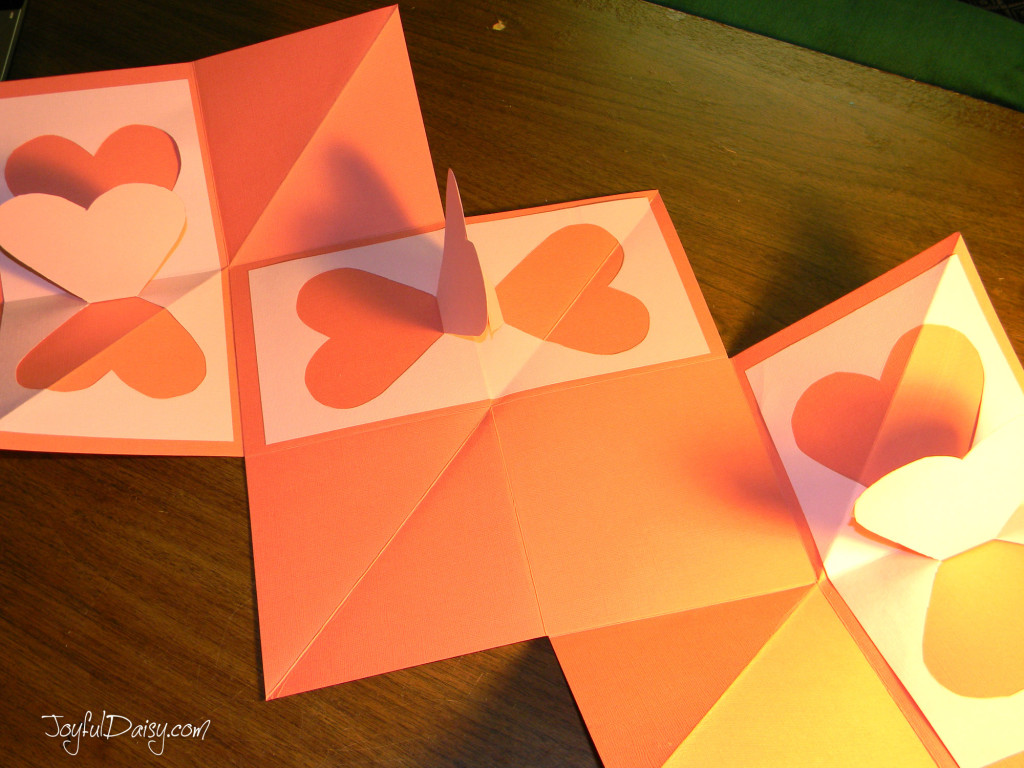 Lie your three heart cut out pieces on three folds of your 12″ x 12″ exploding book interior as shown above and glue down.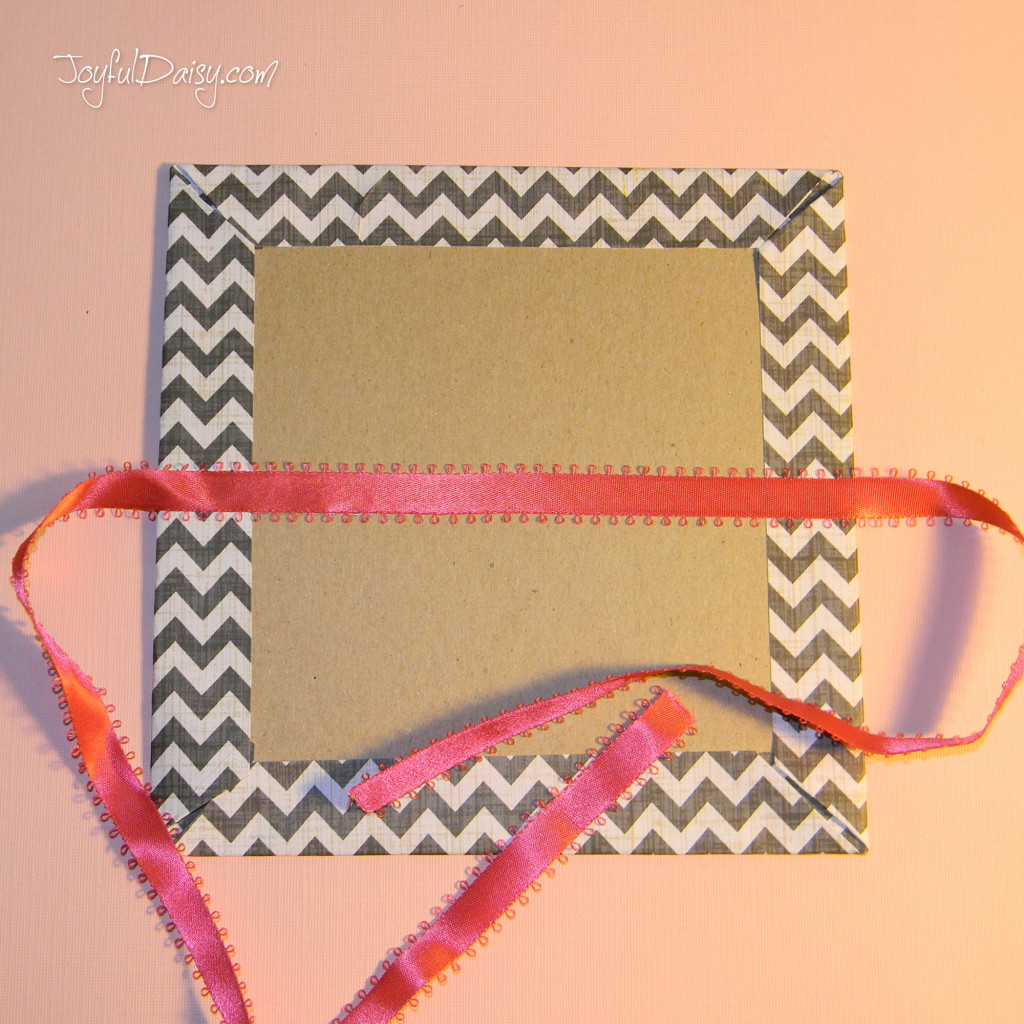 Adhere the middle of one yard of ribbon across the back cover of the exploding pop up book.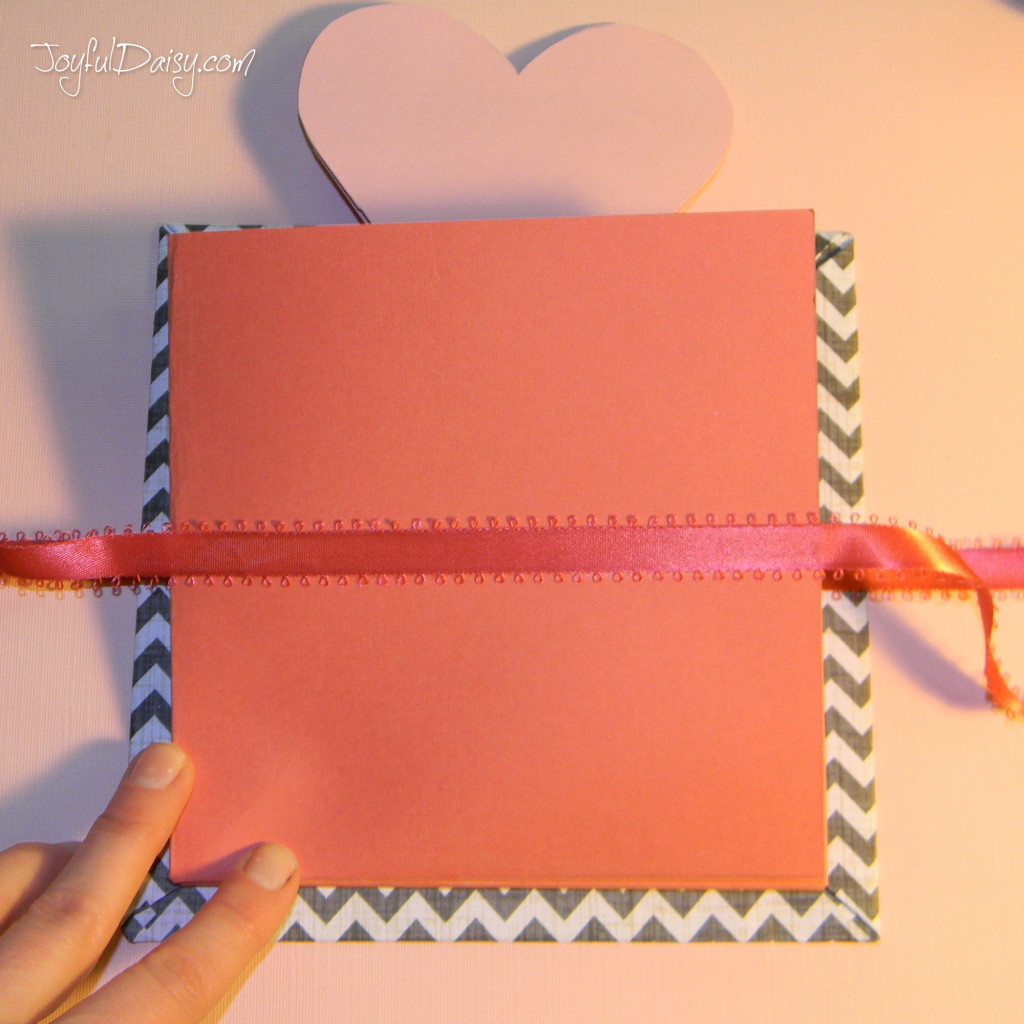 Fold up the inside of your book. With it opening from the top right corner, one of the hearts should pop up out the top, glue it on the back cover and then glue the middle of the last one yard piece of ribbon across the front of the folded book.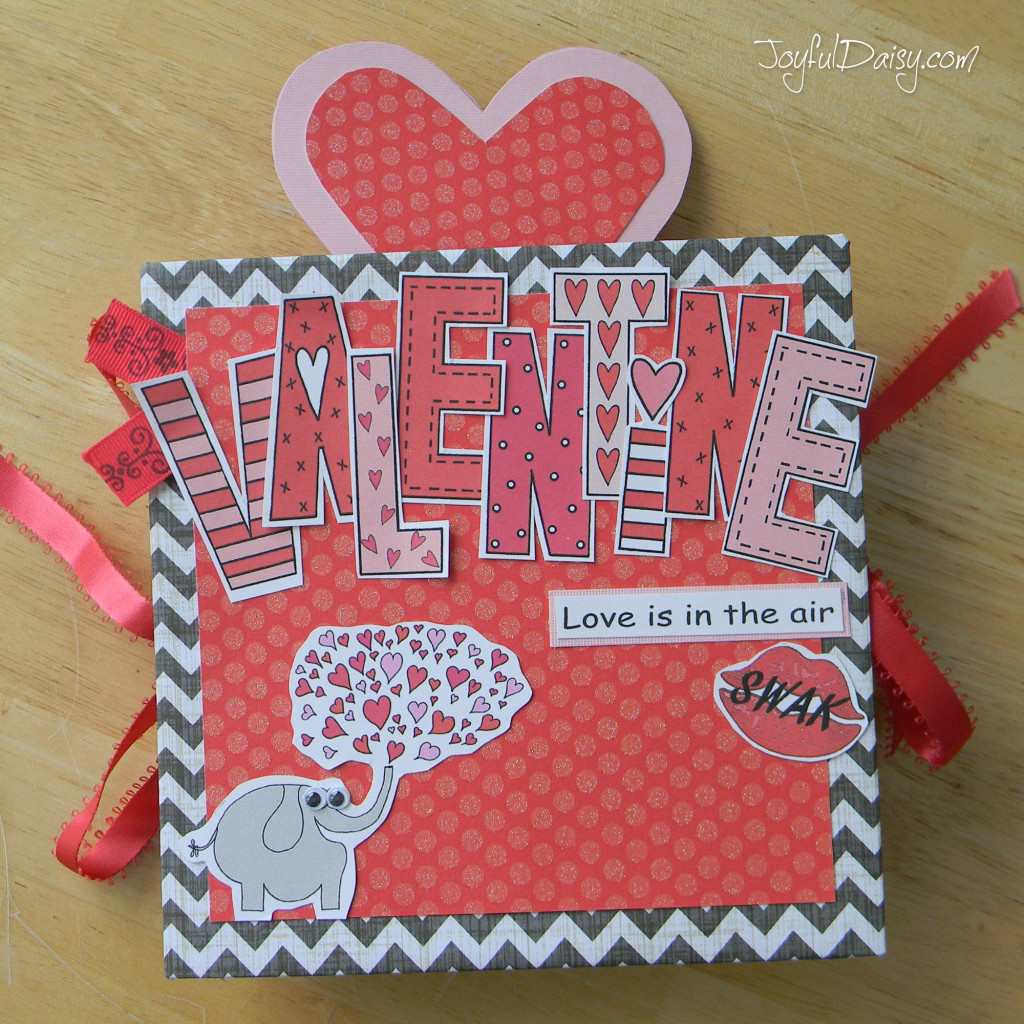 Adhere top cover to book on top of ribbon.
TO DECORATE TOP…Cut a complimentary piece of paper in a 6″ square and adhere to top cover after adhering a folded 6″ piece of ribbon to the top left corner. Cut out VALENTINE letters and adhere to top of cover overlapping each one a little bit. Adhere a couple wiggly eyes to our tons of love elephant! You may have to cut each eye a tiny bit one side of each to get them to fit closer together. Cut out love is in the air and add a 1/8″ boarder to before adhere to book cover. Cut out SWAK lips and add to exploding book cover.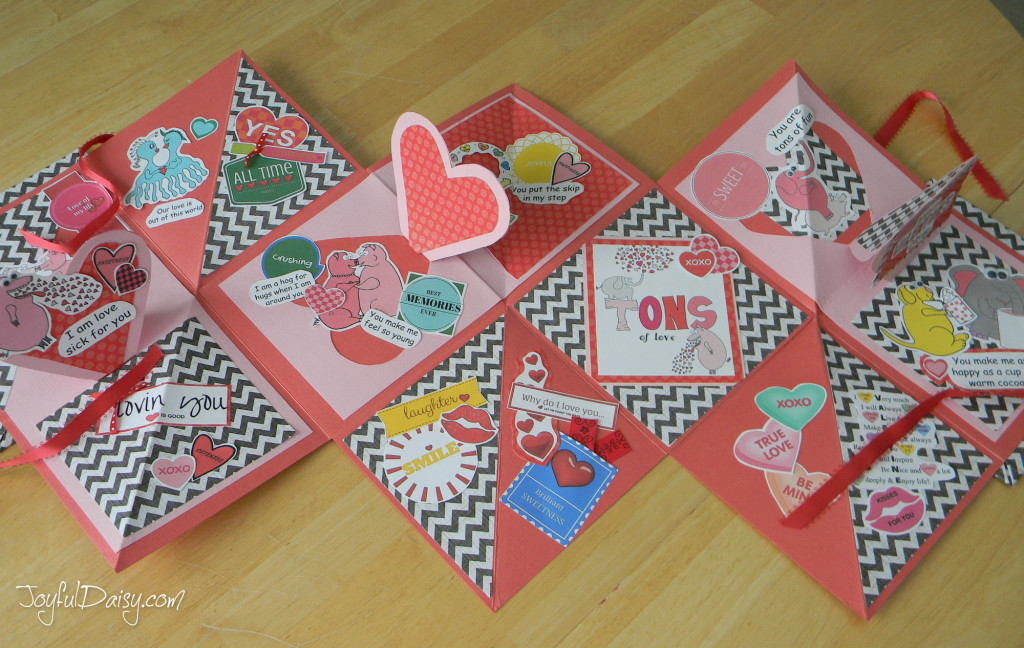 Now just have fun decorating the inside of your exploding pop up book! I actually used every image from all three pages of our VALENTINE CLIP ART on this book. I cut out a few 4″ x 5 1/2″ pieces of decorative paper to place under the heart cut outs. I also cut a few 5 1/2″ squares in half diagonally for some decorative backgrounds behind the clip art. To add a complimentary heart inside your pop up hearts, just take your heart template that you cut out earlier in scrap paper and fold in half and trim off 1/4″. Then trace it on complimentary paper, cut out and adhere to pop ups! I also added a few ribbons and more wiggly eyes to our fun Piles of Smiles animals!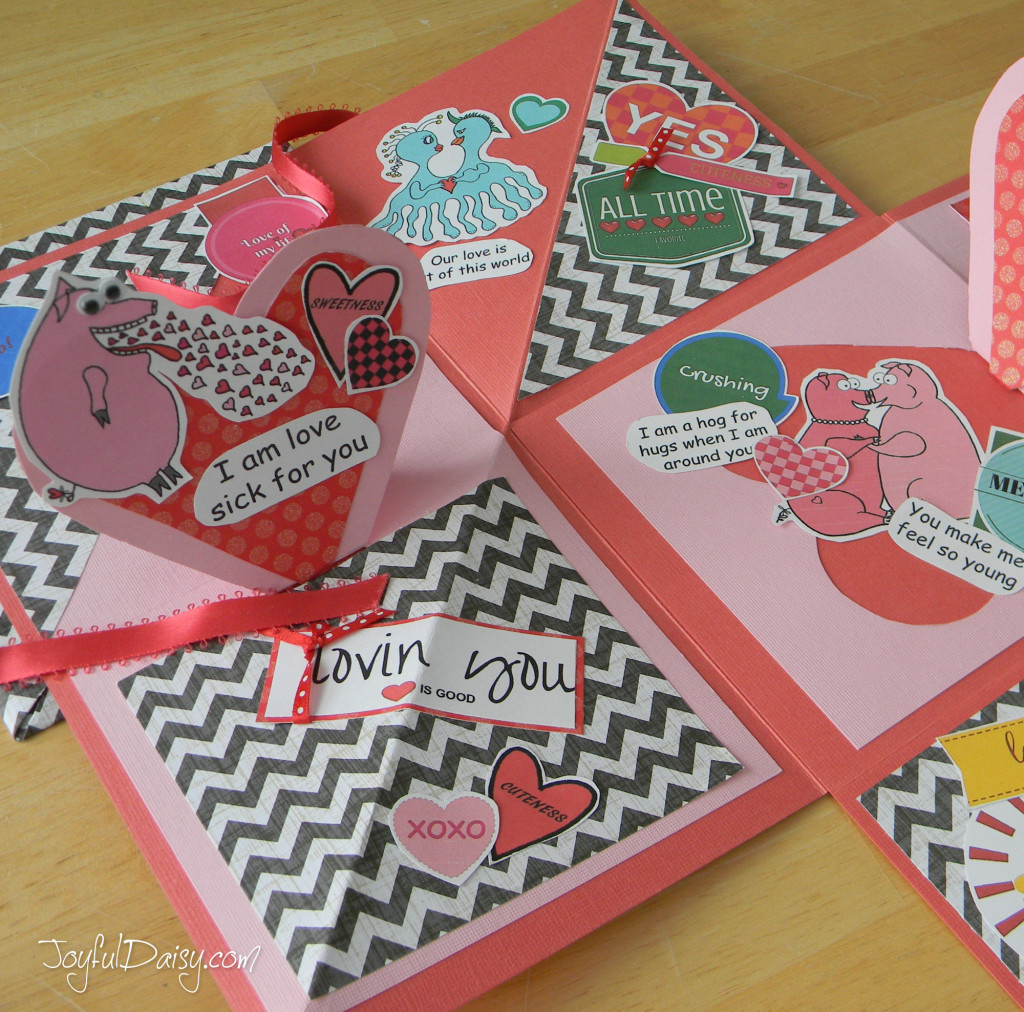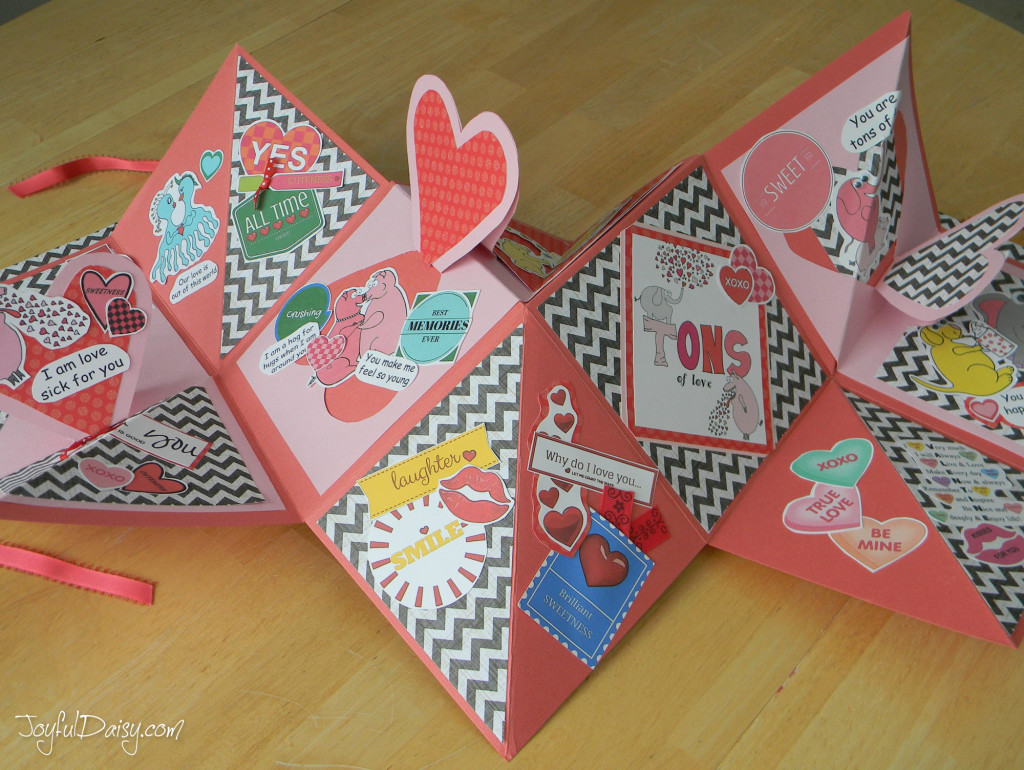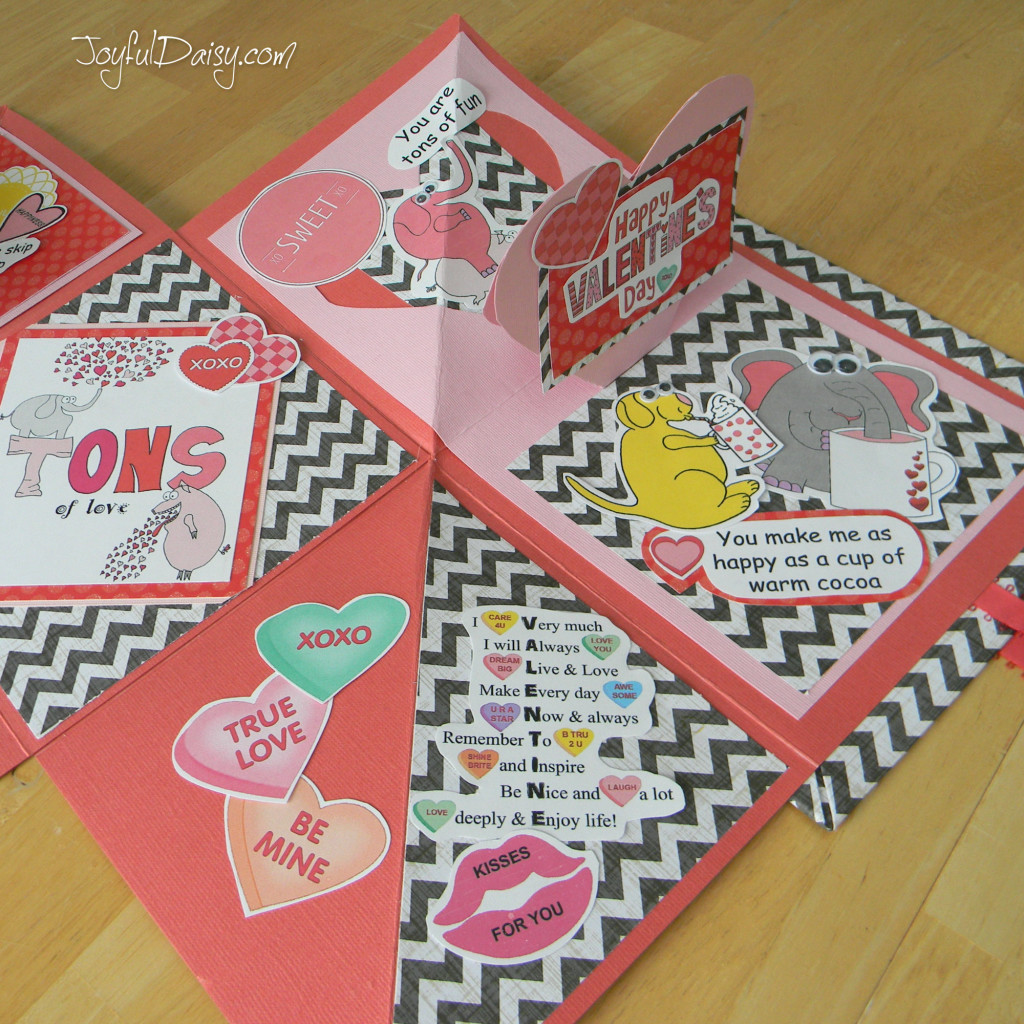 CLICK HERE or the images below to go to our Joyful Daisy Shop page featuring our Valentine Clip Art Set where you can make a purchase and see more FUN PROJECTS made with our Valentine images!
CLICK HERE to view Mackinac Island Pop Up Scrapbook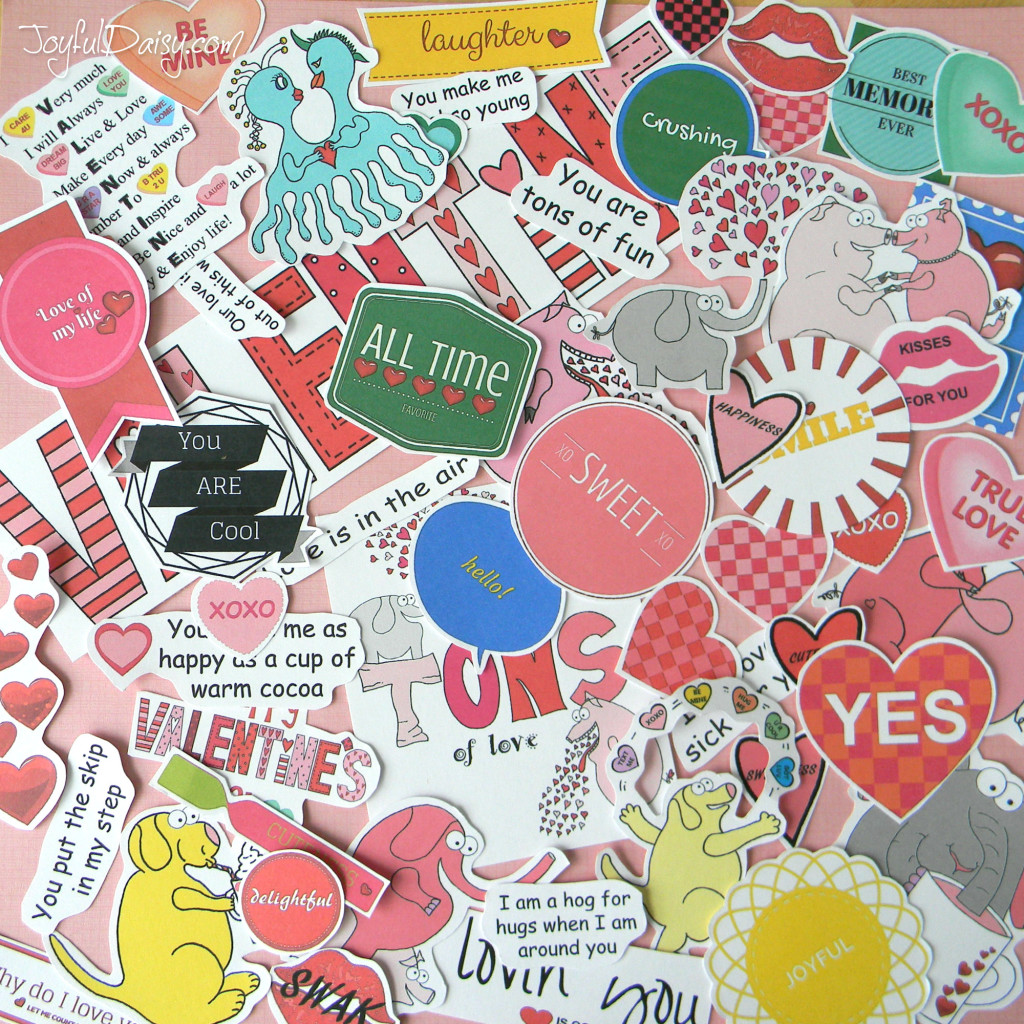 CLICK HERE to view our popular Valentine's Tube Treats Tutorial!