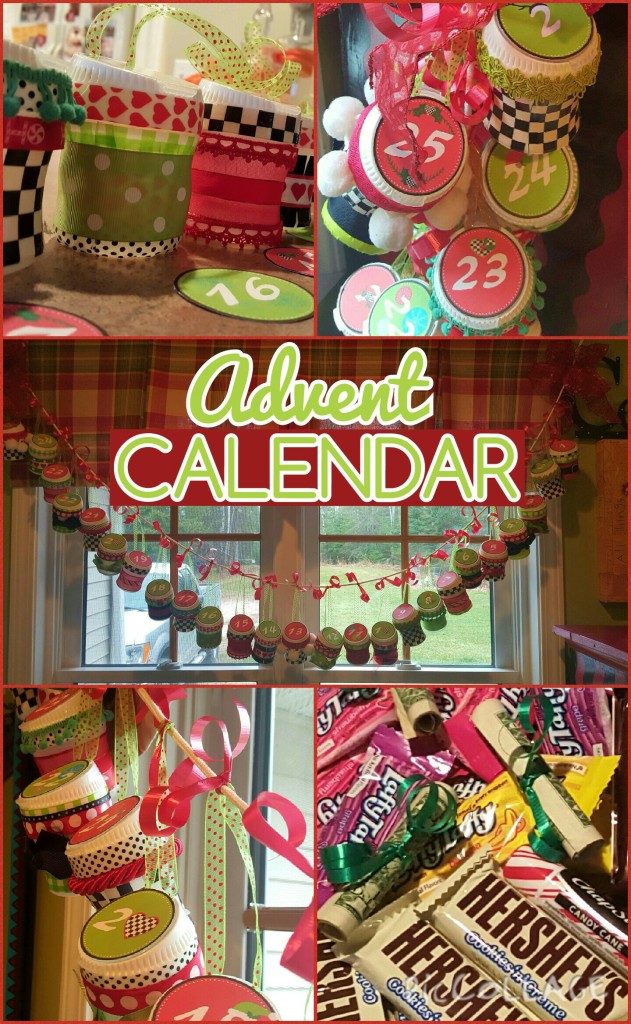 It's that time of year to count down the 25 days til Christmas, so get your advent calendar out or if you don't have one just follow us step by step to make your own! As if the kids weren't excited enough, they have been eye-balling (and believe I saw some shaking too) these whimsical little decorated containers for the past week 🙂 Now I have made some advent calendars in the past but these containers were so much fun to decorate and fill!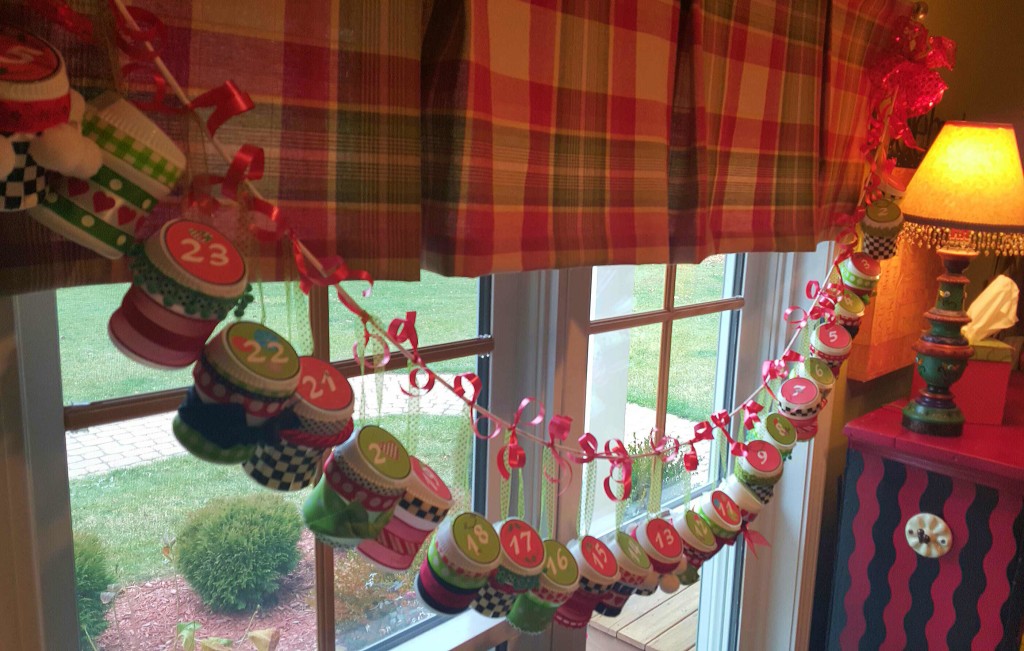 Now, I am guessing that not everybody has 25 gum containers laying around so maybe this will be the perfect project for next year as you can feel so resourceful, saving and planning their repurposing for next year. Or maybe you are like my mom and just happen to have a bag sitting around just waiting for a new life to live! Or lastly, maybe this will just encourage you to look around and gather odds and end containers to decorate, line up, and fill to help count down to the beloved Christmas day!

This fun little countdown line up looks cute hung vertically or horizontally, perfect for above the mantel or along the windows as we did. If you don't have any little boxes or containers, you could create a simple advent calendar with our whimsical circular count down tags, adhere to small paper bags, and then paper clip onto a ribbon or rope or place under the tree. If you are running short on time and still want to create a little countdown, why not simplify and just do the 12 days before Christmas this year? Just saying… do what your heart desires this season and if you need to maybe just simplify it a bit 🙂
GATHER YOUR SUPPLIES…
25 Recycled Gum Containers (I used the Eclipse GUM)
25- 18″ Pieces of Curly Ribbon (To tie containers to garland)
7 Feet of of Clothesline, Rope, or Ribbon
8 1/2 Feet of 3/8″- 1/2″ Sheer Ribbon (Cut 25 – twelve inch pieces)
Duck Tape (I love the black and white checkerboard.)
Washi Tape (I love the heart, black dot, and green checked.)
Assorted ribbon and trims (I love ball fringe, large and small!)
Advent Calendar Tags CLICK HERE to get ours
TOOLS… Hot glue gun, scissors, Xacto knife and cutting mat (to cut duck tape)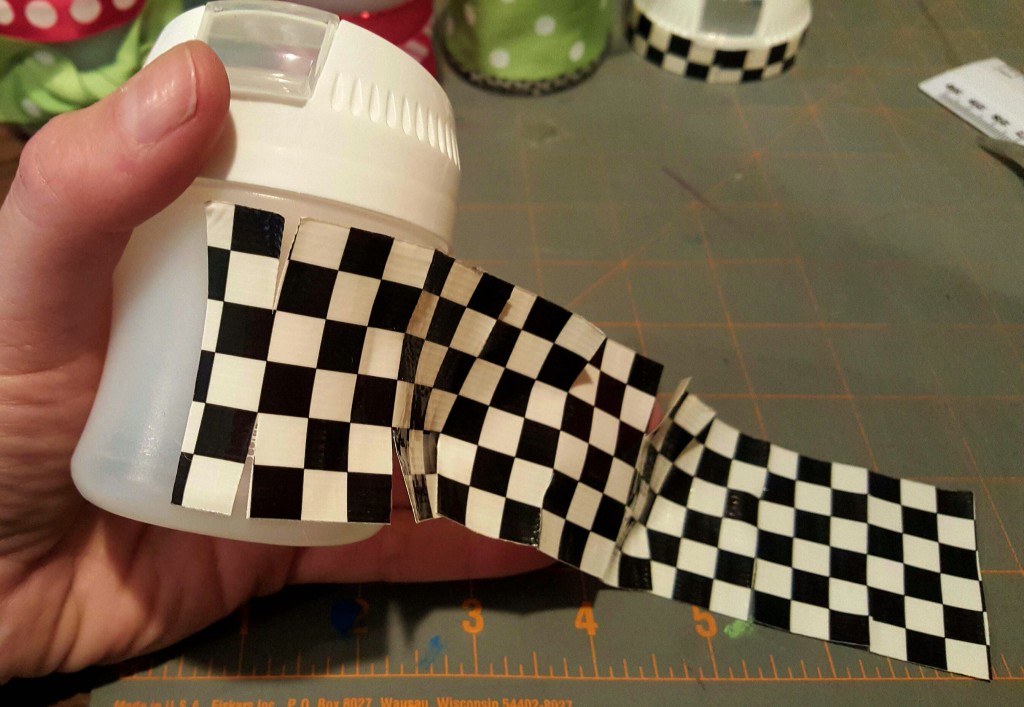 I just love the whimsical mix of black and white checkerboard with red and green for the holidays so this duck tape is a favorite of mine. To decorate the gum container with duck tape, cut a 7″ piece of duck tape and then cut small slits about every inch on the top and bottom of the strip so that you can wrap around container smoothly even though it has a concaved mid section. Start applying duck tape where the lid is the widest because this will be the back of the container.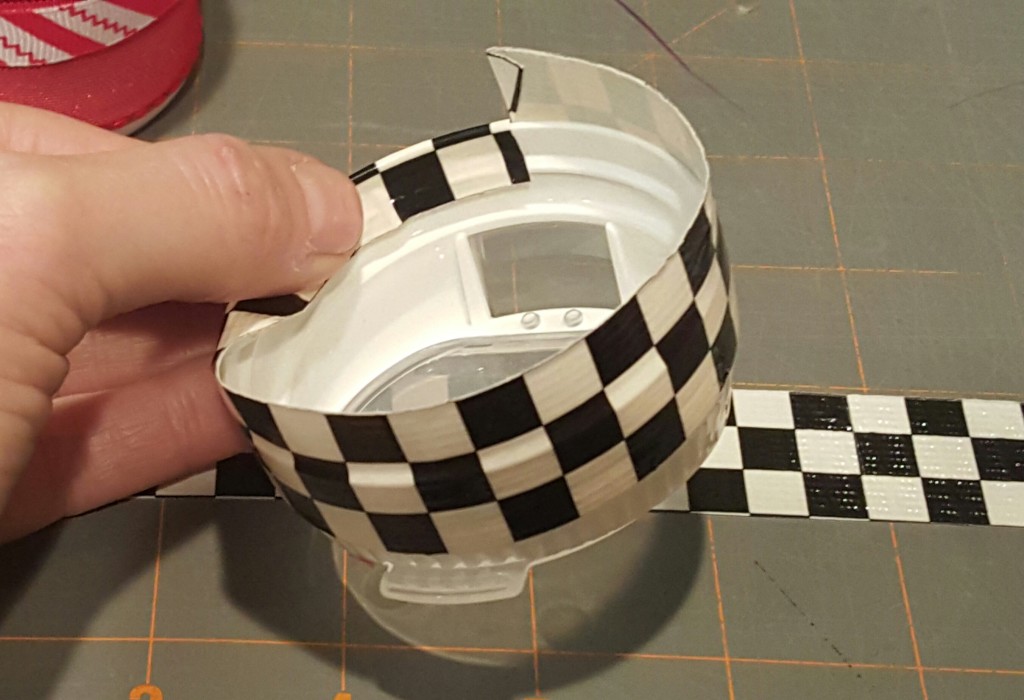 I also used duck tape on the top of some of my containers. I just cut an 8″ strip in half lengthwise and then wrapped around the lid, starting where the lid is the widest and then folding the bottom of the strip inside the lid and smoothing out.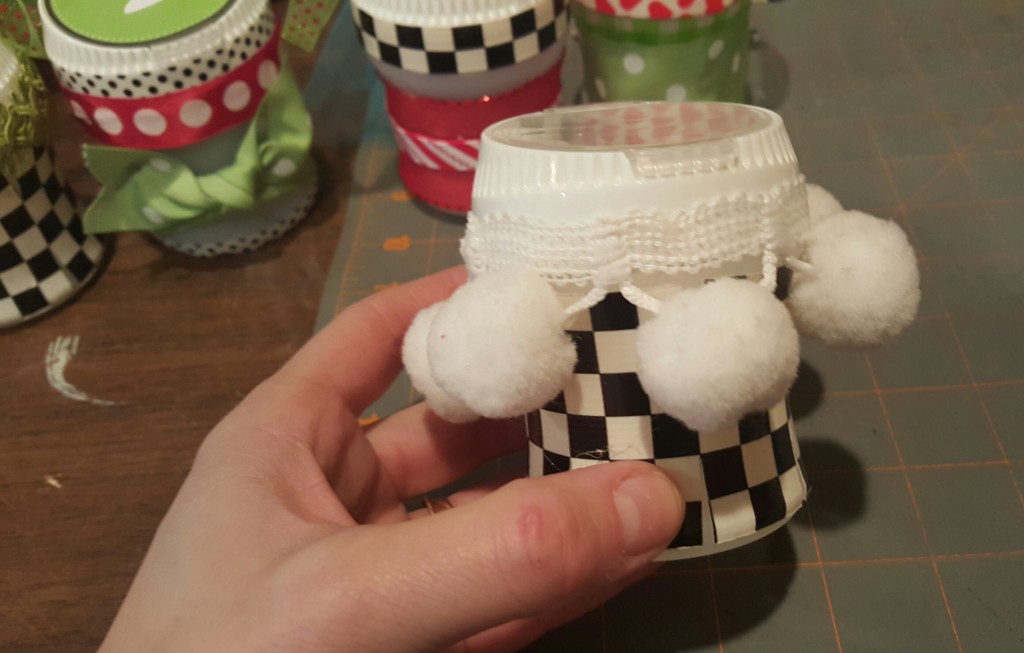 I love adding texture to my projects with ribbon and trim and I squeal with delight when I use ball fringe! It adds such a fun element 🙂 I just hot glued the trips on the lids of many of my containers, again remember to start adhering trims and ribbons where the lid is the widest.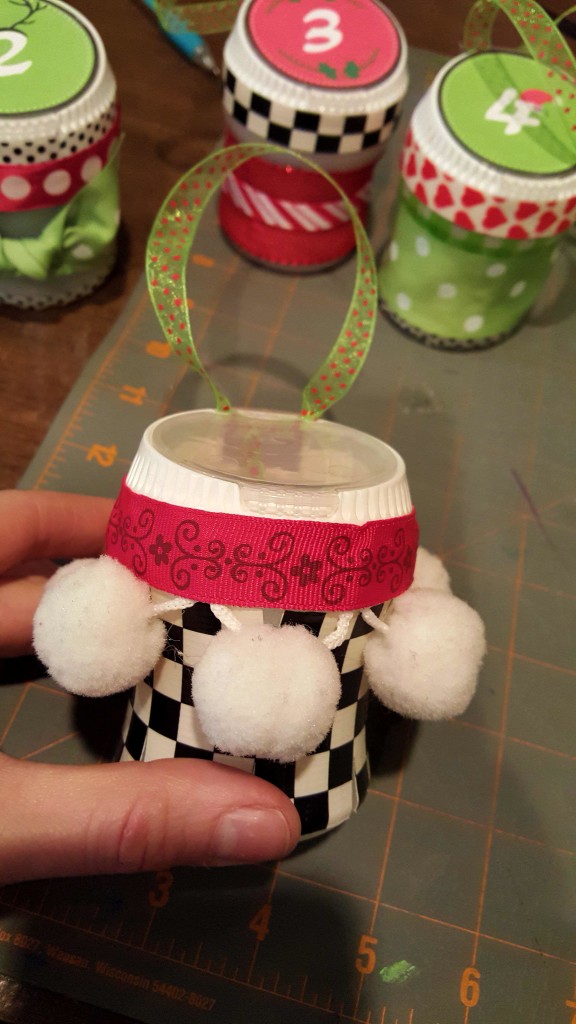 I love layering ribbons and trims like the patterned gros grain ribbon adhered to the top of the ball fringe. You will also see in the picture above, how I decorated some of the containers with wider ribbon. Sometimes I glued a strip around and other times I just tied a piece around.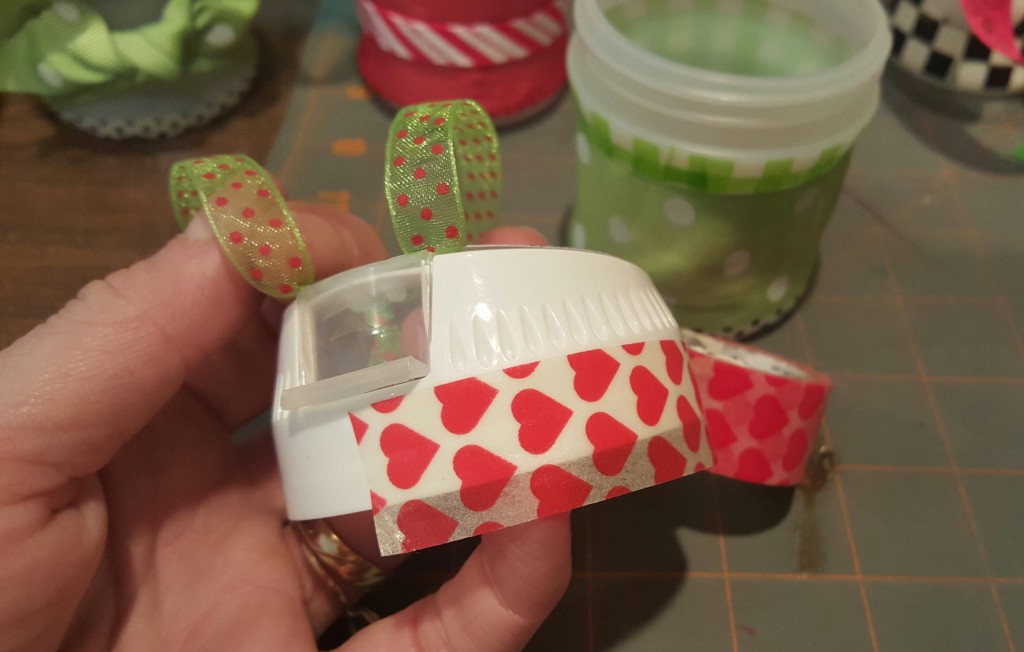 Washi tape was fun to decorate the lids and containers with. It is so easy to work with. I just wrapped around some of the lids and some of the tops and bottoms of the containers.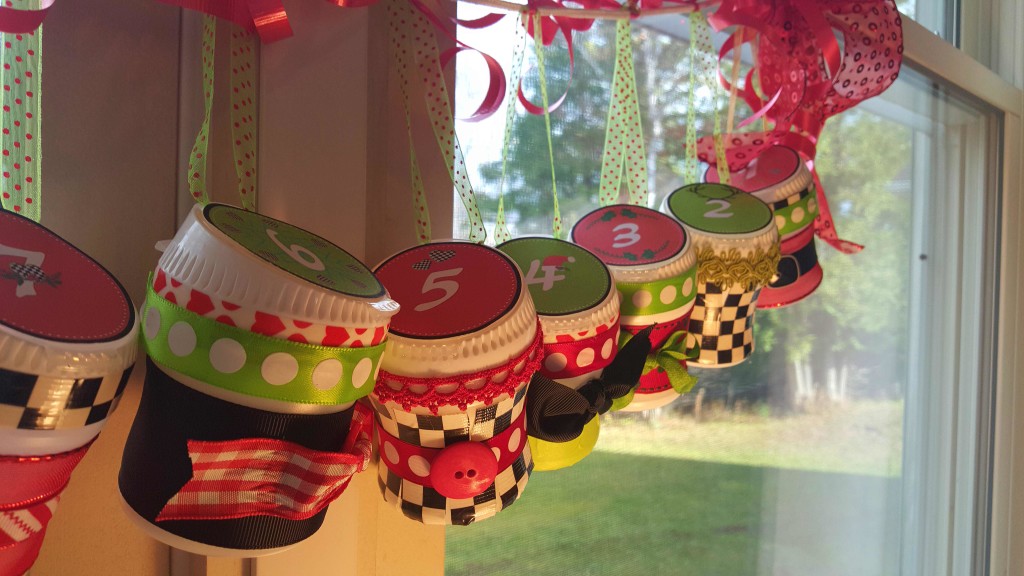 Have fun adding button and bows too. 🙂
ADD HANGERS…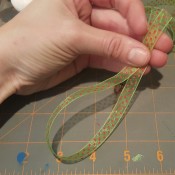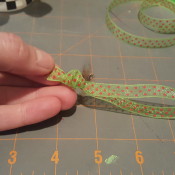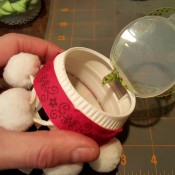 Once your containers are decorated, it's time to add some ribbon hangers so that you can hang on a tree or create a garland as we did. Hold the ends together of a 12″ piece of ribbon (3/8″ sheer ribbon works nicely), make a knot at the end and then open the the flip top on the lid. Place the loop around the flipped up top with the knot on the inside of the container, and then gently pull to secure the ribbon tight by the hinge so that is stays securely in place. Repeat with all containers.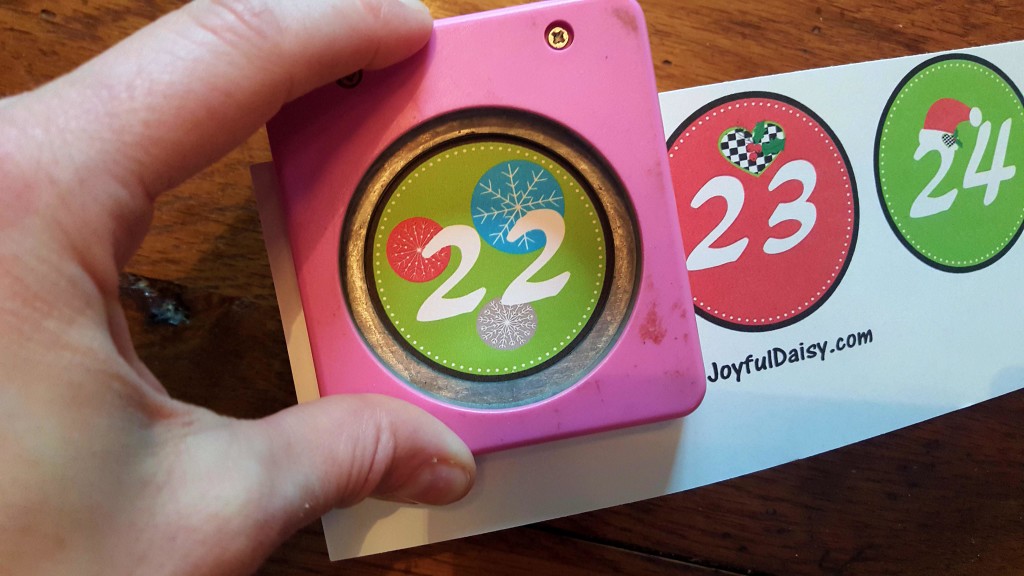 Cut out advent calendar tags or you can use a 2.25″ circle punch . If you are using the circle punch just flip it over so that you can line it up. I just apply a little pressure as I line it up and then press down to cut out.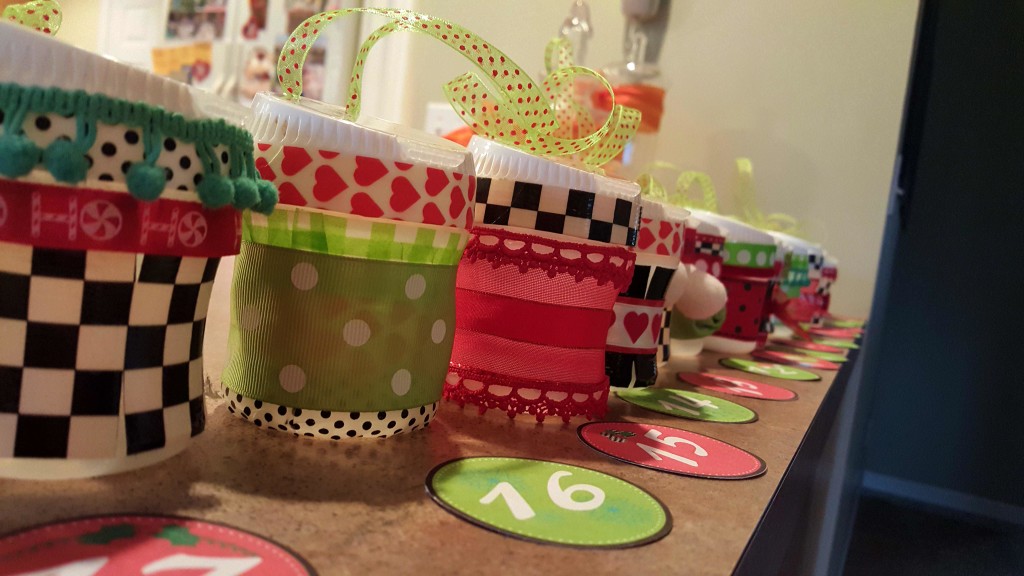 Once all your containers are finished, line them up so that you can space out the ones that look similar. Then layout the advent calendar tags in order and then adhere to the lids.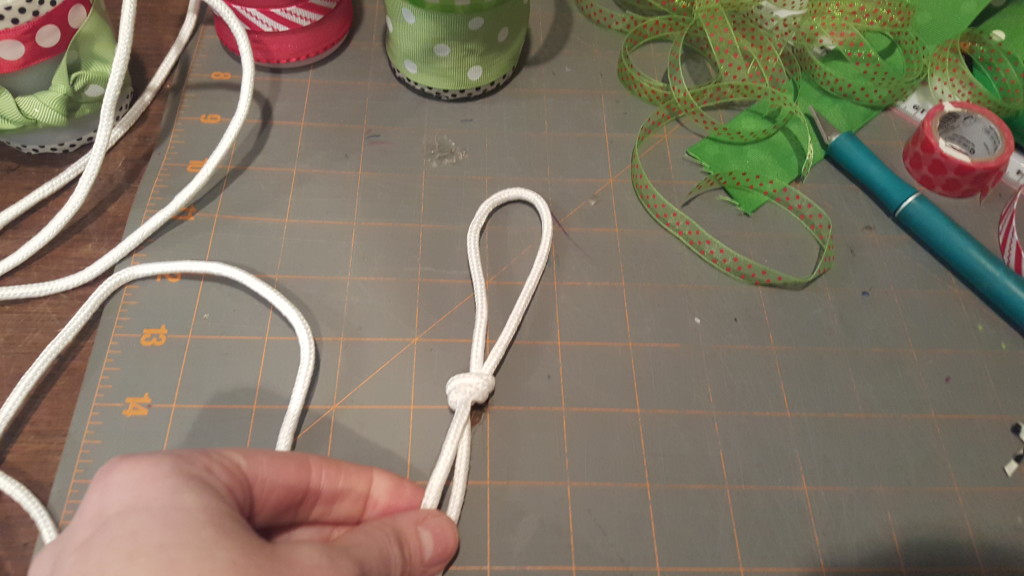 Make a loop at one end of your rope and tie a knot to secure.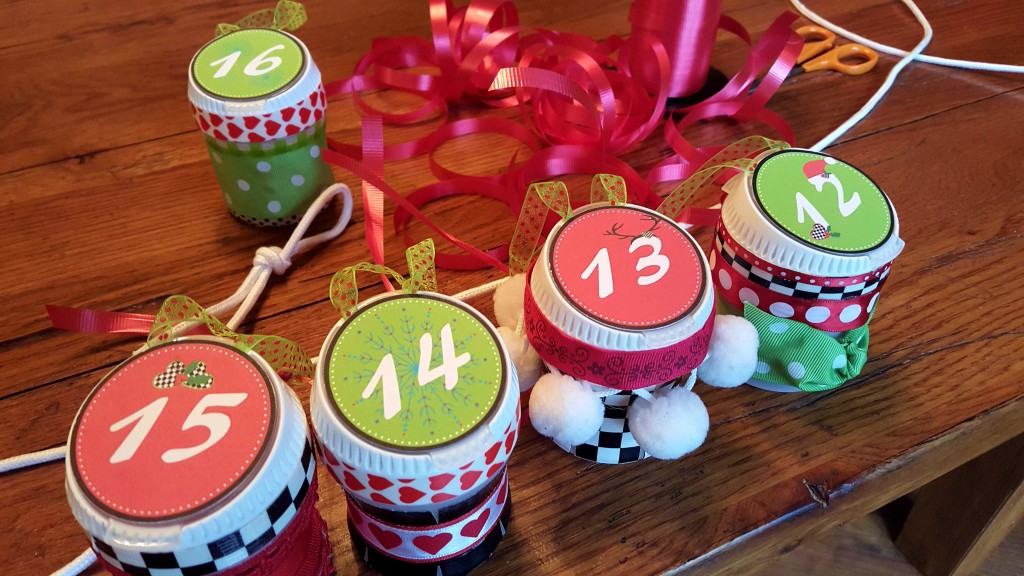 Starting and the end of the rope with the loop start tying on your advent containers approximately 2-3″ apart with the curly ribbon. I just tied tight knots and was still able to slide the containers a little bit when I wanted to adjust them. Once you get to the other end just fold the rope in half and tie a knot to create another loop.
ADD BIG BOWS TO THE ENDS OF GARLAND…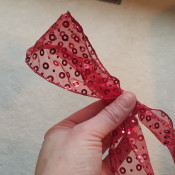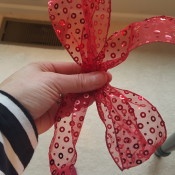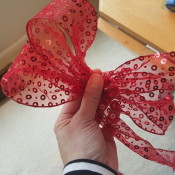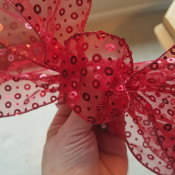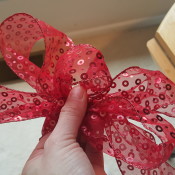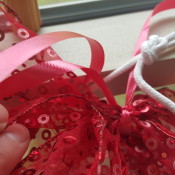 Make one loop with ribbon (I used a 2″ wired ribbon). Make a 2nd loop across from the first loop while holding ribbon pinched together in the center. Add a third and forth loop. Then create a small loop for the center. Thread a piece of curly ribbon through the center loop and wrap to the back center and tie tightly. Then tie to the rope at the end of the garland. Repeat on other side.
Now it's time to fill them up. Oh lala!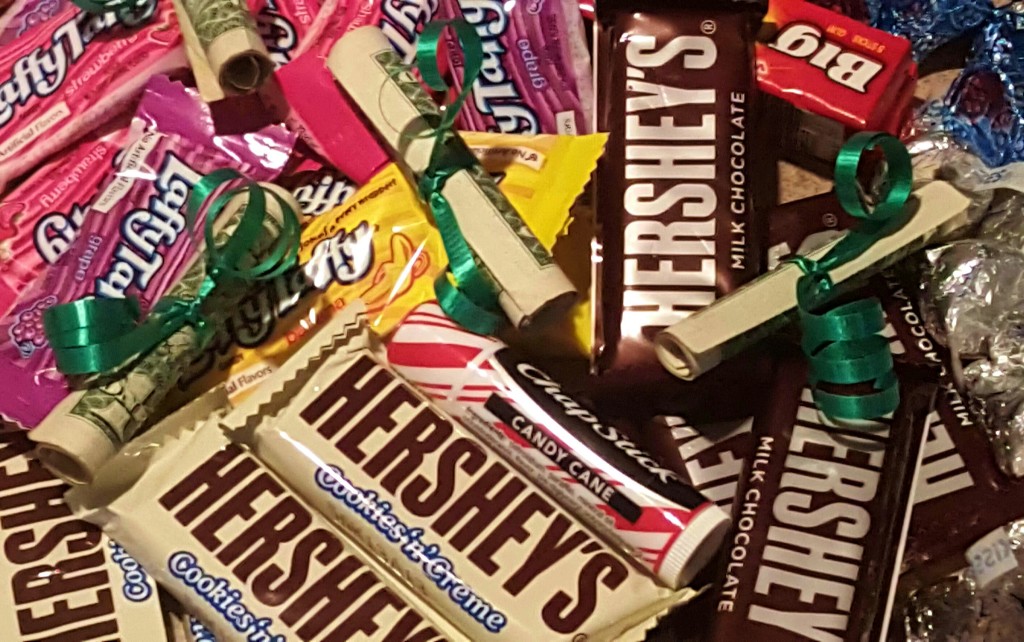 Above shows a few of the daily surprises that I used to fill up my containers putting a little gift in for Reece and Lily. Since I did the full 25 I decided to fill them as follows…
5- Money: I put $1 in four containers and then $10 in the the day that we are taking the kids Christmas shopping.
5- Candy: I filled five containers with hugs and kisses, mini Hersey bars, Laffy Taffy, and mini Reese Cups.
5- Candy/Little Gifts: Peppermint Chap Stick, Big Red Gum, $5 Starbucks Cards and Gift Certificates to the Movies and Pool
5- Hints/Hunts: I drew a quick little treasure map to lead them to a popcorn movie basket (new movie, popcorn, a few boxes of candy, and popcorn toppings) -this is really fun for their first day off of school for Christmas break. I included more things link anagrams which lead the kids to other small wrapped gifts. (You can see my treasure hunt tutorial for more tips.) For the container on Christmas Eve, I placed star cutouts in one container and said to let the star guide them their next gift under the tree. I placed the star cutouts on the wrapped gifts containing their new PJ's 🙂 This is a fun way to lead them to board games, sleds, or other larger gifts.
5- Notes: mini candy canes with the Candy Candy Can Prayer, scripture, Christmas sayings, and for Christmas day a heartfelt thank you/love note to my children for lighting up my life and filling each day with with magic of Christmas.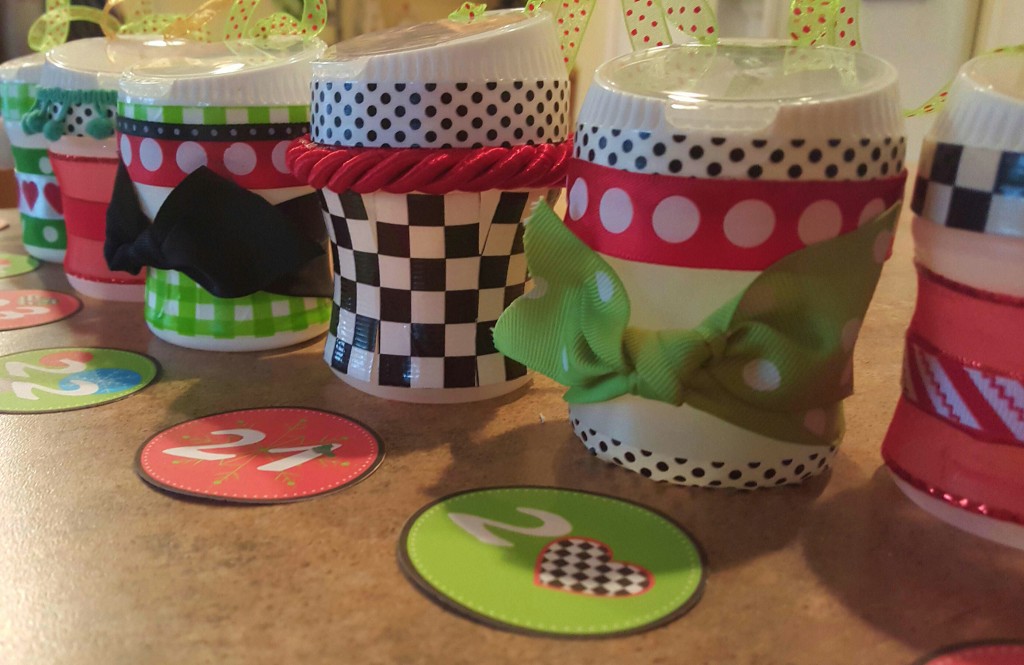 So now it's your turn, grab some containers, throw on some decorations, fill them with what you fancy, and spread out the Christmas fun a little bit!
Have a HOLLY JOLLY CHRISTMAS this year!
XXOO Amy