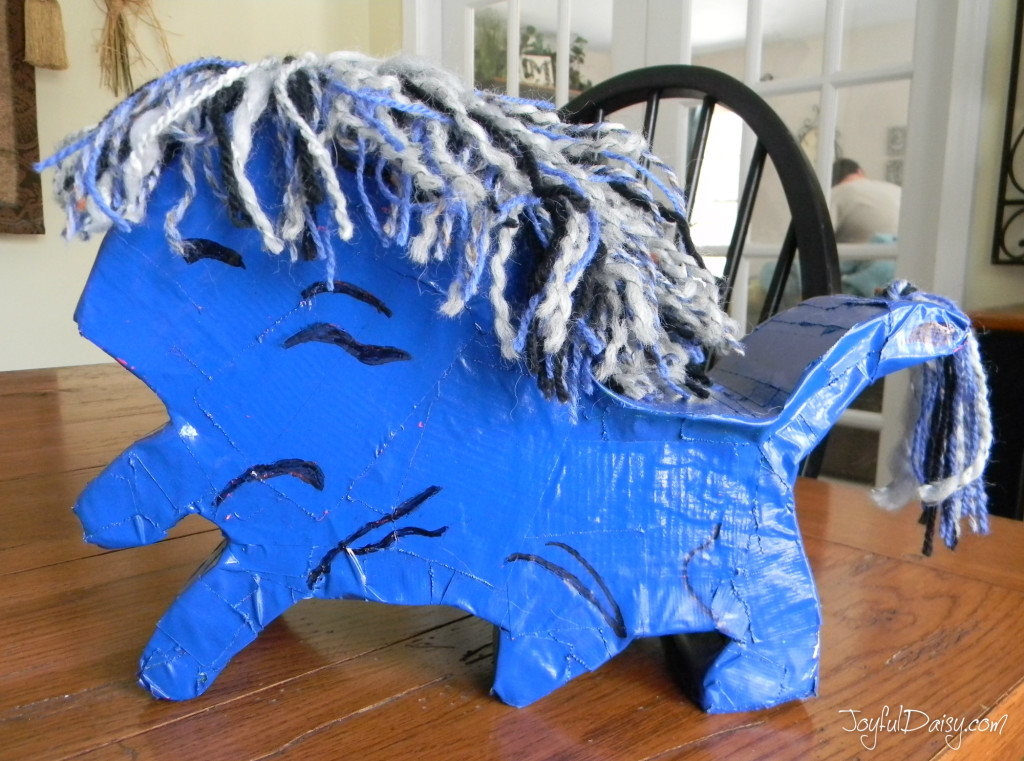 If you are or know a Detroit Lions fan this is a wonderful project for you! If not, you may want to see how easy this project is and then adapt it. (See our ELEPHANT BOX at the end of this post.) We used lots of recycled materials to make our Detroit Lions Bank saving lots of money which in turn is being saved in this fun box for a trip to travel downstate to go see our beloved Detroit Lions next season!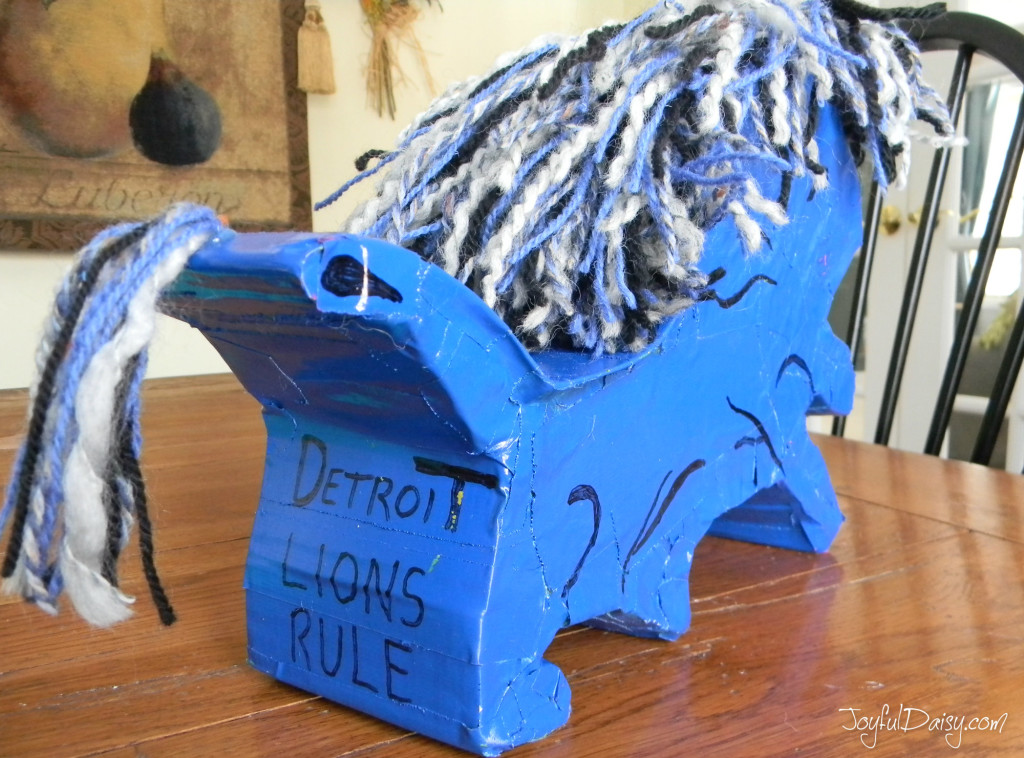 Before it was a bank it actually served as Reece's Valentine's box at school which the kids thought was a riot because of coarse what else would Reece have to house those Valentine's. I mean after all, Reece is still known as the Detroit Lions kid by those that do and don't know him because he is rarely seen not representing them with his lion's shirst to sox to jacket to backpack. You get the picture. And even though he is only 10, he may be the guy you want to talk to if you are wondering about some Detroit Lions stats. Go LIONS! We love you 🙂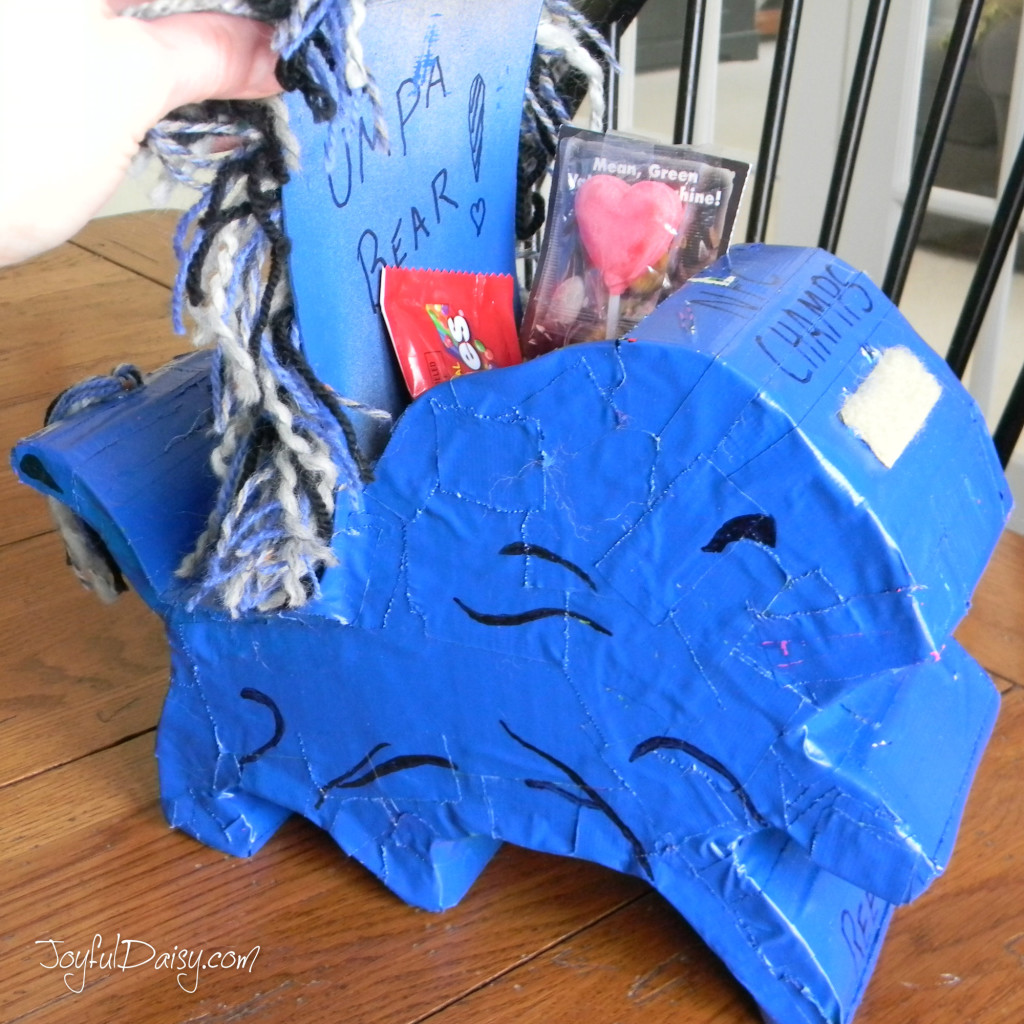 We attached a free download of the pattern Randy used to make this box for Reece in case you want to whip one up just like it, otherwise draw an image that you favor and then just follow the steps below. 🙂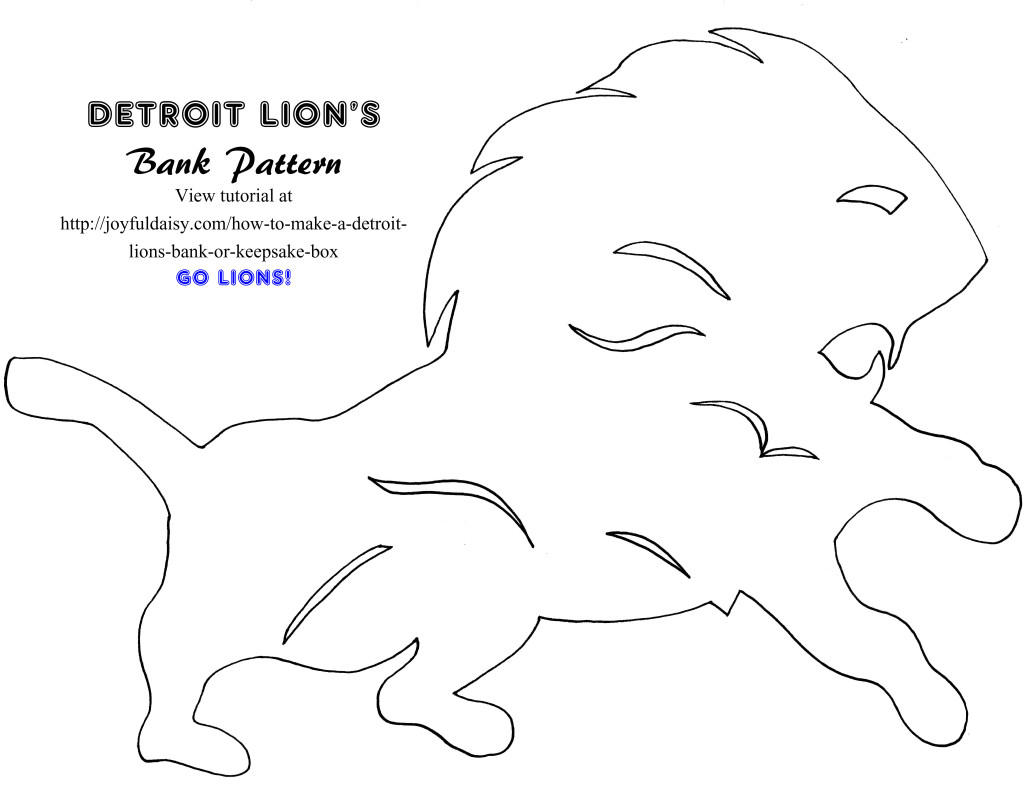 GATHER YOUR SUPPLIES…
to make your own Detroit Lions bank, keepsake box, or valentine's box!
Detroit Lions Pattern Download
Cardboard
Poster Board or Recycled Cereal or Kleenex Boxes 🙂
Blue Duck Tape or Any Color Duck Tape and Blue Spray Paint
Assorted Yarn (Blue, Gray, and Black)
Black Sharpie Pen (Permanent Marker)
Velcro 2-3″
Scissors
Hot Glue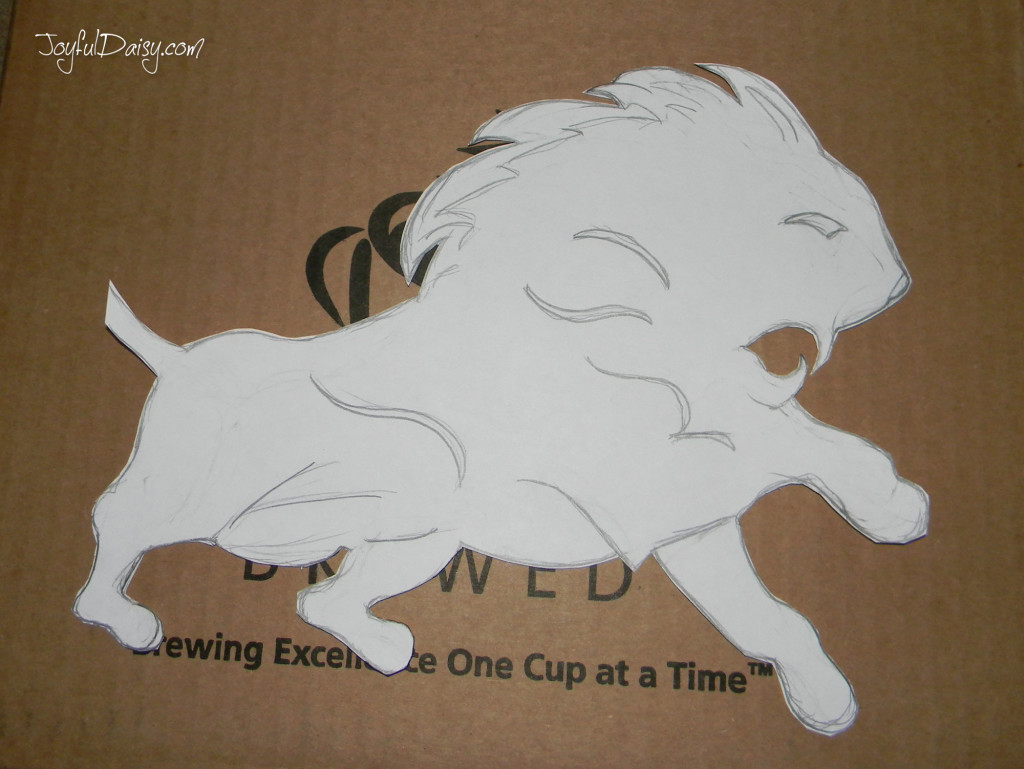 Print out pattern piece on cardstock (choose 8 1/2″x11″ letter paper size option) and cut out. FYI, we extended the tail another inch beyond the pattern piece.
Trace pattern twice on cardboard and cut out.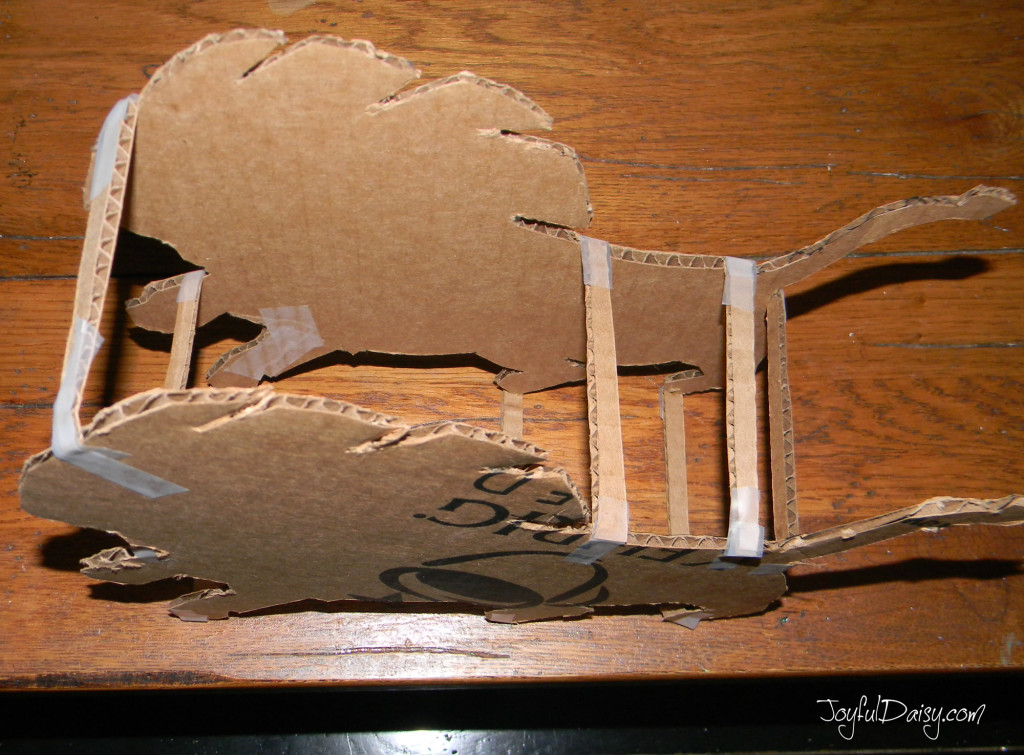 Cut 1/2″ x 4″ strips of cardboard. Connect both cardboard lions pieces with a few strips of cardboard on each side to make it three dimensional.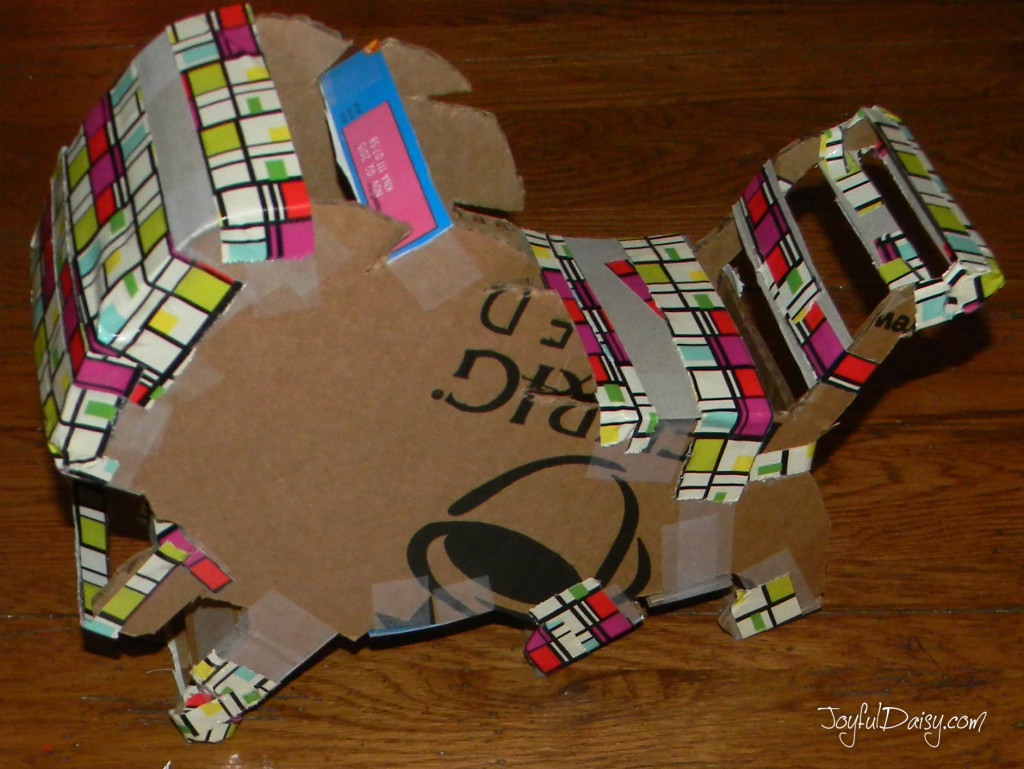 Using strips of duck tape cover the rest of the box, leaving the top and back of the head open.
If you don't like how sticky it is inside, just add some baby powder, tap it around and then tap the excess powder out. 🙂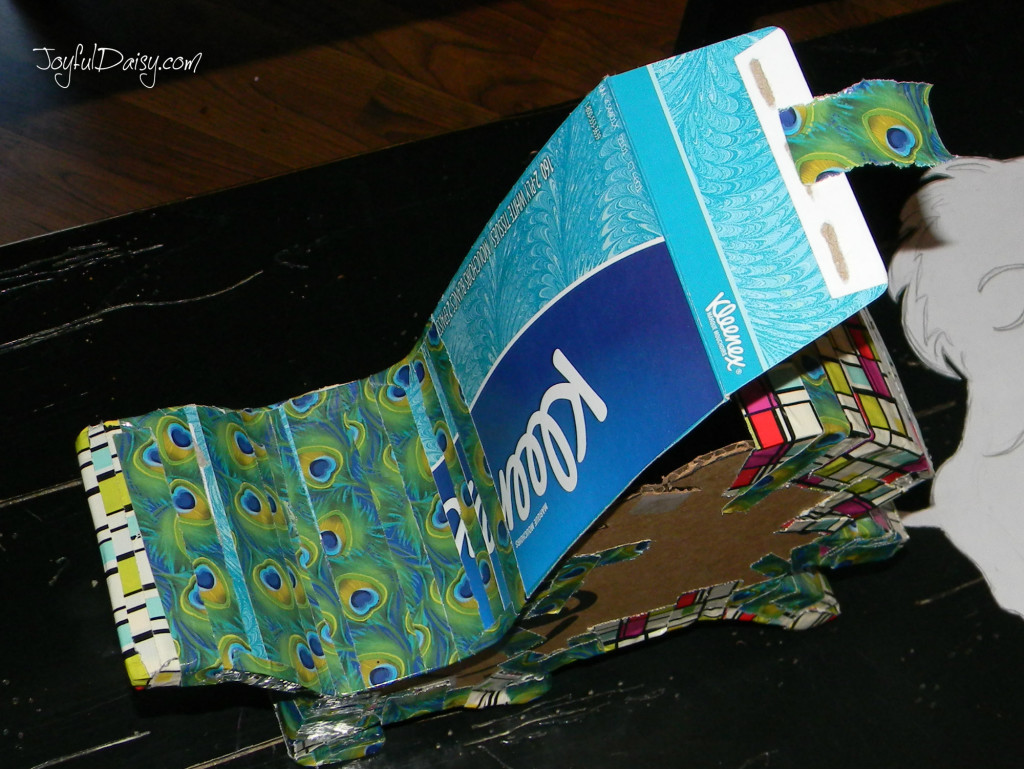 Cut a piece of poster board or recycled tissue box 5″ wide x the length from the base of the tail to two inches past the opening on the head. Tape this piece in place with duck tape along the body, leaving it open on head.
Hot glue Velcro to the end of this piece where it wraps over the top of the head so that it can close. And then hot glue opposite side of Velcro where it meets the forehead of the lion.
Next we covered the rest of the sides with duck tape and then gave it two coats of blue spray paint.
Once paint dries, add detail lines from pattern with a black permanent marker.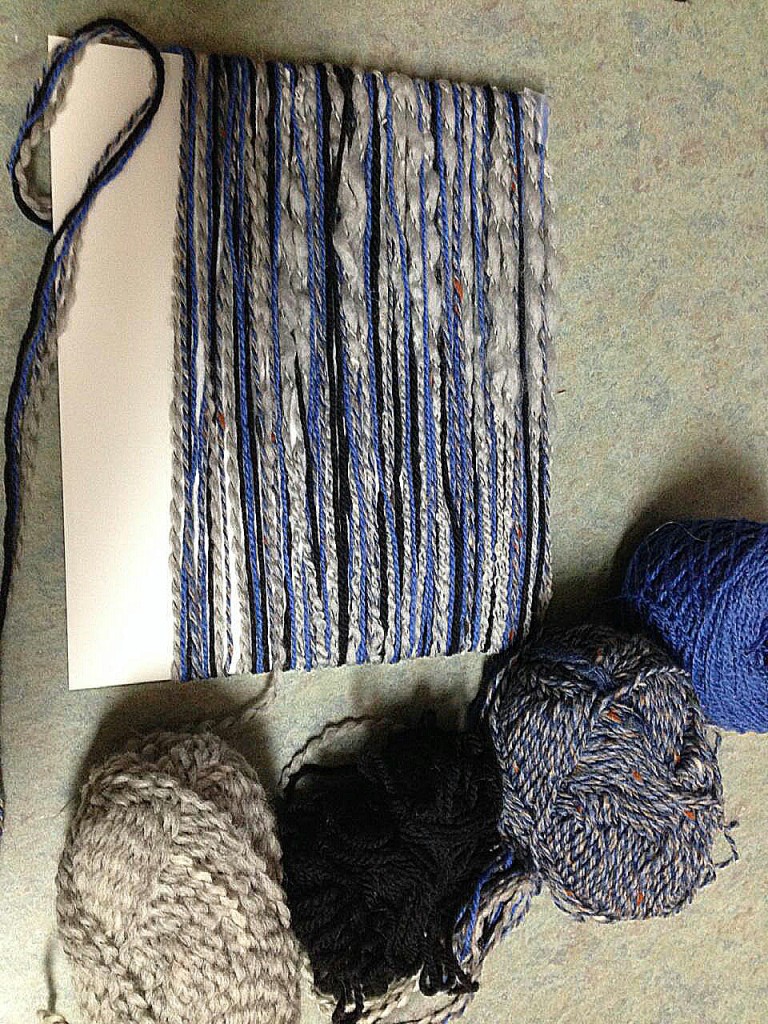 To create a nice lion's mane, choose a variety of yarns and wrap them around a piece of card stock paper approximately 8.5″ x 11″. My mom whipped this up on the sewing machine but if you don't sew, you could just tie a few bunches of 11 inch pieces of assorted yarn together in the middle and then hot glue to lion's head. You will want to do this once anyway to create the lion's tail. 🙂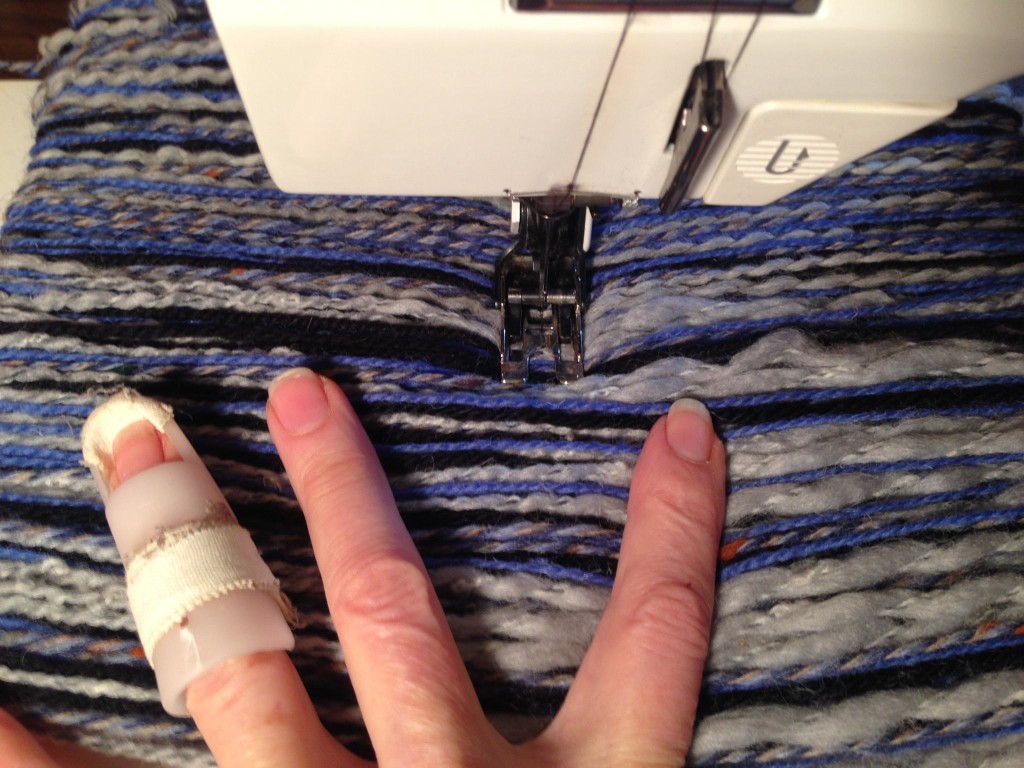 Sew a line down the middle of wrapped yarn through paper. Make sure to back stitch at beginning and end of sewing to prevent seam from unraveling.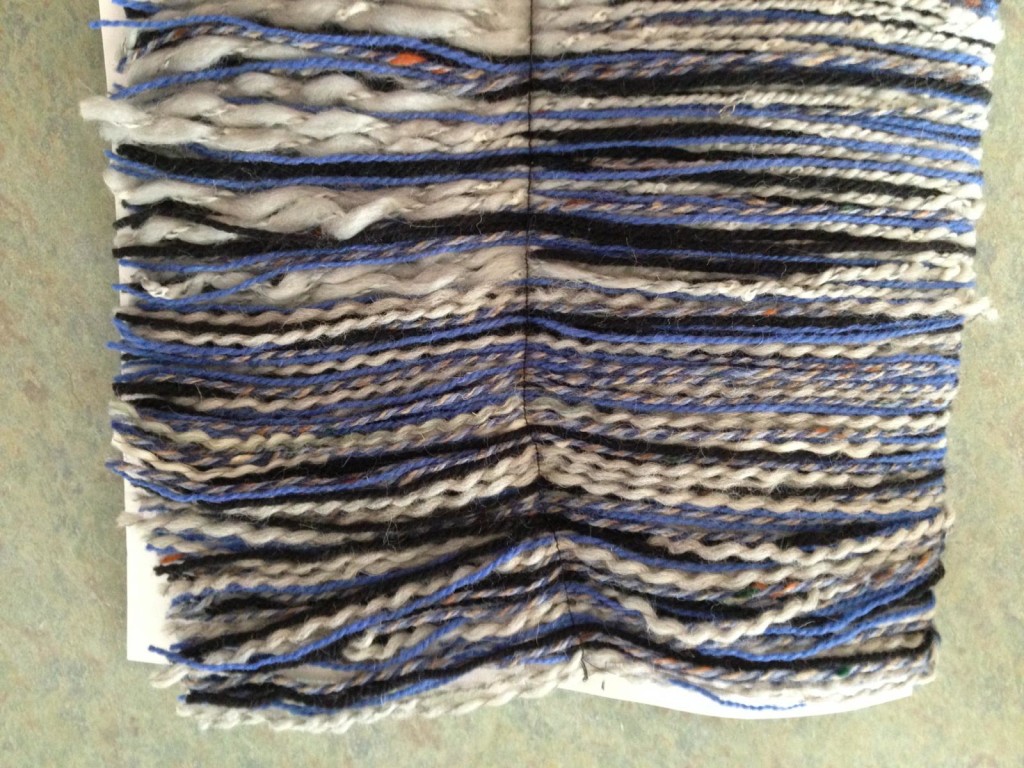 Cut yarn along edges to make fringe, gently tear paper from stitch line.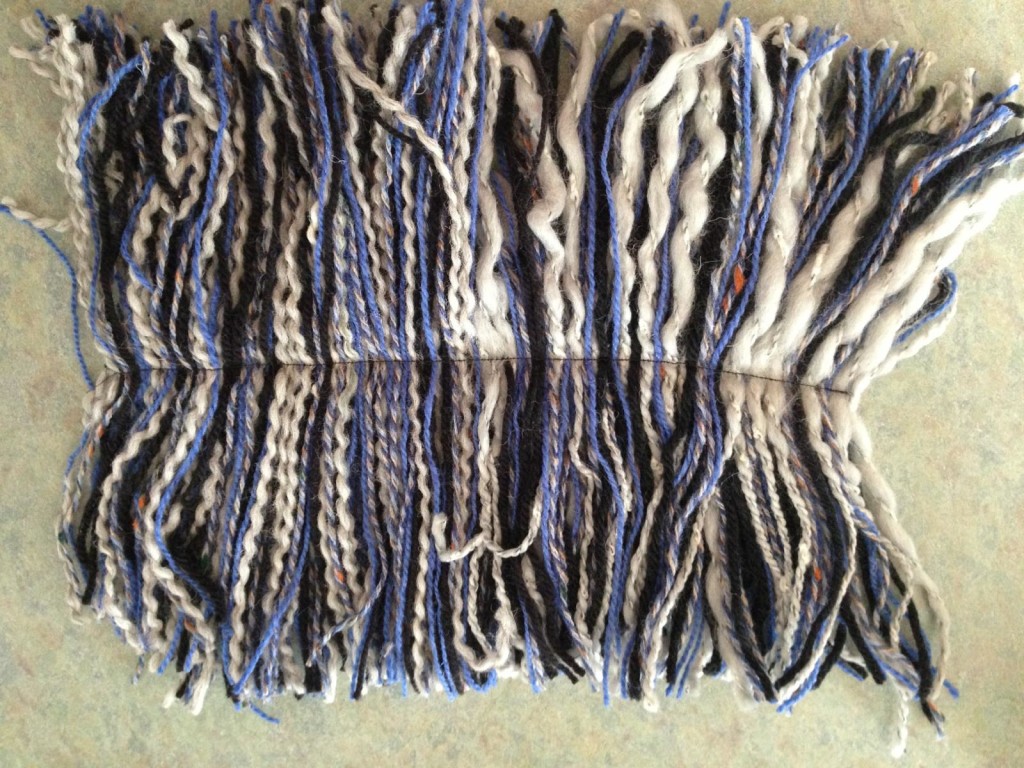 Now it is ready to hot glue to the back and top of the lion's head.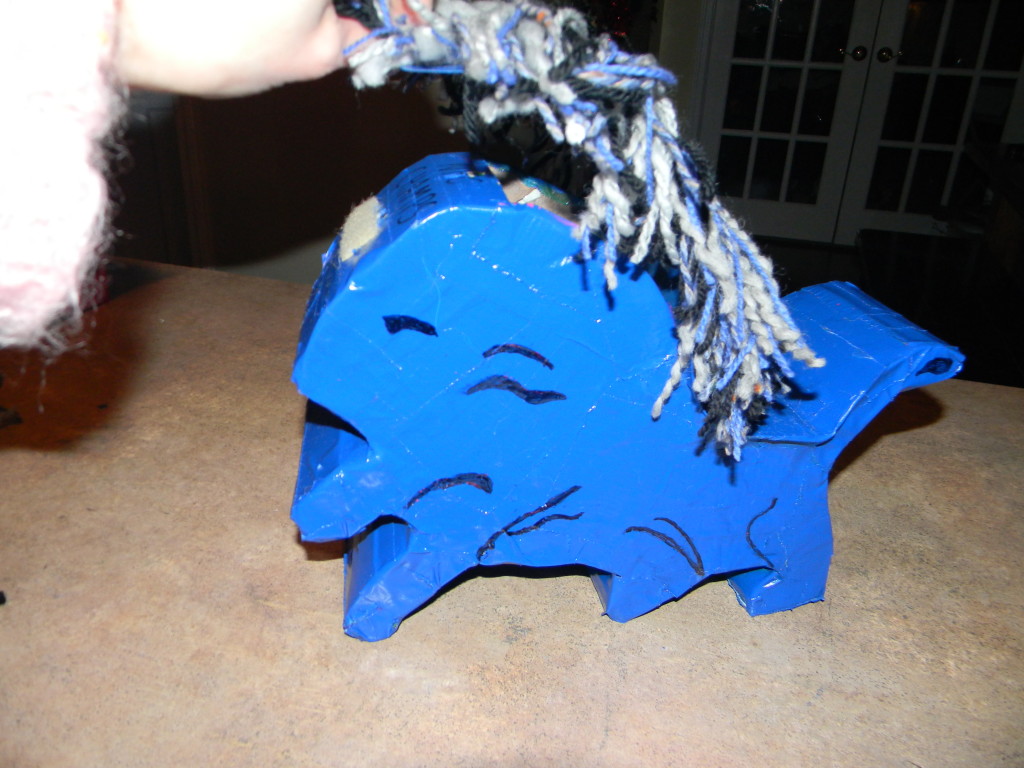 Starting at the top flap that lifts up on the lion's head, I applied hot glue to the center and then down the back of the head while carefully pressing the mane down (Don't burn fingers on the hot glue.) You will probably have more mane then you need so just trim off the excess making sure the end of the mane is glue down well. Tie some pieces of yarn together for the tail and hot glue on.
Then I just gave the lion a hair cut and trimmed the sides so I could see the eyes.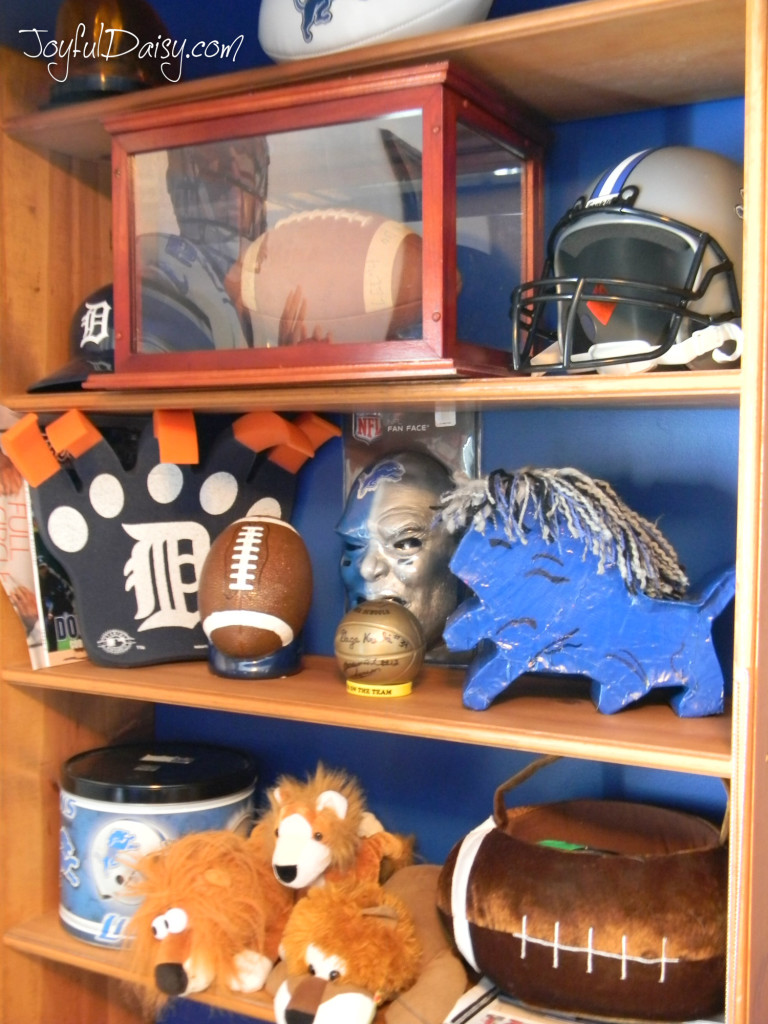 Hey can you spot Matthew Stafford in the picture above?
His fat head's reflection is in the glass covering Randy's peewee game winning football case! 🙂
How many other lions can you spy in the picture above? HEHE!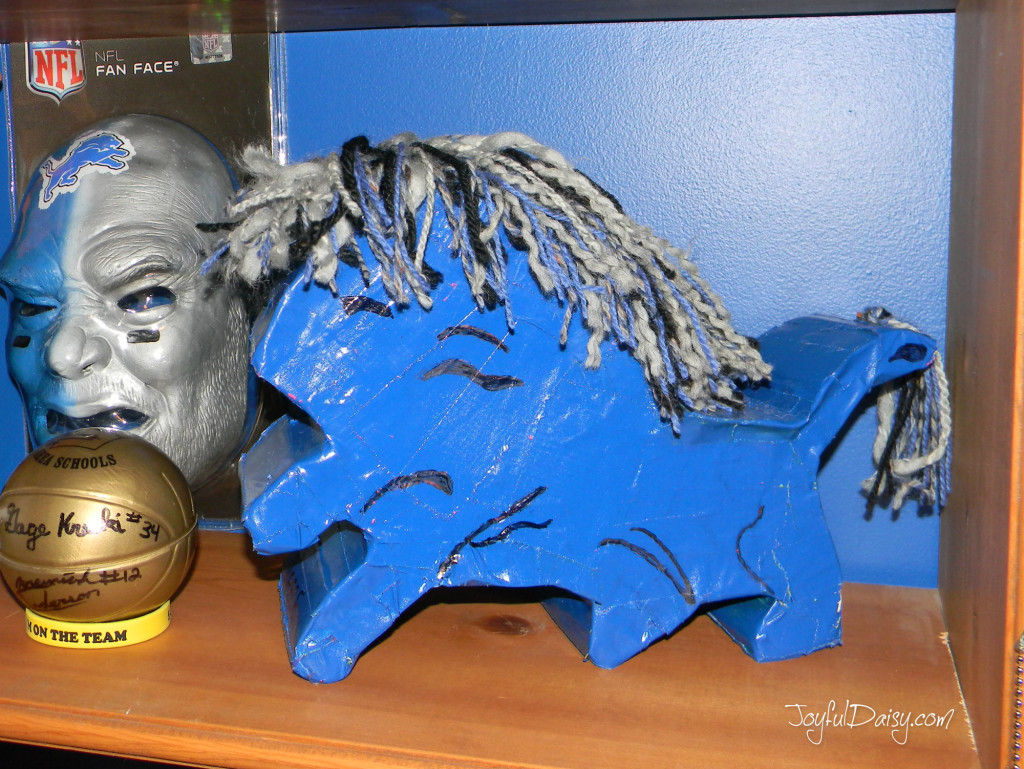 About 5 years ago Randy made Lily an elephant Valentine's box.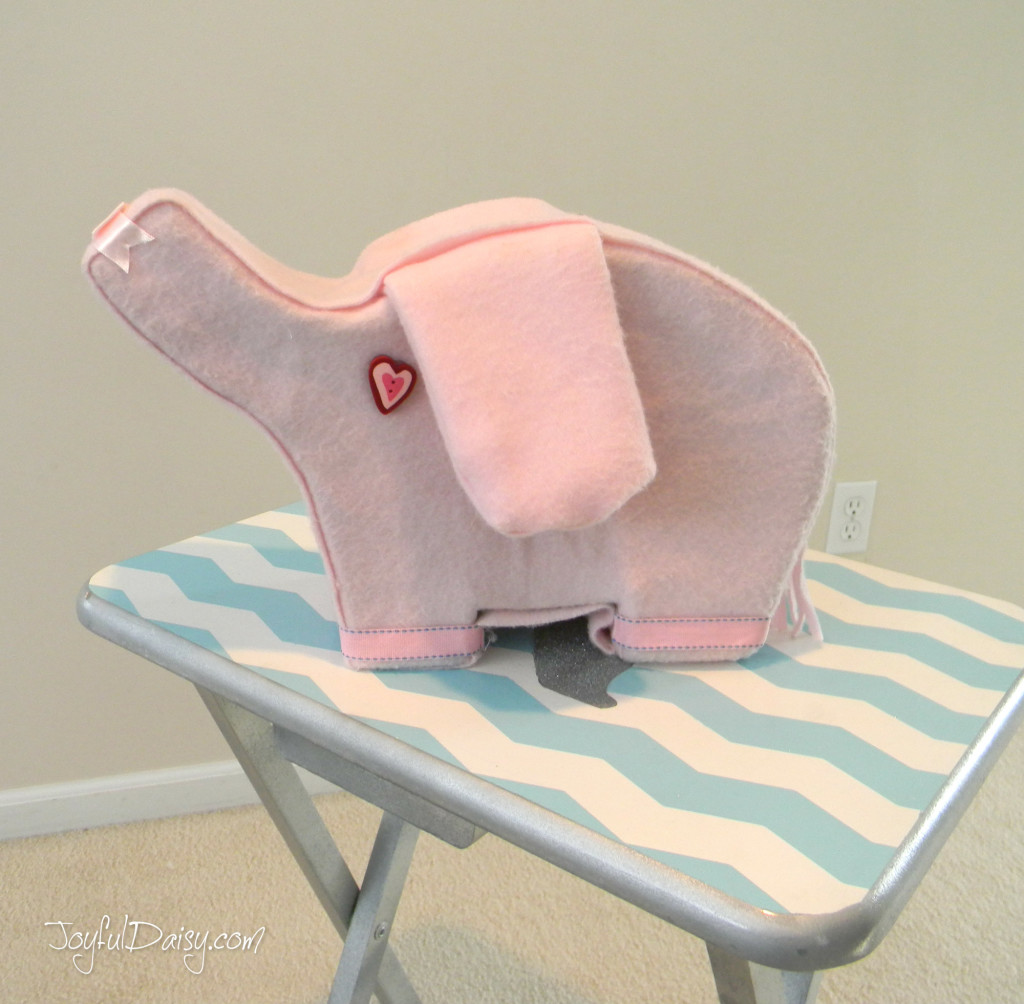 Isn't this just adorable? It was made similarly to the lion's box above. After he braced the two elephant pieces together with 1/2″ x 5″ strips of cardboard he then wrapped long 5″ wide pieces of cereal box around the elephant and taped in place leaving the bottom open between the elephant's legs.
Lily wanted it fuzzy so I cut out pink fleece 1/2″ larger then elephant pattern piece al the way around and then hot glued to each side of the elephant wrapping the excess fleece around the edges. I cut four "ears" out of fleece, stitched them together leaving the top open so I could turn them and then glued in place. If you don't sew, just cut two ears, one for each side.
Then I cut a long 5″ wide piece of fleece and hot glued that all around the center of the elephant.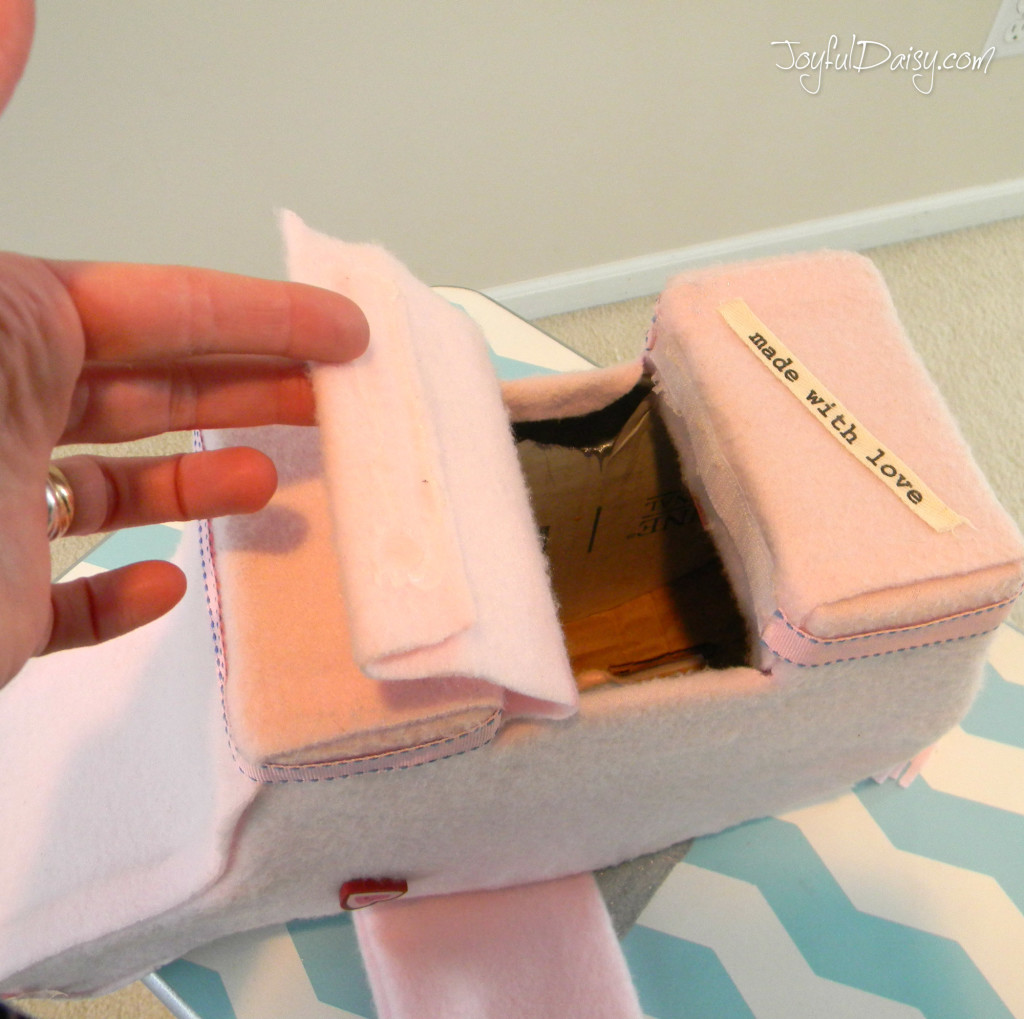 I hot glued Velcro on the bottom to close box and I cut a slit along the top of the box about 3″ x 1/2″ so Valentines could slide in.
To finish it all off, I hot glued some cute ribbon at the bottom of the legs and added some cute heart buttons I found!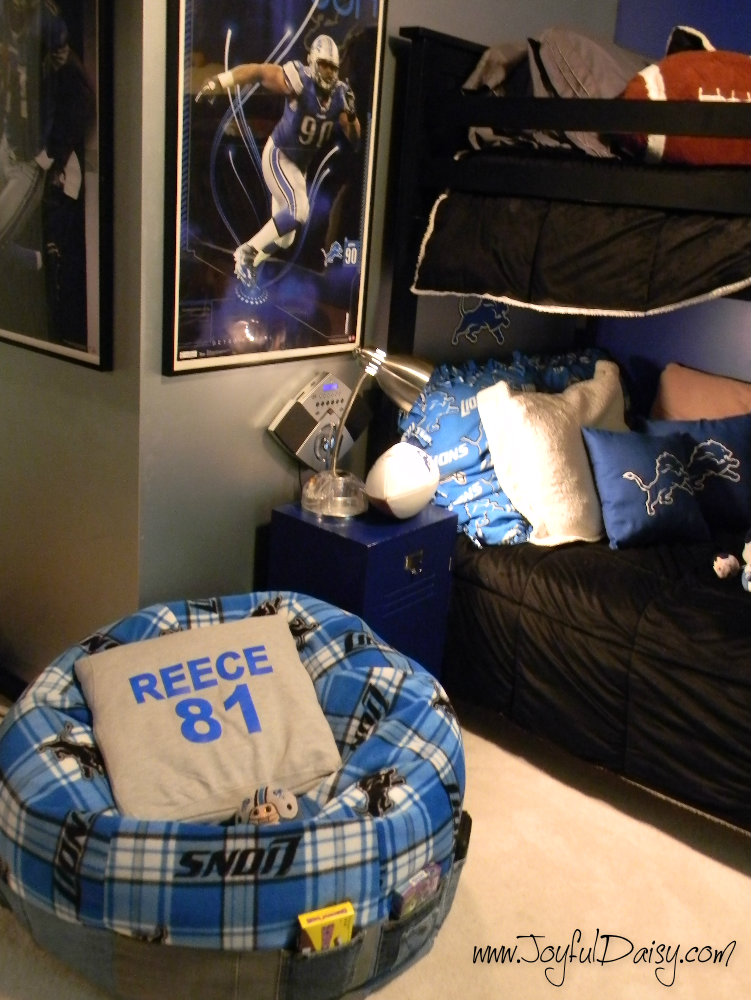 CLICK HERE to view Reece's Detroit Lions bedroom 🙂
CLICK HERE to view how to make fleece and denim bean bag
CLICK HERE to view how to make a pillow out of sweatshirt.