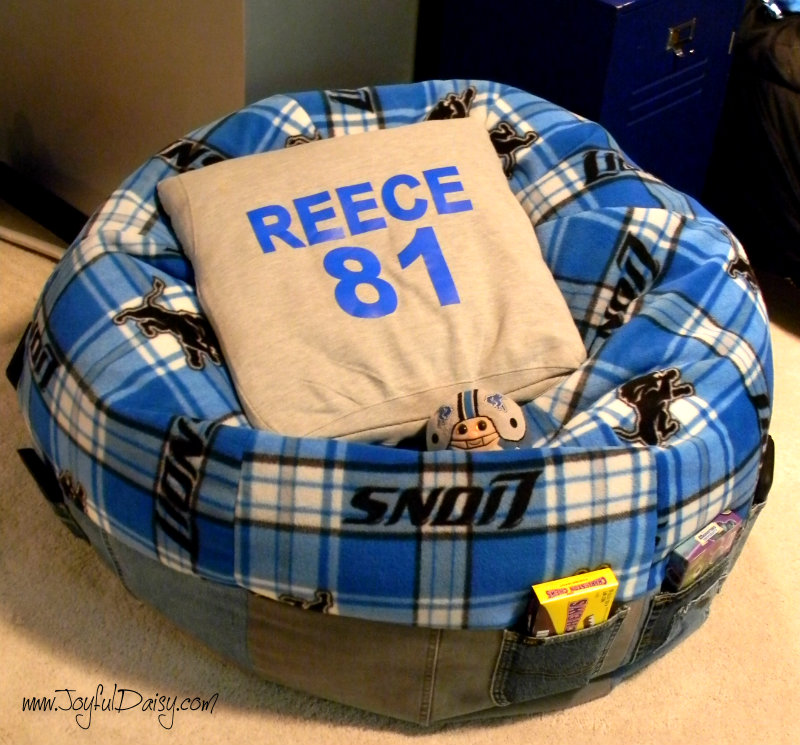 This is a fun way to customize your bean bag.  Enjoy a cozy fleece top, a durable denim bottom made out of recycled jeans, and then have a fun place to stash your remote control, ear buds, and treats in the recycled denim pockets along the side!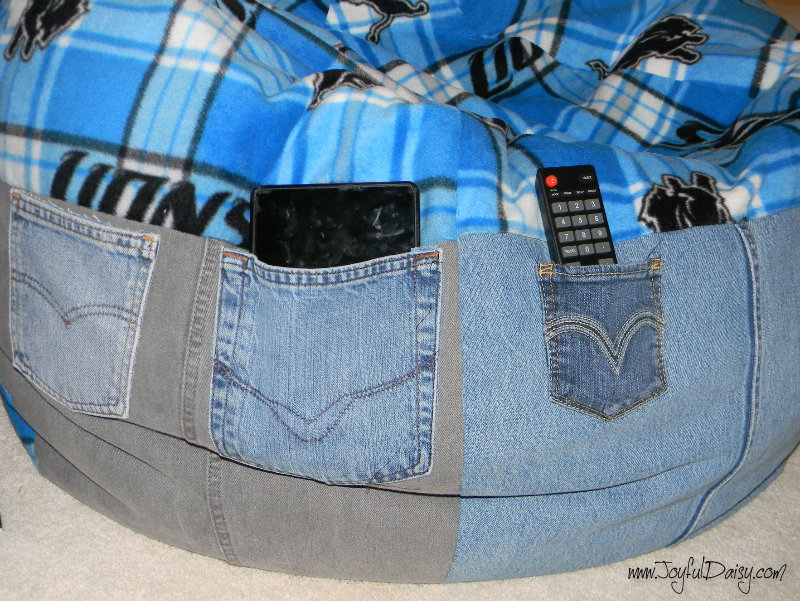 This is my favorite recycled denim project that we have featured on Joyful Daisy and it definitely will be the most frequently used, well our recycled denim accessory caddy is a close second.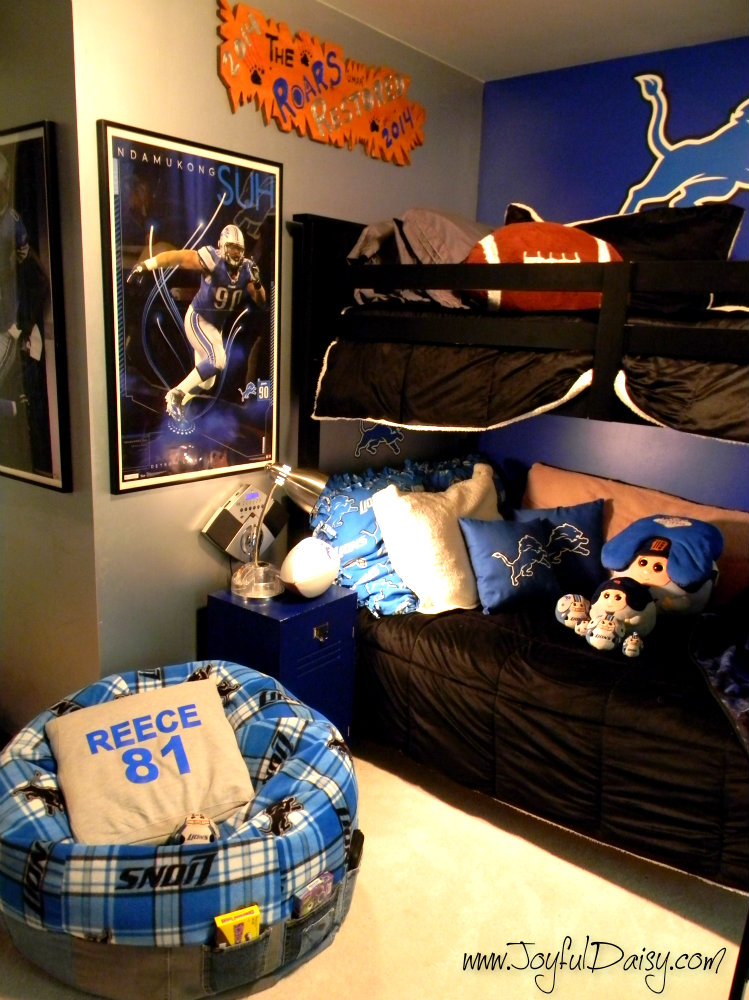 Since this was a gift for Reece, it just had to be customized with his beloved Detroit Lions!  He was sooooooo excited when he saw it!  It is a great compliment to his blue and silver bedroom but with all the fun fleece fabrics out there the design options are limitless so I hope this recycled denim bean bag tutorial encourages you to make your own cozy seat! 🙂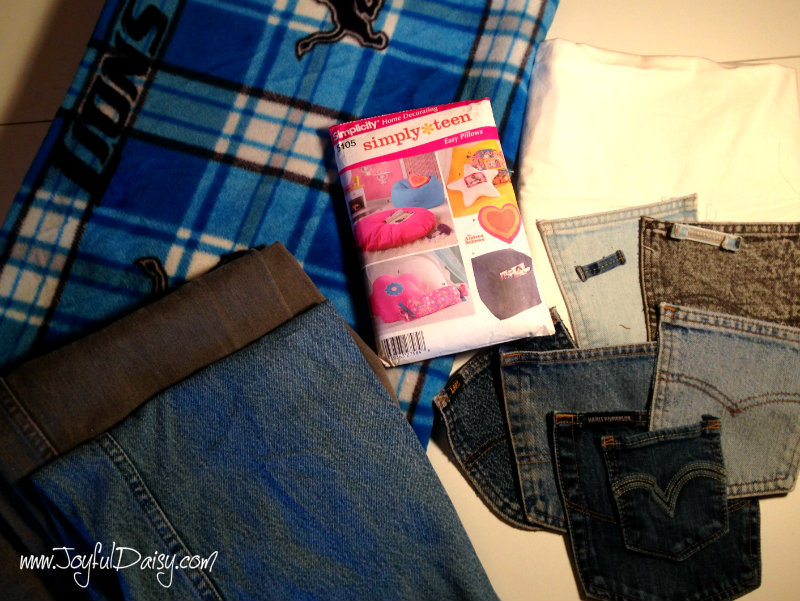 SUPPLIES:
Simplicity's Simply Teen Pattern # 5105
2 1/2 yards fleece
About 2 yards stabilizer fabric (we used an old sheet to line the fleece fabric and give it more durability)
Assorted adult jeans, pockets, and belt loops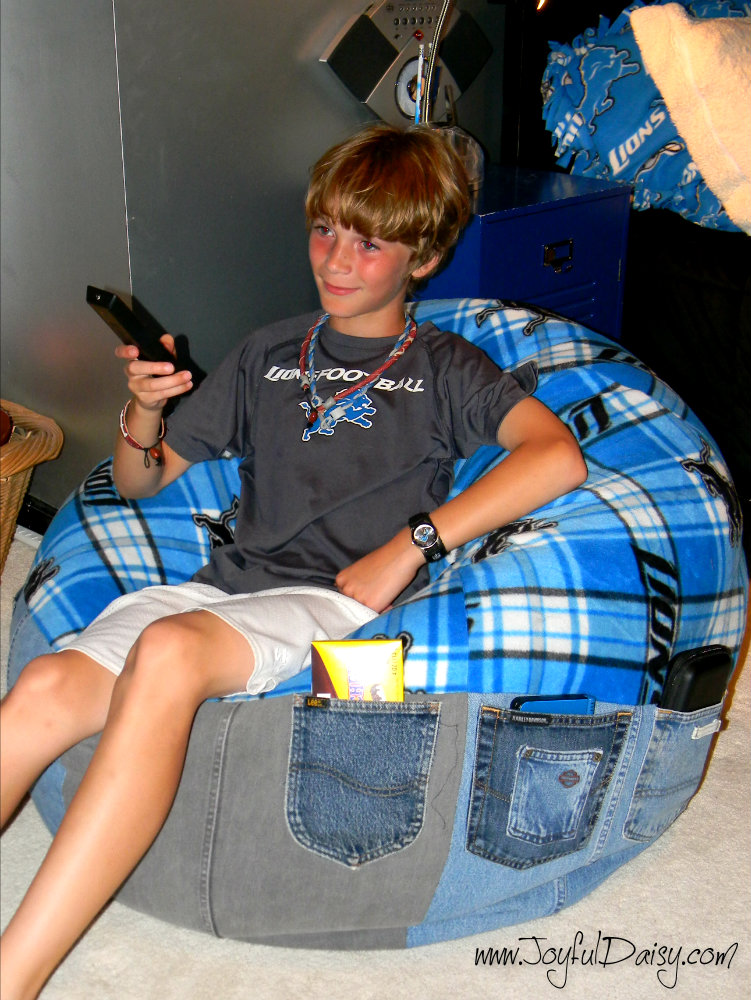 OK Let's get started…
HOW TO MAKE A BEAN BAG OUT OF FLEECE AND RECYCELD JEANS….
Cut 2 pieces of pattern piece #4 out of fleece and sheet (stabilizing fabric).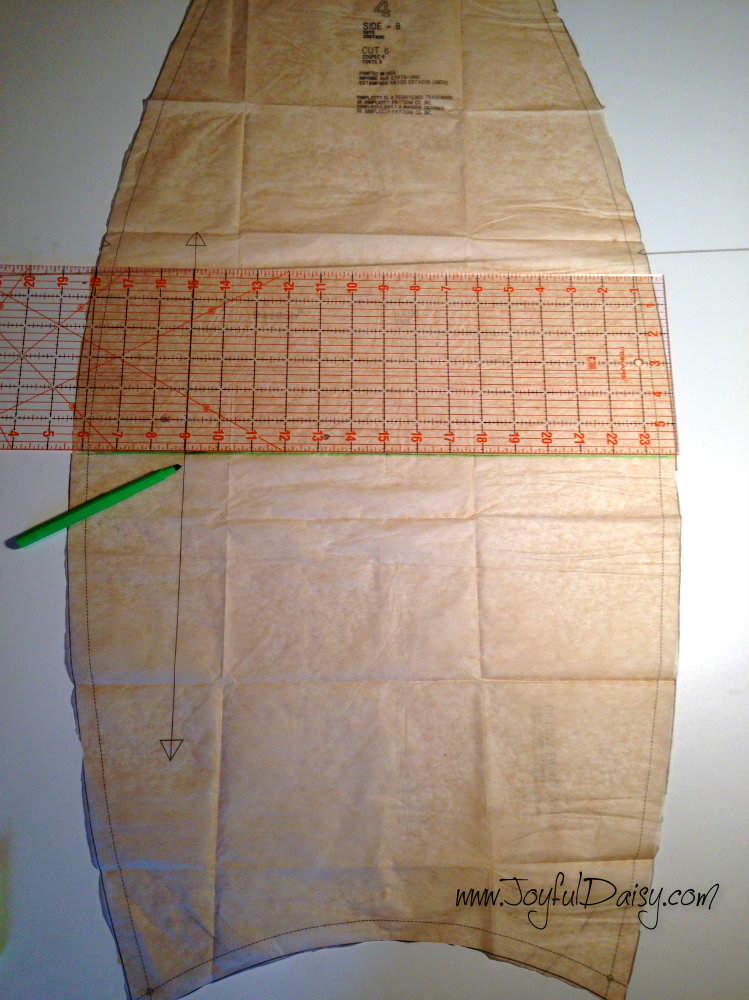 Prepare pattern piece number four…
Mark 15 inches up from very bottom of pattern piece.  Using arrow on left side of pattern piece, place ruler across pattern piece and mark for cutting line.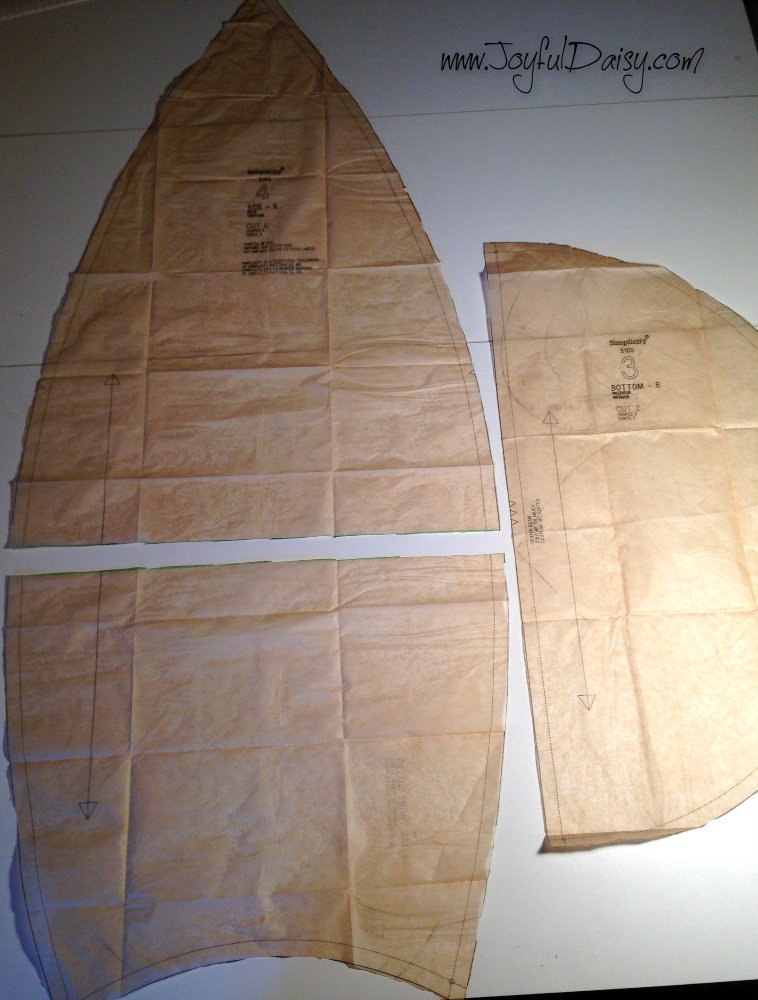 Cut pattern piece along line.  Now you will have two pattern pieces for #4 (sides) and #3 for bottom of bean bag.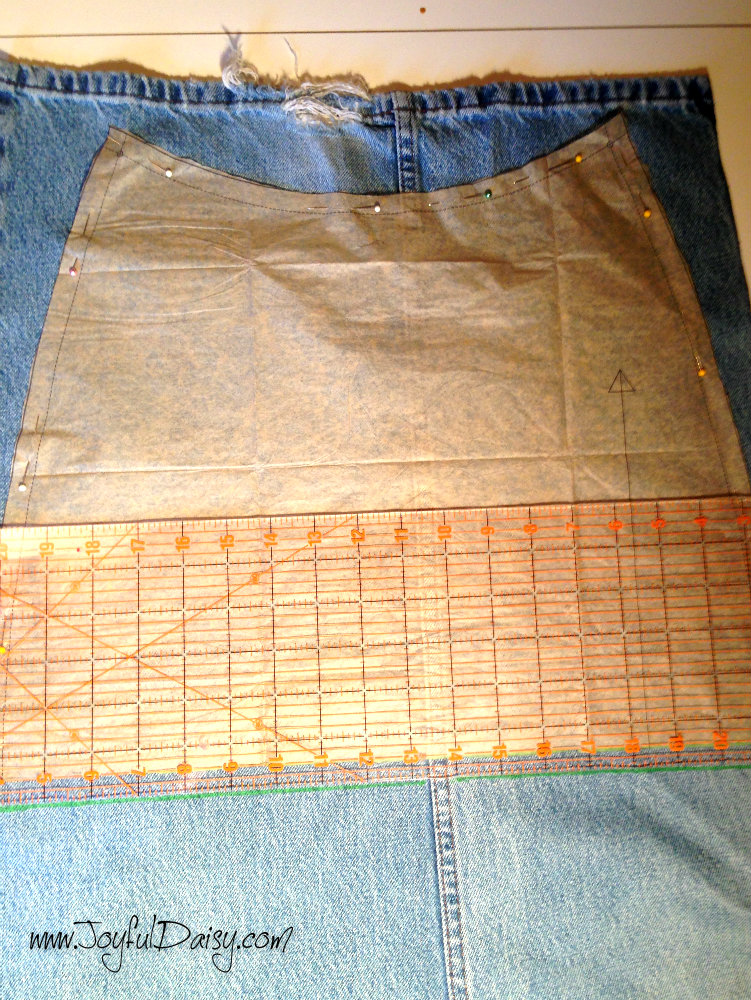 With bottom of pattern piece #4, cut 6 pieces from jean legs that you have cut along seam to open into one large piece.
Mark 1/2″ cutting line at straight edge for seam allowance and cut out six pieces.
Cut two of pattern piece #3 out of denim.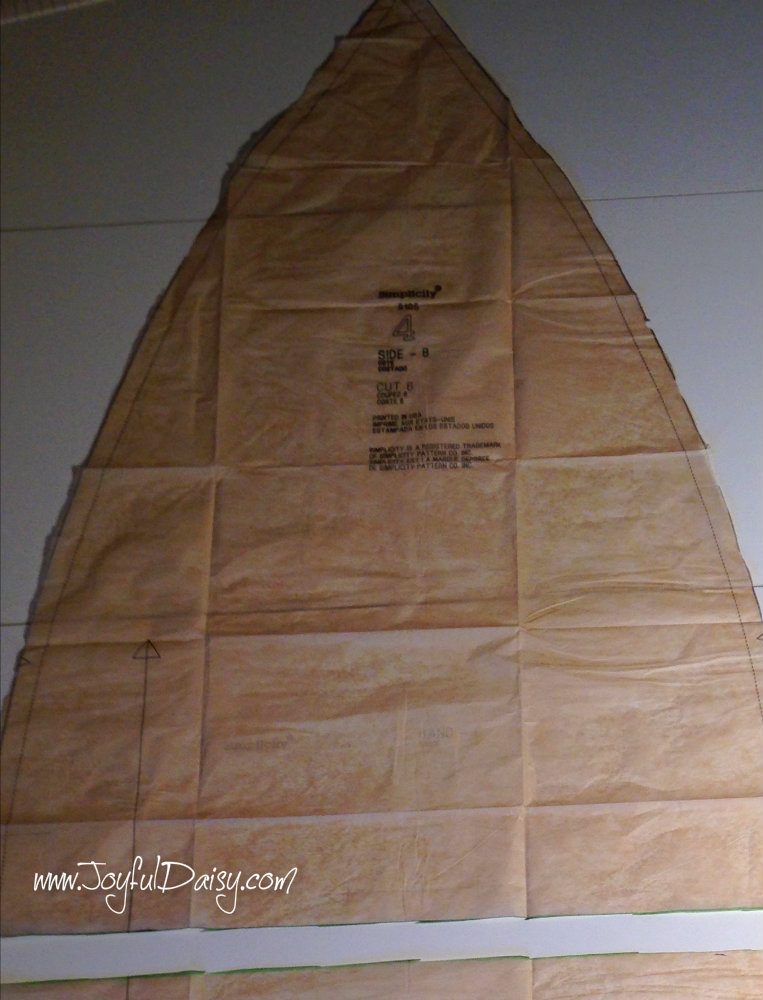 Cut four pieces of top half of pattern piece out of fleece and stabilizer fabric.  REMEMBER to add 1/2″ seam allowance to each piece along straight edge as we did in step above.
SEWING…
Back each piece of fleece with stabilizing material and stitch around to hold together.  (This will keep your fleece from stretching)  A walking foot on your sewing machine is very helpful when sewing fleece to keep it from stretching.)
Sew the 2 pieces of material from pattern piece #4 together with 1/2″ seam.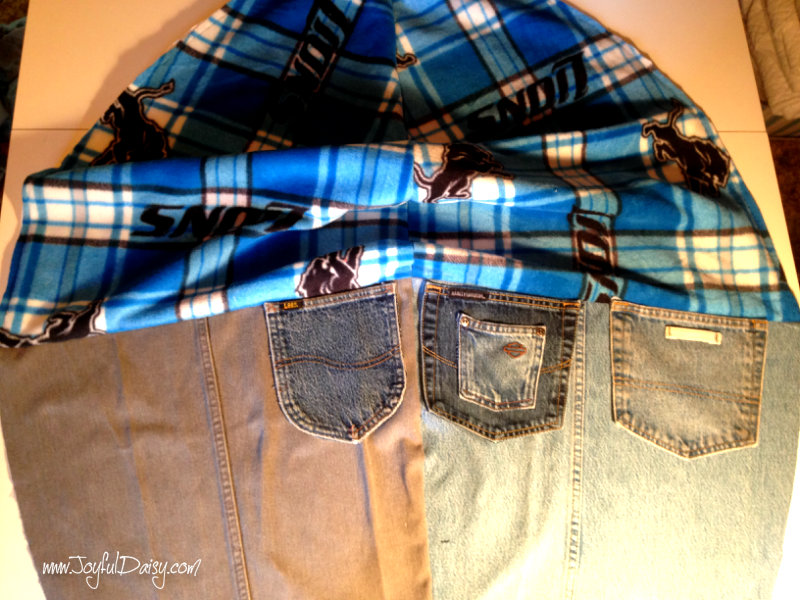 You now will have four pieced sections and two full fleece sections.
Sew two of these sections together along side and repeat with other two sections, followed by two full fleece sections.
Place pockets on bottom denim being careful not to place in middle where legs will rest.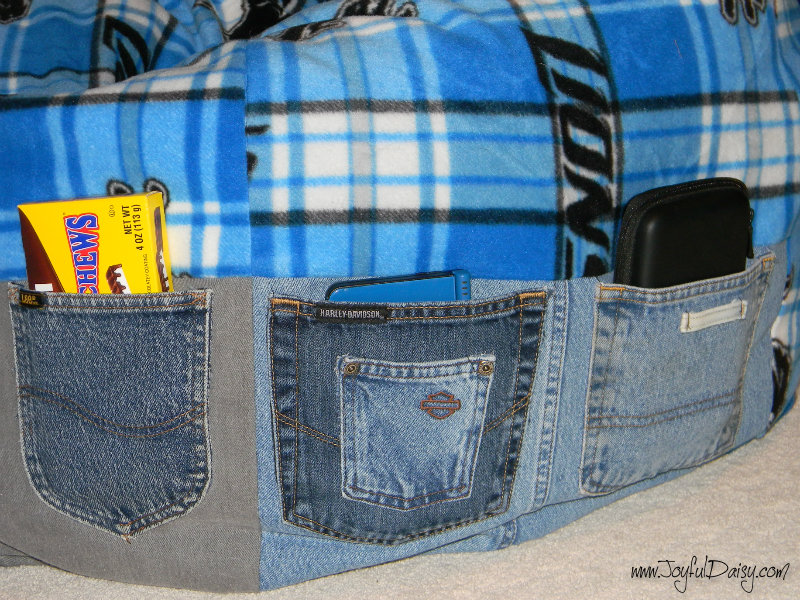 FINSIHING…
Follow pattern instructions for finishing bottom and stuffing to complete your cozy bean bag with denim storage pockets.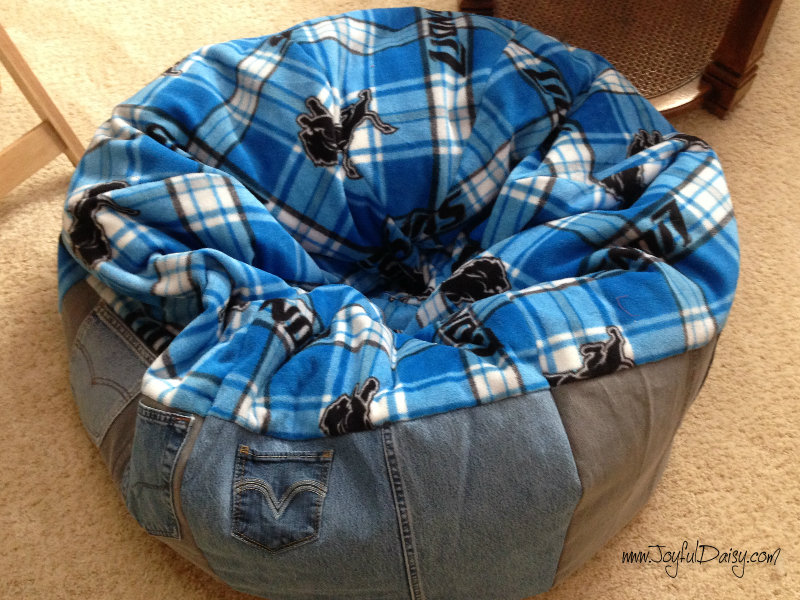 This shows the bean bag stuffed with one cubic feet of pellets.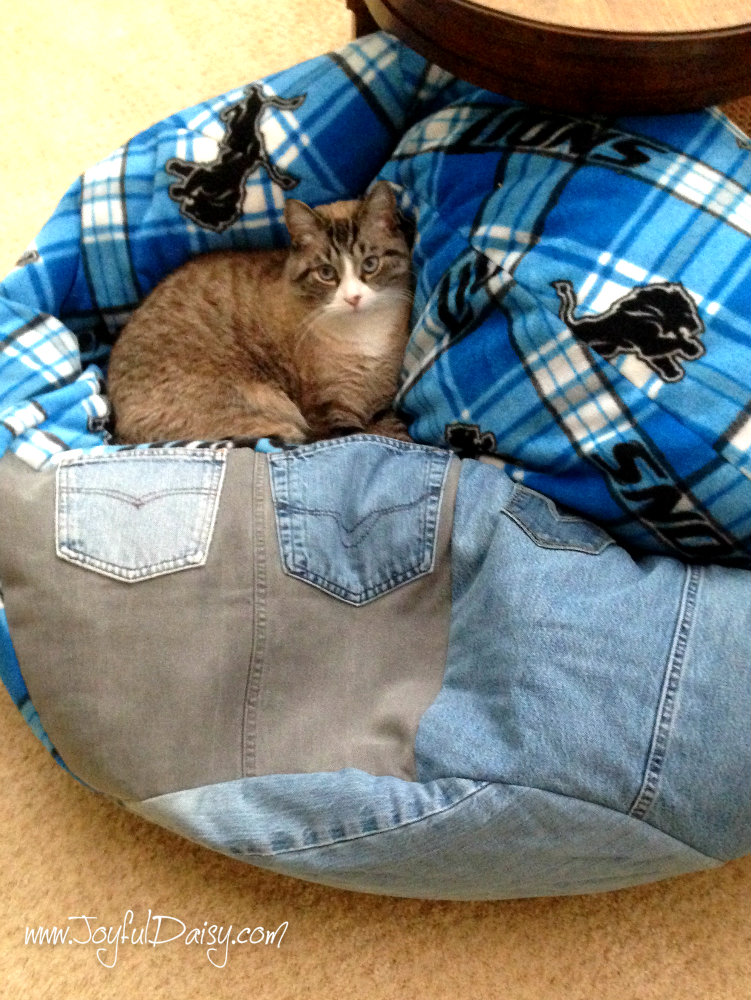 The cat loved it being under stuffed but we decided to add another cubic foot to finish it up. 🙂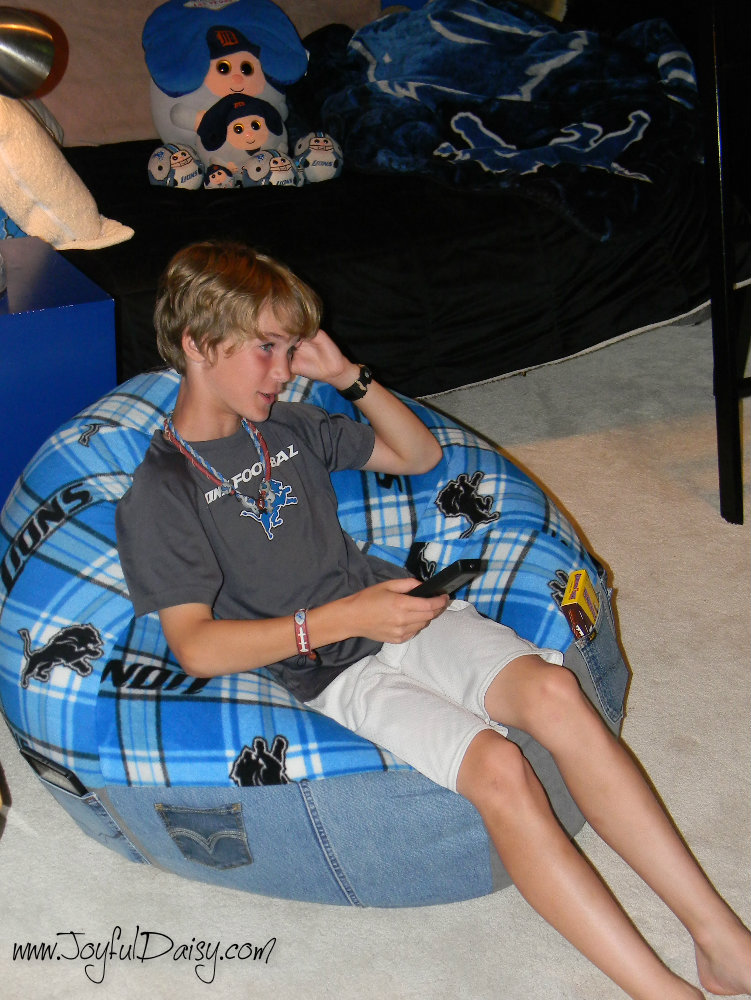 Just an funny FYI…I didn't tell Reece to put on a Detroit Lions shirt to match his room because that is what he wears 90% of the time with the other 10% split between the Detroit Tigers and St.Ignace Saints shirts!   Some kids at school that don't know his name have referred to him as the kid that always has a football in his hand and a
Detroit Lions shirt on! 🙂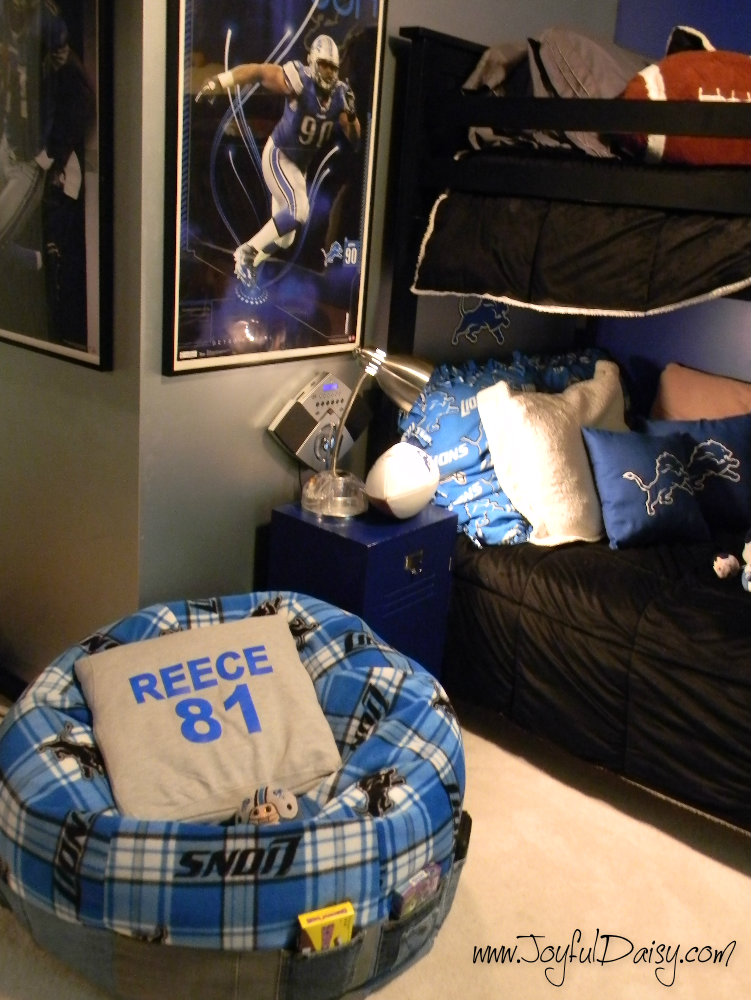 To view How to Make a Pillow out of a Sweatshirt CLICK HERE.
JD Linky Parties at SAVY SOUTHERN STYLE