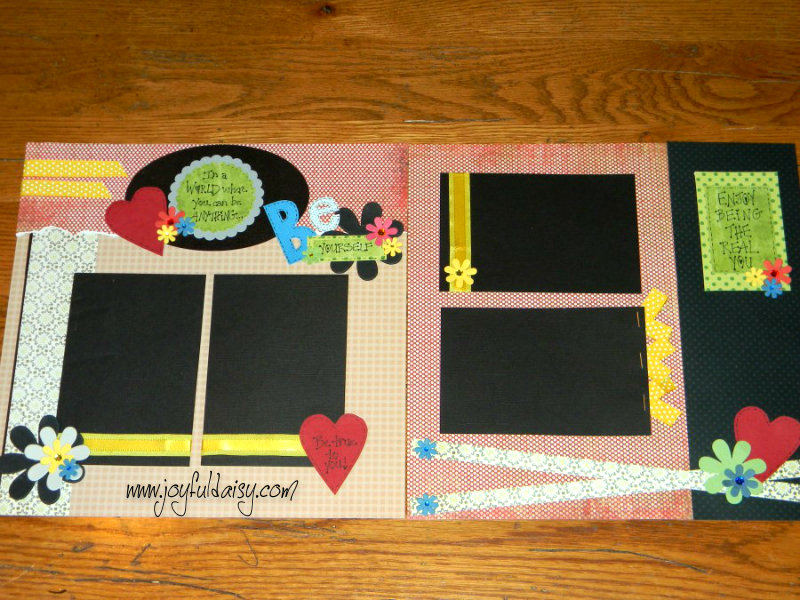 In a world where you can be anything, be yourself:)  Isn't that the truth!  I love this Be Yourself Heart scrapbook layout featuring some of my favorite sayings that we all need to remember!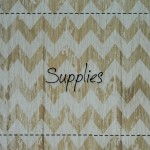 Assorted Scrapbook Papers
Assorted Ribbons
Flower Embellishments with Rhinestones
Stapler
Scissors and Paper Trimmer
Adhesives
Free Downloadable Pattern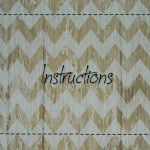 Start by downloading your pattern.  TIP print pattern on cardstock for easy tracing.
I traced the flowers in case you don't have any but I actually purchased mine awhile ago so I apologize that I don't know the brand to share with you.
Start by cutting a 4″ * 12″  and 1″ * 12″ pieces of black scrapbook paper.  Adhere the 1″ strip about 1/2″ in from the left edge of the left page and adhere the 4″ strip to the right side of the right page.
Cut a 2″ * 12″ strip of patterned scrapbook paper and adhere over all but 1/8″ of the black strip on the left page.
Cut a 4″ * 12″ piece for the top of your left page and tear 1/2″ strip off leaving a rough edge and then adhere to the top of the left page.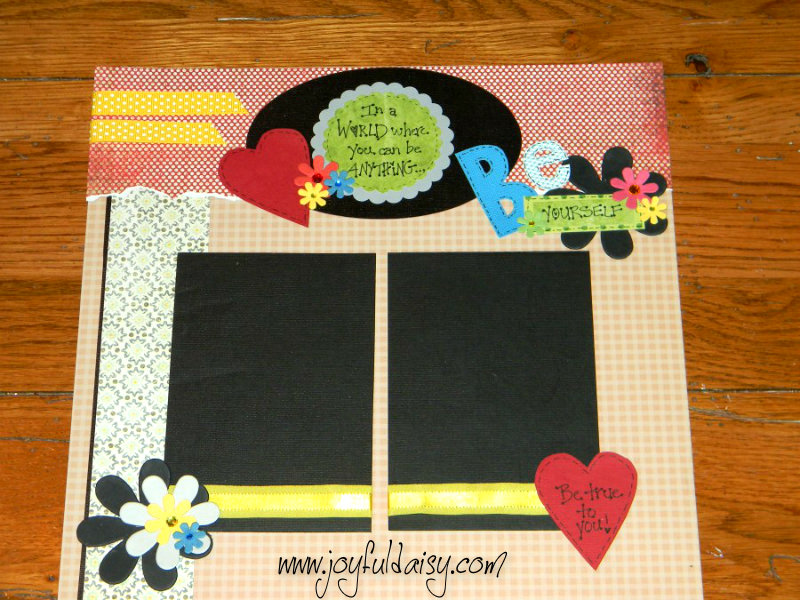 If you don't have scalloped circle punches, like I used for the main part of the title, you can print out the pattern on scrapbook paper, cut it out and then adhere to another scrapbook paper and trim with decorative scissors leaving a 1/4″ boarder.
To complete the title, cut out the oval, B, e, heart, "yourself" and flowers if you need to.  Add "stitching" to the heart, B, e, and add a mat with "stitching" to "yourself".  Adhere pieces to title and complete with small flowers with rhinestones.
Cut a 4″ and 5″ strip of ribbon and cut one end of each ribbon on an angle.  Place ribbons on page wrapping about 1″ to backside and adhere.
Finish the page by cutting 2 black 4″ * 6″ mats and adhere ribbons to the bottom of each one by adhering each side of the ribbon to the back of the mat.  Adhere to page and then add the flowers and the Be true to you heart:)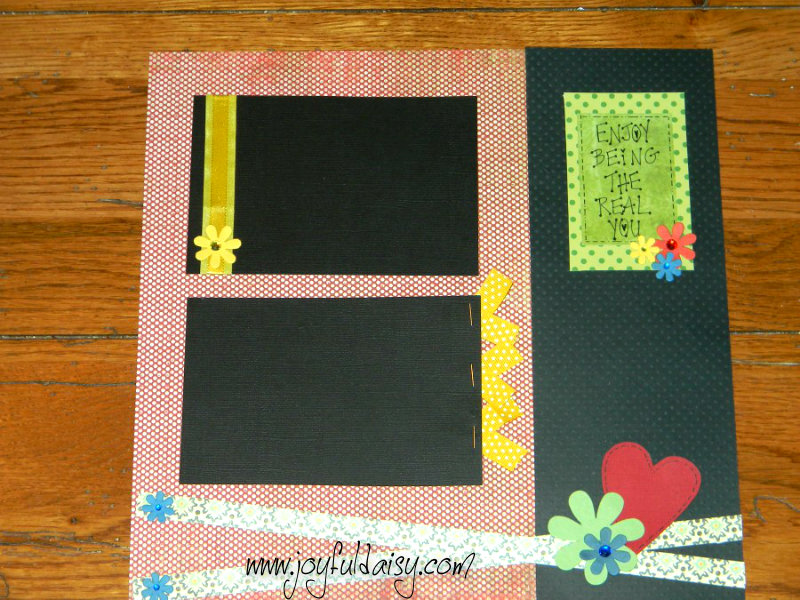 For the right page cut two 4″*6″ black mats and then cut two 1/2″ * 12″ strips of scrapbook paper.
Wrap a piece of ribbon around one end of a frame and add a flower to the ribbon.
Make 3 "v's" with ribbon and staple to one of the black mats. TIP: It is easier to tape the ribbons on the back before stapling.
Adhere frames to the page and then adhere the two 1/2″ * 12″ strips to the bottom of the page.
Finish page by matting the ENJOY BEING THE REAL YOU and add "stitching". Add flowers and heart to complete your Be Yourself Heart scrapbook layout and ENJOY:)