The kids and I just love these simple gluten free snacks, a little savory and a little bit of sweetness!  We often enjoy some combination of the ingredients above but today I whipped up all our favorites to snack on for the kid's tree fort game day in celebration of spring 🙂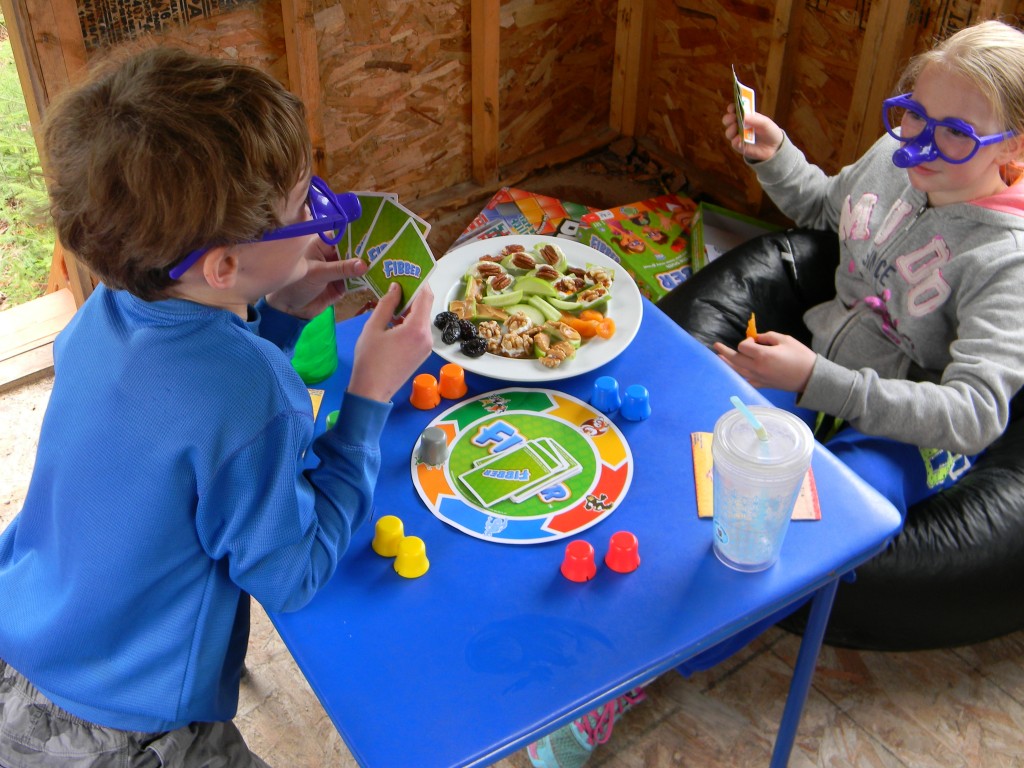 What's better then some fresh air, board games, and healthy snacks?!!  Not much!  We had such a fun day since enduring 7 months with snow, this was our first 70 degree day here in Michigan's Upper Peninsula!  Every beautiful day will be greatly appreciated this summer!
 As I was cleaning in the house, I could see the kids clearing out the tree fort.  Next they were bringing out their bean bags, table, and a pile of board games so I thought I would surprise them with some healthy, gluten free snacks 🙂
Enjoy more tree fort game day fun photos at the end of this post!
ON TO THE GOODIES…

These are sooooo yummy!
Just plop some whipped cream cheese on a dried apricot and top off with a walnut for an explosion of flavor!
This is a great combination of textures and flavors:)

This is another favorite for Lily and I…
Top tart green granny apple slices with creamy Swiss cheese and then top with a pecan half!
I love peanut butter and apples but this is like a gourmet twist 🙂

And now for a bit of the savory and very low carb option…
Just top small pieces of celery with whipped cream cheese, sun dried tomatoes in olive oil, and a walnut!
This is so good and really helps to satisfy the appetite when you are watching your carb intake!

I also featured some prunes, plain apples, and apricots for Reece.  He is a simple fellow and likes them plain 🙂
So just keep an assortment of nuts, cheeses, dried and fresh fruit and making gluten free snacks is a cinch!
MORE TREE FORT GAME DAY FUN…

 This is the view from the house as I sensed the kids were up to something new since I no longer could hear the basketballs bouncing outside!

Moments later, I see Reece with a very determined look on his face carrying bean bags and water bottles.
Oh yes, he is getting ready for something 🙂

As I snuck to see what my little lovelies were up to, I had to smile when I saw Reece's trucks all nicely lined up.
If you look closely, you will see Winston pouting underneath the pine trees!  He is usually right in the middle of our fun, however, he found something disgusting to roll in so he is being shunned until he gets a bath! Stinky boy!

This is what I saw when I first peaked in the tree fort!
My little sweethearts with their flattering Fibber glasses on!

Apparently I already missed the Yahtzee game!
They were very excited as they told me this was the first time they both got a Yahtzee in the same game!
Yah, yah, Yahtzee an oldie but a goodie – love that game!

However, now they were on to Fibber!
This is a newer game and quite hysterical as you can see…


In case these pictures have inspired you to be super silly and play Fibber, I found Fibber on Amazon for a reasonable price!
It is definitely JOYFUL DAISY approved 🙂


Lily was caught fibbing and had to add a nose!

Lastly, one more picture of Winston, proving it is never worth it to roll in something stinky!
WE HOPE YOU AND YOUR FAMILY CAN FIT IN SOME FUN TODAY!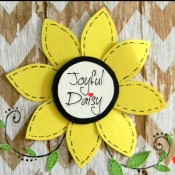 If you enjoyed this post, be sure to sign our email list on the top right hand column.  I have a lot more fun stuff planned!
You can also connect with Joyful Daisy on

FACEBOOK

,

GOOGLE

,

PINTEREST

,

TWITTER

,

AND

RSS

.  I would also love it if you shared this project by clicking social link buttons below, sharing is caring 🙂
Thanks for stopping by
Cyber hugs,
Amy – joyfuldaisyforever@gmail.com