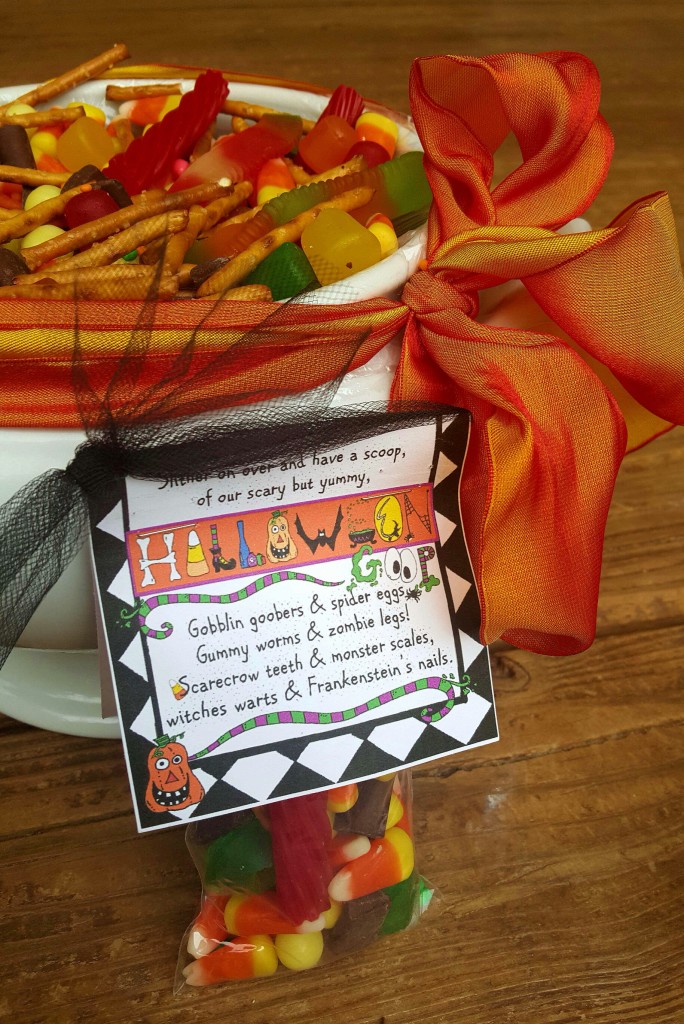 Gather up your favorite Halloween treats…gobblin goobers & spider eggs, gummy worms & zombie legs! Or maybe you prefer scarecrow teeth & monster scales or witches warts & Frankenstein's nails. Well, whatever your goolish appetite desires, check out our spooktacular Halloween mix and original Halloween Goop Tags!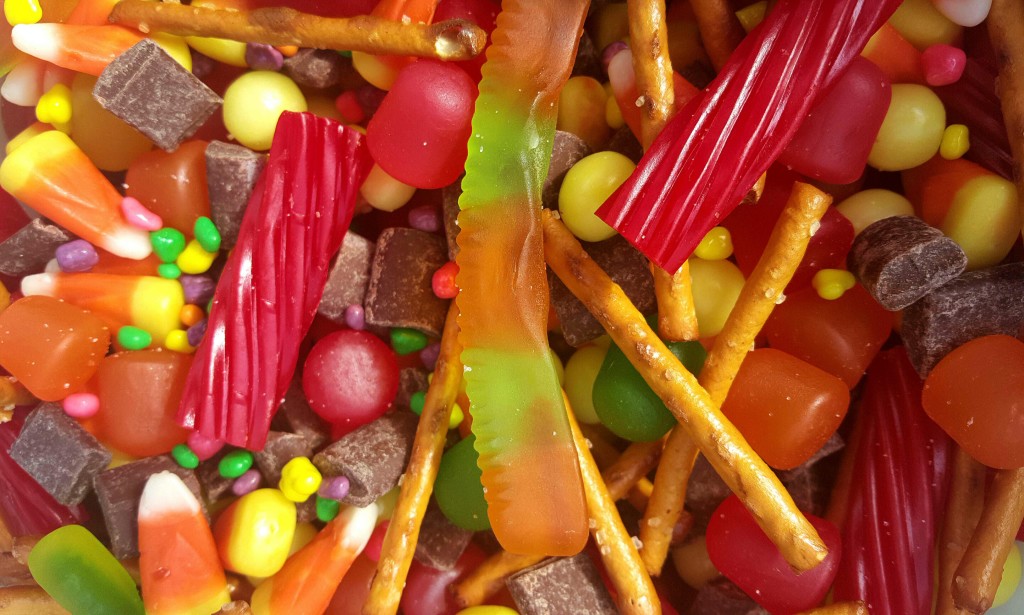 We had fun creating our mix and then packaged up in a variety of ways which are perfect to delight your trick or treaters, bootiful Halloween party favors, and frightastic treats to bring to work or school for your goulfriends and boofriends! MOOOOHAHAHAHAH 🙂
So here's the low down on our frightastic mix and (other ideas) …
GOBBLIN GOOBERS -Nerds (M&M's)
SPIDER EGGS – Lemon Heads (jellybeans)
GUMMY WORMS – gummy worms
ZOMBIE LEGS -2″ pieces of red licorice
SCARECROW TEETH – candy corn
MONSTER SCALES – Nestle chocolate chunks (Skittles)
WITCHES WARTS – Dots (white or chocolate chips)
FRANKESTEIN'S NAILS – pretzel sticks, Good and Plentys, or Mike and Ikes
Just an FYI…If you are making these up ahead of time and will be keeping them more then a week, you may want to skip the pretzels because if it's a little bit humid they may get a little stale.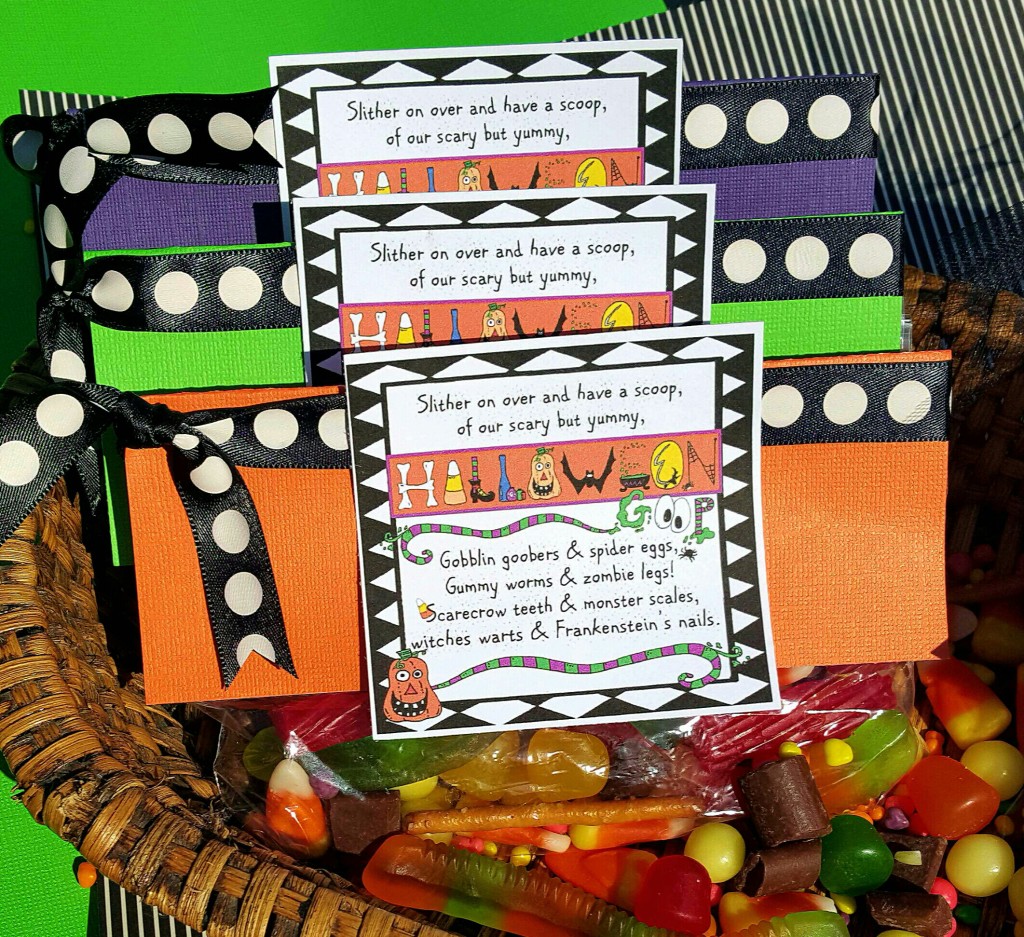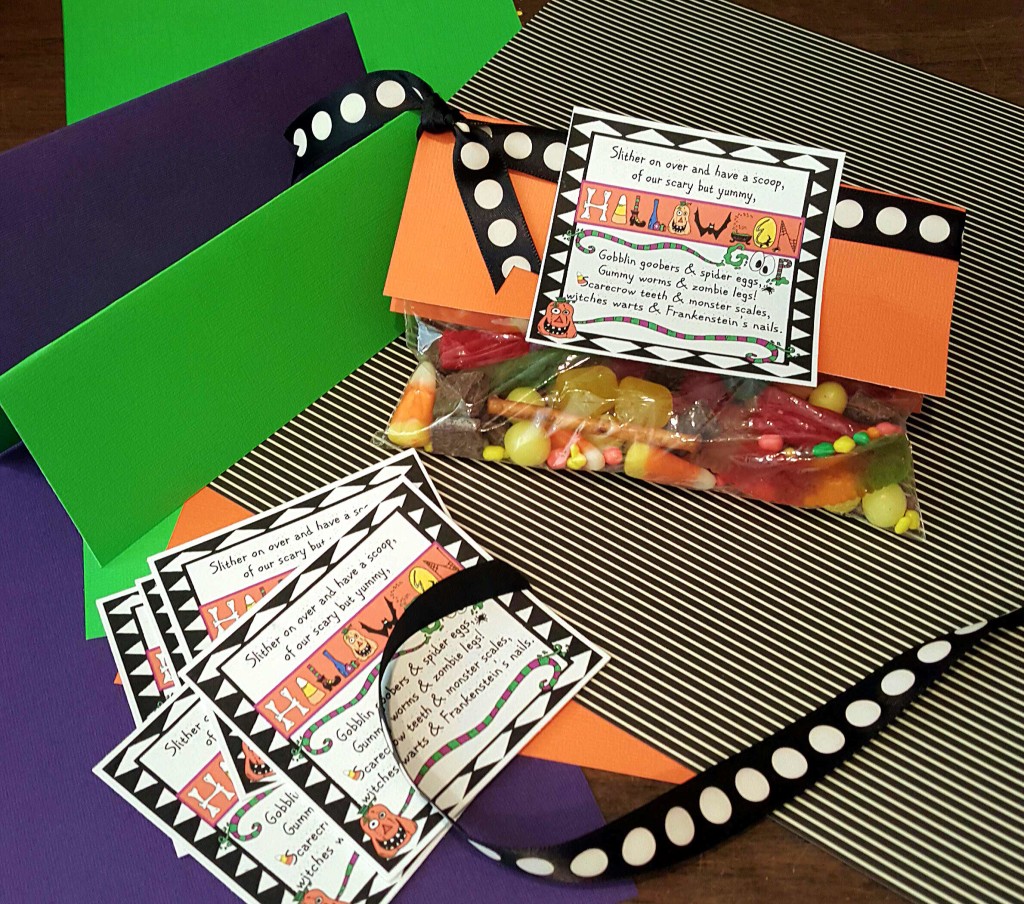 Once you mix up your GOOP, it's time to package it up.
First create some spooktacular labels or you can bip on over to the Joyful Daisy Shop and purchase our HALLOWEEN GOOP treat labels which are available for immediate download to make it really easy. We included easy print PDF files, as well as, JPEG files that you can resize to fit different projects and containers 🙂
Gather up some zip lock sandwich bags, 6 1/2″ x 5″ pieces of cardstock, and 19″ pieces of ribbon.
Place about 1/2 cup of Halloween in sandwich bag, seal it up, and roll it down.
Fold a 6 1/2″ x 5″ piece of cardstock in half lengthwise.
Place ribbon inside fold as shown above with about 3″ hanging out on the left side.
Fold down paper and staple.
Wrap ribbon along the top front of the stapled cardstock and adhere Halloween Goop label to the middle.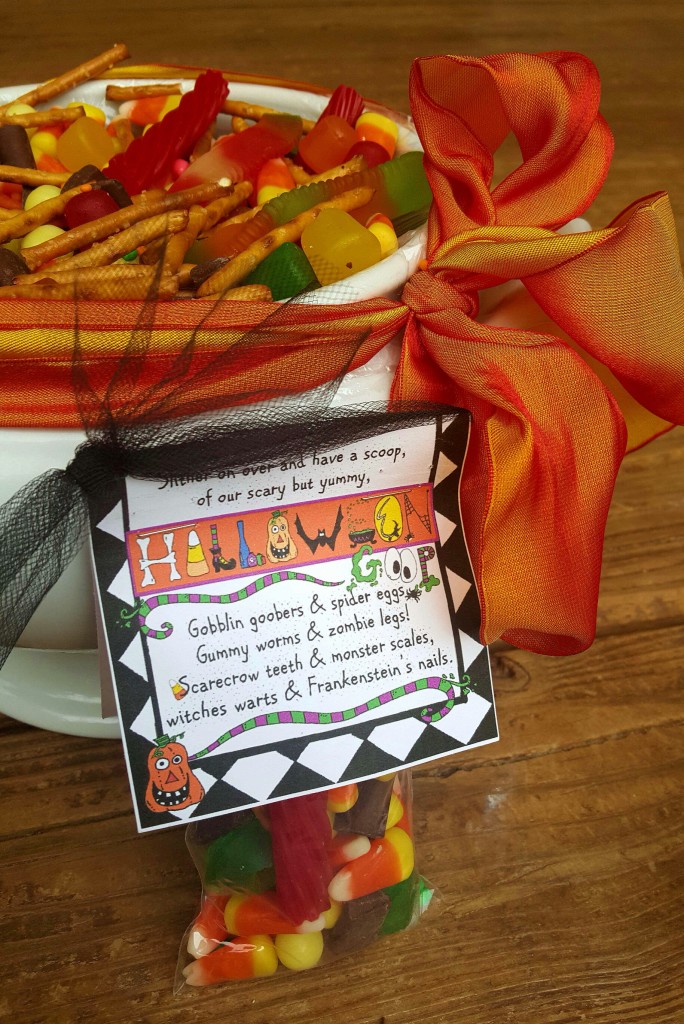 For this packaging we used the folding Halloween Goop tags, 2″ x 5″ bags, and some 3″ black tulle…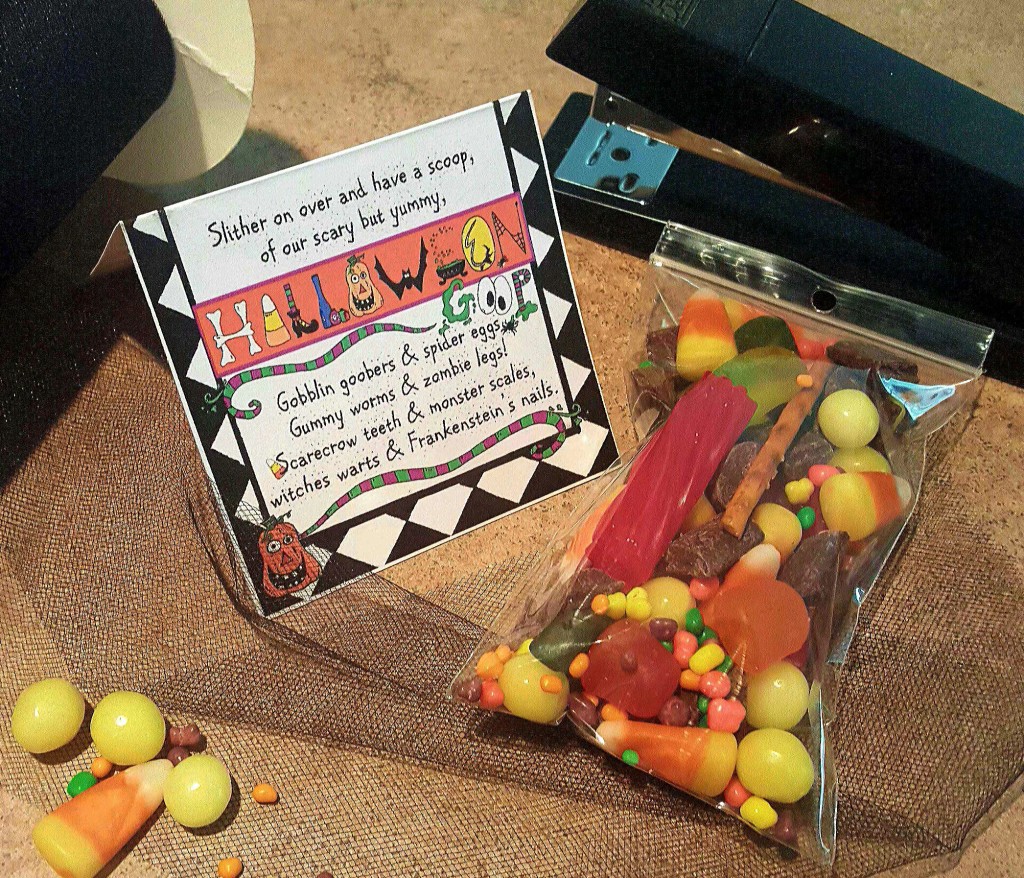 Super simple…
Just fill up your bags, cut out some cute tags and fold in half. Then place tulle in fold, staple Halloween treat tags on bags and tie tulle. Just an FYI, I try to staple close to the top of the orange HALLOWEEN bar so the staple blend in.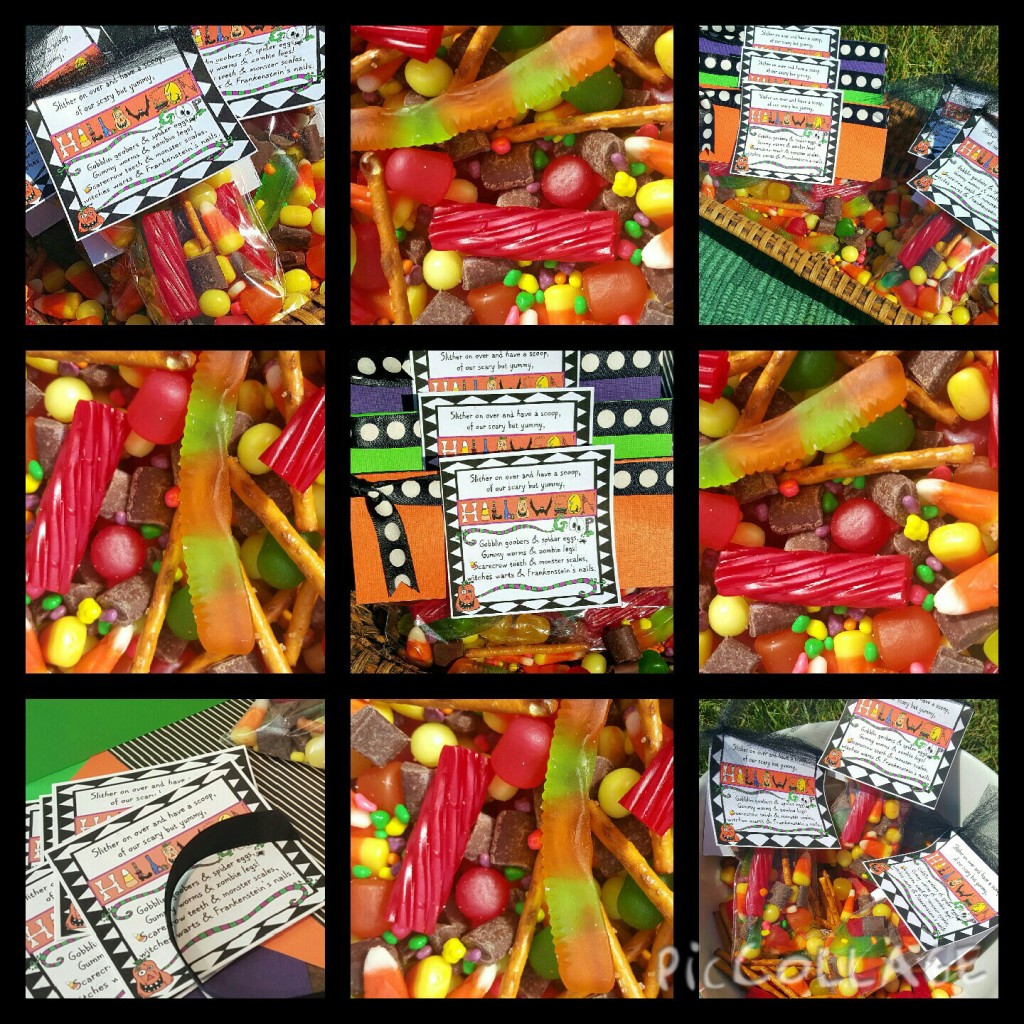 Just CLICK HERE to view our Halloween Goop labels available at the Joyful Daisy Boutique.
HAPPY CRAFTING my soooooktacular friends!
Shared on THE SCOOP Linky Party