If you are looking for cute Halloween cookies that taste great, this may very well be the perfect recipe for you.  This recipe was on a 30+ year old note in my mom's recipe box that was so faded it was hard to read.  Every fall I could look forward to coming home from school to these yummy chocolate filled peanut butter cookies with character. 🙂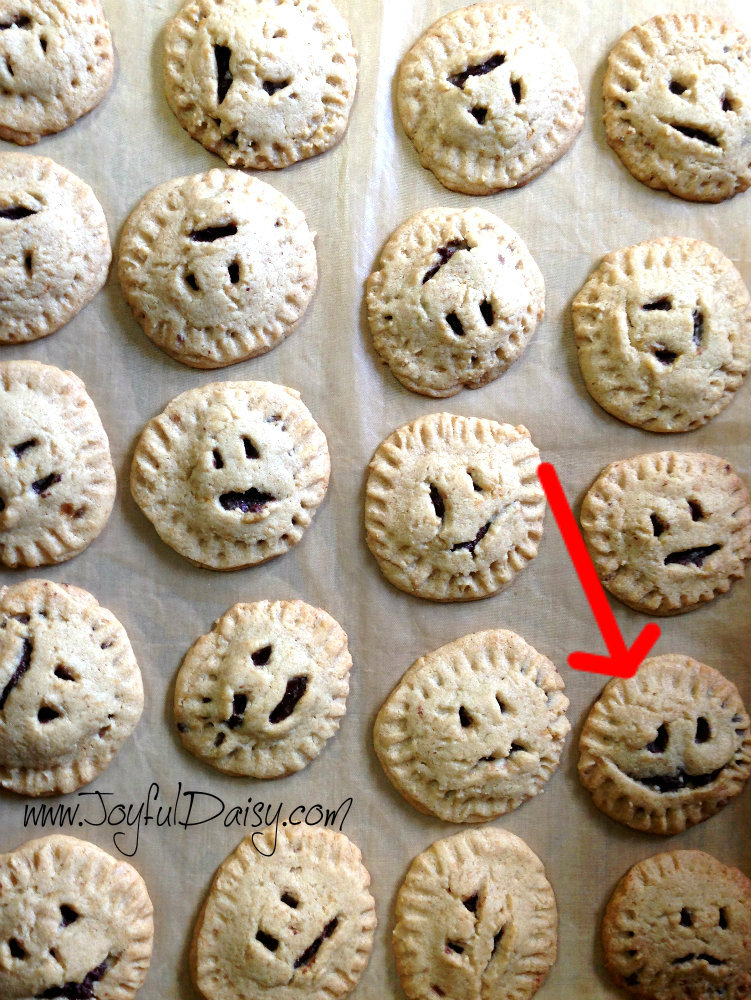 Just look at all those faces!!!  I like the big happy guy on the bottom right!  Little does he know he will be in my tummy soon 🙂
INGREDIENTS…
1 1/2 cups flour
1/2 cup brown sugar
1/2 t baking soda
1/4 t salt
1/2 cup soft butter
1/2 cup peanut butter
1/4 cup corn syrup
1 T milk
FILLING…
2/3 cup chocolate chips
2 ounces cream cheese
1 T powdered sugar
In mixer, cream butter, peanut butter, corn syrup and milk.  Then add flour, sugar, baking soda, and salt and mix until blended. Refrigerate  about one hour until dough becomes firm.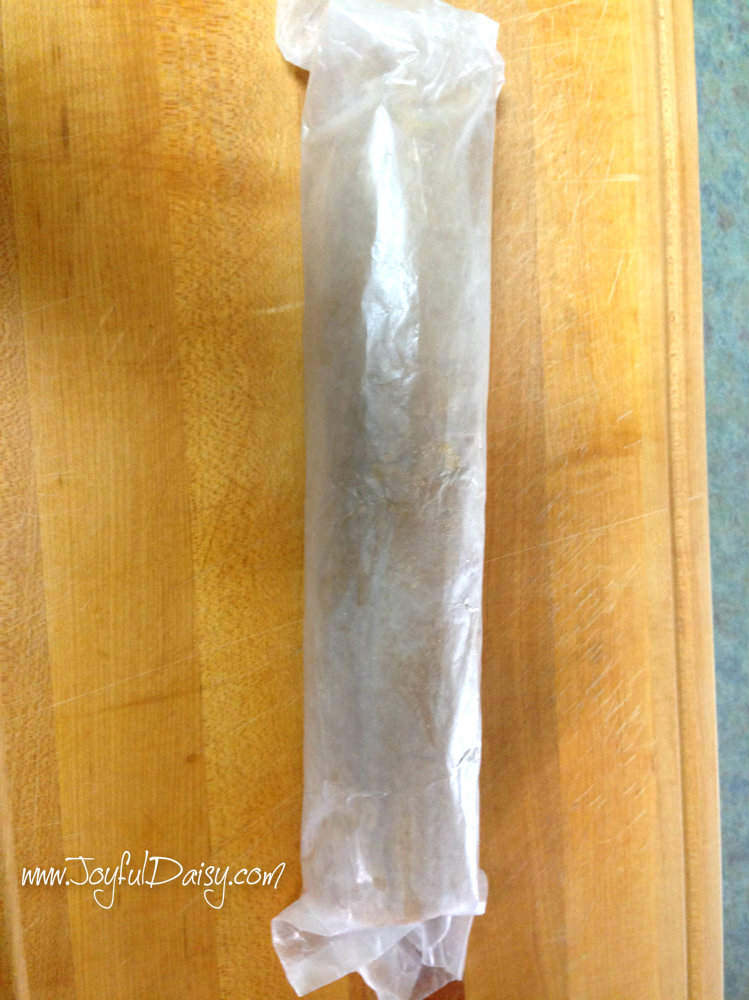 Shape in a 12″ roll and refrigerate 1 1/2 hours or overnight.  You can use wax paper or try cutting an empty paper towel roll lengthwise, line with wax paper, add dough, and then close paper towel roll up to form tube.)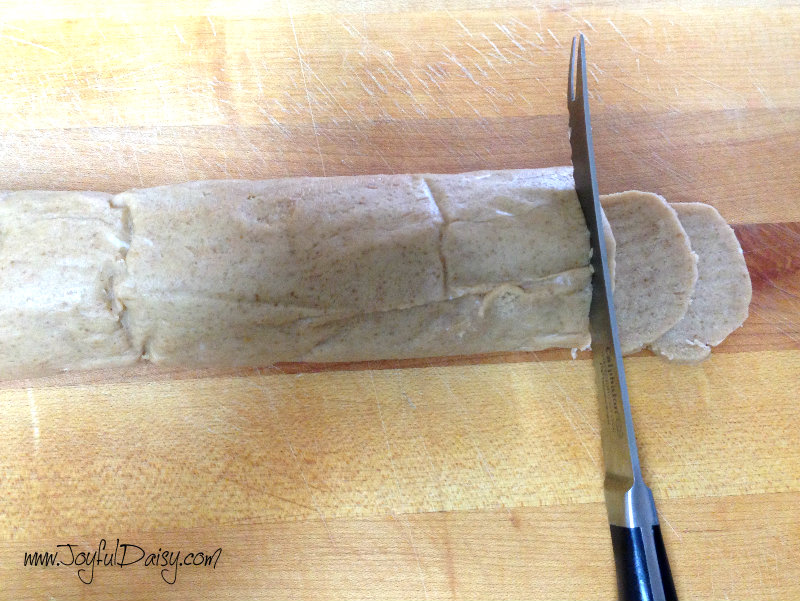 Slice dough 1/8 – 1/4″ thick.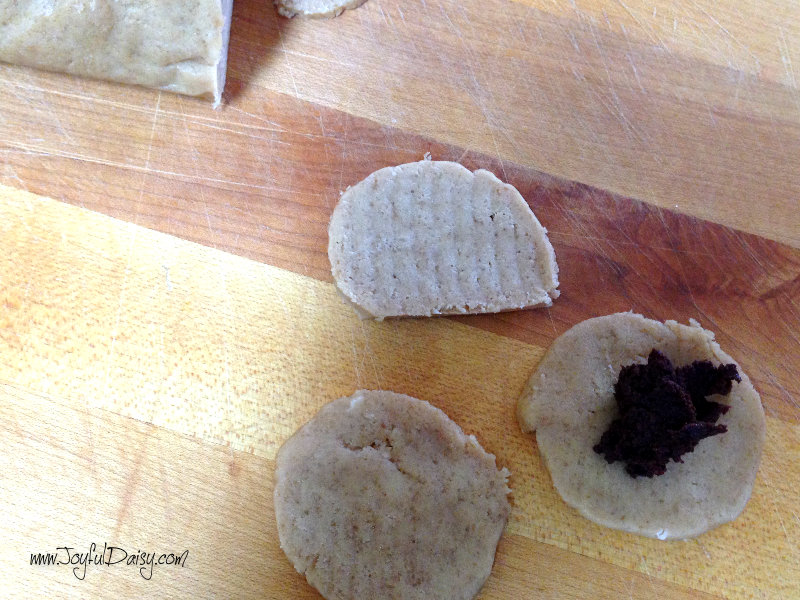 To make filling, melt chocolate chips and then mix in cream cheese and powder sugar.  Place a small scoop  of filling on one slice of dough and then top with another slice.  Just a note… you may need to pinch and squeeze the dough a little if you need to fix a flat edge on your cookie slice as shown above.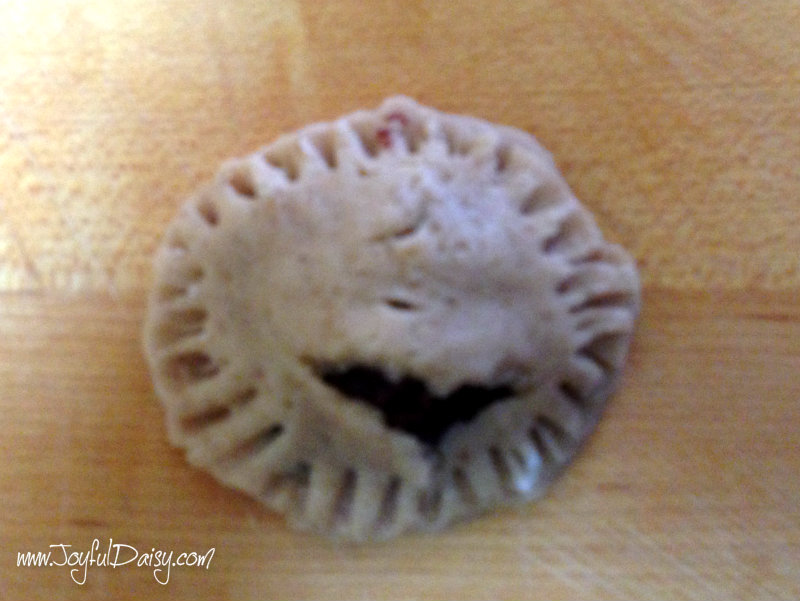 Sorry this is blurry, we must have been rushing things because we wanted to get these yummy cookies in the oven!
Once you layer a dough slice over your filling, press down sides with the end of a fork to seal.  If a crack forms, as it did in the picture above, you can just use that for your goblin cookie's mouth. 🙂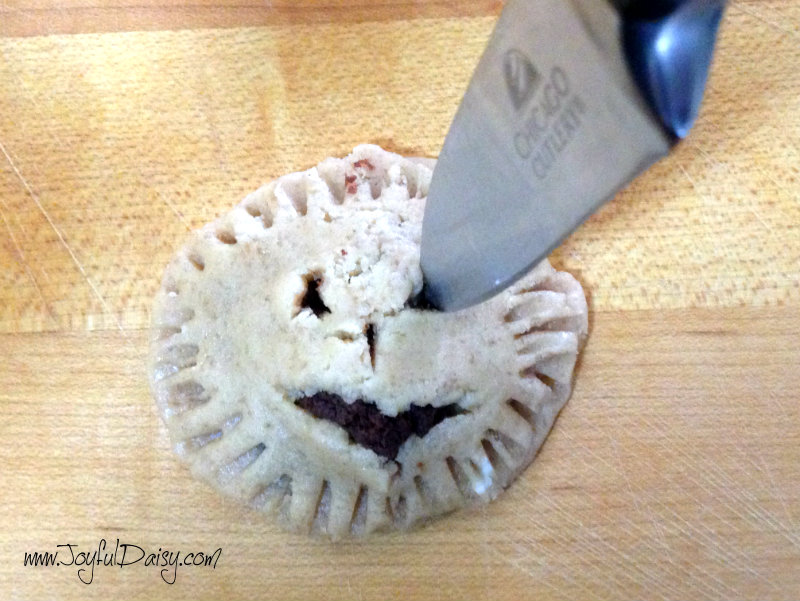 OK, I know this is a Halloween cookie recipe but I hope the picture above does not give you nightmares!!  It looks a tad bit vicious to me but I wanted to show how easy it is to make your faces with a knife!  Maybe you don't need such a large knife, but this worked for us. 🙂
Place goblin cookies on greased cookie sheet and bake at 350 degrees for about 12 minutes.
Put on a good cup of coffee or chill a milk glass…..
Remove from oven, let cool a tad, and ENJOY!!!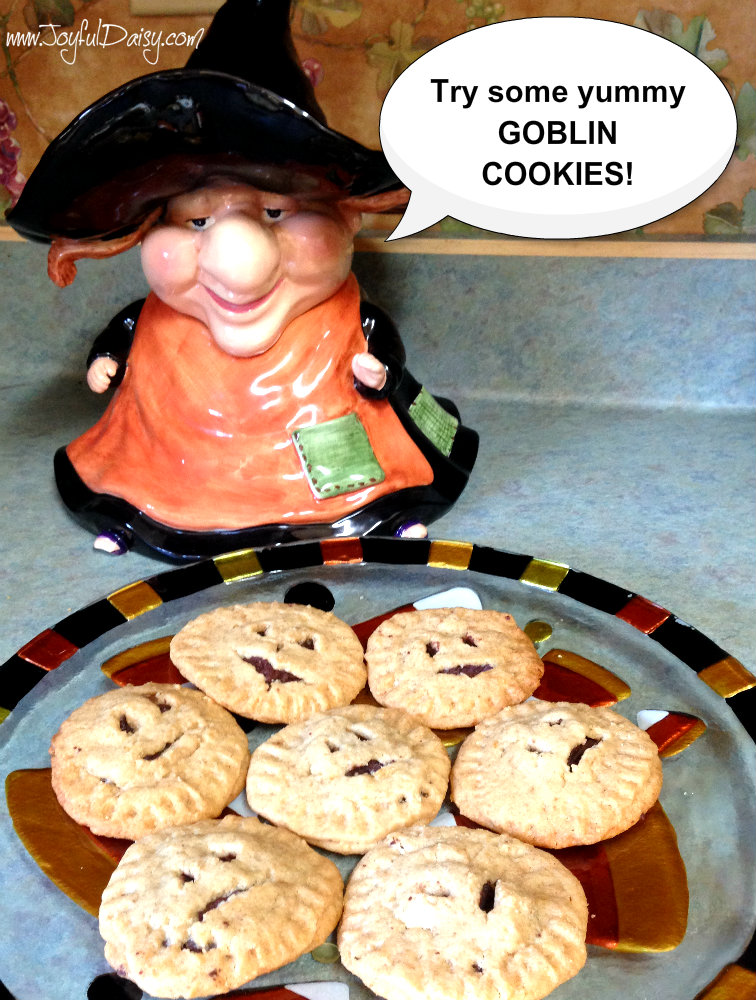 Happy Halloween!
Wish I could send you a cookie through cyberspace, however I can share our Haunted Home Tour with you though if you want to check it out!
Come on in 🙂