Yummy Gluten Free Treat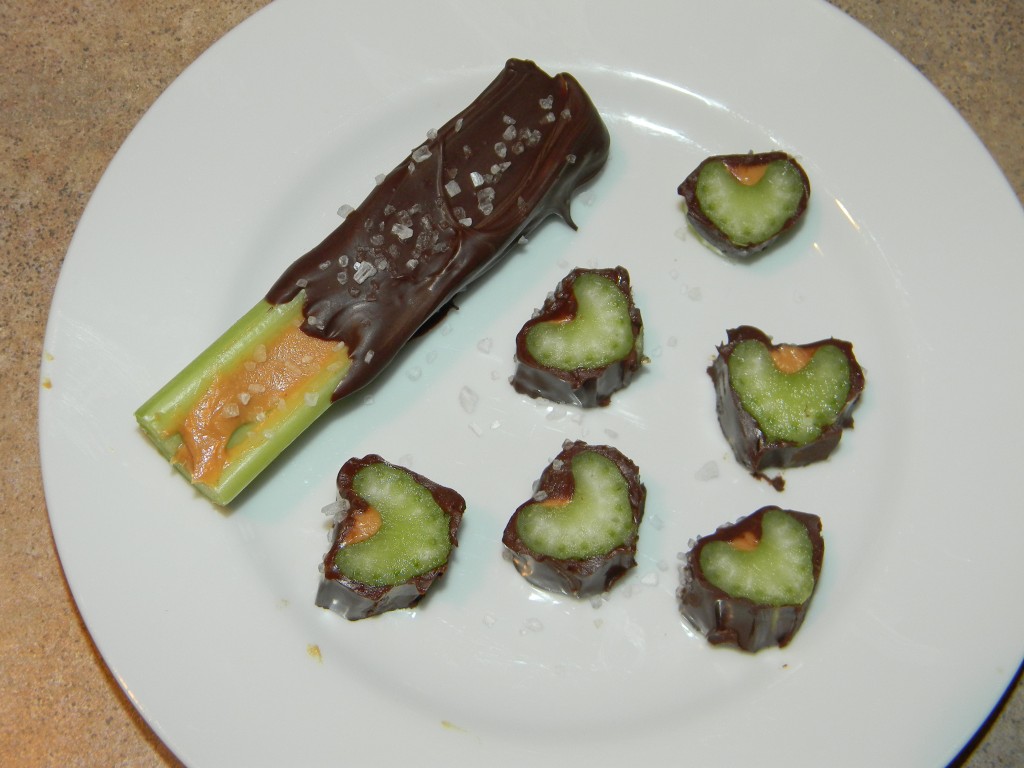 I am not sure how healthy this is but I do know that this salty and sweet, gluten free treat did not last long at my house!    The crunch of the fresh celery mixed with smooth sweet chocolate, rich peanut butter, and extra salt really came together nicely.  I also love how the pieces look like little hearts once they are cut- cute for Valentine's Day snacks maybe.  My daughter also pointed out how yummy celery would be next time we pull out our chocolate fountain.  She said we could have the celery all ready to dip with peanut butter already on them, such a nice idea darling 🙂
The gourmet celery assembling hardly needs explanation, however, I did want to mention a few things…
If your peanut butter is getting into your chocolate as you dip it, you can stick the celery filled with peanut butter in the freezer for 5-10 minutes.
Also, while I love the extra salt, Lily and I thought I put it on just a tad bit too heavy.  So add the salt lightly and then try a piece to see if it is to your liking 🙂 Next time I plan on using about half of what shows on the top photo.
Lastly, wait for the celery to cool and the chocolate to harden first if you plan on cutting into bite size "heart" pieces.  Just stick them in the freezer if you don't want to wait long!
Oh and one last thing… wouldn't dried cherries or cranberries be great on top of the chocolate?  I think I will try that next time:)