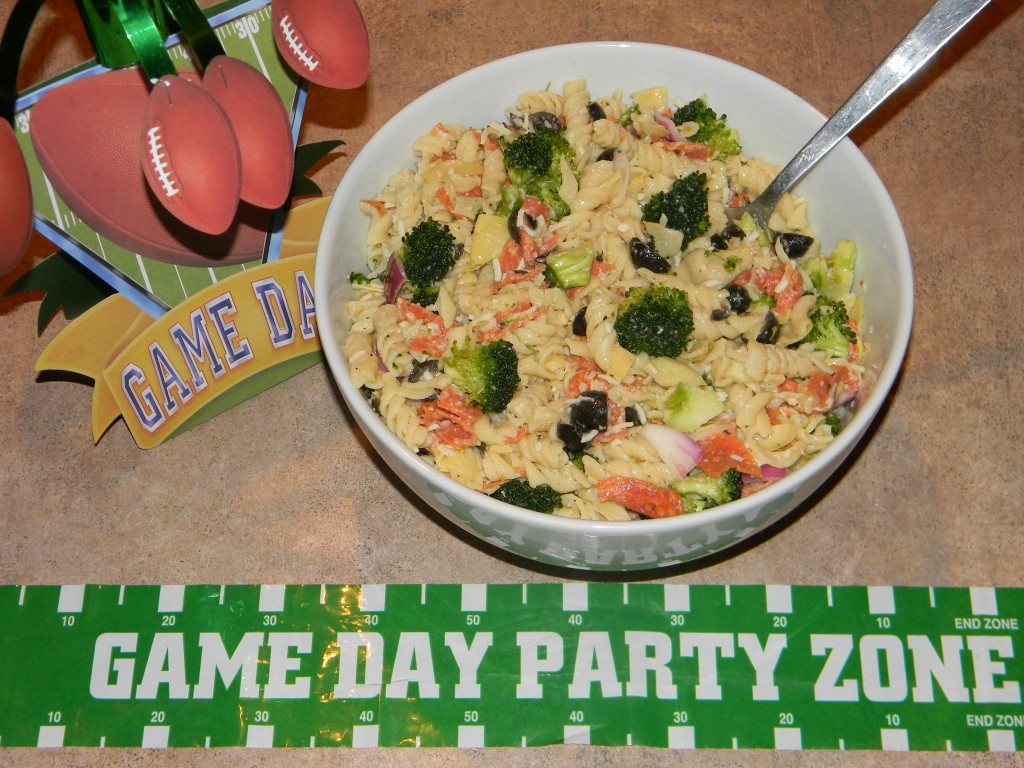 This pasta salad ranks high in our favorite GAME DAY FOOD!  It pairs wonderfully with wings, BBQ meatballs, and sliders:)
This picture shows the ingredients I used this time but I share some variations at the end.
16 oz rotini pasta
Zesty Italian Dressing mix
1/4 cup white vinegar
3T water
1/2 cup oil
3 cups chopped broccoli
small red onion, chopped
6 oz package of pepperoni
13.75 oz can of artichoke hearts
6 oz can small olives
1/2 cup mozzarella cheese
1/2 cup grated parmesean cheese.
1/4 t salt and 1/2 t pepper (or to taste)
Cook pasta according to package instructions, drain, and rinse.  Place in large bowl.
Make dressing according to instructions with water, oil, and vinegar.  Add to pasta.
Add chopped broccoli and onion to pasta and mix.
Dice pepperoni and add to pasta, mix well.
Slice artichoke hearts and cut olives in half and add to pasta.
Add cheese, salt, and pepper
OPPTIONAL VARIATIONS THAT WE HAVE ENJOYED…
Replace pepperoni with hard salami or add them both.  The pepperoni adds a little "bite", so use hard salami if you don't like that.
Add a small bottle of diced, and well drained salad peppers, if you want even more "bite".
I like the regular Italian dressing mix the best and my hubby likes the zesty best – both are good.
I also love tiny grape tomatoes in this salad, I just didn't have any on hand and it is still yummy without them 🙂