I do believe that my son may be the world's biggest Detroit Lions fan. Well…… the apple doesn't fall far from the tree I guess, since his daddy has been a loyal fan for decades- yes decades. For Reece's 8th birthday we surprised him, changing the University of Michigan décor (yes we still are Wolverine fans 🙂 ) to of course his beloved Detroit Lions. He was thrilled! It was lots of fun other then the terrible out gassing from the silver paint! I will post a couple more pics of his room at the end of this post.
Well a year later, Randy inspired and hopeful by the many changes that the Detroit Lions are making, drew up this new wooden sign for Reece's room. Randy has made lots of wooden signs for me over the years, pre-blogging days so this time I thought it would be a great project to document and share so you can see how easy it is…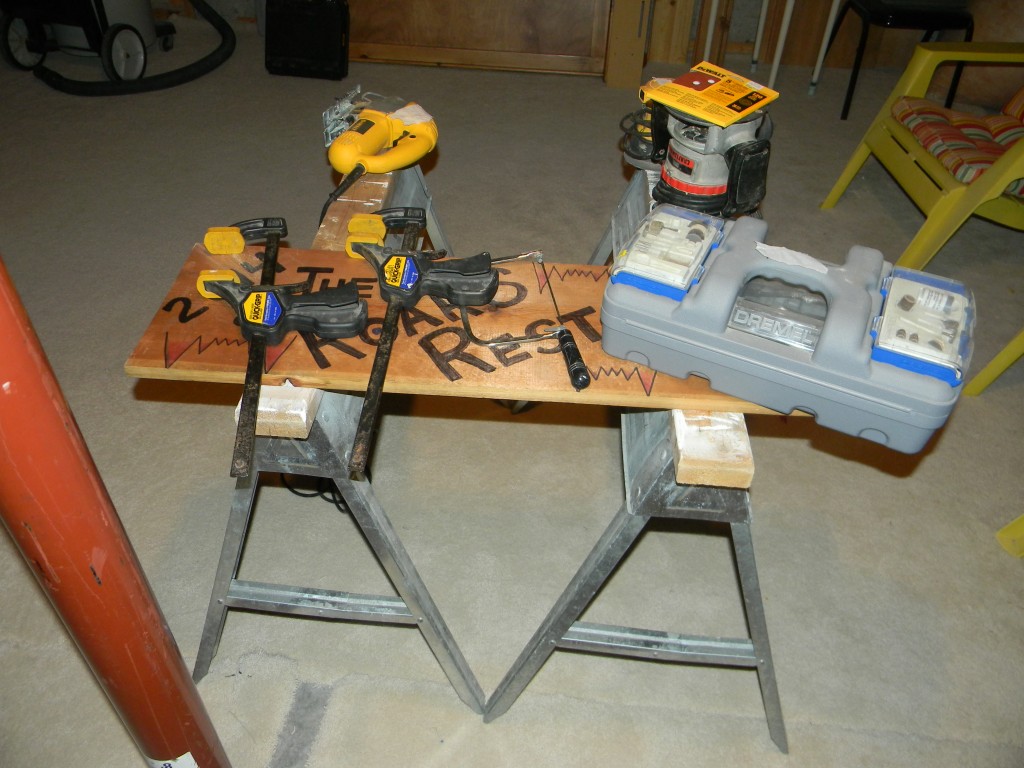 Randy started with a 1″ * 10″ board about 4 feet long. Then he drew his chosen design with a pencil and then when he liked his design he drew it in with permanent marker.

Once your design is completely drawn, it is ready to router.

Make sure to fasten your board down. Randy clamped the board to a couple saw horses. Then he scribed out the design with his router. On some of the signs Randy has made in the past, he sanded down the uneven routered lines in the letters, however, he left the letters unsanded because I liked the rough uneven lines in this design- they look to me like a lion scratched them out:)

Next cut edges with a jigsaw. (Sorry we didn't get a picture of this step.) He also used his small coping saw for a couple of the smaller points.
Then sand by hand or with orbital sander.

Wipe sign clean, after sanding and add a coat of stain. (You can also see the sling shot Randy is making:) I will have to share that too.)

Let stain dry overnight and then paint with acrylic paints.

To hang sign, we screwed it directly into studs, so it will withstand pillow fights or any rough housing that may occur being in a young man's room:)
In case you are wondering…Umpa Bear is Reece's nickname:)

We decked the halls Detroit lions style:)

And one more wooden sign… and again if you are wondering….
Lily's family nick name is Woobie:)

***************************************************************************
If you enjoyed this post, be sure to sign our email list on the top right hand column and you will be the first to see our new projects. We have a lot more fun stuff planned!
You can also connect with Joyful Daisy on

FACEBOOK

,

GOOGLE

,

PINTEREST

,

TWITTER

,

AND

RSS

. I would also love it if you shared this project by clicking social link buttons below 🙂
Thanks for stopping by
Cyber hugs,
Amy- joyfuldaisyforever@gmail.com