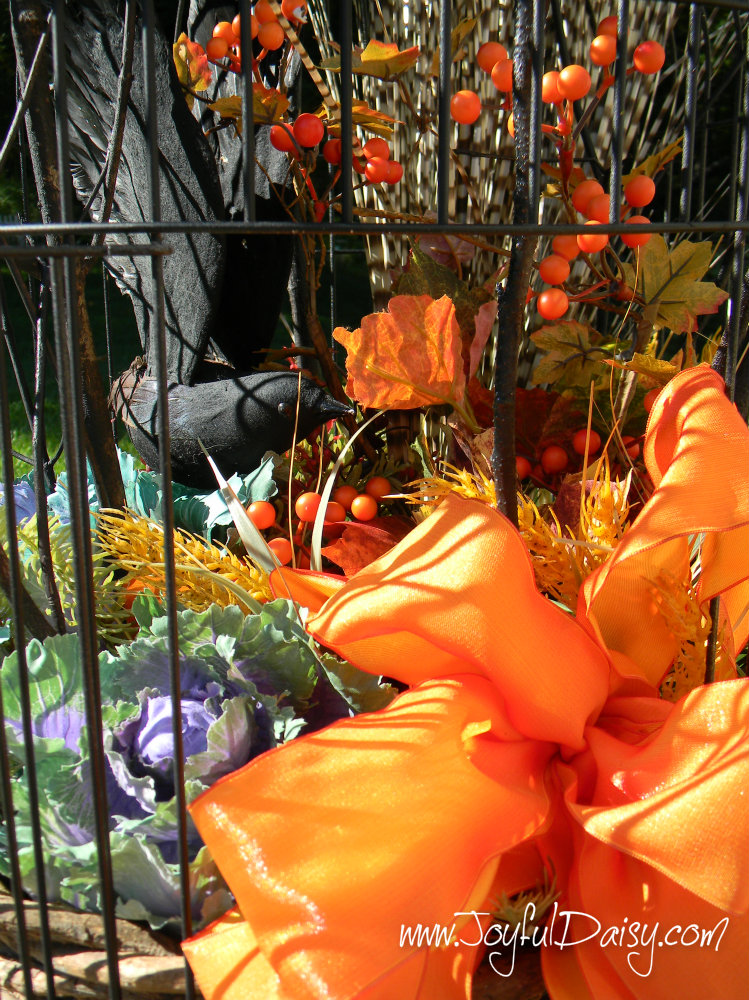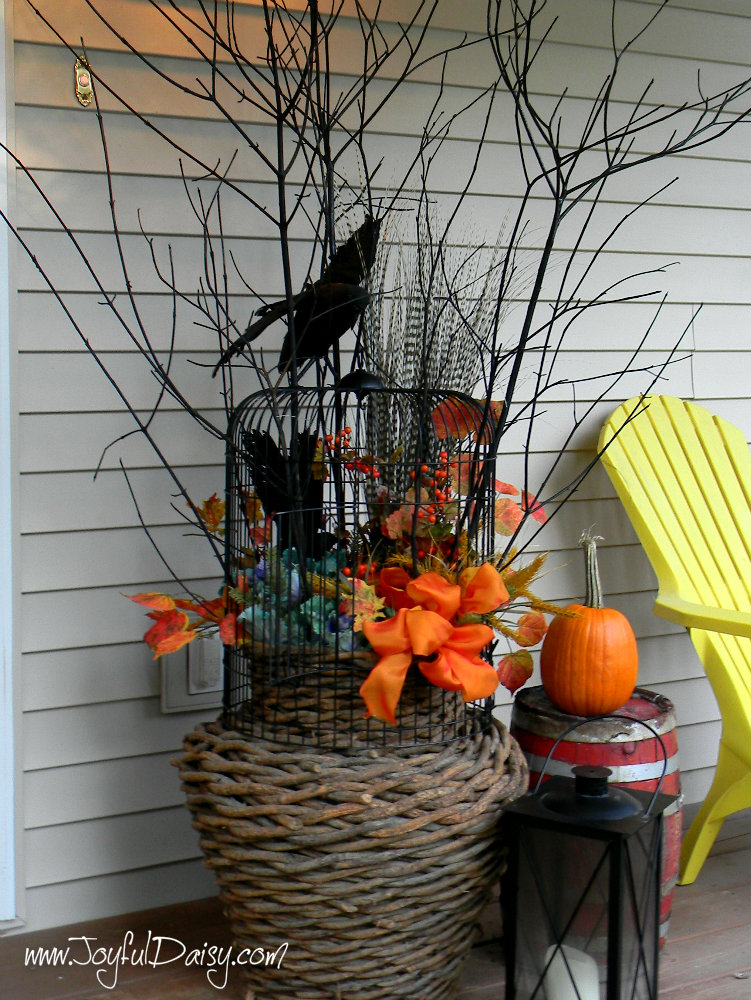 This was such a fun project inspired by a birdhouse that I picked up at my grandpa's old antique store.  It just needed a new look so I sprayed it black and then found this perfect urn shaped basket to set it on.  Then I added some twigs, silk flowers and stems, and then a few crows to top it all off for the focal point of my fall porch decorations.  Let's my show you how simply it all came together. 🙂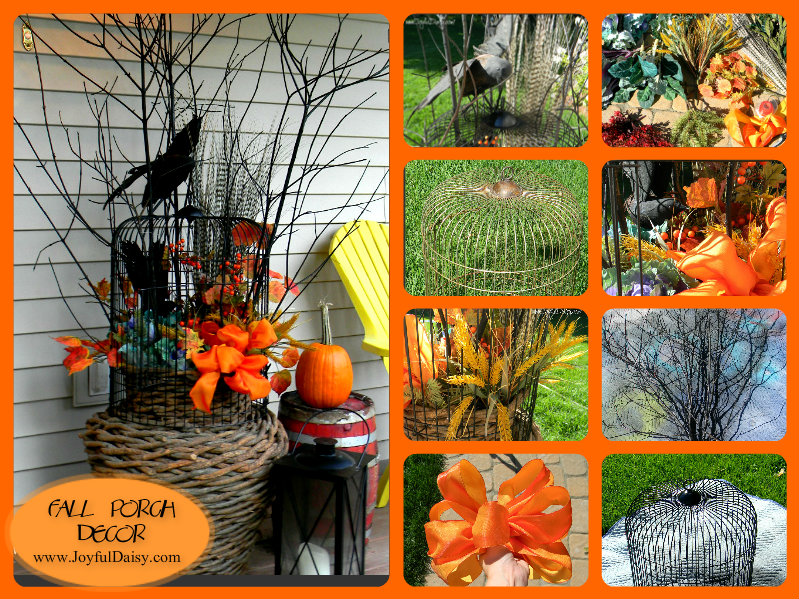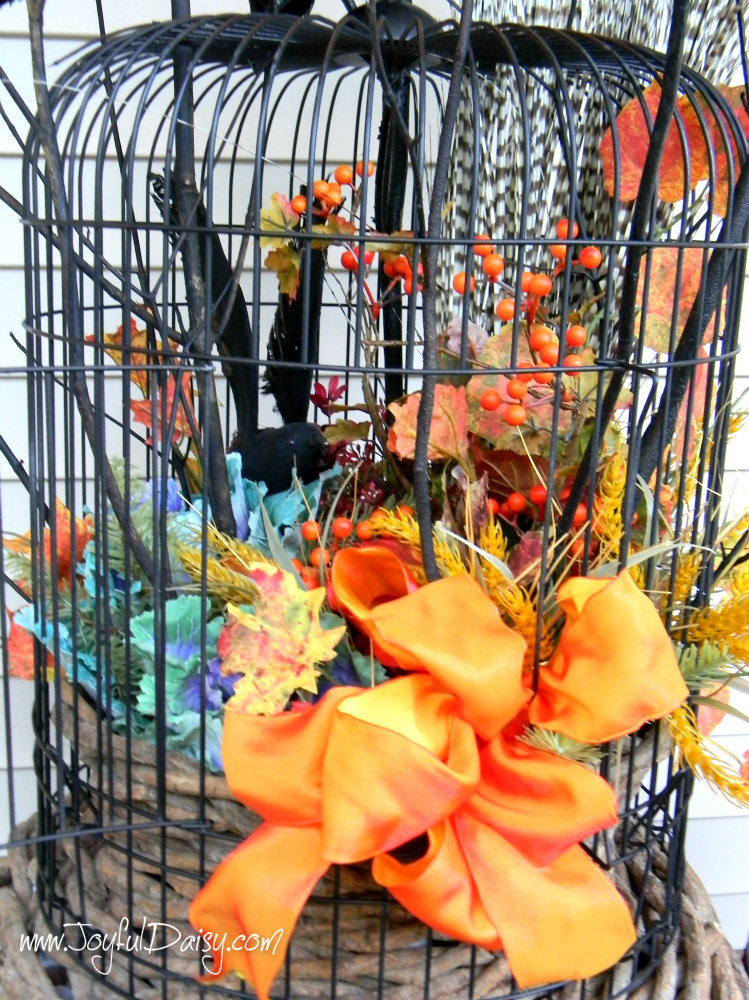 As many of my projects do, I started with the hose and some spray paint!
First I just hosed off the birdcage and let dry in the sun.  Since it was a bit rusty, I sprayed it with a light coat of Kilz primer.  After about 10 minutes when the primer was dry I sprayed with one coat of black paint upside down and then one coat of black spray paint when it was right side up.
 I loved the twigs I gathered for my Spring urn so I finally found where I stashed them in the woods about 3 months ago.  I piled them up and sprayed them with black spray paint, waited about 10 minutes, flipped them over, and then gave them one more coat of black paint.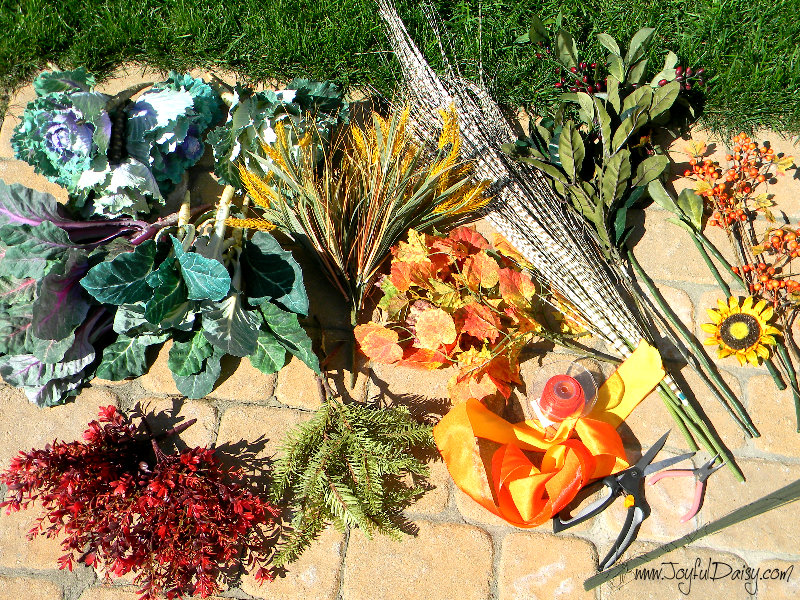 I used most of the items shown above in this fall arrangement.  I only used two of the silk cabbages.  I didn't use the silk kale leaves, the lone sunflower 🙂 or the olive stems on the top right in this design.  It's nice to layout different plants and stems to use so you can choose from the different colors and textures as you go.   It is nice to have an assortment of durable silk plants and stems because many can be used for multiple purposes and seasons.  For example, the cabbages were used in my spring urn and I have lots of the small red bunches on the bottom left and often tuck them in our real Christmas tree if it is a bit sparse.  (I put up a lot of fake Christmas trees but our main real tree tends to be like Charlie Brown's 🙂 )
First I filled the bottom of the urn basket with scrunched up newspapers and placed the bird cage on top.  Second step, I poked the painted twigs through the top of the bird cage into the urn.  Third step, I added one large and one small cabbage on the left and a silk wheat plant on the right.  Step four, I added two small red silk plants to the back of the planter.  Step five, I tucked in three pine sprigs.  Lastly I added two orange berry steps into the birdcage, then I added six stems of striped grass through the top of the bird cage, and then finished with bow.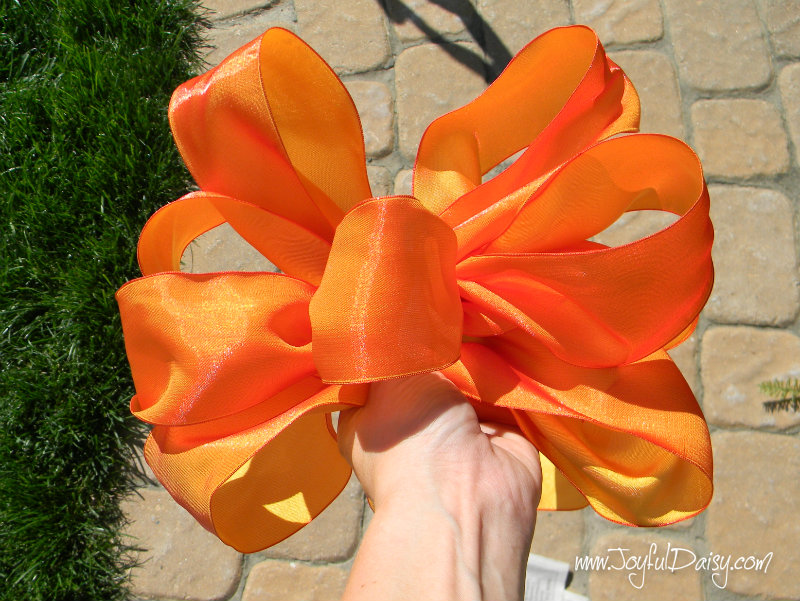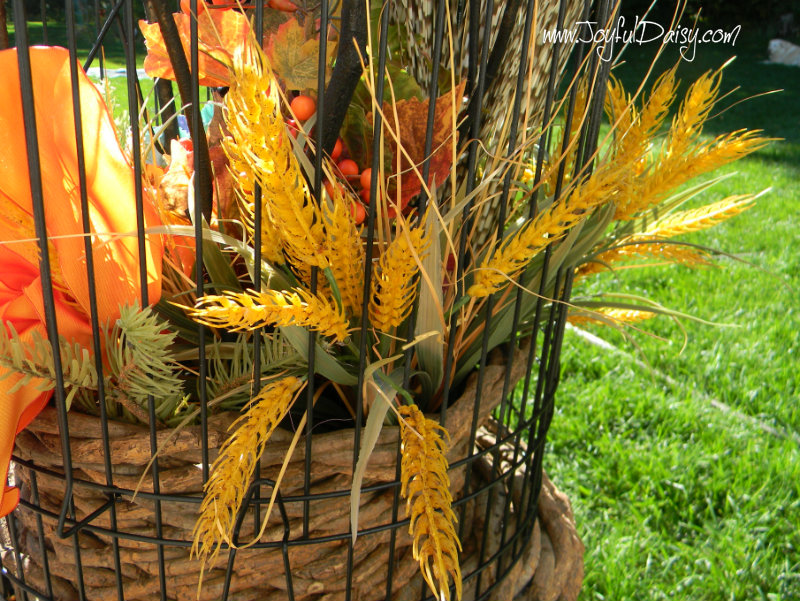 I pulled a few of the pieces through the birdcage.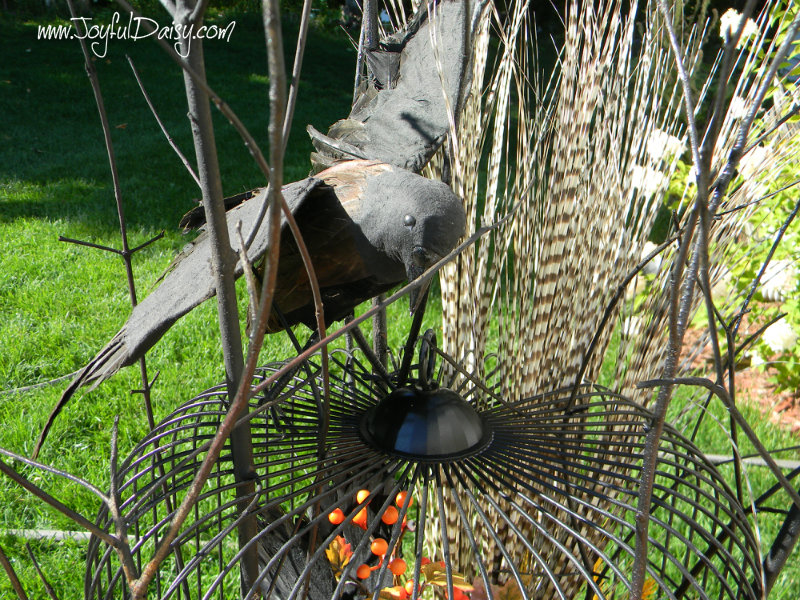 My favorite part of this project is the crows.  I wired one large crow to the top of the bird cage and one small one inside the bird cage.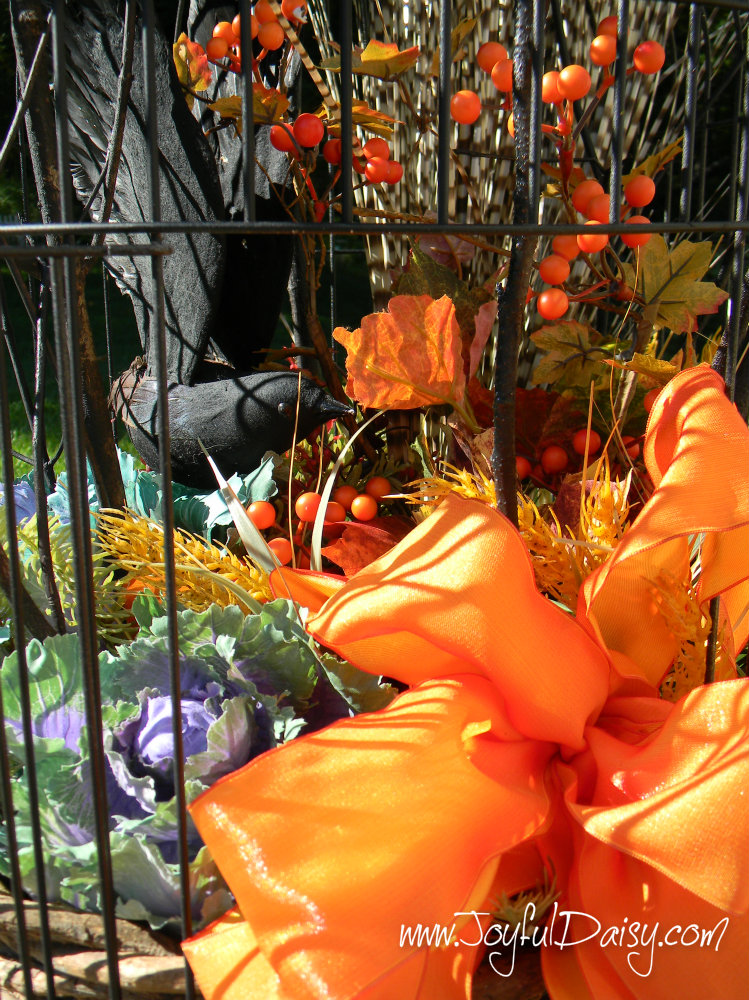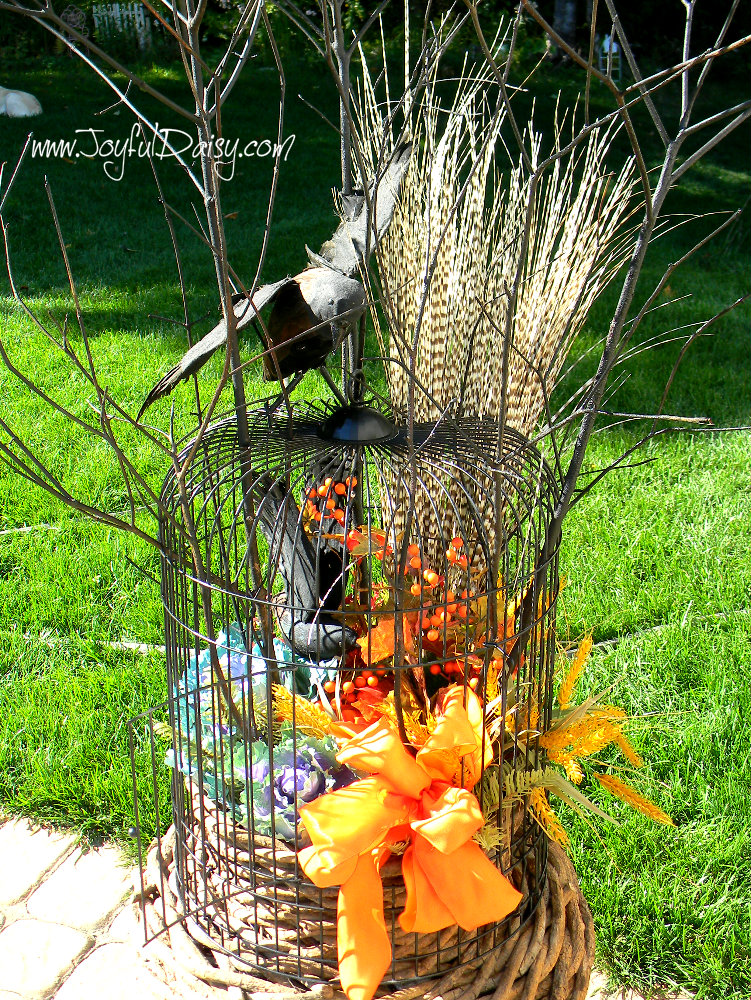 I also wired down the birdcage to the urn in a few spots because we get a lot of wind on our front porch.  Just an FYI…I probably should have weighted the urn down with a few large rocks or bricks before I added the newspaper just to give it some more stability.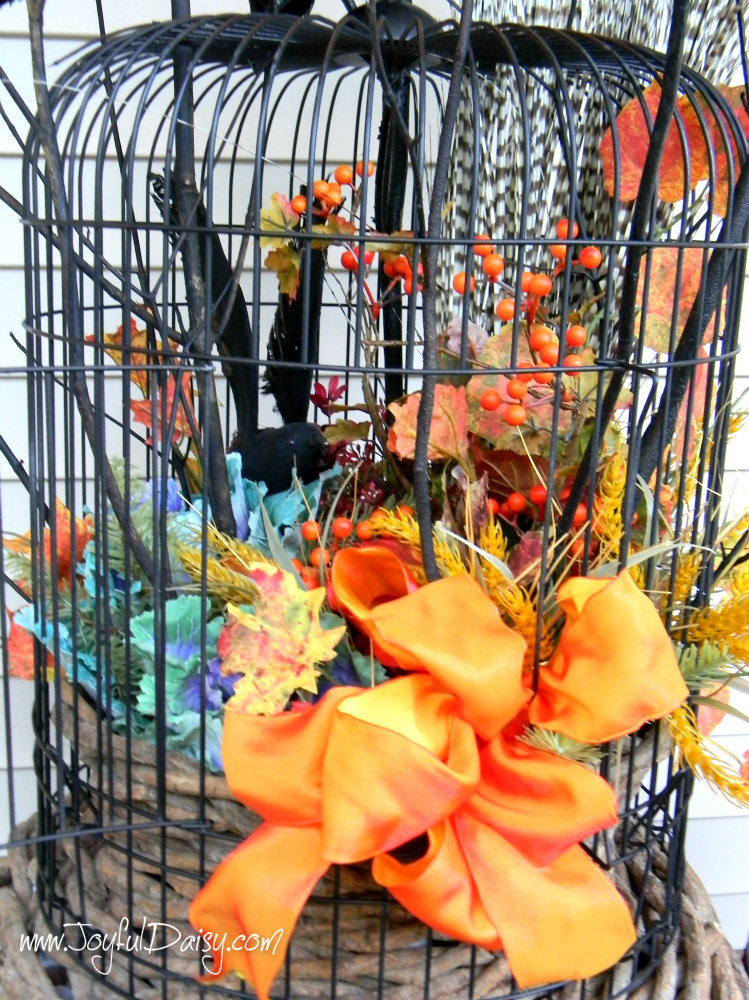 I also tucked in a few stems of fall silk leaves that I had left over from decorating inside.
OK, gotta go now and get decorating inside so I can bring you my HAUNTED HALLOWEEN HOME TOUR 🙂
JD Linky parties at SAVY SOUTHER STYLE