I love using these large plastic jars to store my recycled shopping bags until I need them, however, until today, they were plain and boring- no need for that!  Thanks to my Lily, my shopping bags can now be stored in style!  Lily's best friend is what we call the Duck Tape Doctor so her influence has inspired Lily to be the Duck Tape Nurse – she just told me this:)  So she nursed my bag holder back to health, I mean style!  This is a Joyful Daisy tip gone Vogue:)
DUCK TAPE BAG HOLDER
GATHER YOUR SUPPLIES

…
Large recycled jar (I used my pickle jar for GFS-yum!)
Duck Tape
Xacto knife and scissors
Cutting Board
Pen
OPTIONAL- Ribbon
OPTIONAL – Glue Gun
READY, SET, CREATE…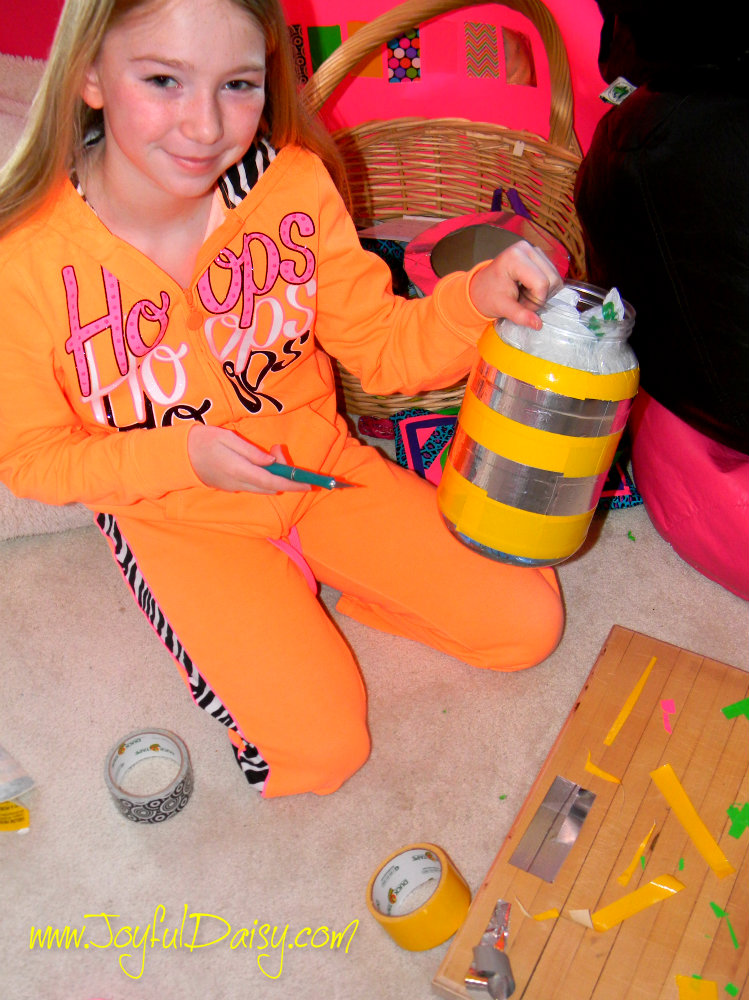 Wrap jar with strips of duck tape.
Starting with the bottom strip, overlap strips of duck tape about 1/4″ until you have the right size to draw your desired shape.
Draw your desired shape on the duck tape.  Lily free handed a heart, but you could always trace a pattern on to duck tape.
Using Xacto knife, cut along drawn shape lines.
Peel up unused duck tape starting from the bottom edge.

The picture above on the left shows Lily cleaning up the top right side of the heart.
The picture above on the right shows Lily adding a small piece of duck tape, overlapping it a bit and then cutting it again until she got the shape she desired.
Carefully peel up your design, starting from the bottom and place on jar.
OPTIONAL: Hot glue some ribbon around the top edge of the jar- looks cute!
FYI… You can really stuff a lot of bags in a large like this, but just add one at a time so you can pull one out easily.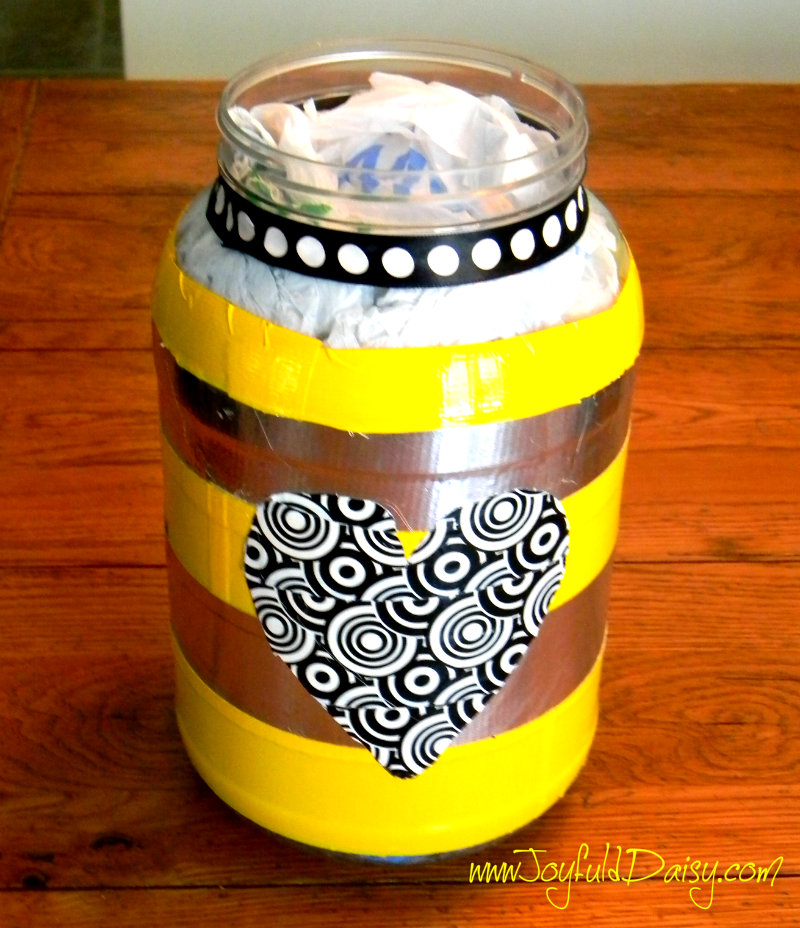 Thanks LILY luv u:)
If you enjoyed this post, be sure to sign our email list on the top right hand column.
You can also connect with Joyful Daisy on

FACEBOOK

,

GOOGLE

,

PINTEREST

,

TWITTER

,

AND

RSS

.  I would also love it if you shared this project by clicking social link buttons below, sharing is caring 🙂
Thanks for stopping by
Cyber hugs,
Amy- joyfuldaisyforever@gmail.com
LINKY PARTIES FEATURING LILY'S DUCK TAPE BAG HOLDER…