Well hello my little tinker fairy!!!
You know those things you talk about and never do?  Well, having a fairy party is something we talked about for almost three years and then finally we set a date!  Yes that seemed to be the key, getting that date on our calendar.  Once that date was set, activities started getting planned, favorite recipes got pulled out, and the wings got dusted off:)
The rest they say…. is history… and I hope you enjoy the recap…
LET'S SET THE STAGE…
While I started decorating, Lily and Nana Lin were busy with the food.
Now if you look close at the marshmallows that Lily is so carefully and seriously dipping you will see a few brown ones….nope we didn't toast them but they are covered in toasted coconut!!! Love those little coconut honeys!
FAIRY PARTY MENU…
Dipped Marshmallow Pops with Sprinkles – featured in Fairies Cookbook
Fairy Garden Cottages- featured in Fairies Cookbook
Red Punch (1/2 of recipe- it makes a lot)
Nana Lin's Frozen Lemon Pie (I will try to get this recipe posted soon 🙂 )

Fruity Magic Wands and Marshmallow Pops were the perfect treat for our fairies.
Lily made some tissue paper flowers to decorate the table and then sprinkled some little gems around for a simple, quick, yet fairy worthy centerpiece.
Well, we didn't need many decorations with all the beautiful flowers blooming all around us but I decided to make some big bows out of a wide paper satin ribbon I found with lots of curly ribbon spilling out from the center!

I made some PAPER BAG FLOWERS to hang from the pergola and above one of the food tables.  They were fun to make and I loved the way they looked.

We kept the edible fairy cottage building supplies safe in the gazebo until we were ready to make our masterpieces!
OK…snacks are out, decorations are up, wings and eyelashes- oh yes 🙂 are on so …
LET'S GET THIS FAIRY PARTY STARTED…
Oh my cuteness!!!  The arrival!  Seeing all these curled and ruffled fairies arrive with twinkles in their eyes was absolutely delightful!!!
FAIRY PARTY ACTIVITIES…
Face Painting
Wand Making 101
Story Time
Glitter Time – LOOK OUT 🙂
Ladder Ball
Edible Fairy Garden Cottages – YUMMMMM!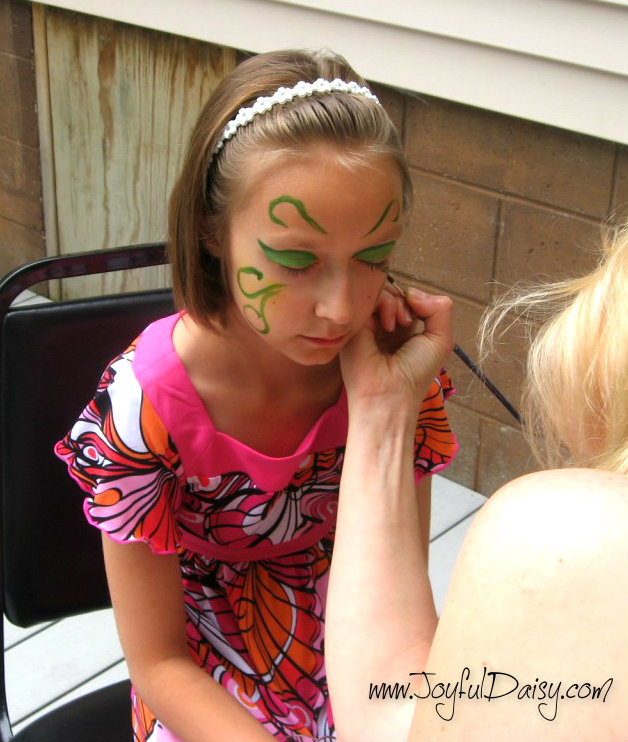 While everyone started snacking and catching up I started face painting which was a big hit, although it kept me busy for awhile!  The fairies enjoyed looking through a face painting book that I had for ideas and it made it really easy for me with simple step by step instructions.

 
Next we started wand making, you know… in case you needed a new one 🙂
This photo is not only precious because of the eager little wand maker in the middle but also because it features three generations!  Being a member of the middle generation, I am soooooo grateful that our mom's found each other and became great friends many years ago!  So thanks moms!!!

Just look at the concentration!!!
Don't you just love how the tinker sprite is admiring the little fairy's new wand!  (Yes I did say sprite not fairy- dad is pretty cool but wasn't real jazzed about calling our little guy a fairy)


To make fairy wands just cut some small dowels about 12-14″.  Cut  a bunch of ribbons about 24″ and place in the middle of the table with some scissors, assorted washi tape, and some wooden beads with holes that can fit on the end of the wand snuggly over the ribbons to hold them in place.

While we set up the next activity…making edible fairy houses out of candy, frosting, and cupcakes; the kids had fun looking through some of our favorite fairy books and then gathered together to tell some stories of their own.

Must be a good story… 🙂

And now for those edible fairy houses we were talking about!





This was a real hit with our little fairies!
They made great party favors for the fairies to bring home and enjoy later!

After all that sugar, because you know it didn't just go on the fairy houses… it was time to play some games.

One of tiniest and happiest fairies got some snuggle time with mommy!  Not much better than that!

Caught in the act…stealing tomatoes!
I guess I should have had more healthy snacks 🙂

And what about these awesome tinker glasses!!!!
These are a Lily original!  She just cut out the bottom of these little disposable, clear cups and then added pipe cleaners to hold them together and to wrap around our ears!  Don't they look just like the tinker glasses on Tinkerbell?!!  I just love those tinker fairies and my Lily is definitely one of them 🙂

Next fairy party activity… to get into the glitter that Aunt Jan sent!



Proudly showing off her own glitter face painting!

Well… um… it was only a matter of time.  Those girls were done glittering themselves and then… they saw… the boy!!!
He really seemed to enjoy all the attention, I mean what smart lad wouldn't like three beauties doting on him!
Don't you just love the little fairy in front holding a mirror for him!

He wiped a bit off, but most of it was pretty well rubbed in!  I will have to ask his mommy just how long it took to get the glitter off!

Taking time to smell the flowers is always a good idea 🙂

Beautiful new wand and edible wand!

Our fairy guests didn't disappoint!  They were dressed head to toe 🙂

This beautiful fairy attracted lots of butterflies!




Thanks for coming sweet fairies…
Fly away home and have some sweet dreams!
JUST A LITTLE FYI for all you fairies out there… if you live by a Halloween super store, be sure to stock up on wings, colored hair spray, and eyelashes the day after Halloween because most of them have 50% off sales 🙂
*************************************************************************************
I linky party at Savvy Southern Style and other linky parties.

If you enjoyed this post, be sure to sign our email list on the top right hand column.  I have lots of fun stuff planned and a few more fairy parties to share!
You can also connect with Joyful Daisy on

FACEBOOK

,

GOOGLE

,

PINTEREST

,

TWITTER

,

AND

RSS

.  I would also love it if you shared this project by clicking social link buttons below, sharing is caring 🙂
Thanks for stopping by
Cyber hugs,
Amy- joyfuldaisyforever@gmail.com