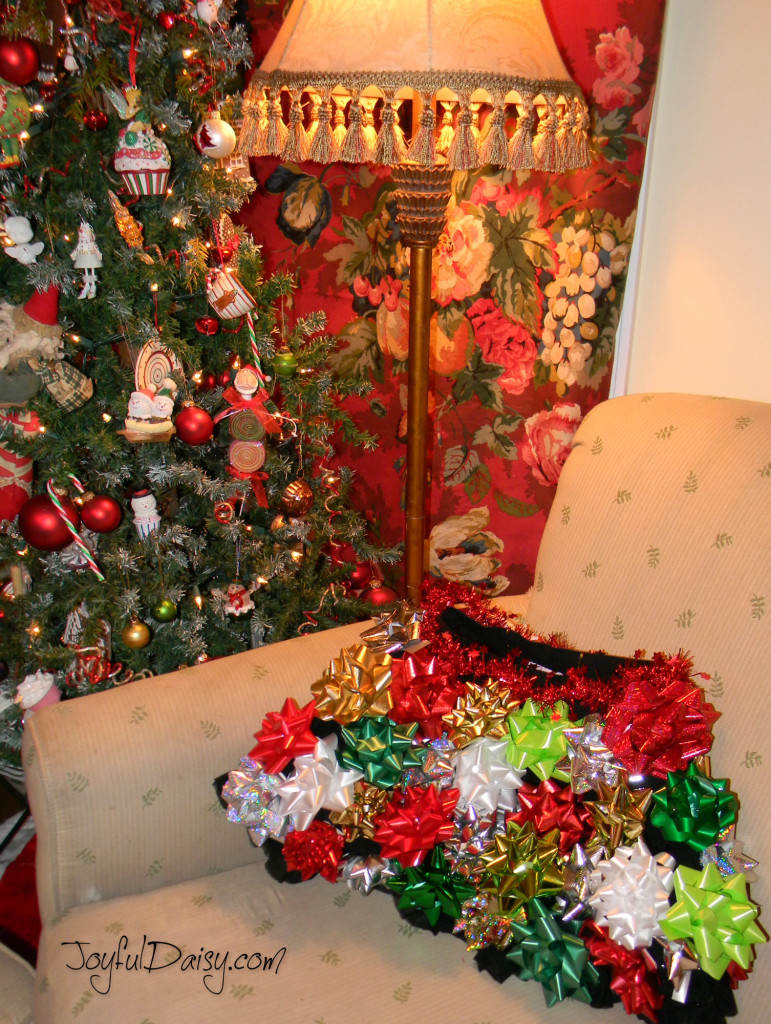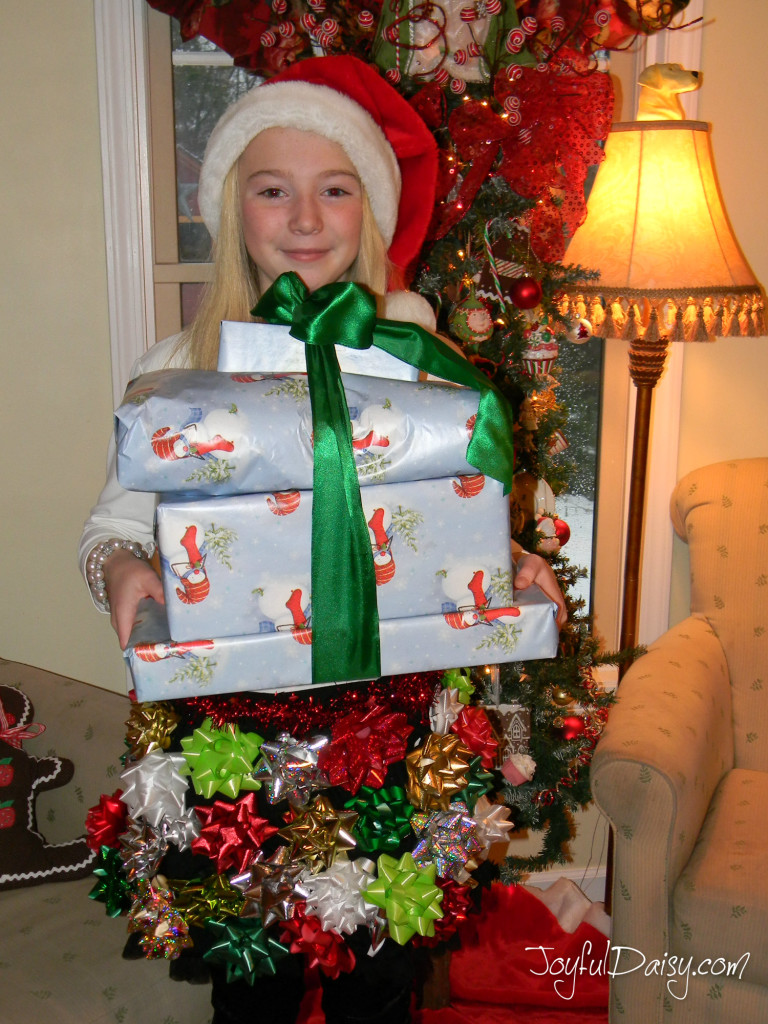 What do you get when you combine a skirt with 60 Christmas bows…a TOTAL CHRISTMAS TRANSFORMATION!  Now some may call this Christmas Bow Skirt tacky but I call it terrific!  Paired with basic leggings and top with simple accessories, this rockin skirt is suitable for more then an ugly Christmas Sweater Party!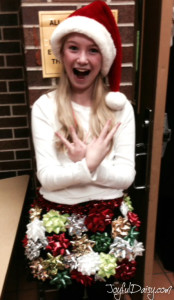 I was so excited when Lily said she would wear this delightful sparkly skirt to the Christmas program at school.  I mean, I never know what is cool for middle school!
So I snatched a skirt from her give away pile,( because she doesn't wear it any more) and then grabbed some safety pin, bows, and tinsel.
One hour and 60 bows later…VOILA!  The skirt went from give away pile to the favorites pile and she decided she was going to wear it all day to school!  🙂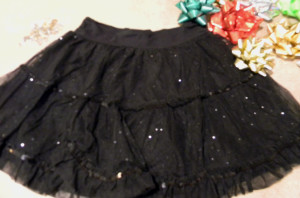 ARE YOU READY TO MAKE YOUR OWN?  HERE'S WHAT YOU NEED…
SKIRT- This short full skirt worked great because when Lily sat down she could fluff it out and not sit on it and flatten the bows.
SAFETY PINS- Don't use the tiny gold ones because they are a little too light weight.  I used a bit heavier weight safety pins about 1″ in size
BOWS- Gather lots!  It takes a lot more then you might think.  We ended up using 60 🙂
TINSEL for waistband.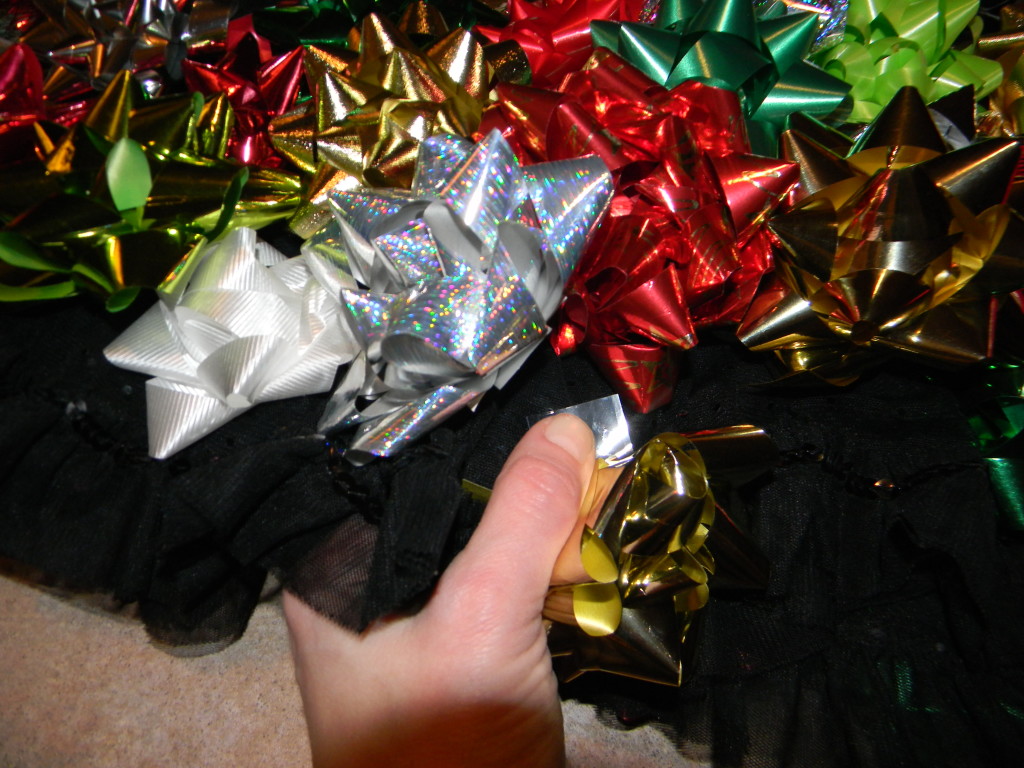 Using a fuller skirt works great making it easier to sit and not smush the bows, however, it takes a little longer to pin on the bows. Hold up the skirt and then lay it down slowly and place a bow where you like it, while holding the bow in place with one hand, reach the other hand inside the skirt and pin in place. The reason you need to hold it upright in front of you and then lay it down slowly is so you can pin the bows around all the gathered fabric in a full skirt and the skirt will lie flatter when worn.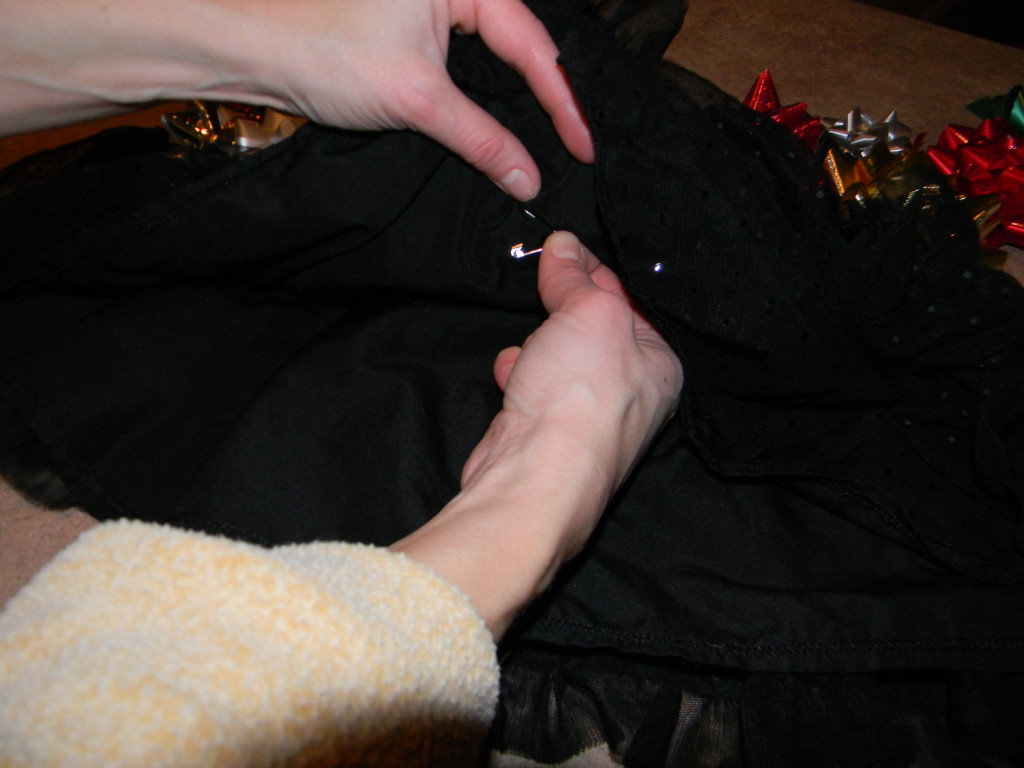 Now you could hot glue the bows on but this way you can use a favorite skirt you may have and remove the bows later.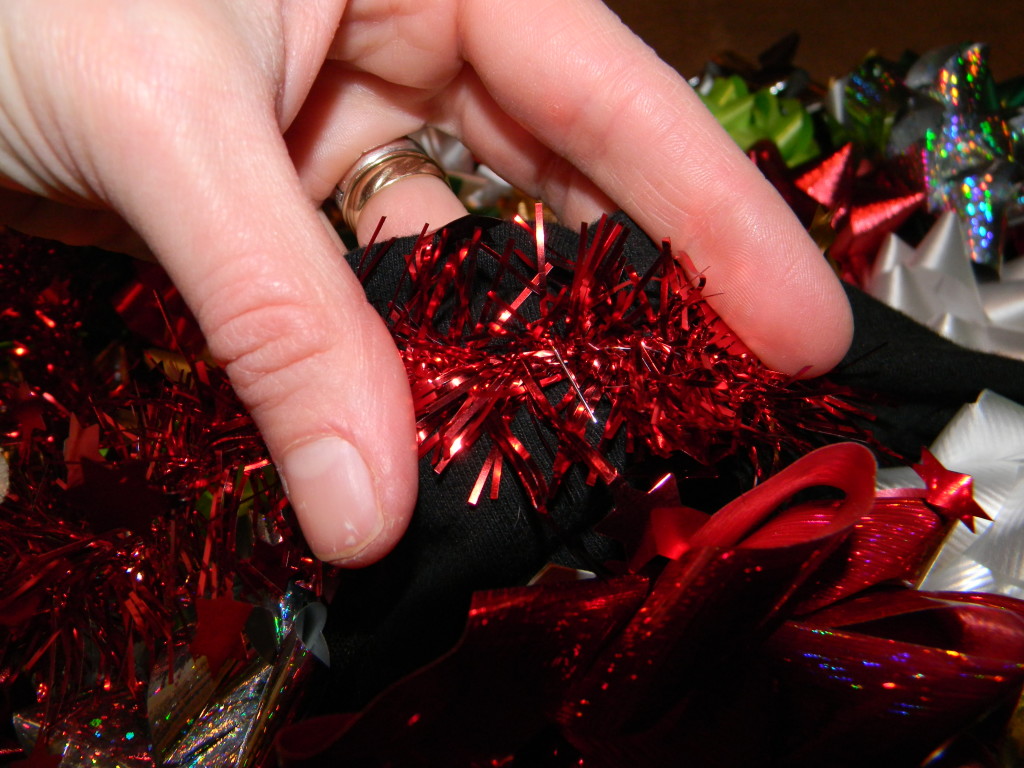 To finish your Christmas bow skirt, add tinsel to the hem and/or waistband.  We chose to just add tinsel to the waistband with safety pins.  Just be sure not to pull the tinsel too tight if you need it to give a little when you slip the skirt on.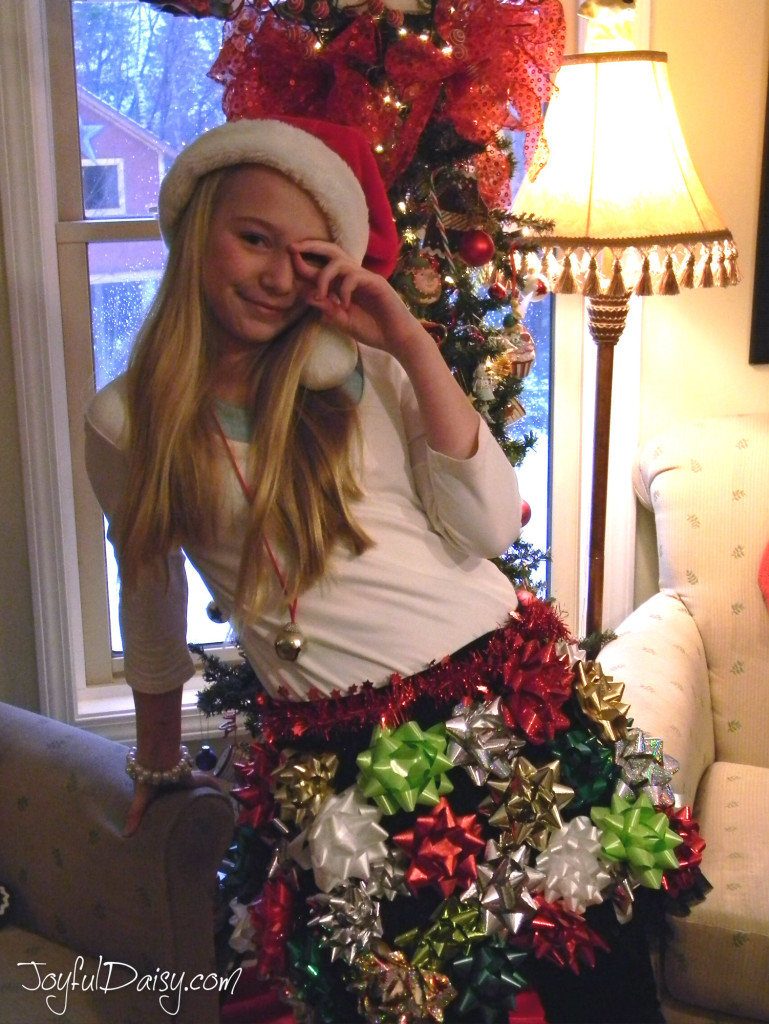 Lily elf #clam 🙂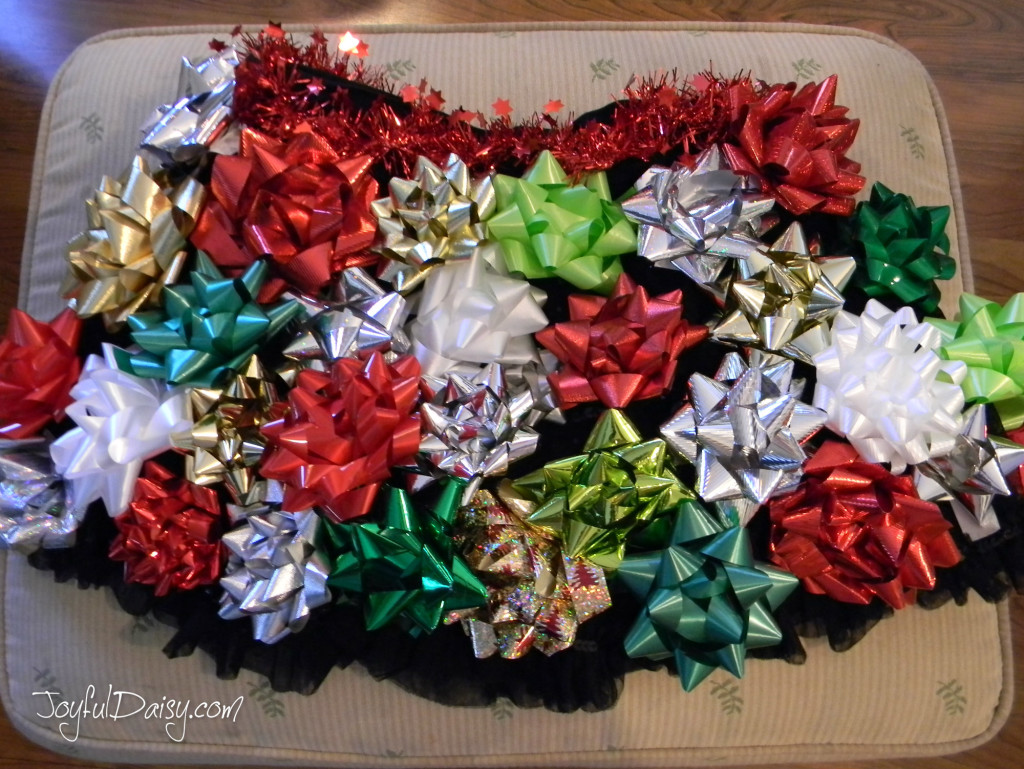 This was a ton of fun and Lily got a lot of compliments!  I think even Scrooge himself would smile at the sight of this new decked out fashion trend 🙂
Lily mentioned that it would be fun to make a skirt like this for different occasions matching the colors to the event or make a bow skirt in your school colors to show off your school spirit!  I love that idea!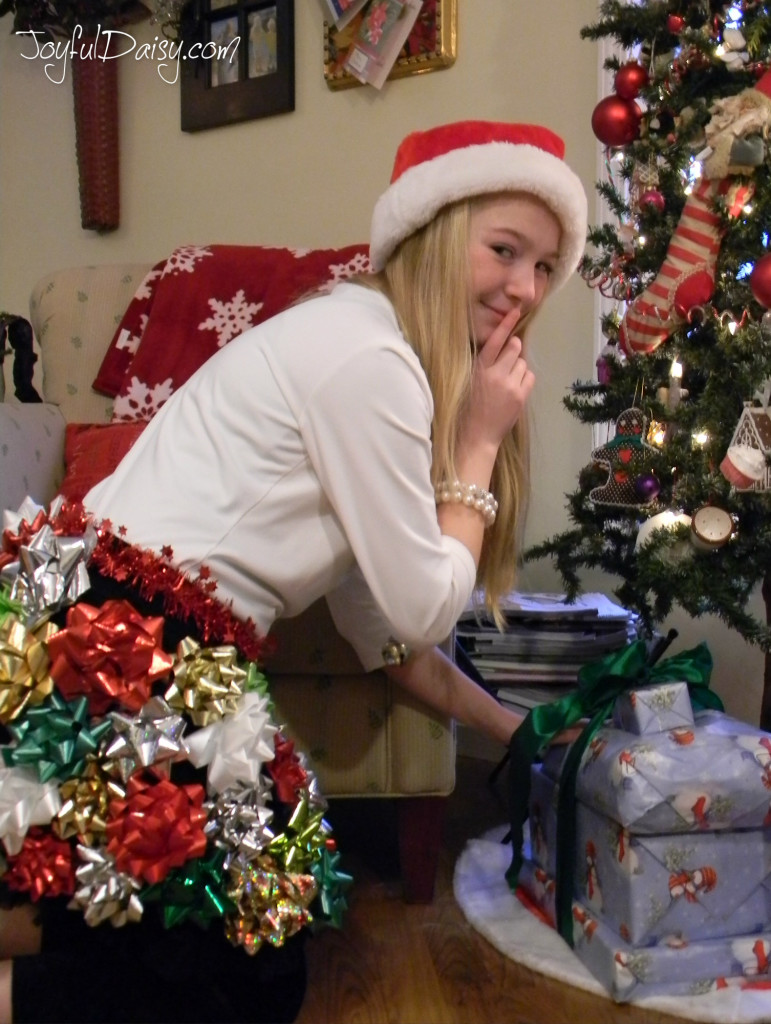 Merry Christmas!