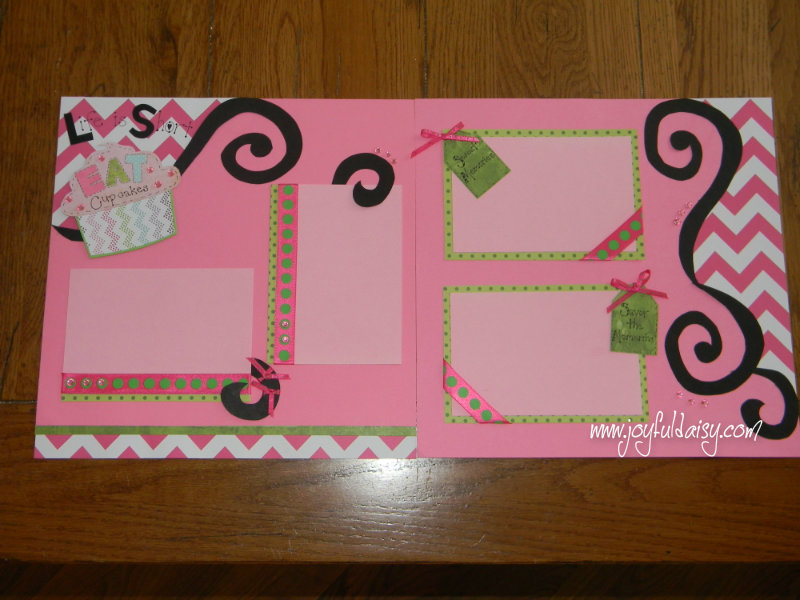 LIFE IS SHORT…EAT CUPCAKES!
I thought I would design a layout dedicated to the sweet things in life starting with cupcakes.  This cupcake scrapbook layout with FREE pattern pieces can be used to showcase many different sweet and savory memories:)
SUPPLIES…
Assorted scrapbook papers
Pink Gems
Decorative ribbons
scissors and paper trimmer
adhesives
fine tip black pen
Begin by cutting out pattern and then trace and cut out pieces from chosen scrapbook papers.

Once you have cut out your swirls, lie them on your scrapbook paper, as shown on left picture above and then lightly trace their outline on the right side.  Now trim scrapbook paper about 1/8″ to the left of this line.  Glue down this piece of scrapbook paper  to your background paper and then glue down swirls.
Trace largest swirl on scrapbook paper for the left page of the layout.  Then cut about 1/8″ below traced line. Glue this cut piece of scrapbook paper on to top left corner of background paper and then add the swirl.

Cut two 4″ * 6″ matts.   Cut two 1/2″ * 6″ strips (the green poka dot paper) and glue one on each of the frames so that you can see 1/4″ from the front.  Add a strip of ribbon (I used the pink with green poka dots ribbon) or use a 1/2″ strip of paper next to the 1/4″ strip of paper on the frame.  Add some crystals if it fits your fancy 🙂 Tie 2 ribbons around one of the small swirls.  Glue the tail end of each swirl behind each frame as shown on left.  Adhere frames to page leaving enough room to add the strips below.
Cut a 1″ * 12″ strip of scrapbook paper and adhere to the bottom of the page.  Then cut a 1/4″ * 12″ strip of another scrapbook paper and glue on top of the 1″ strip.

Glue cupcake pieces together and decorate with the E, A, T letters, write Cupcake and add black stitch marks and crystals.
Add the Life is Short in the top left corner and then adhere completed cupcake to page.
Cut 2 more 4″ * 6″ frames and matt with 4 1/2″ * 6 1/2″ frames.  Add ribbon to the corners by adhering the ends to the back of the frame.
Cut two 1 3/4″ * 2 1″2  pieces and trim top corners to make tags.  Add Sweet Memories and Savor the Moments to tags.  Punch holes in tags and the corner of the frame where you can tie them on.  Adhere frames to page and add some crystals next to black swirls.
Now if you do not have pictures for these pages, grab your kids or a friend, have fun making some real cupcakes and take pictures that you can feature on your completed cupcake scrapbook layout.