Lily wanted to have a Cold Stone Ice Cream Party this year for her birthday.  It turns out to be a great gluten free option when you leave out the Oreos and baked goodies:)  We had fun selecting toppings and designing a menu which you can download if you wish to enjoy a party of your own:)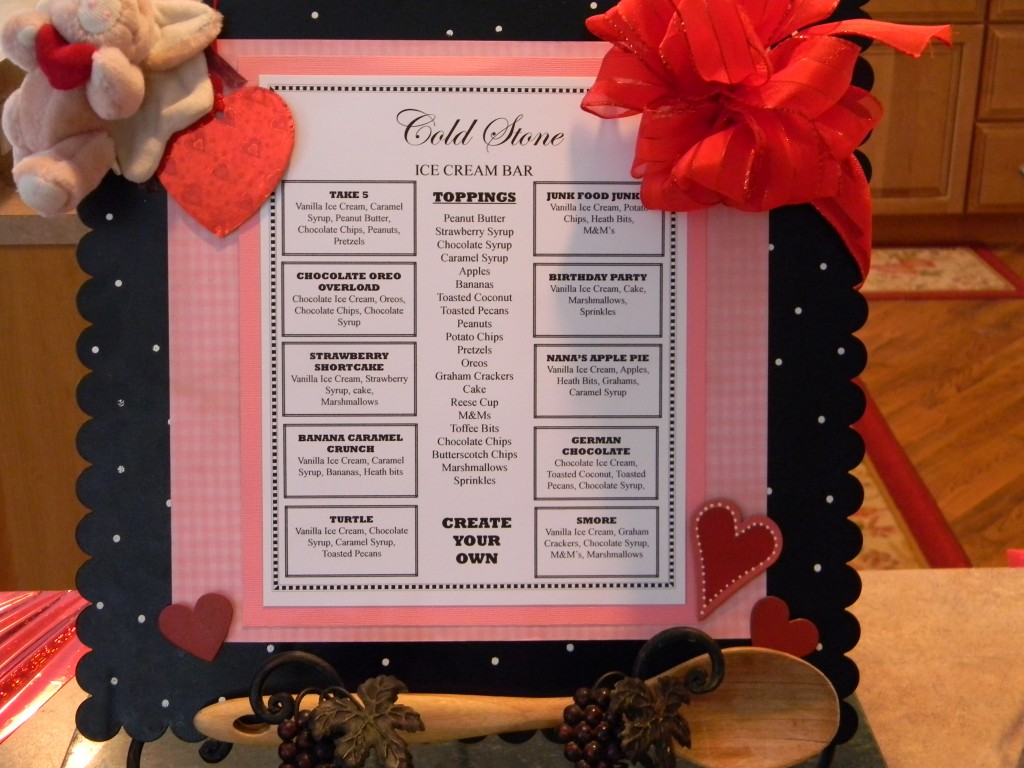 The main thing that differentiates a Cold Stone Ice Cream Party from say an Ice Cream Social is the mixing of the ice cream and toppings on a cold stone before serving.  We just used our marble pastry board and left it in the freezer overnight.  I just checked Amazon and they do have marble boards available if you need one at http://amzn.to/MOuHWP.  The cold marble board is necessary for this project or you will have a melted mess on your hands.  When you figure the cost of a small tub of Ben and Jerry's Ice Cream, the investment in the marble board and toppings seems like a real deal:)  The other thing you need is a pastry scraper (also available at Amazon at http://amzn.to/1ehscSP) to scrape the board clean in between each ice cream creation.
SO TO PUT IT IN A LIST HERE IS WHAT YOU NEED…
Marble Cold Stone
Pastry Scraper
Two Wooden Spoons or Spatulas (to mix ice cream)
Bowls and Spoons
Hungry People HEHEHE:)
Large tub of Neapolitan Ice Cream
Assorted Syrups (We featured Hersey's Chocolate, Caramel, and Strawberry)
Then choose your favorite toppings or just use the downloadable Menu list of toppings as your shopping list.
For our 12 year old group of girls, we found that M&Ms, Oreos, Reese Cups, and Caramel Syrup were the most popular.  As for me, well I couldn't get enough of the toasted pecans and toasted coconut:)  I also would have like some hot fudge-next time for sure!
Just scoop your favorite ice cream onto cold stone.  Add your favorites toppings.  Mix and serve:)  Clean board with scraper or large metal spatula and repeat.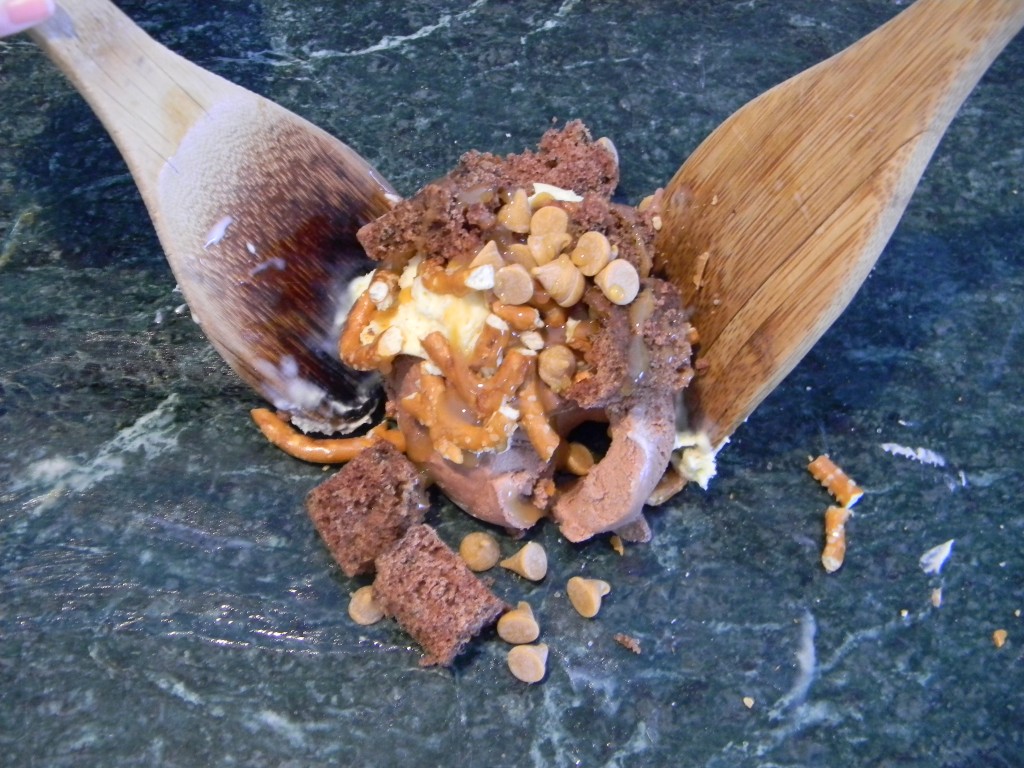 The lovely mixture above consists of chocolate and vanilla ice cream, caramel sauce, pretzels, peanut butter chips, and chocolate cake!  Ben and Jerry's cannot even beat this!  Ahhhh can you think of a fun name for this?  That might be another fun thing for the party.  Give a gift to the guest with the most original name for their ice cream creation:)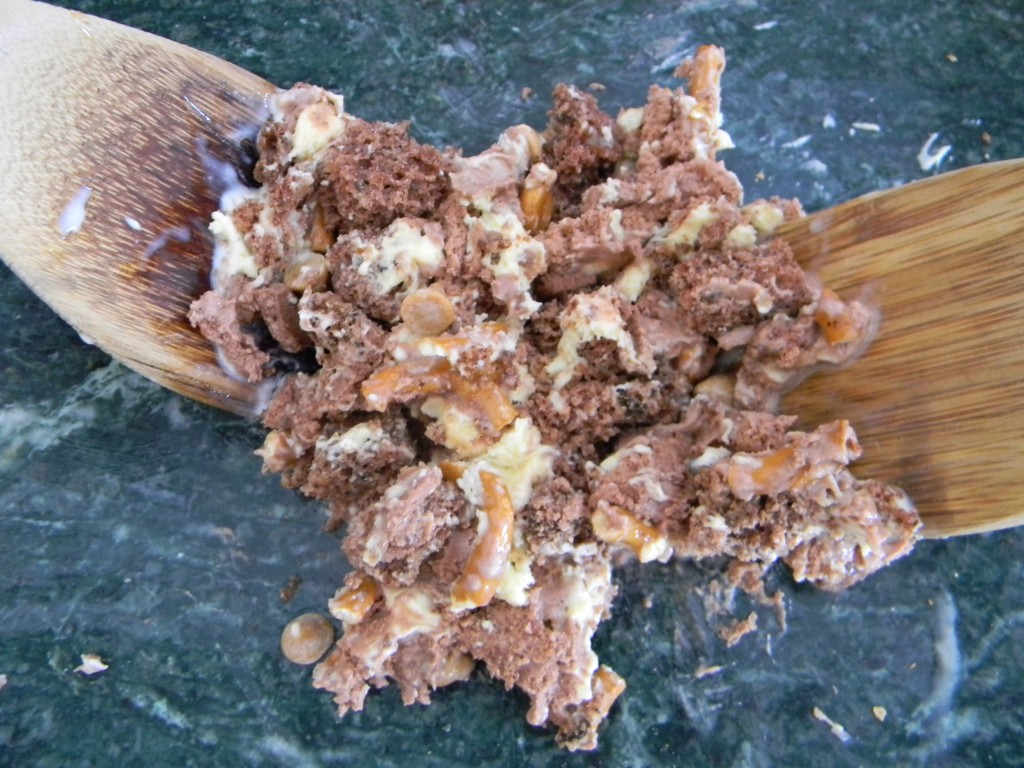 YUUUUMMMM!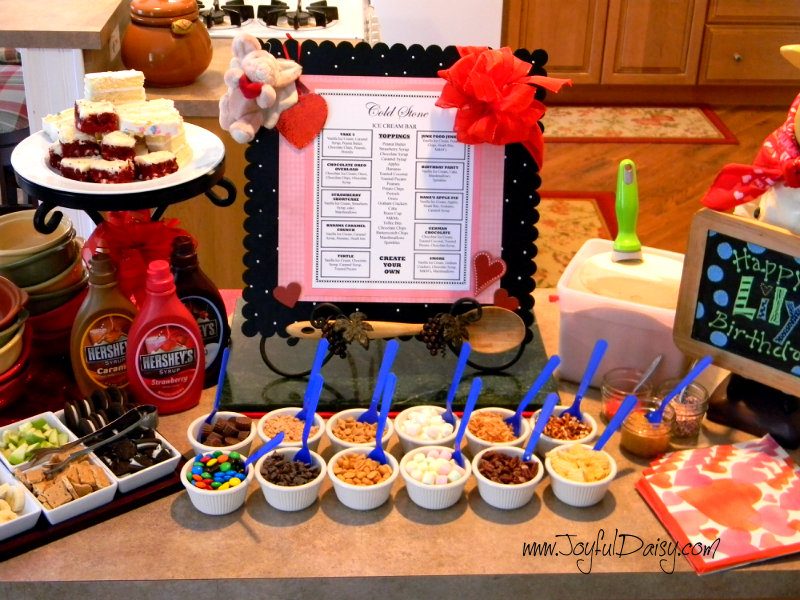 Don't be shy… I would love to see/hear how your Cold Stone Ice Cream Party goes:)  SMILE ON!
OUR COLD STONE ICE CREAM PARTY IS FEATURED ON THE FOLLOWING LINK PARTY…
CHECK IT OUT:)