Not only are these cookies some of the best I have ever had, they are also a great activity to have at a party.  I mean how fun is it to make your own custom cookie?  This idea stemmed from me always wanting a white chocolate, pecan, dried cherry cookie, yet always getting outvoted as the rest of the family always wanted M&Ms or regular chocolate chip.  The idea continued to evolve adding lots of different goodie combinations and the cold stone bowls so that many different cookies could be created and cooked evenly.  We have truly enjoyed perfecting this recipe:)
BASE RECIPE INGREDIENTS…
1/2 cup softened butter
1/2 cup Crisco
1 c brown sugar
3/4 c white sugar
2 eggs
1T vanilla
1 1/4 c flour
1/4 c oat bran
2 c ground oats
1t baking soda
3/4t salt
Cream butter and Crisco.  Add brown and white sugar and cream.  Add the eggs and vanilla.  Add the rest of the ingredients and mix well.  Chill dough 2 hours or overnight.
Chill stoneware bowls or heavy glass bowls in the freezer for 2 hours or overnight.  (We used Salt Glazed Stoneware by Salmon Falls.)  The cold bowls will keep the dough chilled as you mix in your chosen goodies.
Preheat oven to 325 degrees.
Use a 3T scoop to measure dough into a cold stone bowl.  Add lots of goodies, then pack back into scoop and place on greased cookie sheet or greased parchment paper or reusable pastry mat 3″ apart.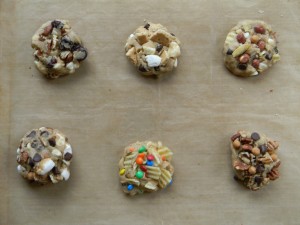 Bake 10-14 minutes.  (I like my cookies to be a bit undercooked so I remove cookies before they look completely baked.)  Let cool on cookie sheet 3-5 minutes before moving to cooling rack to keep cookies from falling apart.
TIP: Place cookie dough on cooled cookie sheets before baking  to ensure they will cook evenly.
THIS JUNK FOOD COMBINATION IS ONE OF MY FAVORITES:)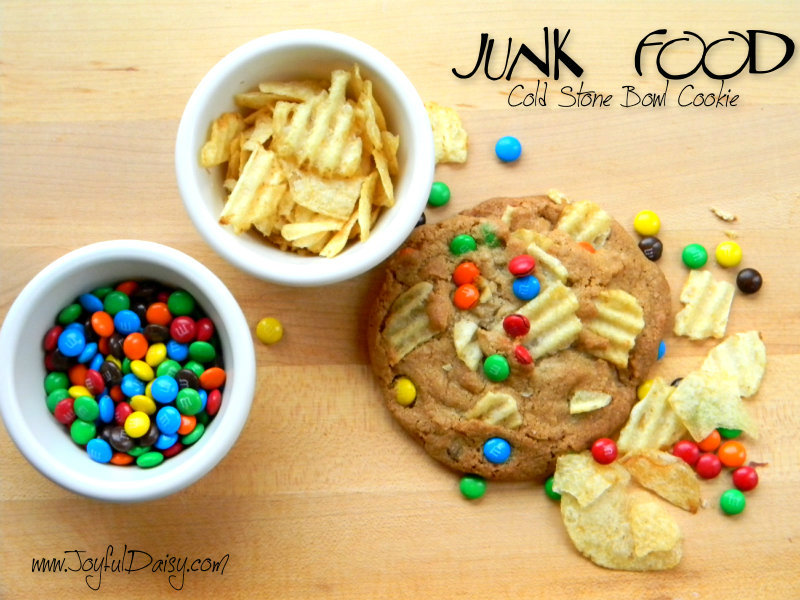 My daughter created a gorgeous combination with caramel bits, toasted salted pecans, white and dark chocolate chips, and marshmallows!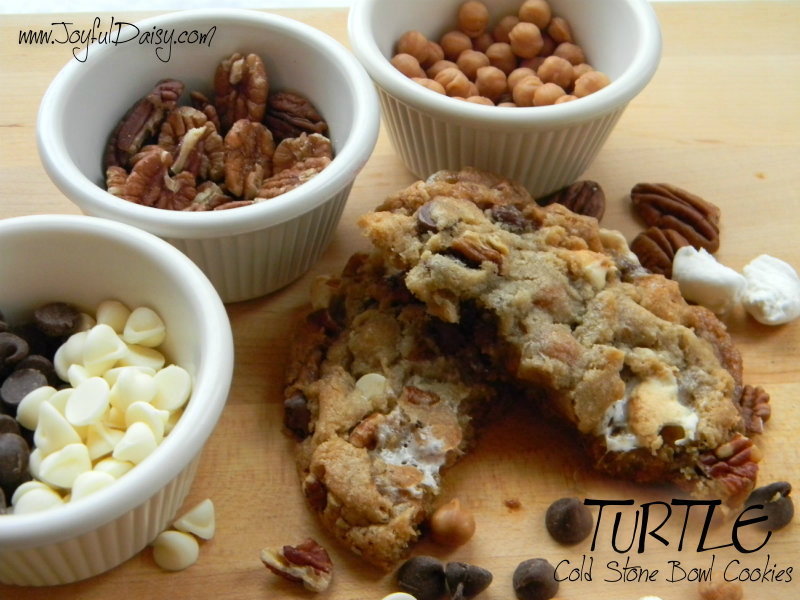 Some other fun combinations…
ELVIS: Peanut Butter Chips, Bacon Bits, and Marshmallows
MOMMA MIA: White Chocolate Chips, Dried Cherries, Toasted Salted Pecans
TAKE 5: Chocolate and Peanut Butter Chips, Pretzels, Caramel Bits, and Peanuts
SMORE: Graham Crackers, Chocolate Chips, and Marshmallows
BE SURE TO LET US KNOW WHAT YOUR FAVORITE COMBINATIONS ARE!  WE WANT TO HEAR FROM YOU:)