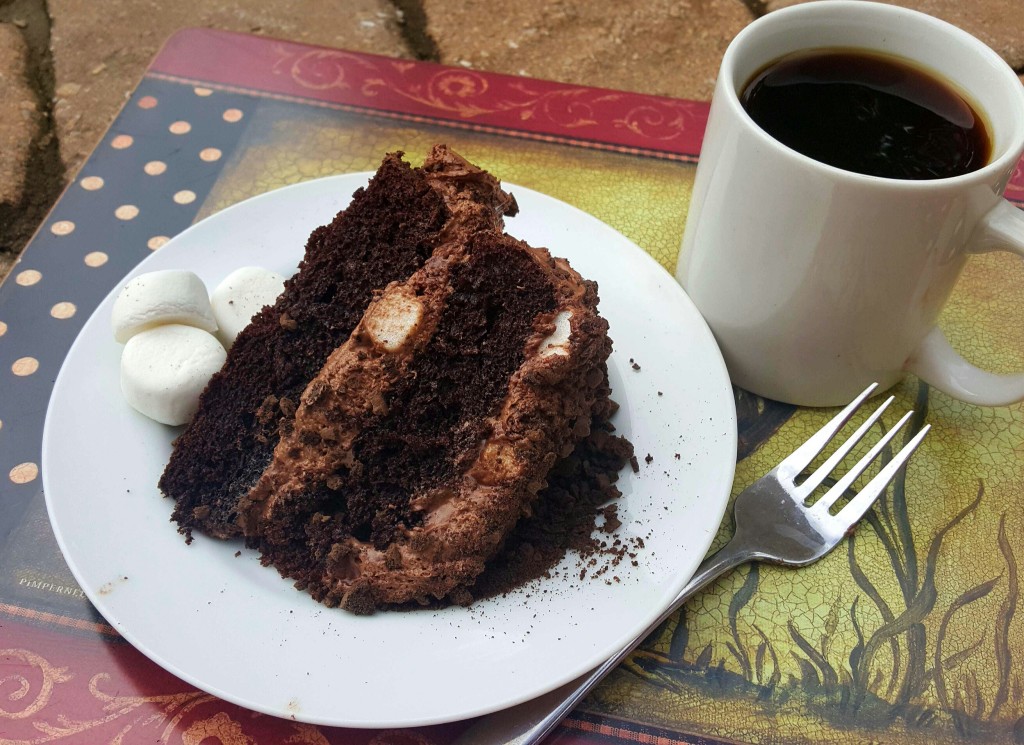 This rich, moist cake is simply made with a boxed cake mix and canned frosting, but it tastes like its right from the bakery! The kids loved the taste of the marshmallows in the frosting and I liked that it made the cake a bit bump which was a perfect start to our graveyard themed cake decor for this Halloween's dessert…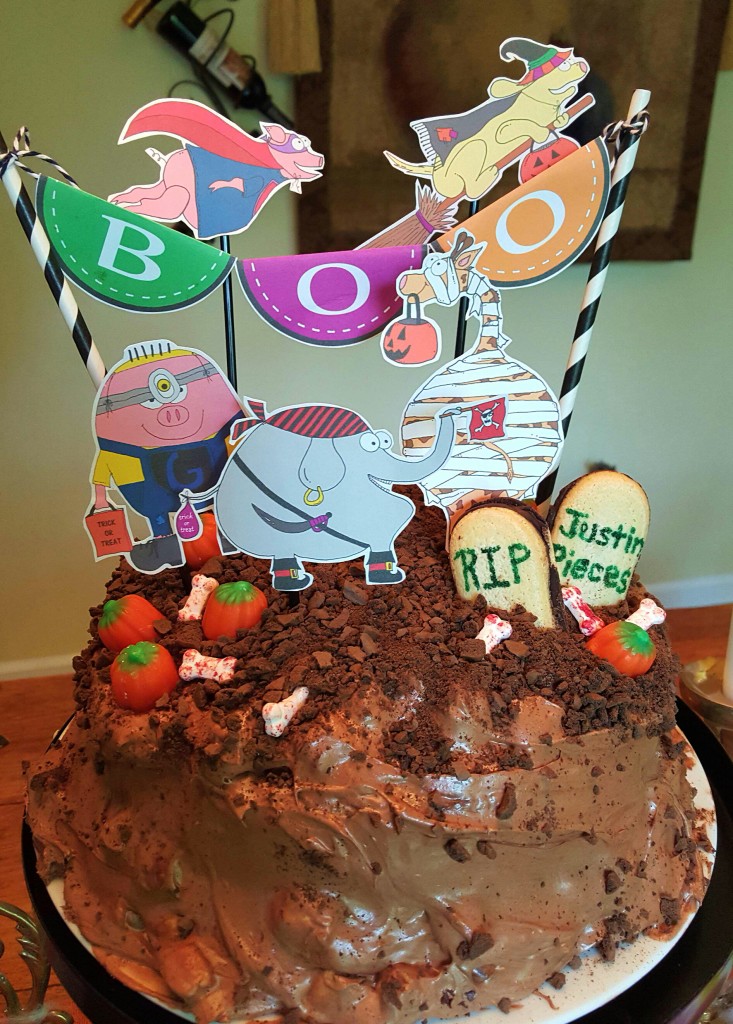 We had fun using the new food safe markers we purchased to make some tombstone cookies and we loved creating finishing us the cute, spooky scene with some candy pumpkins, bones, and our Halloween clip art Boo Banner and trick or treaters! See our tips or scroll down to the bottom for delicious recipe 🙂
We purchased these fun food markers to play with and create some fun tombstones from cookies! Now the instructions say to write with small brush strokes but I found that writing each letter by lightly dabbing dots with the end of the marker worked best for me on these cookies.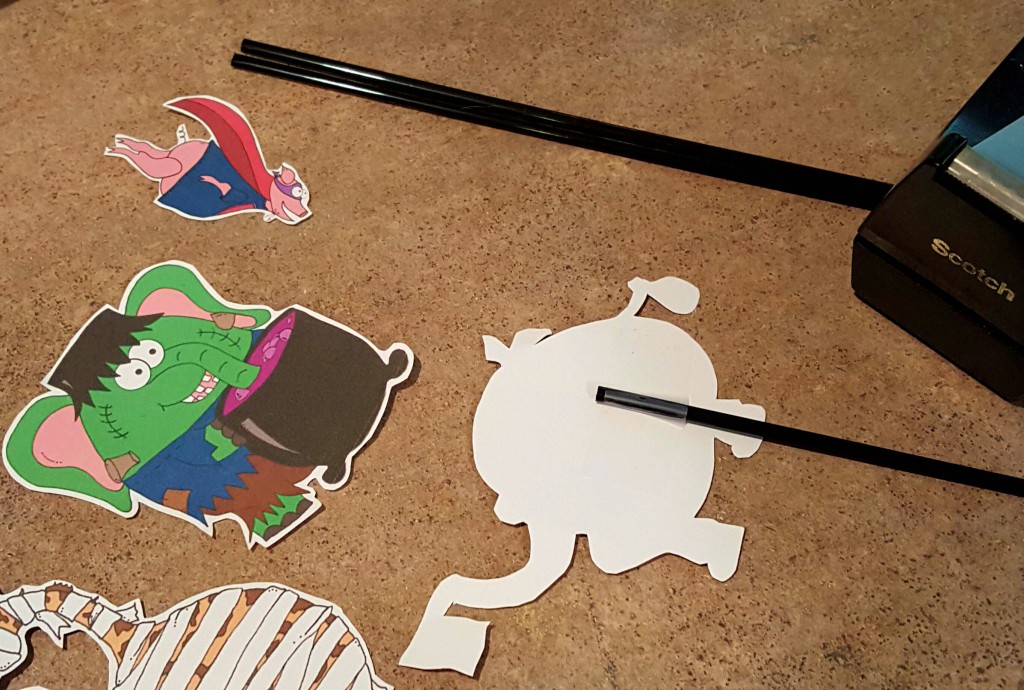 For our Halloween character toppers, we just printed them out on cards stock, cut out, and then taped coffee straws to the back so we could poke them into the top of the cake.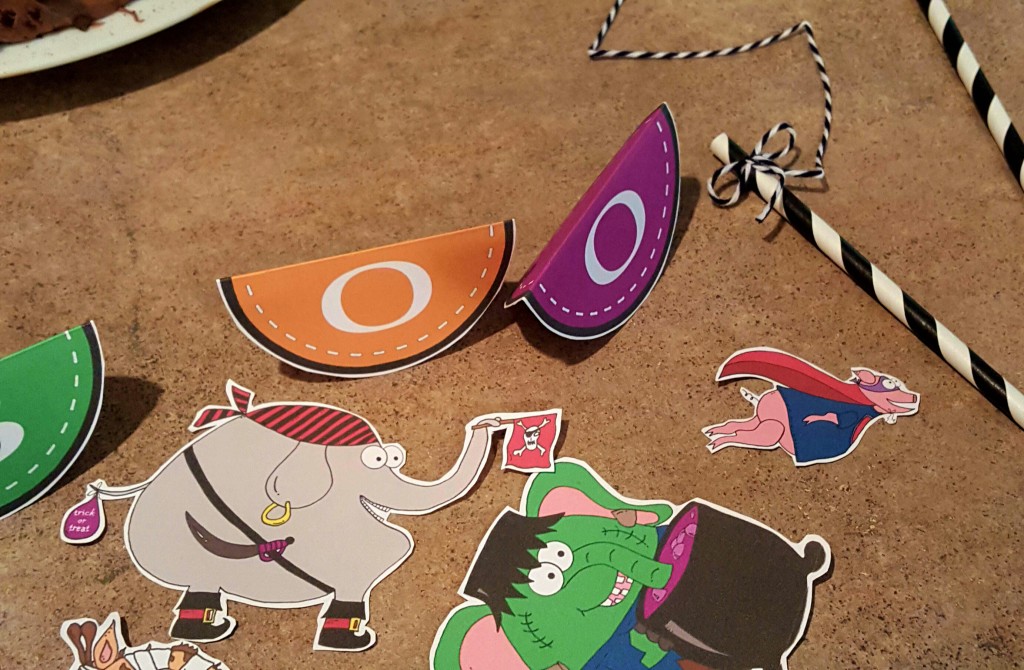 For the cut Boo banner, we printed out and then cut our B-O-O circles and then folded in half. Then I took two cute paper straws and tied on some baker's twine with enough room to place the boo pieces in between them. You can overlap them or space out a bit. you can also tape the front and back of the B-O-O pieces together to hold in place better.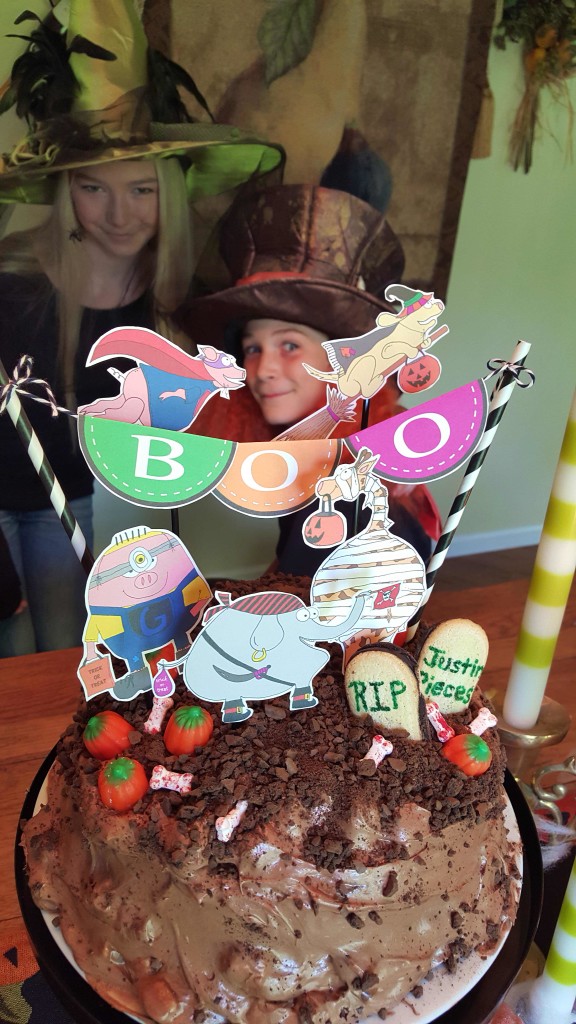 Yummy, cute, and fun to create…what more could you ask for? Well, maybe just to share it with some of your favorite witches, goblins, and Madd Hatters!!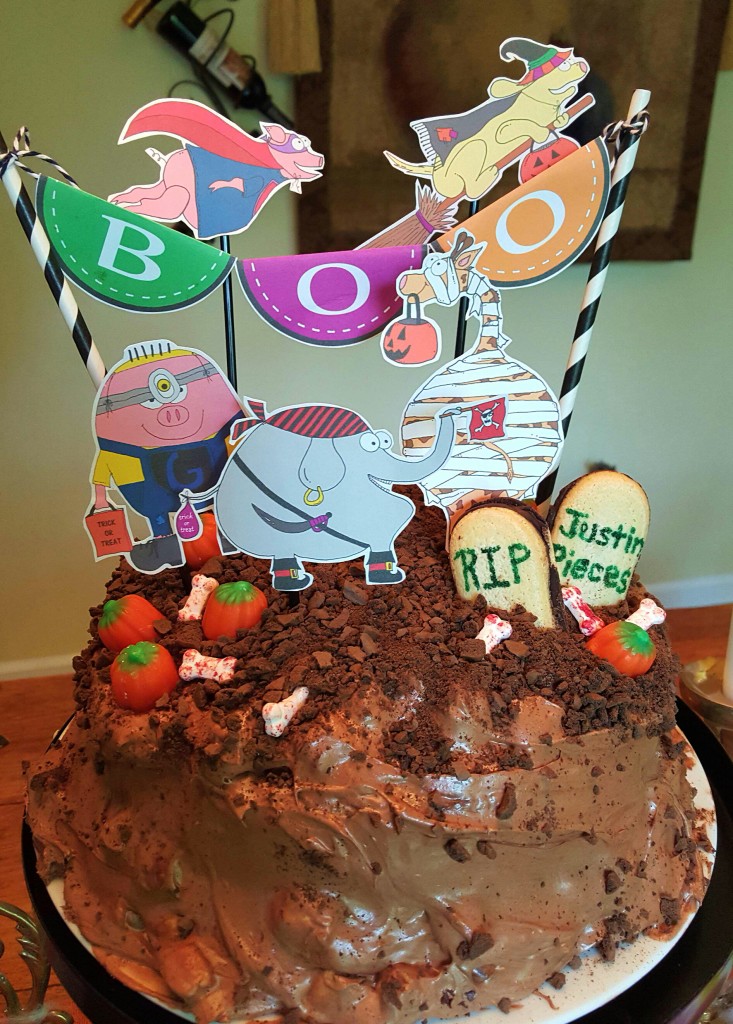 Halloween Chocolate Marshmallow Bumpy Cake
2015-10-30 08:52:41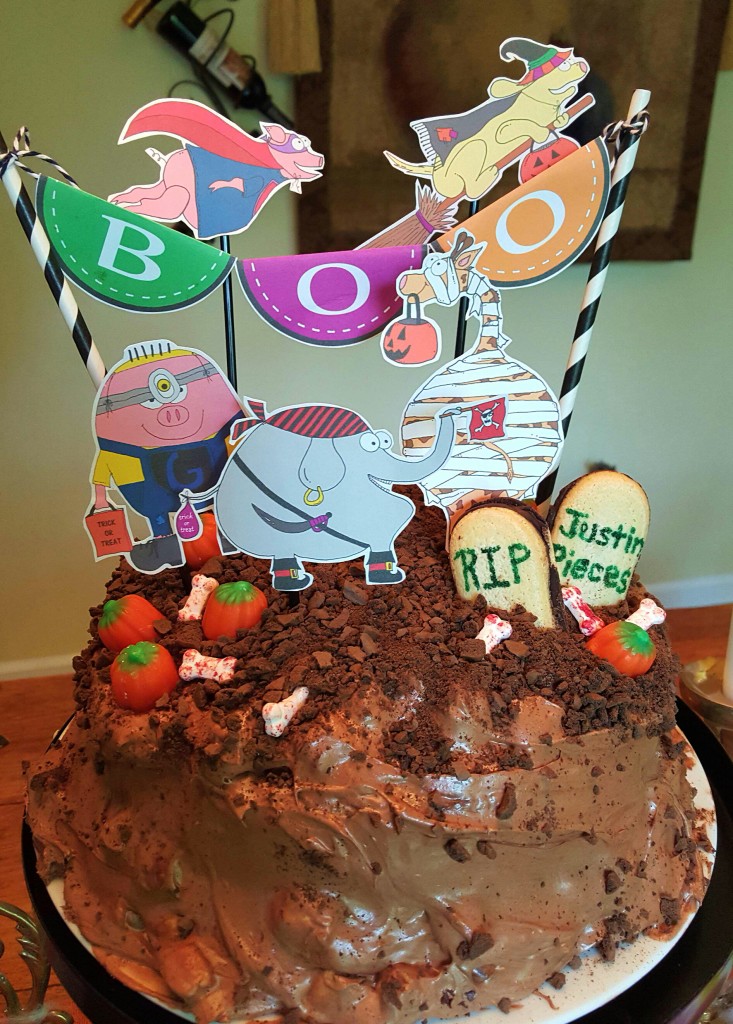 Serves 18
Nutrition Facts
Amount Per Serving
* Percent Daily Values are based on a 2,000 calorie diet. Your Daily Values may be higher or lower depending on your calorie needs.
Ingredients
1 Box (18.25 oz.) Chocolate Devil's food Cake Mix
1 Package (3.9 oz.) Chocolate Instant Pudding Mix
4 Eggs
1 Cup Sour Cream
1/2 Cup Warm Water
1/2 Cup Oil
1 1/2 - 16 oz. Tubs of Chocolate Frosting- room temperature
12 oz - Cool Whip -room temperature
1 Package 10.5 oz Mini Marshmallows
1/2 Cup of Chocolate Animal Crackers - crushed
OPTIONAL - Candy pumpkins, bones, tombstone cookies and Halloween Boo Banner and Characters
Instructions
Preheat oven to 350 degrees.
Generously grease two 9-10 inch round cake pans and dust with cocoa or flour and shake out excess.
Place cake mix, pudding mix, eggs, sour cream, warm water, and oil in a large mixing bowl. Blend with an electric mixer on low for 1 minute. Stop and scrape sides with a rubber spatula and then mix on medium speed for 2-3 minutes.
Pour batter into prepared pans and place in preheated oven.
Bake the cake until it springs back when lightly pressed with your finger and starts pulling away from the edge of the pan, 25 - 30 minutes.
Let cakes cool on wire racks approximately 10 minutes and then run a knife around the edge of each layer and invert cakes onto cooling rack..
Meanwhile fold cool whip into chocolate frosting and then fold in marshmallows.
Once cake is completely cool, place one layer on serving plate and top with 1/3 frosting. Top with remaining cake layer and frost top and sides with remaining frosting.
Top with crushed cookies and tombstone cookies, candy pumpkins and bones, and boo banner and characters.
Notes
To view more pictures and decorating tips just go to...
http://joyfuldaisy.com/chocolate-marshmallow-bumpy-cake
HAVE A HAPPY HALLOWEEN!
JOYFUL DAISY http://joyfuldaisy.com/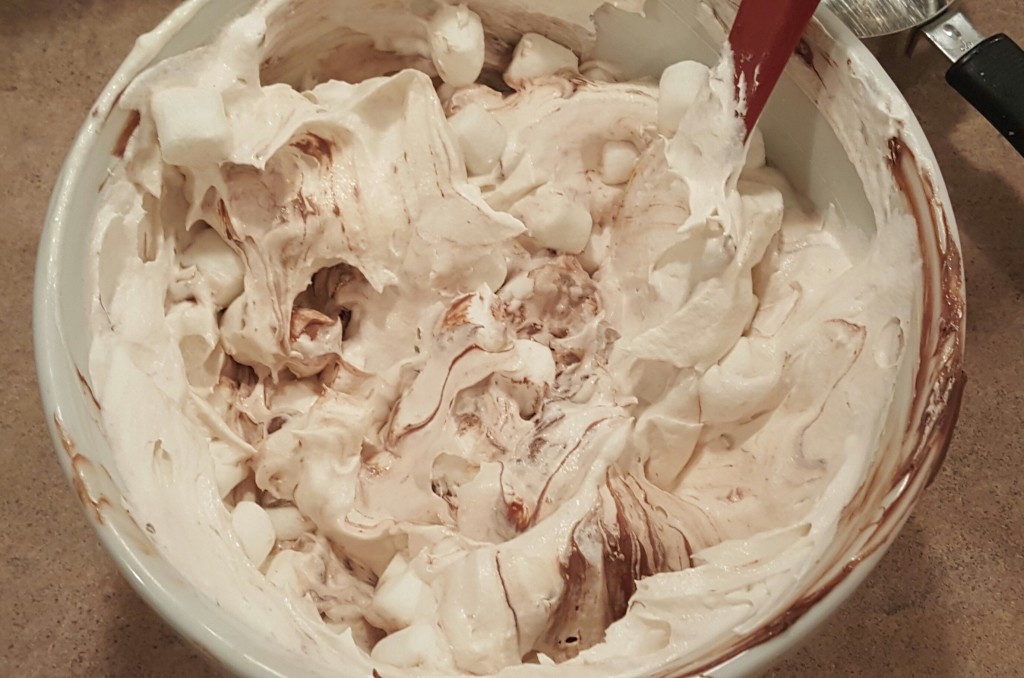 When making the frosting, gently fold in the cool whip and marshmallows 🙂