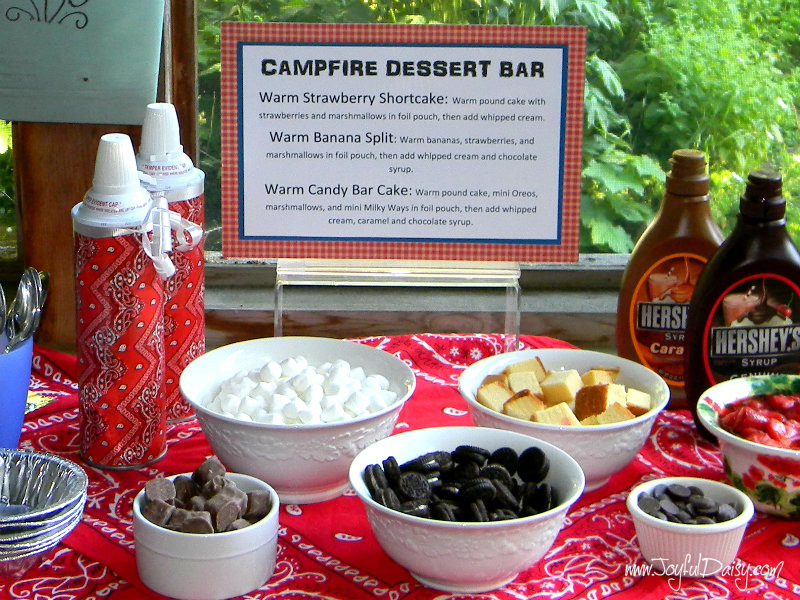 This is a triple header…. EASY, FUN, and very YUMMY!  You can download our menu and follow our recipe suggestions or create your own masterpiece.  Either way, I think you will be delighted with your campfire dessert bar creation.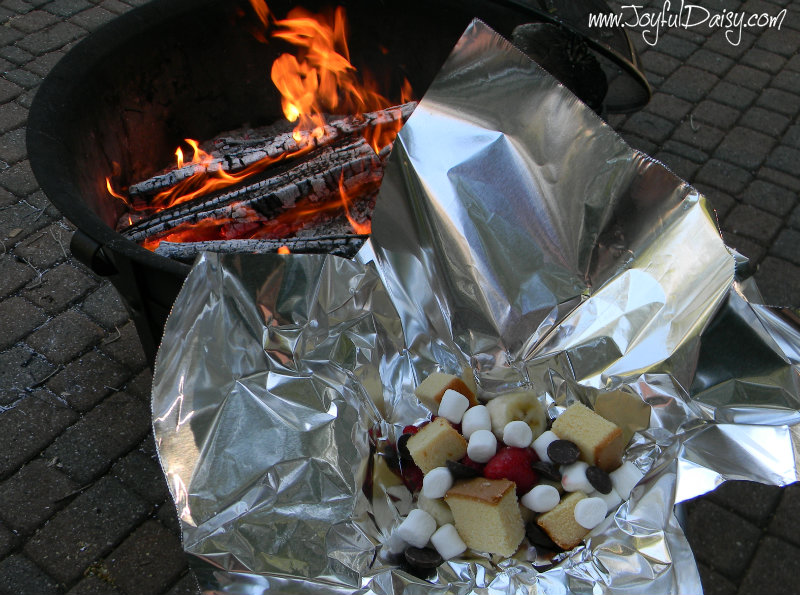 I love smores but I think I found a new campfire dessert favorite and the kids had so much fun, well me too!!  We listed our favorite combinations on our Campfire Dessert Bar sign which you can download below but before the night was over we had a new favorite… Banana Foster – see below!
CAMPFIRE DESSERT BAR MENU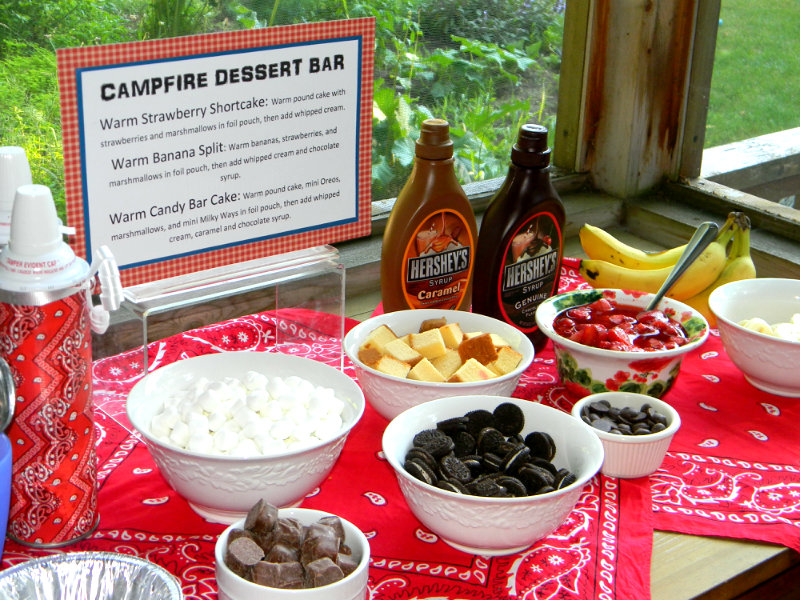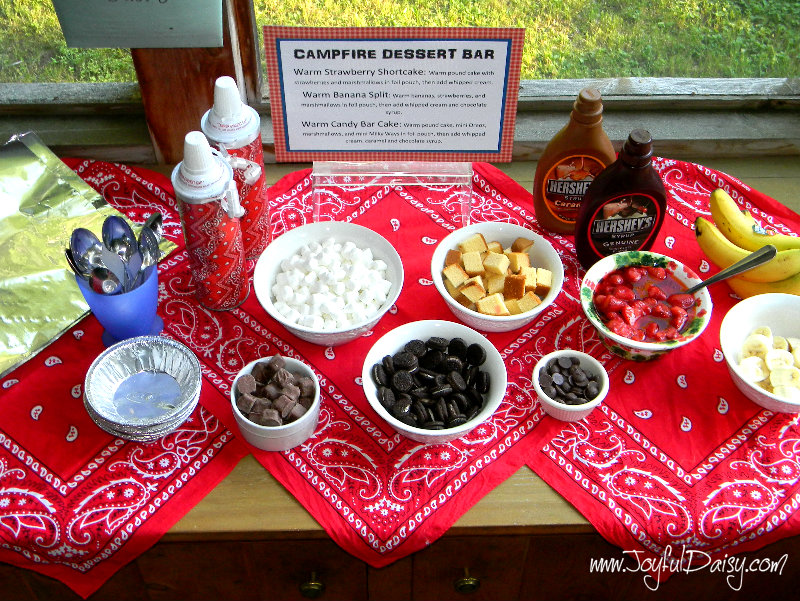 To get set up, we just plopped some small Oreos, marshmallows, chocolate chips, and Milky Way bites in bowls.  Then we cut up some bananas, pound cake, and thawed out a 10 ounce package of strawberries.  For toppings we had chocolate and caramel sauce and to stick with our red, white, and blue camp party theme we wrapped the spray whip cream in duck tape…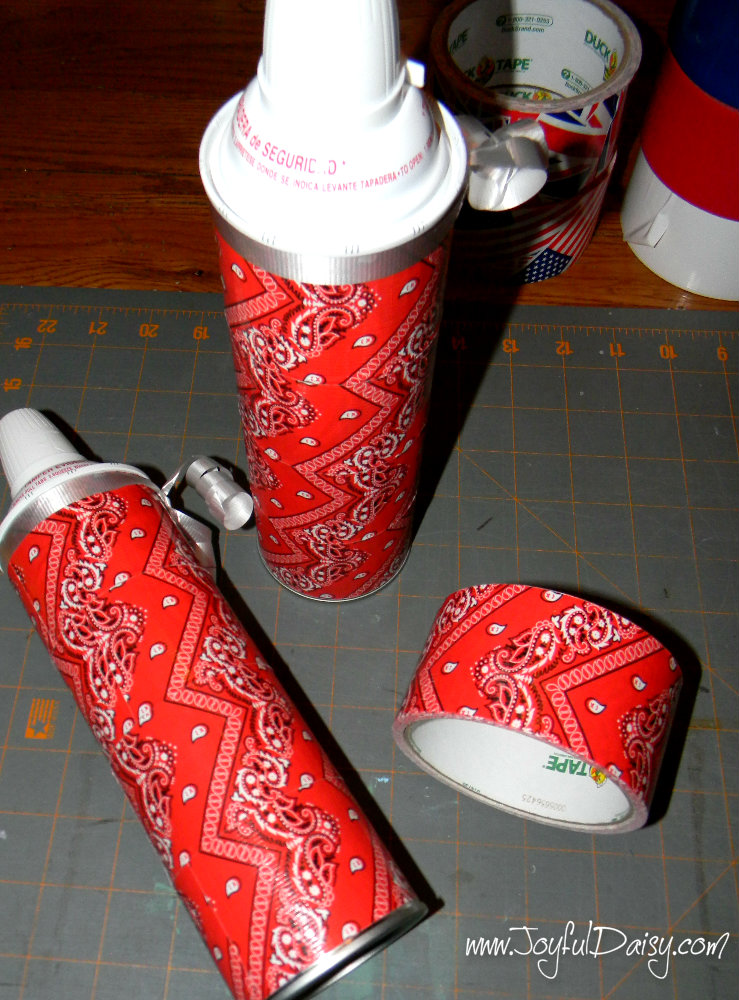 Just measure around can and then cut strips of duck tape 1/2″ longer and wrap around can.  Then add a little bit of curly ribbon around the top.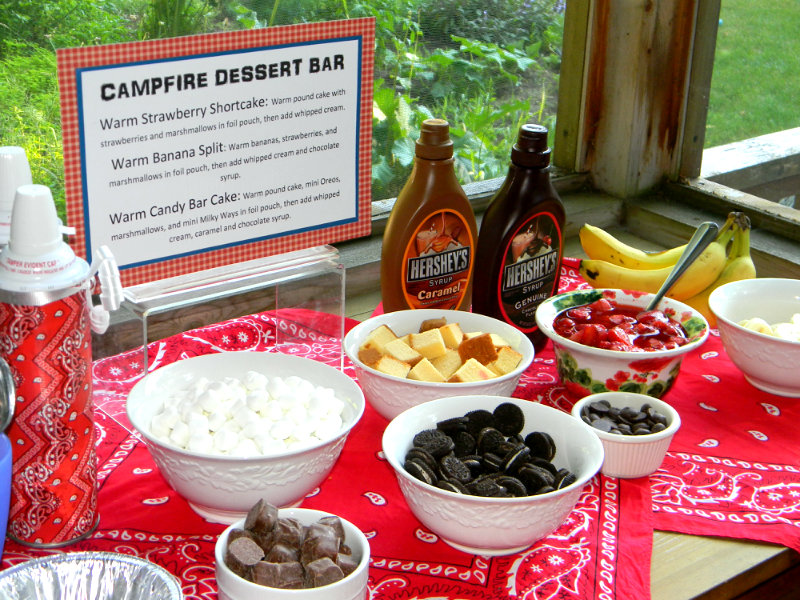 OK… back to creating the dessert…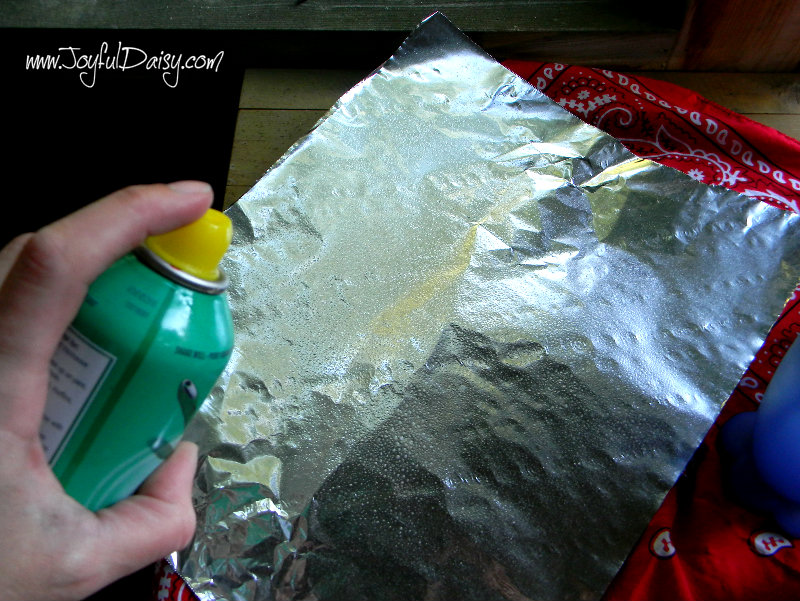 Before loading all your goodies into your foil be sure to spray it with some non-stick cooking spray.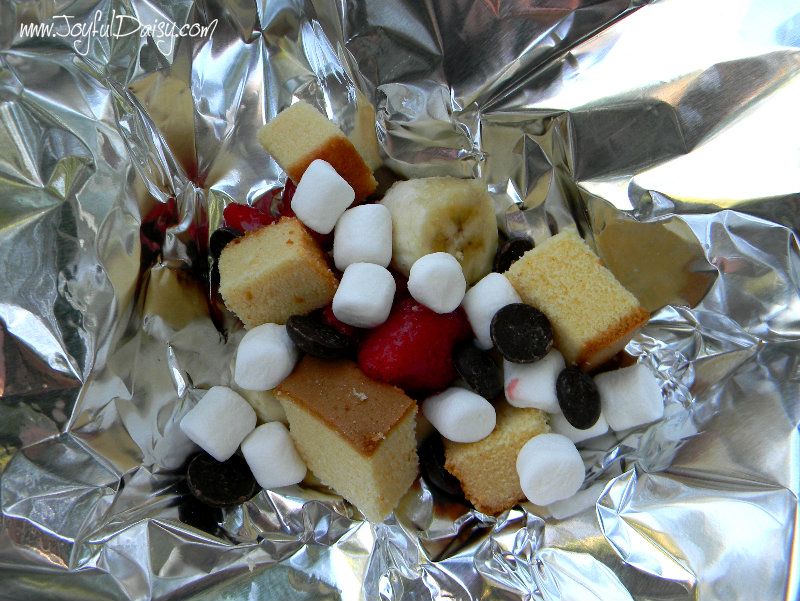 Then add a little pad of butter and then layer in your ingredients leaving your toppings off to add after cooking.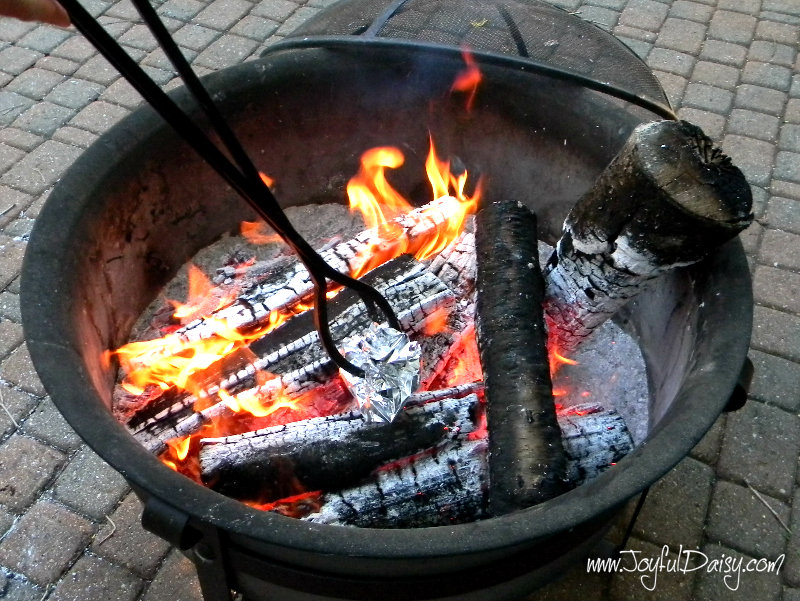 For cooking, just close up your tinfoil at the top and lay on hot coals using fire tongues.  Cooking time will vary based on how hot your coals are and your melted preferences.  We left our dessert bundles on the hot coals about 1 minute.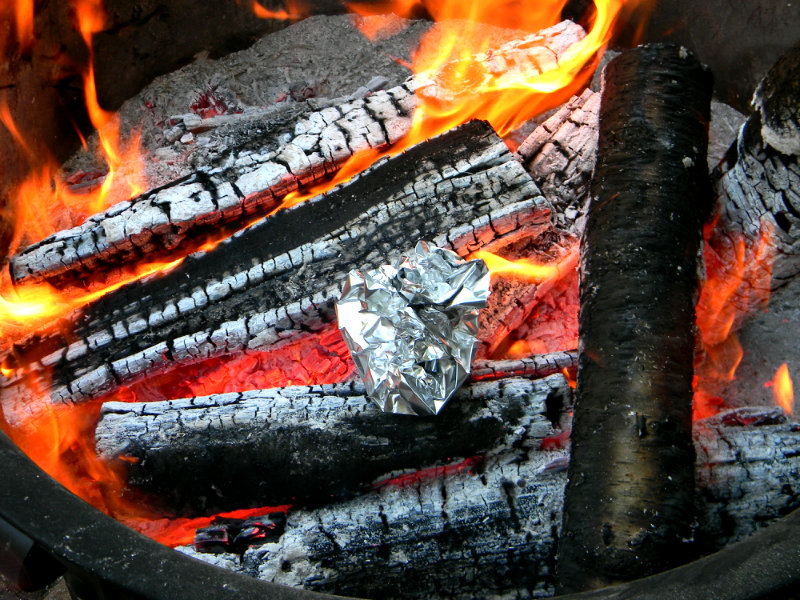 After about a minute we removed from the fire with tongues and set on a safe surface to cool for a few minutes.  Please handle with care so you don't get burned.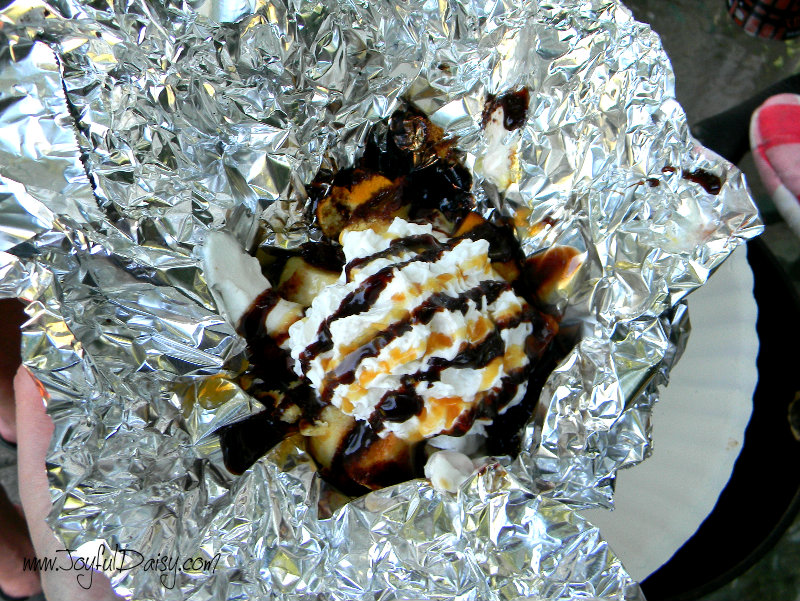 After a few minutes, we found we could handle the tinfoil placed on paper plates.  Then we added the toppings!!!
Oh and about that Banana Foster creation….
Spray foil and add a pad of butter.  Then layer bananas, pecans, pound cake, and Milky Way bites.  After it cooks on the fire, open it up and sprinkle with SEA SALT (Love sweet and salty!), then add a generous amount of whip cream, caramel, and chocolate sauce!!!
This was part of our fun Cousin's Camping Party Series!
Keep it simple, just pitch a tent in the backyard and toss in a bunch of pillows and sleeping bags:)
Try a fun filled TREASURE HUNT and WALK ABOUT TACO BAR.
Keep decorating simple and inexpensive with DUCK TAPE PARTYWARE.