This adorable pop can Christmas tree made out of a 12 pack of Mountain Dew made a perfect gift for one of Lily's favorite teachers this Christmas.  I couldn't help thinking just how great this would be made out of Beer or other party drinks to bring as a fun and festive hostess gift too.  You  would also make a teenager very happy if you gave them a tree in their favorite soda flavor with a gift card to their favorite store!
 It was very inexpensive and quick to make but was very fun to give and hopefully to receive 🙂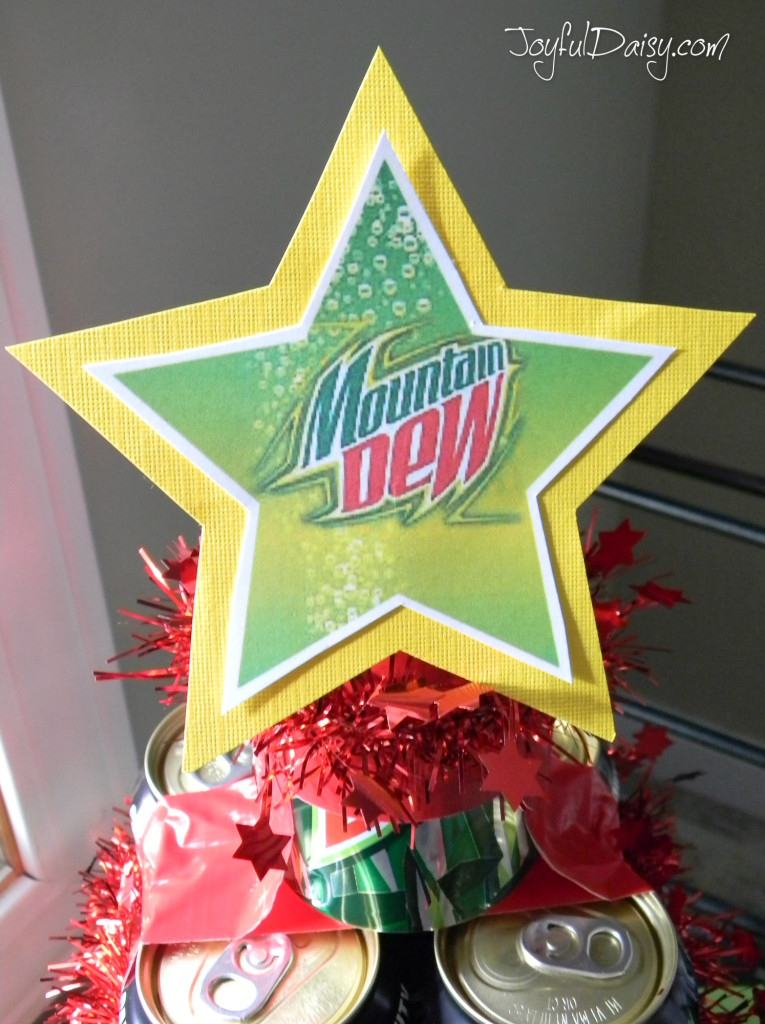 As I said, this fun gift can be made out of any cans, even those small pineapple juice cans – wouldn't that be so cute!  But just in case you want to make a Mountain Dew can Christmas tree just like ours, I uploaded the Mountain Dew star I made in case you want to print it out…
This PDF has four stars the size we used on one page.  Just print out on cardstock.  Lily had to bring in a snack and pop for a fellow student at the Christmas party who also requested Mountain Dew so she tied one of these tags around the top and wrote a note on the back saying…" I DEW hope you have a great Christmas!"  🙂
You can use the PNG image above if you want to resize your Mountain Dew star or just print one image.
Divide the cans in piles of one, four, and seven cans.  Wrap a piece of duck tape around each set of cans.
Stack the four cans on top of the seven cans and wrap a piece of duct tape around the top all the way around the bottom.
TIP: Wrap the duck tape completely around the bottom and overlap a bit so that the can in the middle is secure.
Place the last can on top and wrap another piece of duct tape around the top of that can and down the sides.
Add some tinsel around the horizontal pieces of duck tape for some true Christmas pizaz!
Cut out a star or print out our Mountain Dew Stars, mat on yellow paper and then tape to top can to finish your beer or pop can Christmas tree!
TIP: I wrapped a small piece of cardboard to set the tree on, you could cut it a bit smaller and then duck tape tree around the cardboard as well to make the bottom extra secure.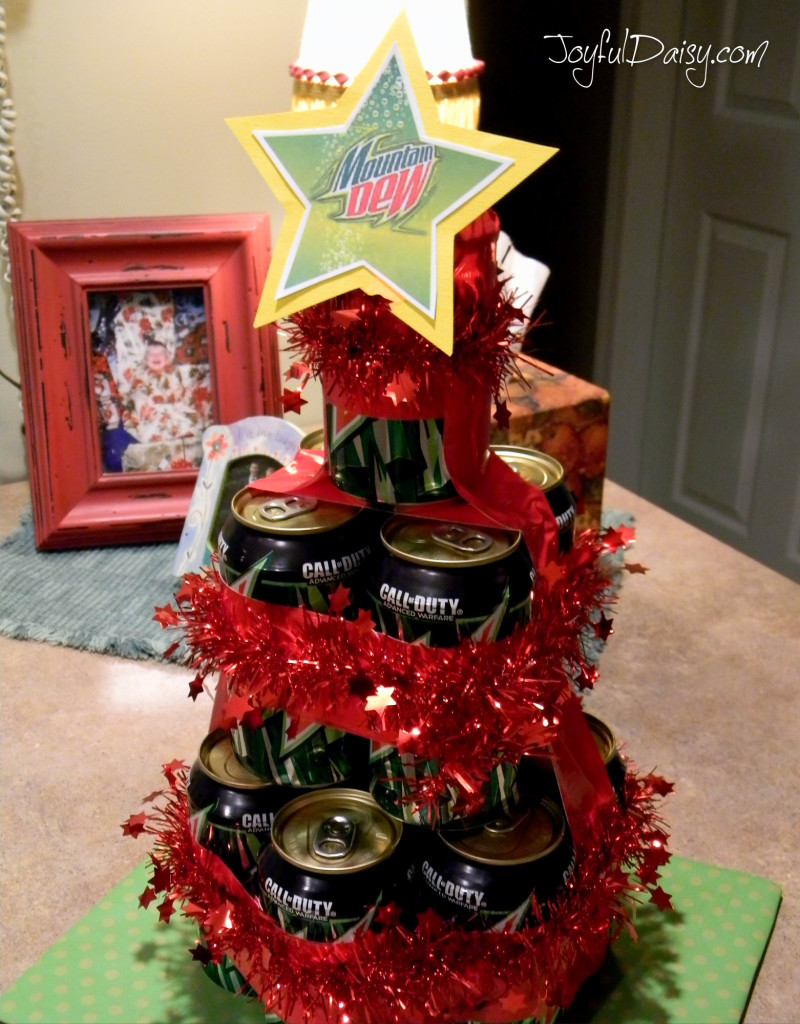 Merry Christmas and DEW Have the Best New Year Ever!